Hi Friends!
Time for another round of Sunday Food Prep Inspiration.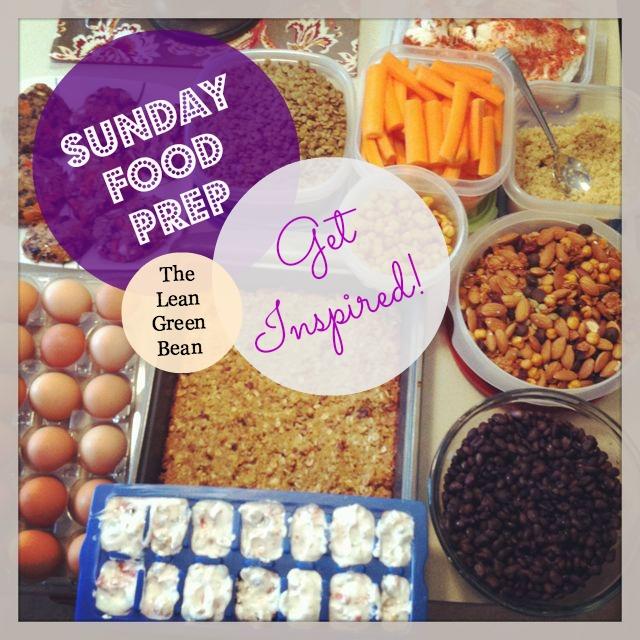 Here's what I did last week: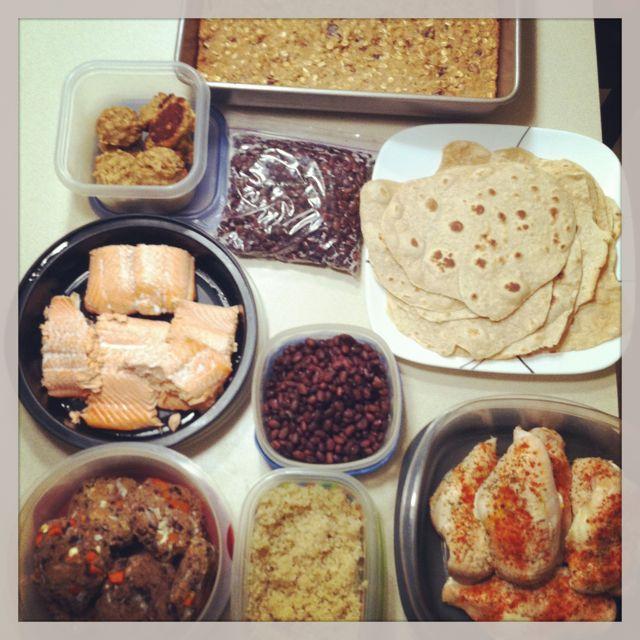 I actually did most of my food prep on Saturday night last week:
Salmon
Black Beans
Quinoa
Chicken
On Sunday, I had a little time to make a few more things: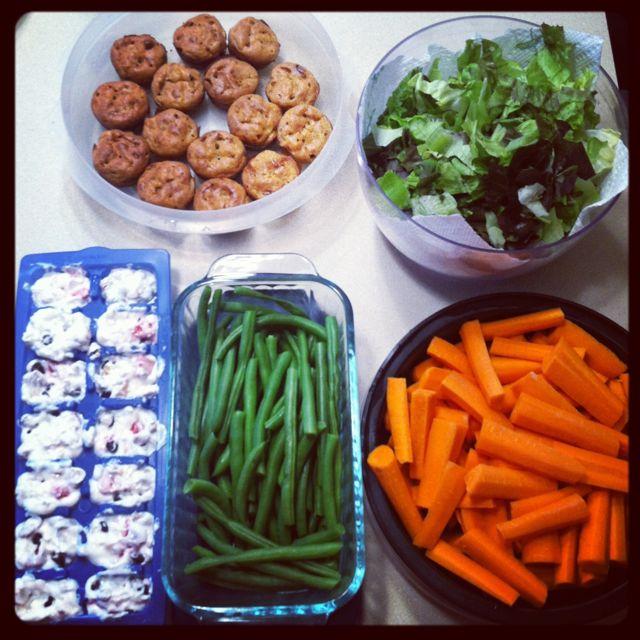 Green Beans
Carrots
Salad
Here's what some of you guys have been up to:
Chelsea from Chelsea's Healthy Kitchen :
"I started my dietetic internship this week and I know I'm in for a busy year, so I decided to hop on the Sunday food prep bandwagon. Last Sunday I spent about 2 hours in the kitchen and made:
– Chili bean burgers from Moosewood Low Fat Favourites cookbook to eat for lunches and dinners
– Roasted sweet potato to take with a burger one day for lunch (in hindsight, I should have roasted more than one!)
– Short grain brown rice
– Baked tofu
– Chopped up cabbage, carrots, and cucumber with an Asian dressing to combine with the rice and tofu for lunches
Having all this food ready was a life saver this week, so I'm definitely going to try to keep up the habit this year!"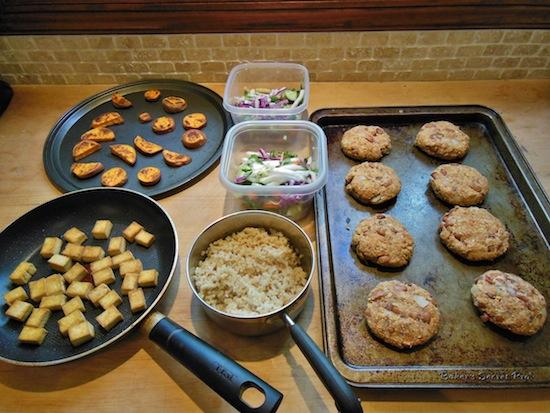 Amanda at Eat Hard, Work Hard :
For this meal prep, I wanted to explore going meatless without too much soy, so I relied on a whole bunch of legumes to get my protein in. Here's what I ended up with (recipes for everything up on the blog):
-Sweet potato quinoa lentil muffins (inspired by your sweet potato black bean burgers!)
-Slow cooker chickpeas plus leftover cooked lentils from the muffins, to use in salads and stir-fries through the week
-G
luten free coconut flour raisin breakfast cookies which I ate with almond butter all week. I was sad when these were gone!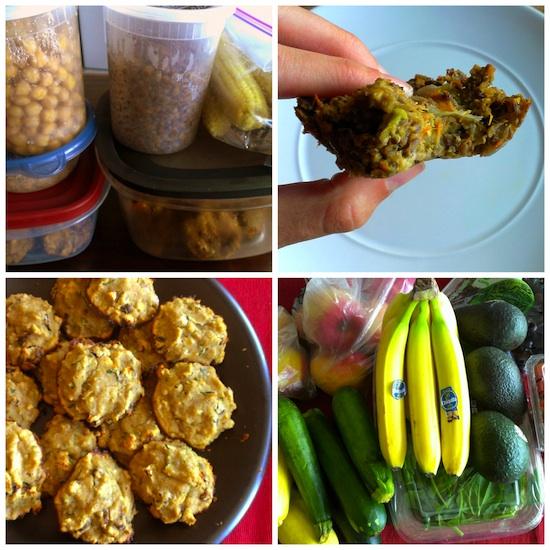 Johanna :
I prepped some oatmeal in jars for a quick grab and go breakfast, sauteed some spinach and steamed broccoli, an heirloom tomato and ricotta tart, cut up some watermelon, made eggplant "boats", and made some chicken and potatoes for quick week night meals! The best part? Almost everything I used was from my CSA share this week!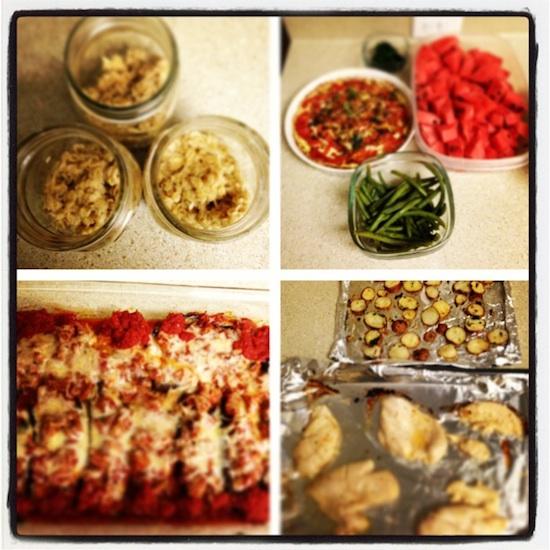 Christi :
Chicken stir fry
Paleo pumpkin cookies
Tacos w lean beef
Salads
Grilled chicken
Grilled pork chops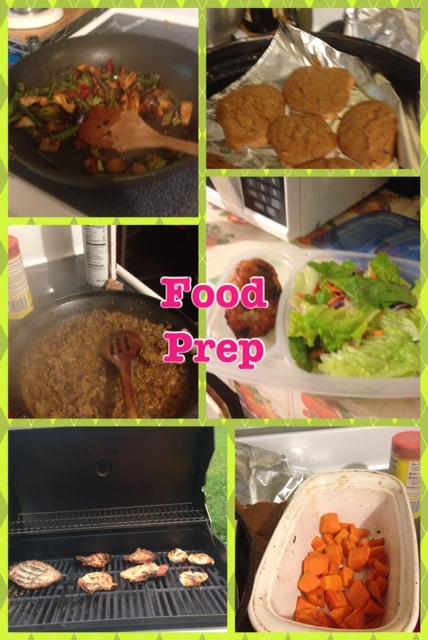 Fruit in baggies for kids' lunches – we always keep prepped fruit in the 'fridge, but just recently I started pre-portioning in baggies ahead of time for lunches. This makes lunchbox making in the mornings a lot quicker and ensures that I'm not always just opting for an easy grab-n-go applesauce container.
Lemon-Raspberry Muffins – for quick morning breakfast and pre-workout snacks.
Chocolate-Walnut Bars – for my afternoon chocolate fix 🙂
Egg White Sandwich Stackers – 6 tablespoons 100% egg white or 2 beaten egg whites per cup, microwaved in a small bowl for 70 seconds each; makes the perfect size for morning breakfast sandwiches.
 Sliced Cucumbers – what I eat with my hummus while cooking dinner at night; keeps me from loading up on crackers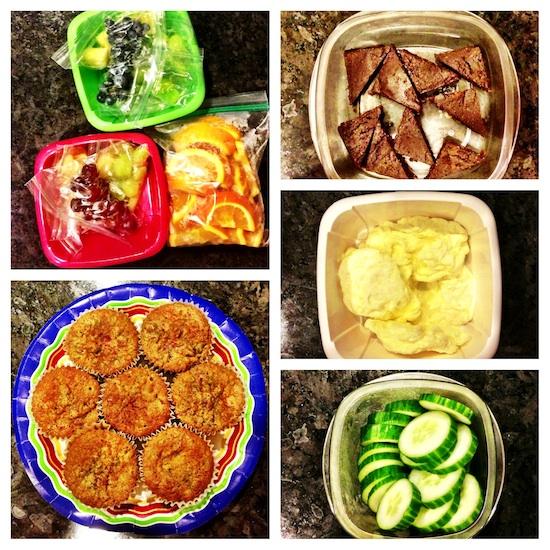 Are you food prepping this weekend? Want to submit a pic to be featured in an upcoming post?! 

Here's what I need from you:
Email me the following:
1. Your Name
2. Your Blog URL (if you have one)
3. A photo of your food prep
4. A short description of what's in the photo. Tell me what you prepped and how you're going to use it during the week!
Every Sunday, I'll post a roundup of the photos I received that week so that you guys can see what others are preparing and hopefully get some inspiration and ideas! I'll keep this series going for as long as I receive photos, so send one every week if you want to!
Send to: theleangreenbean <at> gmail <dot> com
Tweet and Instagram your pics as well to inspire others!! Use the hashtag #sundayfoodprep . Remember that in order for a pic to be included in the post, you have to email it to me! If you have more than one pic, please make them into a collage before sending!
———————
Want more inspiration and tips? Read these:
How to Prep Food on the Weekend
Weekend Prep for Easy Weekday Meals
How to Eat Healthy in College
How to Eat Healthy During the Week
And check out the Food Prep Tab for links to all the previous Sunday food prep posts!
—————–
Let's chat: Are you prepping food today? Whatcha makin'?
Enjoy!
–Lindsay–