Hi Friends!
Time for more food prep inspiration.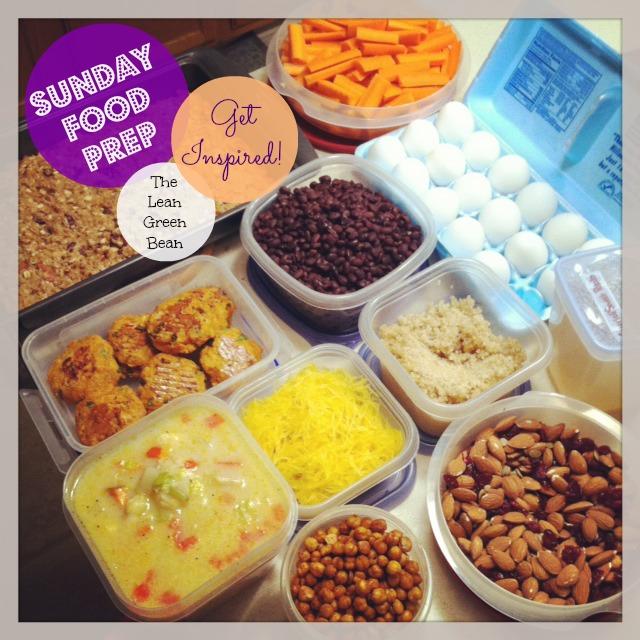 After being out of town, it felt great to get back in the kitchen and do some prep work last weekend.
Here's what I prepped: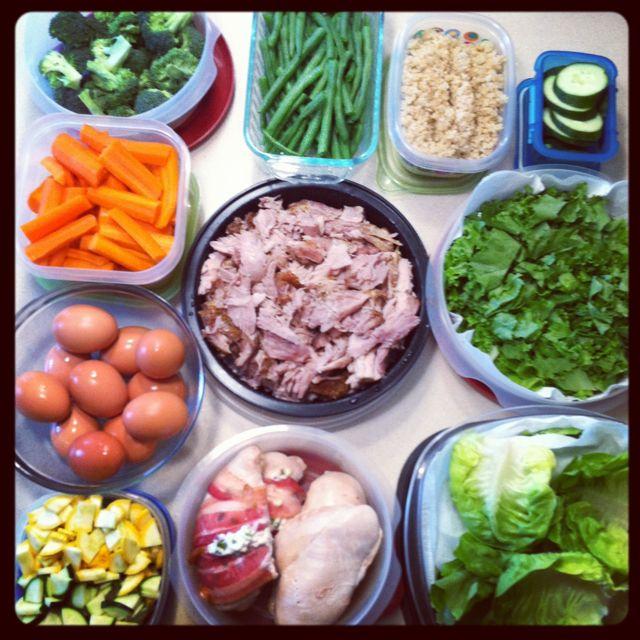 Chopped veggies to saute for lettuce wraps
Hard Boiled Eggs
Chopped carrots and broccoli for snacking
Green Beans
Crockpot pulled pork
Chicken- plain and bacon wrapped
Lettuce for lettuce cups
Lettuce for salads
Quinoa
Cucumbers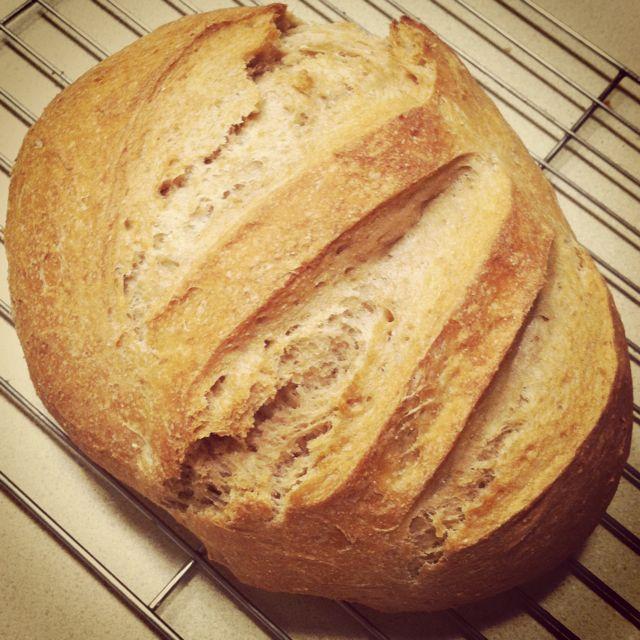 I also baked some bread (recipe from my favorite cookbook- Artisan Bread in 5 minutes a day), baked a batch of Sweet Potato Bites & a batch of Quinoa Breakfast Bars!
————–
 And here's what some of you guys did to prepare for the week:
Lauren from Lawfully Wedded Wife :
boiled eggs for salads, snacks, etc.
chopped and steamed broccoli and carrots for stir fry, ramen, omelets, etc.
made a vegetarian asian broth for cooking ramen in
sliced carrots sticks for eating with hummus or dressing
pressed and marinated tofu strips for fried rice, stir fry, etc.
chopped tofu for ramen
made brown rice for mexi bowls, stir fry, and for the dog (he loves rice!)
browned ground beef w/taco seasoning for Jason's tacos and enchiladas
grilled veggies (squash and zucchini) for lunch wraps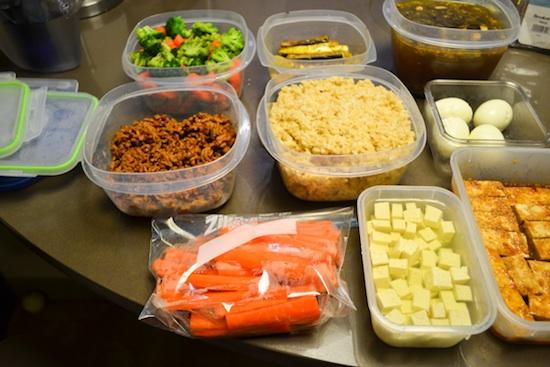 Amy from Long Drive Journey :
This week I decided I'd try something new and add kale to my meatloaf.  It sounded like a great way to add some veggies into my diet.  Turns out, the kale made the meatloaf taste quite bitter, but I was able to remedy the situation with some barbecue sauce.  Healthy meatloaves and casseroles are a great idea because you can get so many meals out of them.  I got a double dose of veggies by cooking green beans to go on the side.
I also made mashed potatoes.  If you're looking for a healthy way to prepare mashed potatoes, try using Greek yogurt instead of sour cream.  It really adds to the flavor and helps to give the potatoes the perfect amount of fluffiness.
Last, I got a couple of bags of frozen strawberries for work.  I leave them in the freezer of the office kitchen and eat them for a snack whenever I get hungry.  I also brought some colby jack cheese to eat along with them.  If you only eat cheese and fruit together when you're having it off of a platter at a party, you're missing out.  They both make great office snacks!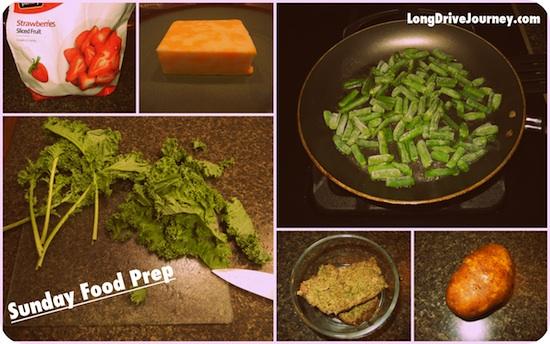 I prepped:
Steam Broccoli– lunches
Roasted Sweet Potatoes– lunches
Chicken Burgers– lunches & dinner
Hard Boiled Eggs– snacks
Chopped Mango– snacks
Farro– dinner
Frozen Banana Slices– snacks
Cooked Beets– lunches & dinner
Banana Bread Dough Bites– snacks
And here's the meal plan for the week.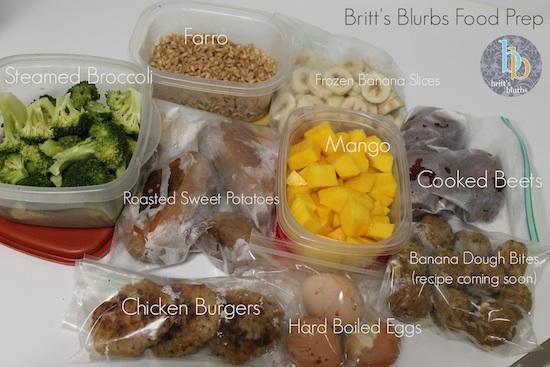 Nicole from Fruit 'n' Fitness :
My sunday food prep almost always includes cinnamon roasted kabocha squash and brussels sprouts with beets for snacks for the week.  I took advantage of some of the fresh zucchini my boyfriends grandmother gave me to make homemade healthy 
zucchini bread
 and
simple summer chili
.  I also made a big batch of mixed rice to have on hand to add yo yogurt bowls for breakfast or mix with dinner.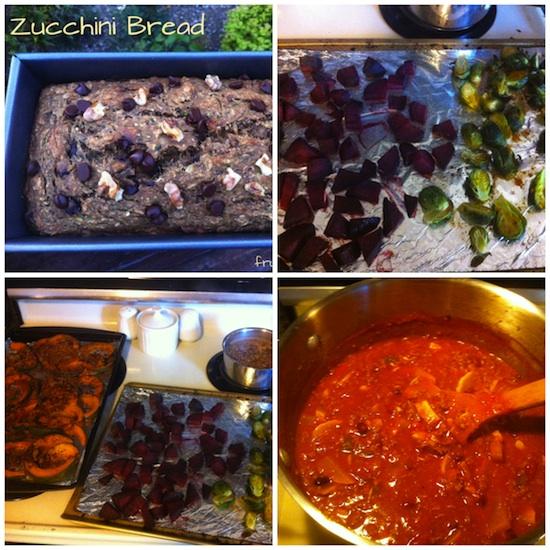 —————
Are you food prepping this weekend? Want to submit a pic to be featured in an upcoming post?! I'm totally out of submissions so be sure to send yours over!
Here's what I need from you:
Email me the following:
1. Your Name
2. Your Blog URL (if you have one)
3. A photo of your food prep
4. A short description of what's in the photo. Tell me what you prepped and how you're going to use it during the week!
Every Sunday, I'll post a roundup of the photos I received that week so that you guys can see what others are preparing and hopefully get some inspiration and ideas! I'll keep this series going for as long as I receive photos, so send one every week if you want to!
Send to: theleangreenbean <at> gmail <dot> com
Tweet and Instagram your pics as well to inspire others!! Use the hashtag #sundayfoodprep . Remember that in order for a pic to be included in the post, you have to email it to me! If you have more than one pic, please make them into a collage before sending!
———————
Want more inspiration and tips? Read these:
How to Prep Food on the Weekend
Weekend Prep for Easy Weekday Meals
How to Eat Healthy in College
How to Eat Healthy During the Week
And check out the Food Prep Tab for links to all the previous Sunday food prep posts!
—————–
Let's chat: Are you prepping food today? Whatcha makin'?
Enjoy!
–Lindsay–