Hi Friends!
Time for more food prep inspiration!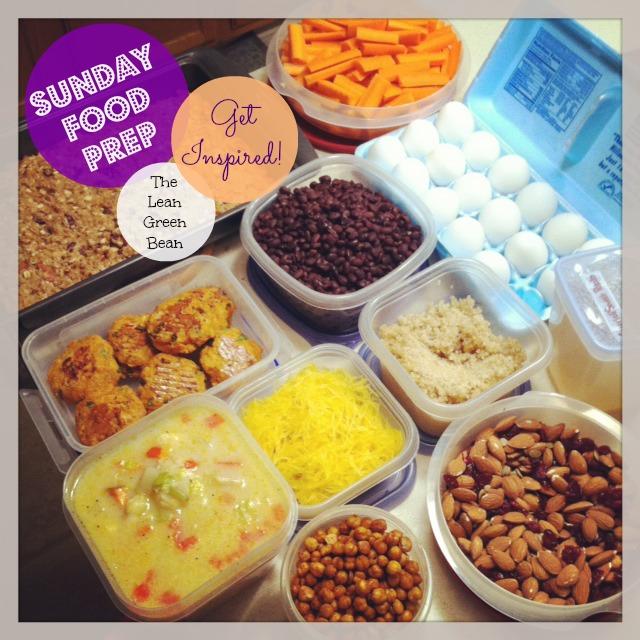 I didn't actually do any food prep last weekend because I was out of town until 11pm Sunday night and hubby left to go out of town Sunday afternoon and was gone until late Wednesday night….but now we're both home and I'm planning to do lots of food prep today for the upcoming week!
Meanwhile, let's take a look at what some of you guys have been prepping lately:
Marilyn at A Place To Reside :
Weekend food preparation takes a bit of time, but it really makes it easier for me to eat wisely (rather than impulsively) during the week. Plus, I only make things I like, so I genuinely look forward to meals. This week, I air popped a big batch of popcorn for an easy snack. I hard-boiled eggs for a protein to pair with a light meal or as a snack. I cooked chicken sausage to go with scrambled eggs. I made black bean meatless meatballs and served them over spinach, avocado and a couple of scoops of rice and beans. I also made a big batch of baked oatmeal (topped with peanut butter, naturally) and tossed apple slices with lemon juice.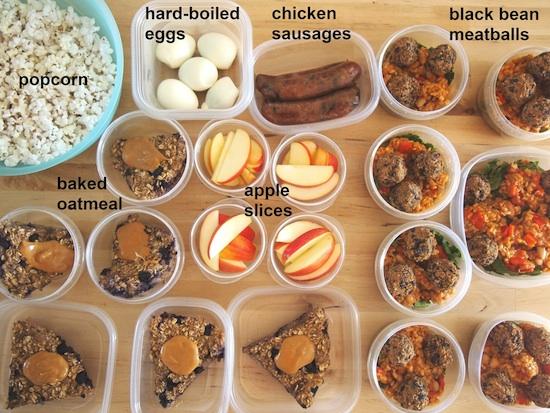 Jess at Jessness Required :
This week I did a vegan food prep – lots of color & lots of flavor. On the menu: roasted carrots & sweet potatoes with coconut oil. Zucchini pasta, mixed veggies, a big batch of millet, and a tofu, onion, veggie stir-fry. I plan to mix these up in different combinations for lunches & dinners. I will make other things throughout the week but this is a great base to get me goin!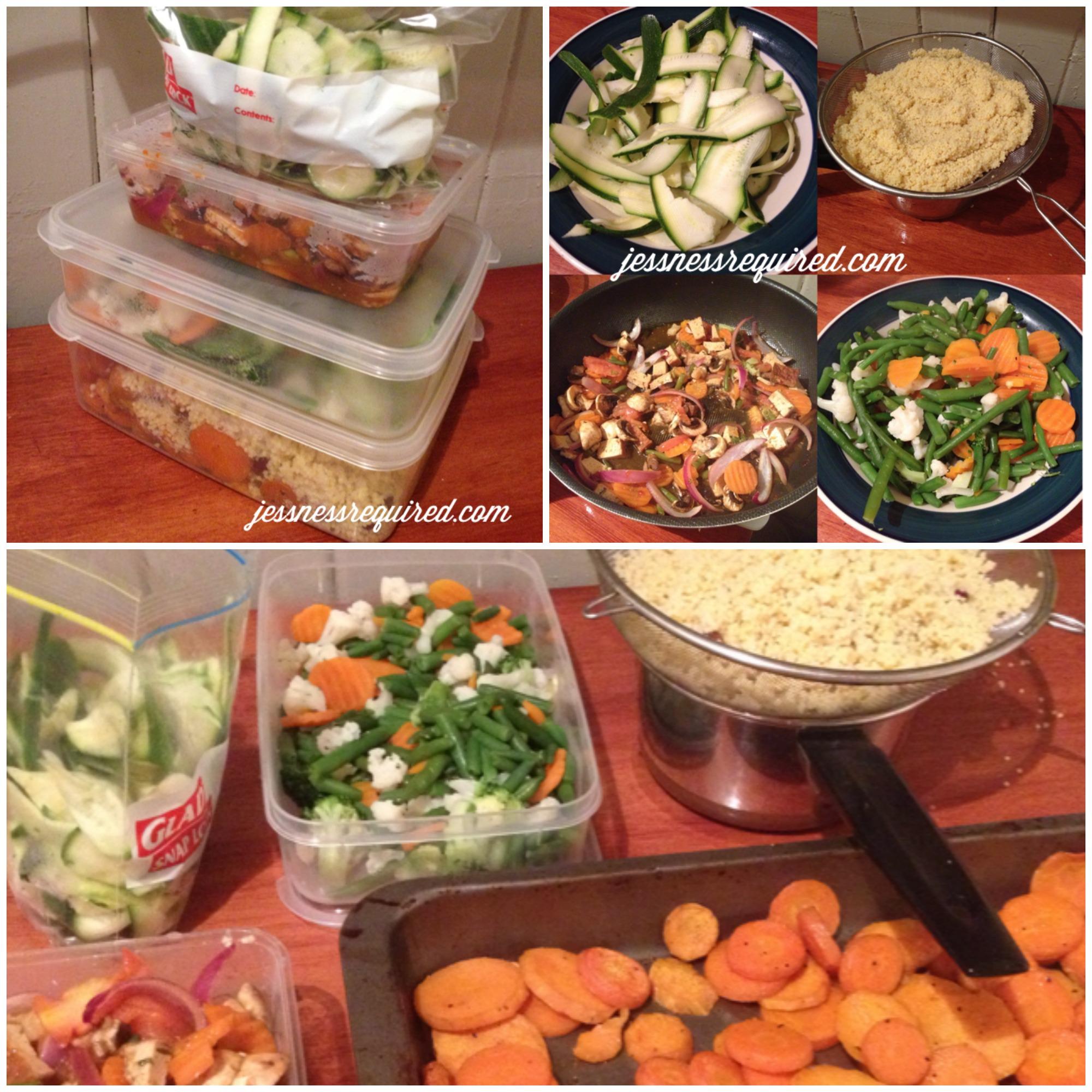 Britt at Britt's Blurbs :
I prepped: 
Quinoa – for lunches & Tuesday dinner
Brown Rice – for Monday dinner
Baked Sweet Potatoes- for Wednesday dinner & lunch
Homemade granola bars – for snacks
Peeled oranges – for snacks
Sliced carrots & celery – for lunches
Sliced peppers – for stir-fry Monday night
Chopped mango – for smoothies & snacks
Hard boiled eggs – for snacks & breakfast
Here's a look at my meal plan that my food prep goes along with- Meal Plan: Week of April 28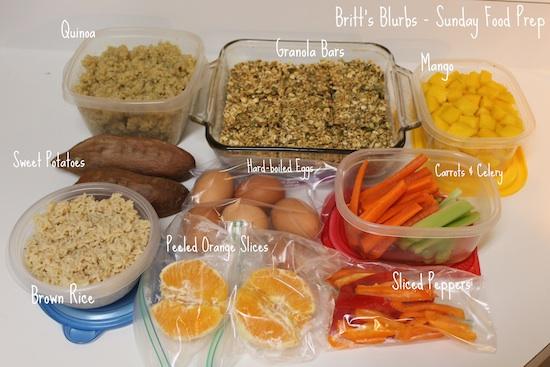 Lindsay at Health Foragers :
1. Egg Roll insides to use as a side for the stir fry 2. Roasted Chickpeas for snacks during the week(The Green Bean's recipe) 3. Stir fry ingredients: peppers, onions and rice. Will mix together on the day of and add some 5 spice and soy sauce. 4. Quinoa breakfast bars (Green Bean's recipe too) 5. Lunch: carrots, cucumbers, hb eggs, and red peppers. Also, sliced apples soaked in lemon water for 5 minutes but didn't get a picture. 6. Quiche with chorizo, brussell sprouts and potatoes for dinner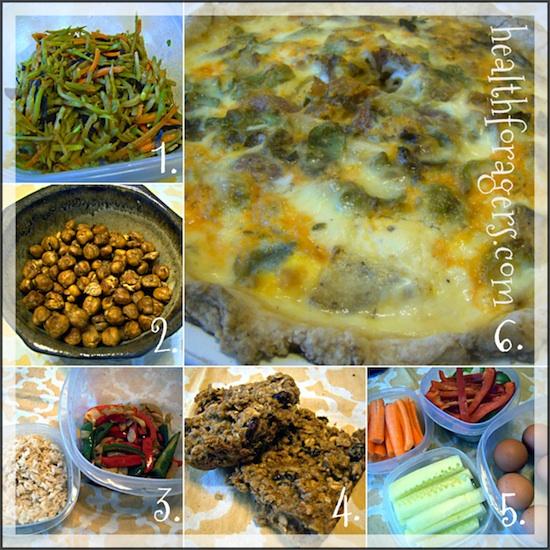 Lisa at Run Wiki : This week I cut up honeydew, made a Mediterranean Farrow salad, made individual Greek salad mix ins ( tomatoes, cucumbers, red onion, olives and feta) just add to greens .. makes it easy for lunches, an energy bar, a protein, peanut butter, flax and chia cookie ( added a few candy pieces) and made a turkey meatloaf that I'll put in the oven tonight for Sunday night dinner.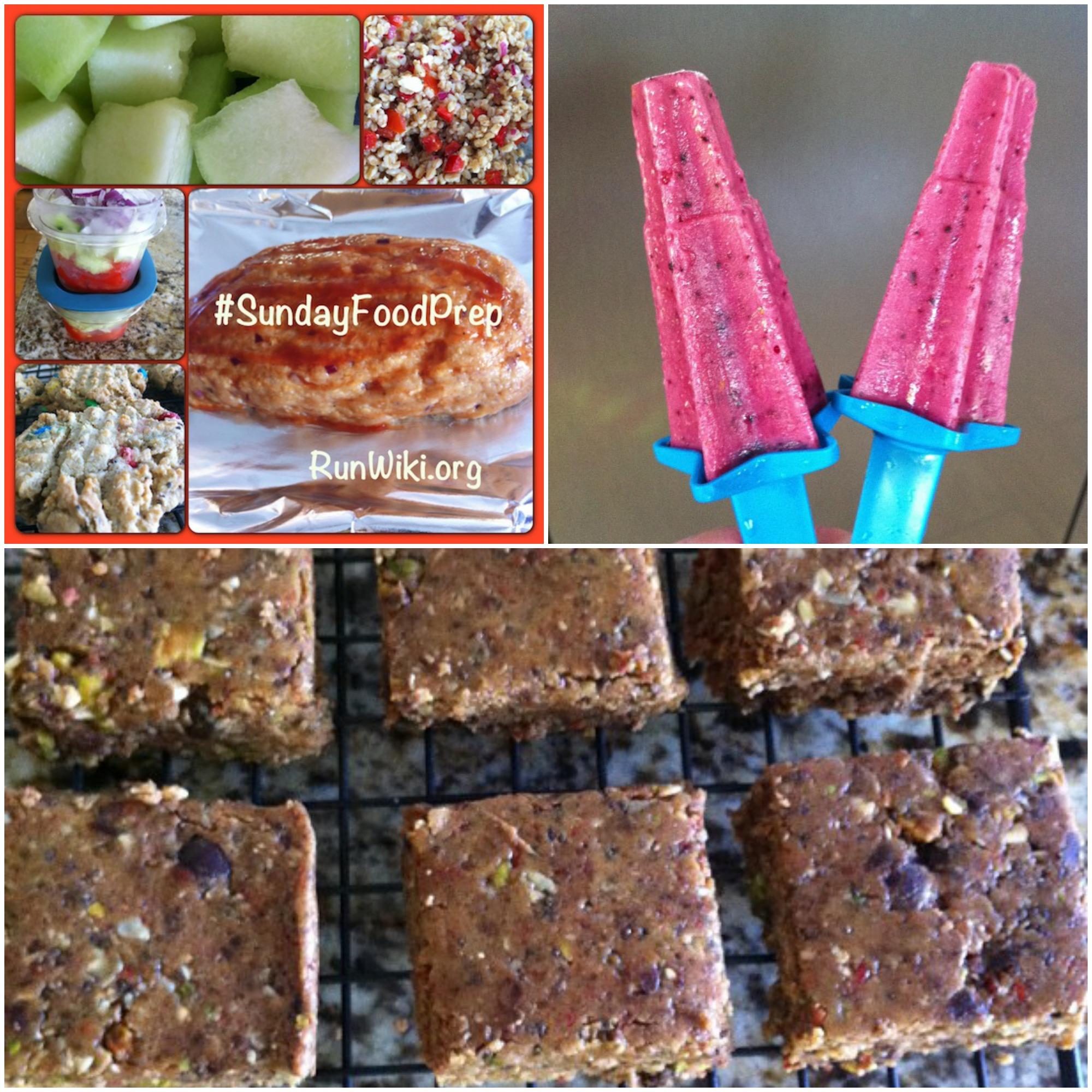 Jenn (@Jenn_toland on twitter) :
Sundried tomato crackers, black bean meatballs, spiced bars and TIU protein bars.
Kristin at Mrs. Miller's Miles :
All my salad ingredients (dark red kidney beans, carrots, mushrooms, a hard boiled egg and celery) were chopped and bagged, all I have to do is throw them over some fresh lettuce in a to go container! Sliced up some watermelon for snacks.  Tomorrow's lunch: vegetarian wraps! These have chopped hard boiled eggs, dark red kidney beans, hummus and chopped celery! (I try to reuse ingredients in multiple recipe) not pictured: chicken enchiladas via the Old El Paso green sauce recipe, stuffed peppers with brown rice, ground turkey and black beans, and spaghetti squash with ground turkey and sliced Parmesan and garlic sweet potatoes.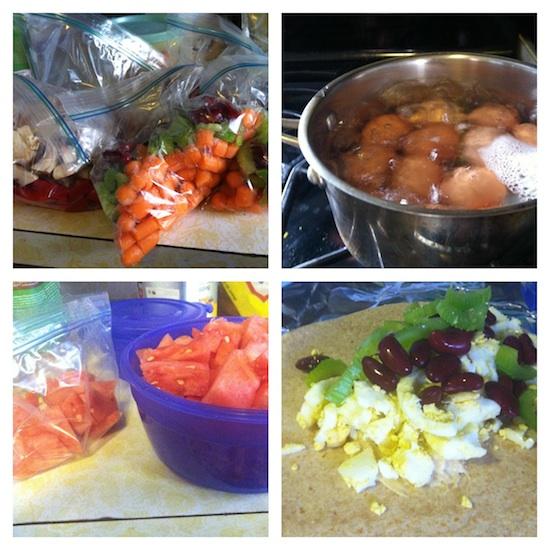 Lots of great ideas! Be sure to check out the blogs linked above for more yummy recipes and great content!
—————
Are you food prepping this weekend? Want to submit a pic to be featured in an upcoming post?!
Here's what I need from you:
Email me the following:
1. Your Name
2. Your Blog URL (if you have one)
3. A photo of your food prep
4. A short description of what's in the photo. Tell me what you prepped and how you're going to use it during the week!
Every Sunday, I'll post a roundup of the photos I received that week so that you guys can see what others are preparing and hopefully get some inspiration and ideas! I'll keep this series going for as long as I receive photos, so send one every week if you want to!
Send to: theleangreenbean <at> gmail <dot> com
Tweet and Instagram your pics as well to inspire others!! Use the hashtag #sundayfoodprep . Remember that in order for a pic to be included in the post, you have to email it to me! If you have more than one pic, please make them into a collage before sending!
———————
Want more inspiration and tips? Read these:
How to Prep Food on the Weekend
Weekend Prep for Easy Weekday Meals
How to Eat Healthy in College
How to Eat Healthy During the Week
And check out the Food Prep Tab for links to all the previous Sunday food prep posts!
—————–
Let's chat: Are you prepping food today? Whatcha makin'?
Enjoy!
–Lindsay–