Hi Friends!
Sorry about missing last week but we're back in business. Here's what I prepped the past two weeks: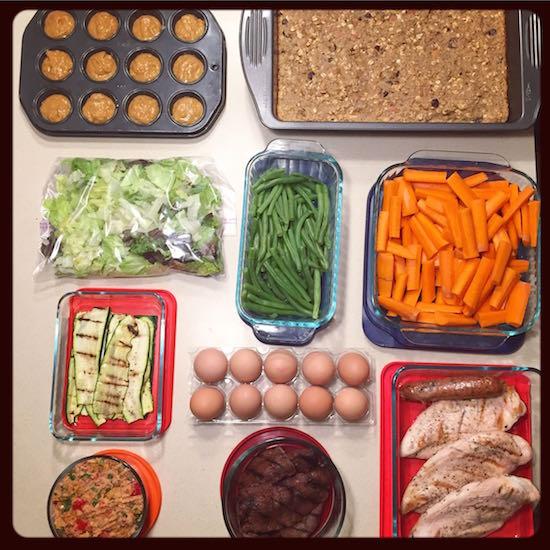 Two weekends ago I made:
Tuna Salad
Grilled steak, chicken and chicken sausage
HB Eggs
Veggies – including grilled zucchini which i used to make these Grilled Zucchini Roll-ups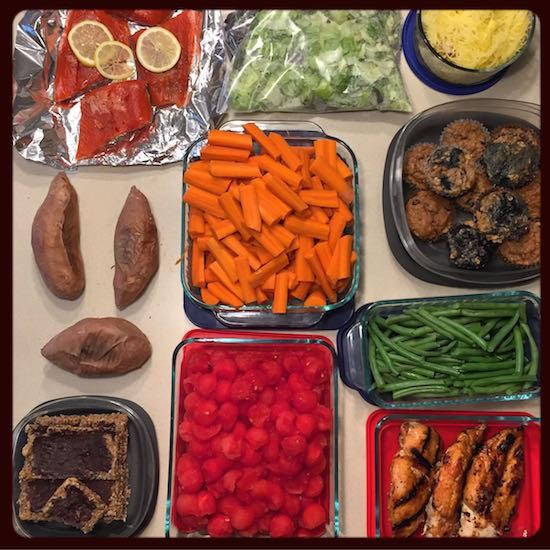 Last weekend I prepped in two batches. On Saturday I made:
Sunday I:
Grilled chicken
Chopped veggies
Roasted sweet potatoes and spaghetti squash
Baked salmon
---
Here's what some of you have been up to:
Tanya
With a new job that's an hour away and being pregnant, I really had to step up my Sunday Food Prep Game. This took me a little over 3 hours I think, but it was very much worth it!
Snacks: Veggies & hummus, yogurt, grapes, cantalope and homemade granola
Lunch: White bean chili (yay for 20 min high school lunches)
Dinner: Rice for sides and veggie fried rice, shredded chicken and sauteed spinach for this recipe, broccoli we can cook for a side and tuna salad for crescent rolls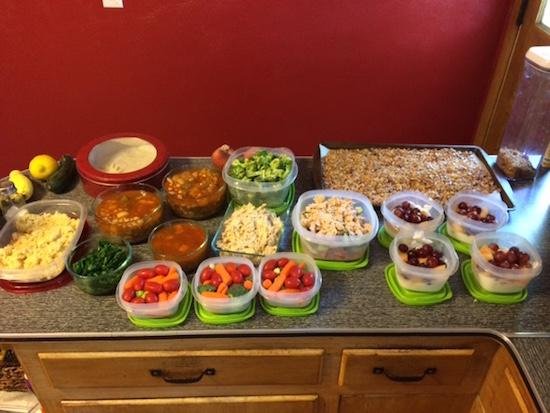 Prepped spaghetti squash (top left) to go with homemade meat sauce (top right)
Prepped salmon (bottom right) to topped on fresh greens (bottom left). Also prepped mashed cauliflower for a dinner side (middle right)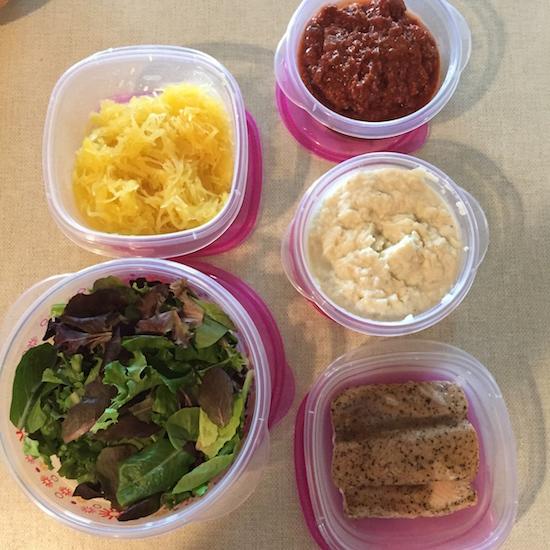 This week I'm getting on track with food prep. Since football season has begun, my coaching husband needs lots of healthy food at the office for long workdays, and I need easy to make dinners for 1 (and a baby!) when I'm at home! This week I prepped a ton of veggies (cabbage, kale, broccoli, carrots, peppers) and made a big Rainbow Power Salad for us to eat for lunches this week. Then I froze the extra kale and broccoli since I knew we probably wouldn't eat it right away. It will be perfect for green smoothies or quick dinners. I bought a rotisserie chicken and shredded it to top our salads and to add to dinners without having to cook meat. I also washed and prepped apples, peaches and strawberries. I "flash froze" some sliced strawberries for smoothies. Then I packed some sandwiches, leftover pasta, almonds and salads for my husband to bring to work. Hopefully this will last a few days!!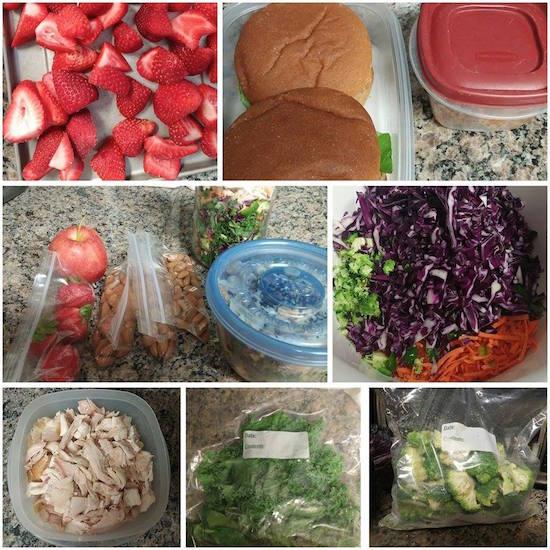 Tamara:
I tend to "batch cook" about 2-3x/week. This past week and upcoming week looked a little different because my husband is in his work "close" time so he is working long hours and in need of easy breakfast and snack options. We were also away camping and hiking for a weekend so these things were relatively easy to bring with us. Plus, our garden is exploding with zucchini!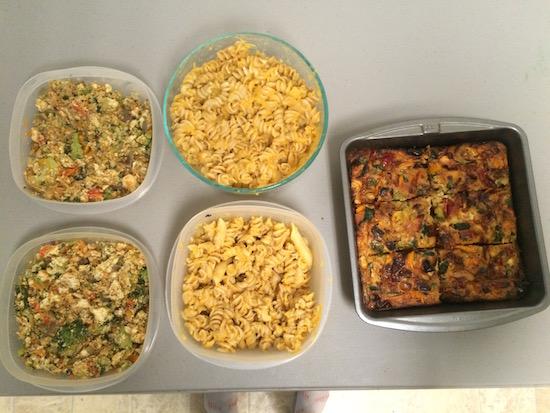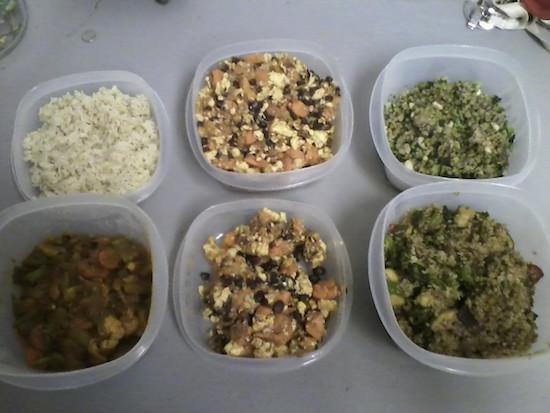 TOP LEFT: Brown Rice (to be used with Vegetable Masala), Sweet Potato Black Bean & Egg White Breakfast Burrito filling (from
ambitiouskitchen.com
), Parmesan lentils with broccoli and spinach, Vegetable Masala (adapted from
detoxinista.com
), Quinoa Teriyaki Vegetable Bowls (from
detoxinista.com
)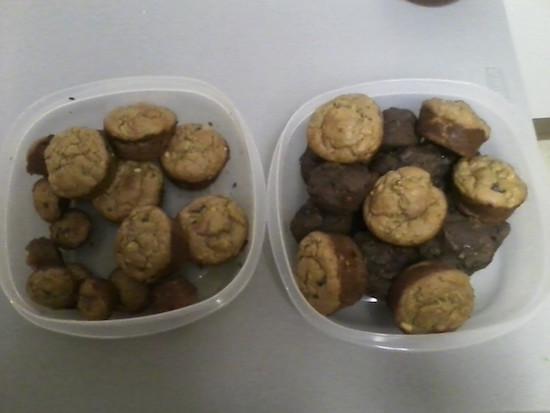 ---
Are you food prepping today?
Send me your pic! (I'm all out!)