Hi Friends!
It's food prep time. I skipped last week since my parents were in town but I actually got back on track yesterday so I thought I'd pop in today to share my prep for this week!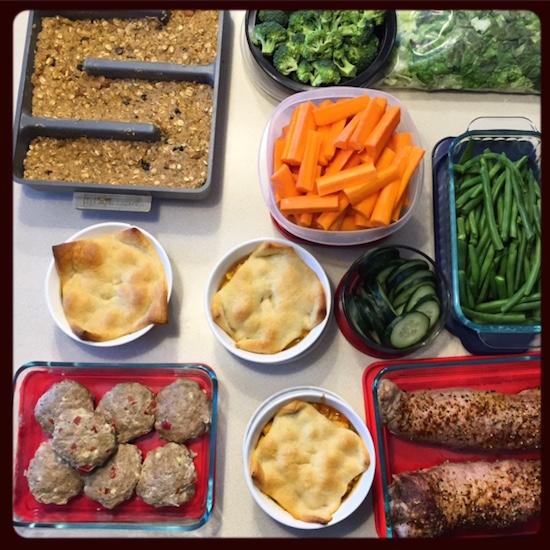 I made:
Greek turkey burgers (ground turkey, red peppers, feta, garlic, greek seasoning and an egg) – If you're not a meat eater, try my Greek Black Bean Burgers!
Chicken pot pies (similar to these Lentil Veggie Pot Pies + chicken)
Veggies
Roasted pork tenderloin
Today I have plans to make some snack balls and sweet potato bites!
————
Here's what a couple of you guys did:
Katrina:
Green beans and asparagus for roasting, roasted root veggies, hard boiled eggs, wheat berries rinsed and ready to be cooked.  Not pictured are the almonds I toasted earlier.  I will package everything into containers for my work week.  I use the wheat berries to warm and mix with almonds, cinnamon, and cayenne for breakfast.  The roasted veggies are for snacking on during the day, and the eggs are part of breakfast.  I mix the almonds into plain yogurt for a late snack and I have some sweet potato, red lentil soup in the freezer from last week to defrost for lunch.  I don't have room for all of my food to take a photo of it all-small kitchen!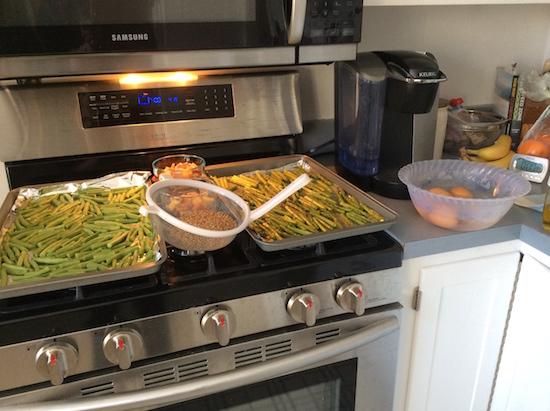 Marie Alessandra – Simple Runner –
My lunches and dinners for Monday to Friday. For lunch we have protein muffins, some with blueberries, some with raspberries, and some plain. And for dinner we have 3 boxes with organic whole grain couscous, tofu "chicken" fillet, asparagus, carrot, cauliflower and broccoli, and the 2 other boxes with whole grain pita pocket, tofu "chicken" fillet, asparagus, carrot, cauliflower and broccoli.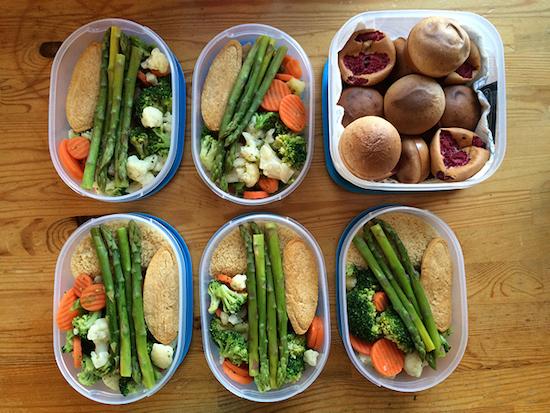 Are you food prepping this weekend? Send me your pic!
Here's what I need from you:
Email me the following:
1. Your Name
2. Your Blog URL (if you have one)
3. A photo of your food prep
4. A short description of what's in the photo. Tell me what you prepped and how you're going to use it during the week!
Every Sunday, I'll post a roundup of the photos I received that week so that you guys can see what others are preparing and hopefully get some inspiration and ideas! I'll keep this series going for as long as I receive photos, so send one every week if you want to!
Send to: theleangreenbean <at> gmail <dot> com
Tweet and Instagram your pics as well to inspire others!! Use the hashtag #sundayfoodprep . Remember that in order for a pic to be included in the post, you have to email it to me! If you have more than one pic, please make them into a collage before sending!
———————
Want more inspiration and tips? Read these:
15 Freezer Meals & Snacks
Top 10 Foods for Sunday Food Prep
How to Prep Food on the Weekend
Weekend Prep for Easy Weekday Meals
How to Eat Healthy in College
How to Eat Healthy During the Week
And check out the Food Prep Tab for links to all the previous Sunday food prep posts!
————
Let's chat: Are you prepping food today? Whatcha makin'?
Enjoy!
–Lindsay–