Hi Friends!
Happy Monday! Hope all of you had a great weekend. We had some beautiful (hot) weather here and we definitely spent some time outside enjoying it. Today I've got a fun new recipe to share with you guys. If you follow me on Facebook or Instagram, you may have seen me raving about the feta dip I made last week.
When we go to our favorite restaurant and get the hummus, it comes with a little dish of spicy feta dip. I love to spread hummus on a piece of pita and then add a thin layer of the feta dip on top of the hummus! I have no idea what's in the dip at the restaurant…but that didn't stop me from trying to recreate it at home.
All I really had to go on was the fact that the dip is a light orangish color…so I guessed that there might be a red pepper in there that would turn the dip orange when mixed with the white feta.
So, I roasted a red pepper and a bulb of garlic (because who doesn't love roasted garlic) and threw it in the food processor. I added some greek yogurt and gave it a few spins. Right away I could tell it wasn't going to be thick enough to make a dip so I pulled some canellini beans out of the freezer, defrosted them and added those.
*Side note about the beans- After I cooked an entire bag of them and put them in the freezer to use in future dishes, hubby informed me that he doesn't like white beans. SO, i've been looking for ways to use them up so that he doesn't have to eat them in their plain, white bean form. He saw me putting them in the dip and said "ewwww…why are you putting those in there?" I assured him that he wouldn't even taste them…and I was right. I also added a bunch of cayenne pepper to kick things up a notch. At the very end I added the feta! Voila!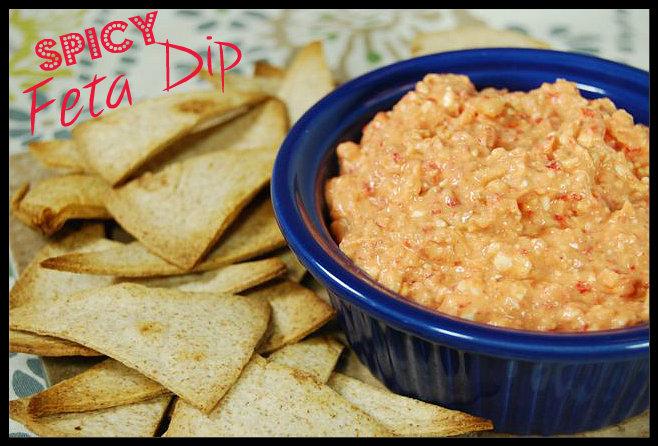 The first night we ate it cold with some homemade tortilla chips. The next night, I toasted some pieces of homemade bread, spread some dip on each piece and stuck them in the oven until everything was warm. Good news is this dip is great either hot or cold!
Spicy Feta Dip
Ingredients
1 red pepper, roasted and peeled
1 bulb of garlic, roasted
1/2 c plain Greek yogurt
1 cup canellini beans
1 tsp cayenne pepper
1 cup crumbled feta
Instructions
Place the red pepper and cloves of roasted garlic in a food processor and pulse several times.
Add the yogurt, beans and cayenne pepper and process to desired consistency.
Add the crumbled feta and pulse several times until mixed well.
Serve warm or cold.
Powered by Recipage
This dip is super simple, healthy and tastes great!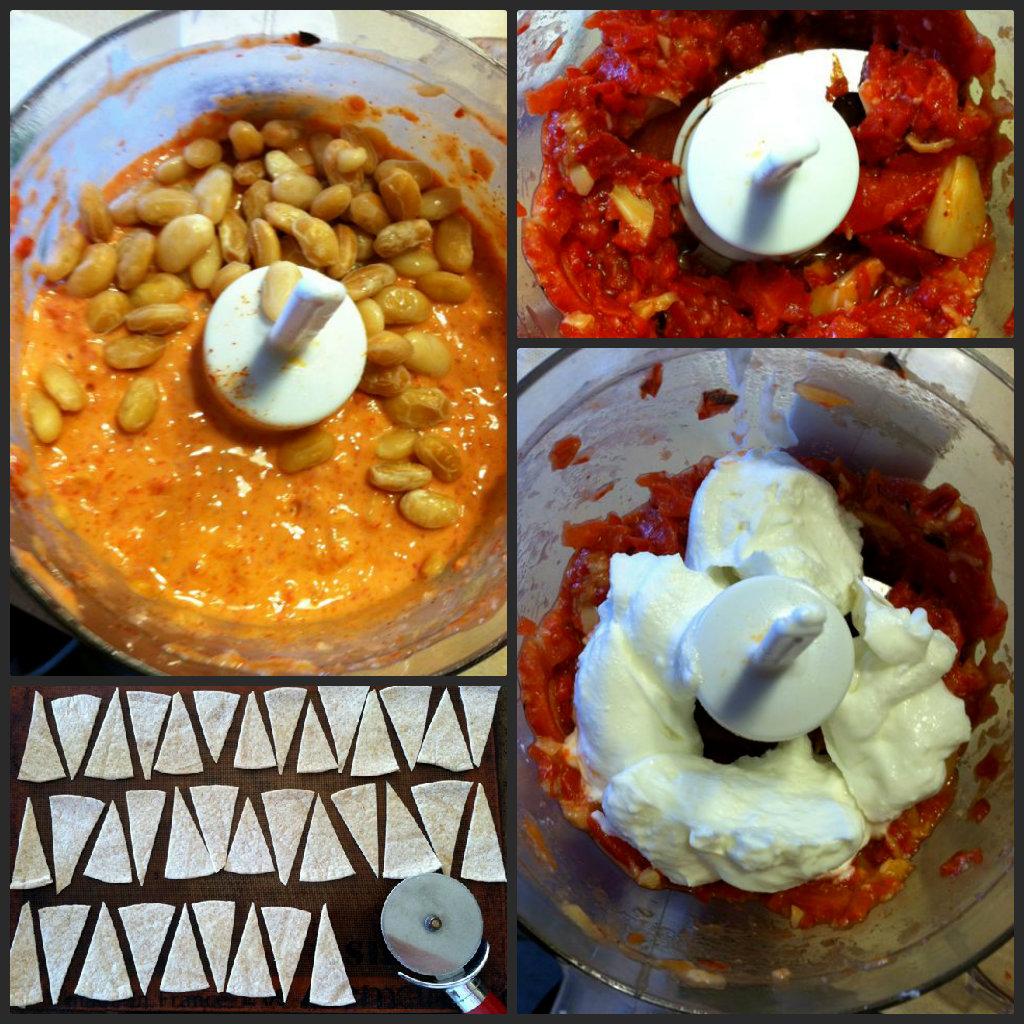 Don't worry if it still looks a little watery after the food processor.
It will thicken up after it's been in the fridge.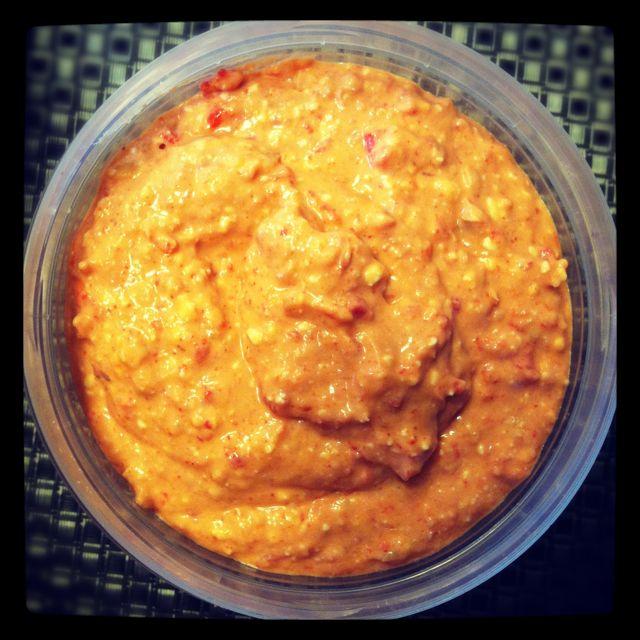 Just in case you've never made homemade tortilla chips before, I just spray whole wheat tortillas lightly with cooking spray, cut into triangles and bake at 400 degrees for about 10 minutes, flipping once.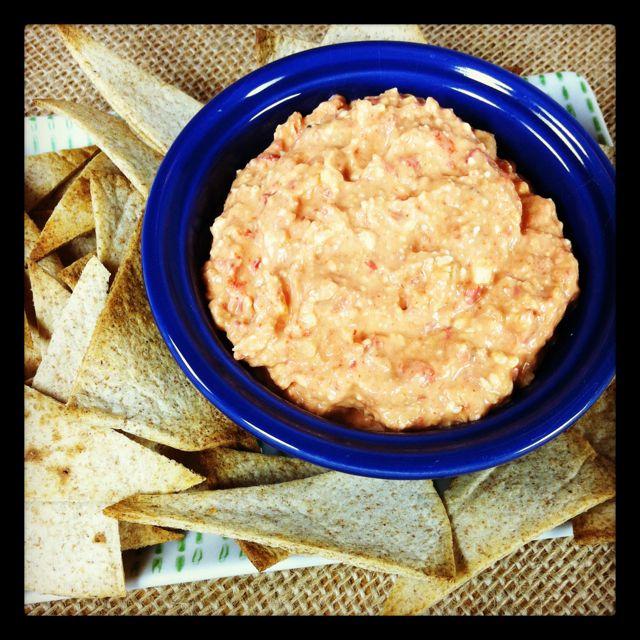 I tried to decide whether I like it hot or cold better and I can't pick a favorite 🙂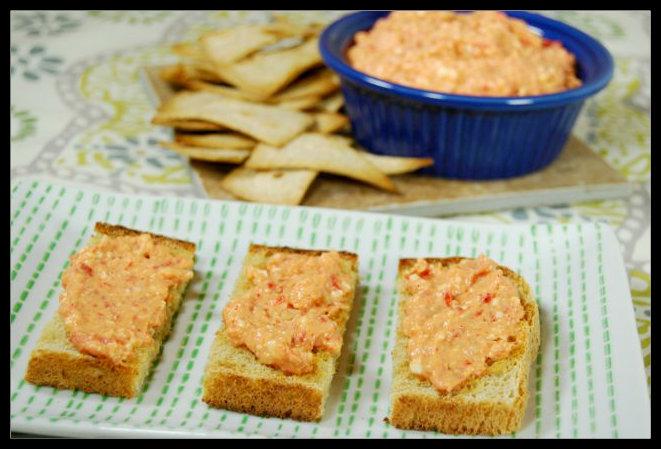 In hubby's words, this feta dip is "the business"…so you know it's good 😉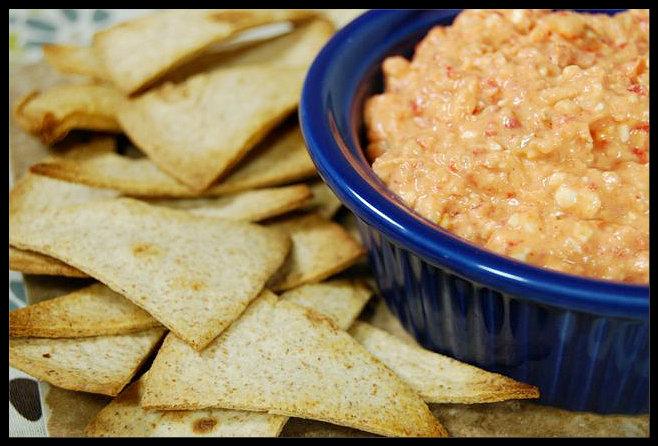 Enjoy!
–Lindsay–
LEARN HOW FOOD AFFECTS YOUR BODY.
Get my free Table Talk email series where I share bite-sized nutrition information about carbs, protein, and fat, plus bonus information about snacks and sugar!