This Pre-Kindergarten Daily Schedule is an easy way to plan your day. Let your child choose an activity in each category and practice writing it if they can!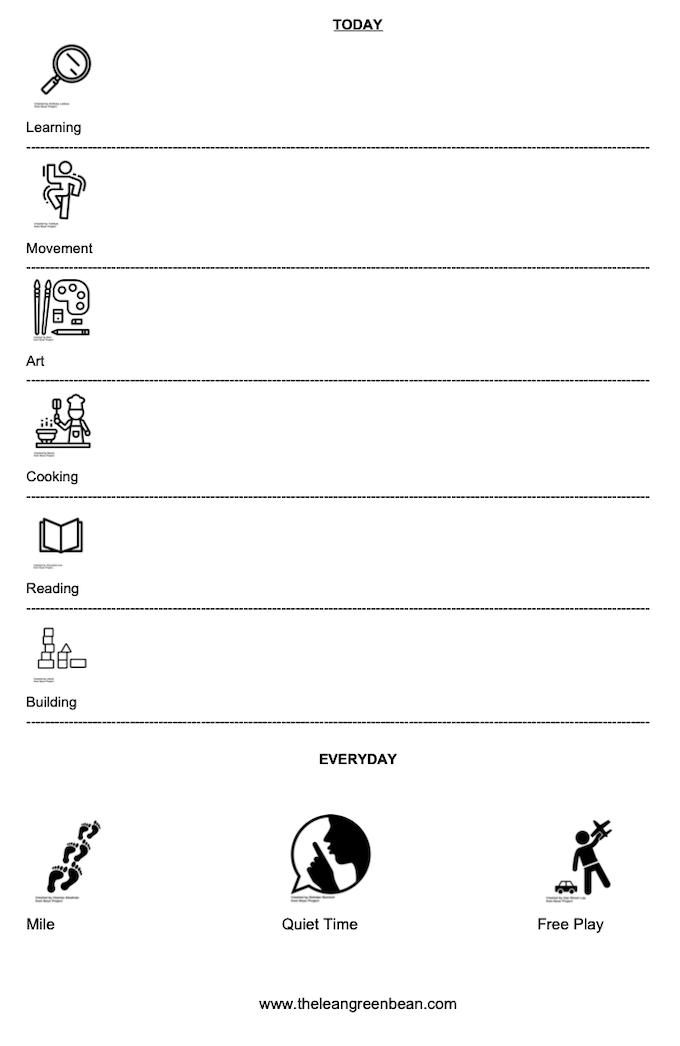 Hi friends!
I wanted to share this Pre-Kindergarten Daily Schedule I put together to help provide us with a little structure while my kids are not in school. My oldest is only in pre-k so I wanted something pretty basic but also something that would give him some ownership and let him choose as much as possible so that he would be excited to participate. I created this schedule so that together we could brainstorm and write down an activity in each of the following categories:
Learning
Movement
Art
Cooking
Reading
Building
This schedule focuses more on categories rather than doing things in a specific order. It allows us to choose some activities each day and then organize them in a way that works best for us each day without being restricted to doing things in the same order daily. My son thrives on routine and schedule, so my guess is we may start naturally doing things in the same order each day anyways, but I like the flexibility. Or who knows, he may just be happy going through the daily schedule each morning, even if it's a different schedule from the day before.
Pre-Kindergarten Daily Schedule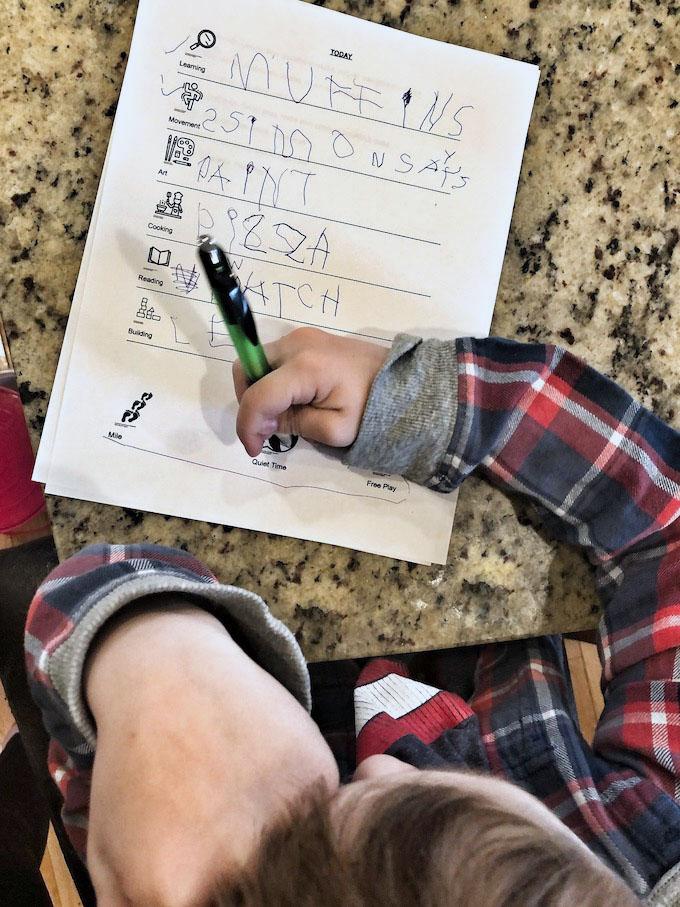 Here's an example of how we filled out the daily schedule:
Learning: Muffins

(He wanted to learn about what makes muffins rise)

Movement: Simon Says

Art: Painting

Cooking: Pizza

(He wanted to make homemade pizza)

Reading: Watch

(He wanted to use Storyline Online to watch an actor read a book)
Building: Legos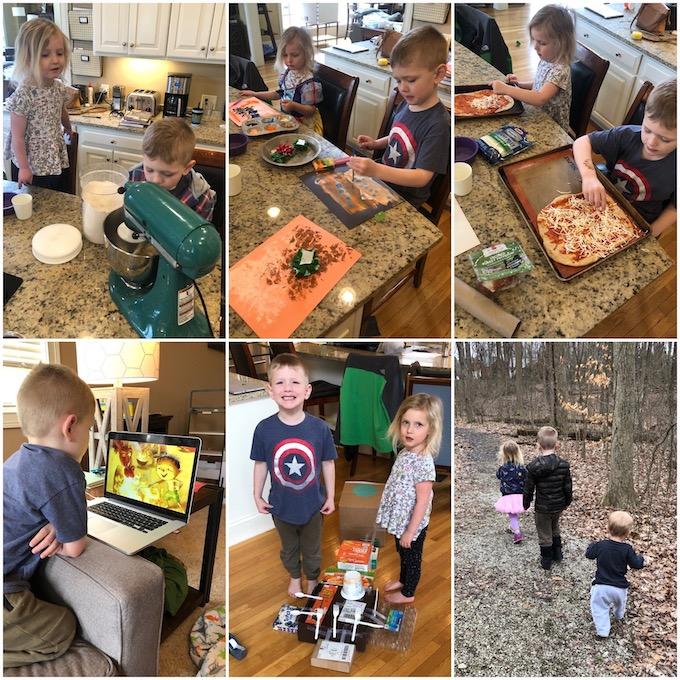 And here's how our day went:
Wake up/breakfast/showers/get dressed
Make schedule
Make pizza dough (watched a video on yeast while yeast was activating)
Free play
Snack
Painting
Simon Says for movement
Science experiment about the difference between baking soda and baking powder. (Find it here)
Lunch – shaped, baked and ate our pizzas…plus some math with pepperonis
Quiet time
Storyline online books
Daily mile – bike/walk/scooter + a little nature hike
Snack
Free play + dinner prep
Outside time
Dinner
TV
Bed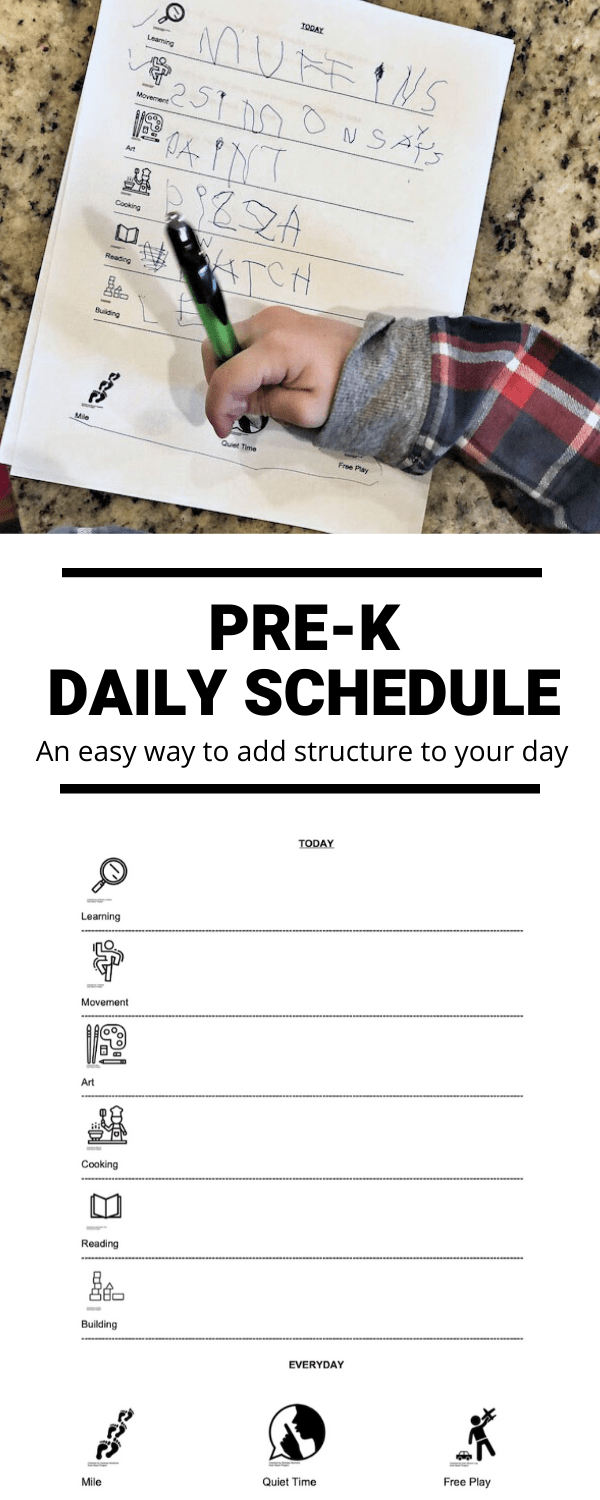 This is a flexible schedule that's working well for us so far. Add your own categories to make it work for you. If you decide to use it, you can prompt your kids to help them choose the activity for each category:
Learning – Ask them if they want to learn about a certain animal or person, how something works, do a science experiment, learn a new skill, etc

Movement

– They could make up their own workout, do Cosmic Kids Yoga, play a sport, build an obstacle course, go on a scavenger hunt or hike, play Simon says…anything to get their body moving

Art

– Let them choose the art medium: paint, markers, crayons, watch a video to help them learn to draw something, help them illustrate their own story, make a collage, do a craft, etc

Cooking

– Have your kids help you prep food for the week, prep food for dinner or help you make dinner, make their own lunch or breakfast, bake something, invent their own recipe…

Reading

– Read a book, listen to a bok at Storyline Online, listen to an audiobook. After reading or listening, ask them to summarize what happened or ask a few questions to check their comprehension.

Building

– Encourage them to use their imagination and create something using legos, Magnatiles, blocks, items from the recycling bin, playdough etc

Daily

: Things we do every day- quiet time and free play, plus walk a mile (weather permitting)
If things come up during the day that you want to learn about the next day, fill them in before bed! During our day today we talked about woodpeckers on our nature walk and freckles & moles at dinner so we wrote them both down to investigate more tomorrow!
Enjoy!
–Lindsay–
LEARN HOW FOOD AFFECTS YOUR BODY.
Get my free Table Talk email series where I share bite-sized nutrition information about carbs, protein, and fat, plus bonus information about snacks and sugar!