Hi Friends!
Yesterday I was looking for a quick treat I could whip up that were semi-healthy. After I'd settled on a no-bake cookie ball of sorts, I did my prerequisite googling. Then I did my favorite thing: recipe combining.
I started with these three recipes: One, Two, Three. All of them looked good, but weren't quite what I was looking for. So, I lined them all up in a word document and added, subtracted and combined things until I came up with this:
No Bake Chocolate PB Oatmeal Balls
Prep Time: 5 min
Keywords: raw dessert snack healthy vegetarian chocolate peanut butter oats almonds
Ingredients (14 balls)
1 1/2 c oats
2 Tbsp chia seeds
1/2 c chopped raw almonds
1/2 c Craisins
1/4 c natural peanut butter
1/4 c dark chocolate chips
1/4 c honey
Instructions
1. In a medium bowl, combine the oats, chia seeds, almonds and cranberries.
2. In a small bowl, combine the chocolate chips, honey and peanut butter. Microwave on low until melted and mix well to combine.
3. Add the melted mixture to the oat mixture and use your hands to mix well. Form into balls and refrigerate until chilled.
4. Store in an airtight container in the fridge.
When I made these I actually used 2 cups of oats, and I ended up with about 1/2 a cup of oats that I couldn't make stick together into balls. So, I've adjusted the recipe above accordingly and I think 1 1/2 cups would be the right amount. Not to worry though, I didn't let those extras go to waste! They tasted great in my Greek yogurt!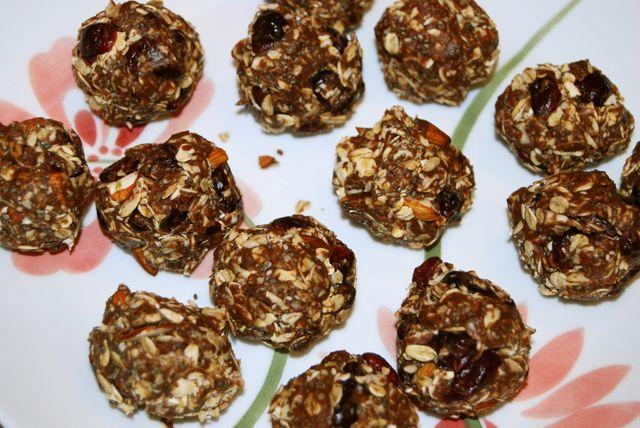 I made about 14 balls that were the perfect size for snacking. In addition, you could also use brown rice syrup or agave nectar in place of honey!
Enjoy!
–Lindsay–
LEARN HOW FOOD AFFECTS YOUR BODY.
Get my free Table Talk email series where I share bite-sized nutrition information about carbs, protein, and fat, plus bonus information about snacks and sugar!