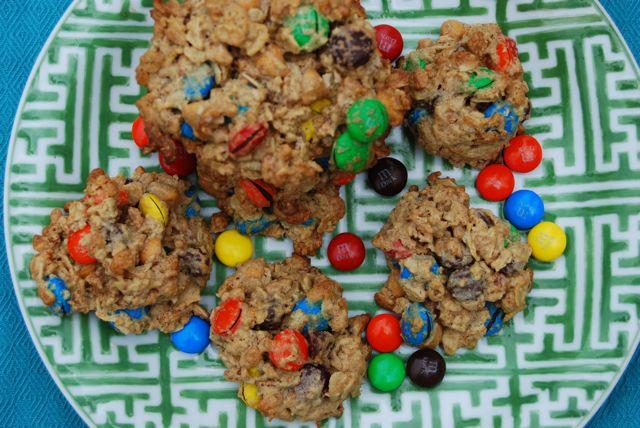 Over the weekend while we were back cleaning out the house I grew up in, we spent a lot of time in the kitchen. As I was cleaning out cupboards, cabinets and drawers, I found myself lost in the memories of all the times I spent in that kitchen.
The kitchen was definitely the center of our house, both literally and figuratively. It's where I spent some of the happiest times with my mom, learning to make new things and making things that we'd made together 100 times. It's where I learned how to bake, how to cook without measuring and how to clean up the dishes as I went.
When I reached into one of the cabinets and pulled out a stainless steel mixing bowl, I immediately thought of monster cookies. They were one of my favorite cookies to make with my mom because there was very little measuring involved. And they could be different every time….and still taste just as good. Whenever we made them, she would let me throw in whatever we had laying around- even cereal- on one condition: There must ALWAYS be M&Ms. You can throw in as many things as you want, but if there are no M&Ms, they're just not monster cookies.
I didn't take that bowl home with me. I have plenty of mixing bowls already. But I did take home the comfort of knowing that even when circumstances force you to get rid of your "stuff", they can never force you to get rid of your memories.
So today, on my last day of vacation before school starts back up again, I made some monster cookies in my own kitchen for a friend's birthday tomorrow. And as I sat there eating one fresh out of the oven, I made a silent little toast to memories of the past, and to all those memories still to come.
Over the years I've healthified these just a bit, cut down on the butter and sugar, used brown rice krispies instead of regular, switched to natural peanut butter and added more oats. In the interest of making a recipe, I've given you my best estimation on how much of all the mix-ins I used…but really, it doesn't matter. Just throw them all into the bowl, mix them around a bit and enjoy.
And NEVER forget the M&Ms.
Monster Cookies
Prep Time: 10 min
Cook Time: 10 min
Keywords: bake dessert oats peanut butter chocolate
Ingredients
6 Tbsp butter, softened
1/2 c brown sugar
1/2 c peanut butter
1 egg
1 tsp vanilla
1 1/4 c rice krispies
1 1/4 c oats
1/2 c whole wheat flour
1/2 tsp baking powder
1/2 tsp cinnamon
1/2 c chocolate chips
1/2 c butterscotch chips
1 c M&Ms
Instructions
1. Cream the butter, sugar and peanut butter together in a medium-sized bowl.
2. Add the egg and vanilla and mix well.
3. Stir in the oats, flour and rice krispies.
4. Gently fold in the chocolate chips, butterscotch chips and M&M's.
5. Scoop onto a greased cookie sheet in desired size.
6. Bake 10-12 minutes at 350 degrees F.
Note: Other add-ins could include chopped Reese's, toffee bits, heath bars….the sky's the limit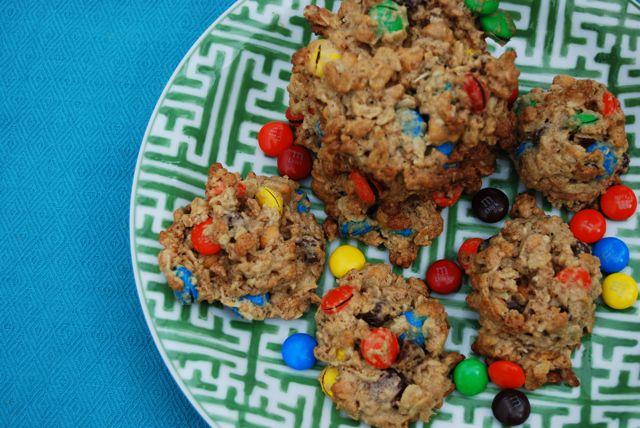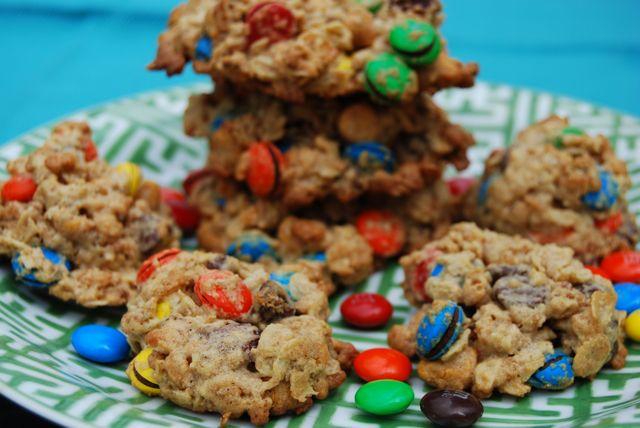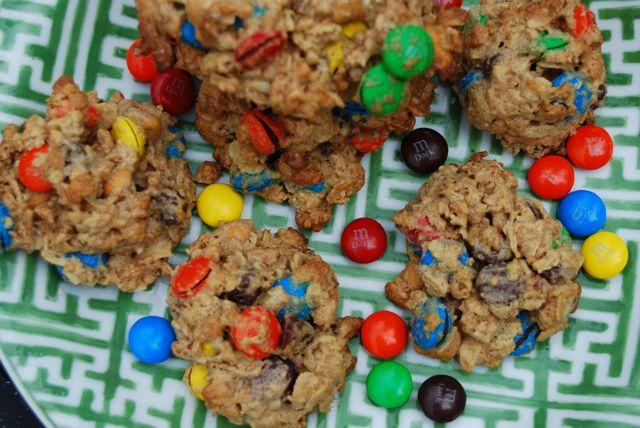 What was your favorite childhood cookie?
Enjoy!
–Lindsay–