I bought a package of wonton wrappers at the grocery store last week and I've had tons of ideas spinning through my head for the past few days about how I should use them up. I've finally settled on a Mexican version that I'm planning to make for dinner tonight, so stay tuned for that!
However, there are A LOT of little wonton wrappers in those packages and I decided that it would be boring to use them all on the same thing, so when I came home for lunch today I whipped up a little snack for myself that turned out quite well!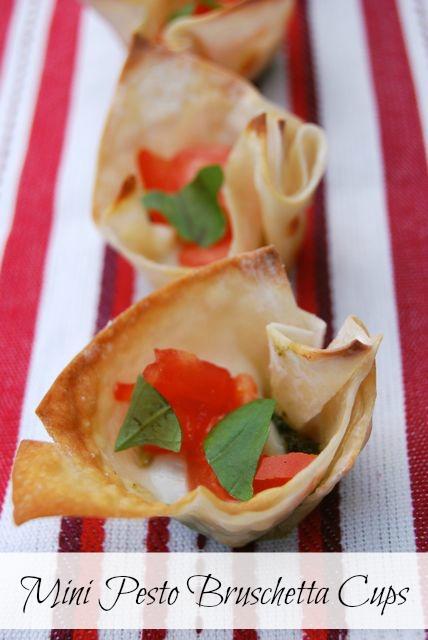 If you haven't noticed, I've been on a bit of a pesto and mozzarella kick for the past few days, and today is no exception. I can't help it! It's just such a good combo.
These bruschetta cups would be a great party appetizer, but they're easy enough that you could also whip up just a few for a snack like I did.
Since they can be made in varying quantities, there's no exact recipe but here's what you need:
Mini Pesto Bruschetta Cups
Prep Time: 5 min
Cook Time: 10 min
Keywords: bake appetizer vegetarian mozzarella
Ingredients
wonton wrappers
olive oil/cooking spray
pesto
fresh mozzarella cheese
tomatoes
fresh basil
Instructions
Spray a mini muffin tin with EVOO or cooking spray.
Press one wonton wrapper into each hole. If the wrappers have been in the fridge, press them between your hands for a few seconds to warm them up so they don't rip. Mist the wrappers with EVOO or cooking spray.
Place the muffin tin in the oven at 400 degrees for 4 minutes or until the wonton wrappers are just brown on the tips.
Remove from the oven, spoon a little pesto into the bottom of each cup and top with a small piece of fresh mozzarella.
Return the pan to the oven for 4 more minutes. Remove when the wontons turn a nice golden brown on the edges.
Top each cup with a few pieces of diced tomatoes and a little bit of fresh basil.
Aren't they pretty?! These are a fun twist on traditional bruschetta and I loved every crunchy bite!
Enjoy!
–Lindsay–