Last week I bought my first cast iron skillet with the help of a graduation gift card from one of my lovely friends 🙂 I also got all this awesome stuff! World Market is the best!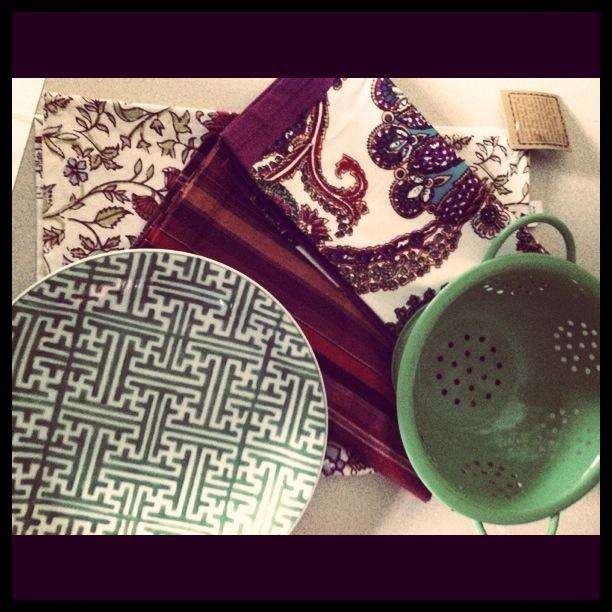 Anyways..I've been dying to try it out and the first thing that came to mind was cornbread. Duh. I wanted to spice it up a little bit, both literally and figuratively! Considering I had some black beans and an avocado that needed to be used up, I decided to go the Mexican route.
This dinner came together quickly and easily! I started by sauteing some onion and garlic in a hot pan (*Side note: I wonder what percentage of my dinners start off that way?!). Then I added some green and red peppers, the leftover black beans and a couple of tomatoes that were on their last leg. I also chopped up two turkey burgers from the freezer and added those to the pan. I seasoned the mixture with 1 tsp cumin, 1 tsp chili powder and some black pepper. Then I set the mixture aside while I made the cornbread batter.
To keep things simple, I just used the recipe on the cornmeal container. I greased my pan, and spread half the batter over the bottom. Then I added the filling and a tiny bit of Mexican cheese.
Finally I spread the rest of the batter on top. This takes a little time so be patient. I used the back of a regular spoon to slowly spread the batter all over the top and then put it in the oven at 375 degrees for 20-25 minutes.
Slice into wedges and serve!
Since I had that avocado to use up, I diced it up along with the rest of my kamatos and placed a scoopful on top of each piece.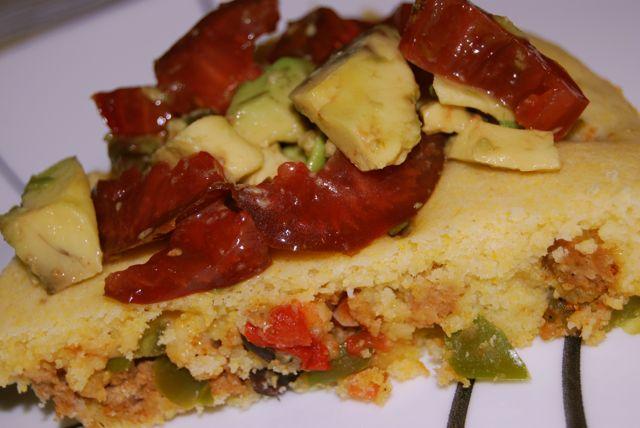 Mexican Cornbread Skillet
Prep Time: 10 min
Cook Time: 25 min
Keywords: bake entree black beans avocado tomato ground turkey Mexican
Ingredients (Serves 4-6)
2 cloves garlic, minced
1/3 c onion, diced
1 red bell pepper, diced
1 green bell pepper, diced
1 cup black beans
1/2 lb ground turkey
2 medium tomatoes, diced and divided
1 tsp cumin
1 tsp chili powder
black pepper to taste
1/4 c low-fat Mexican cheese
1 batch of cornbread batter (use your favorite recipe)
1/2 an avocado
Instructions
1. In a hot skillet, saute the garlic, onion and ground turkey.
2. Add the peppers and black beans and cook until the turkey is cook through and the peppers are crisp tender.
3. Add the spices and tomatoes.
4. Prepare the cornbread batter according to the recipe or package directions.
5. Grease a cast-iron skillet and spread half of the cornbread batter over the bottom.
6. Top with the turkey and bean mixture and sprinkle with cheese.
7. Pour the remaining cornbread batter over the top, using a spoon to spread it out and cover up the filling.
8. Bake at 375 degrees for 25 minutes.
9. Slice and top with tomato and avocado.
Do you have a cast iron skillet? What's your favorite thing to cook in it?
Enjoy!
–Lindsay–
LEARN HOW FOOD AFFECTS YOUR BODY.
Get my free Table Talk email series where I share bite-sized nutrition information about carbs, protein, and fat, plus bonus information about snacks and sugar!