Hi Friends!
I'm pretty sure all of you are probably familiar with the kind of night I had last night. You know the kind where, after working so hard the week before you go out of town to clear out your fridge, you come home from vacation exhausted and haven't made it to the grocery store yet? But also the kind where you're so tired of eating out that you can't possibly stomach another night of eating something you didn't cook yourself?
You know those nights. And on those nights, you have to get a little bit creative. One of my goals over winter break is to cook a few meals that freeze well so i'll be better prepared for nights like these….but I think I did pretty well last night, all things considered.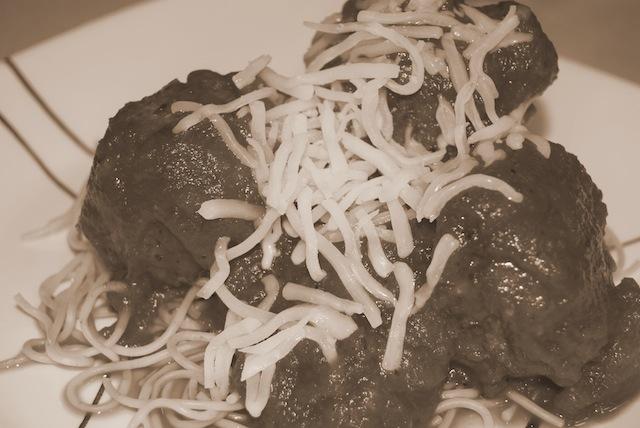 Since we started our vegetarian experiment, I've made spaghetti with a lentil bolognese sauce a few times. I usually load up my spaghetti sauce with extra veggies anyways so it really wasn't all that much of a change. Last night, however, I wanted to change it up a bit and decided to attempt some meatless meatballs. I've been thinking about them ever since Lindsay posted these Cheesy Meatless Meatballs a while ago. After googling a bit more, I also found these Lentil-Ricotta "Meatballs" from In Jennie's Kitchen. It just so happened that I had a container of ricotta in my otherwise barren fridge so I based my recipe off Jennie's, with several additions. I had some leftover rice that I threw in, along with some onion for texture. I also had some homemade pesto in the freezer that I thawed out and added. I'm not always crazy about traditional Italian seasonings so I wanted something to boost the flavor.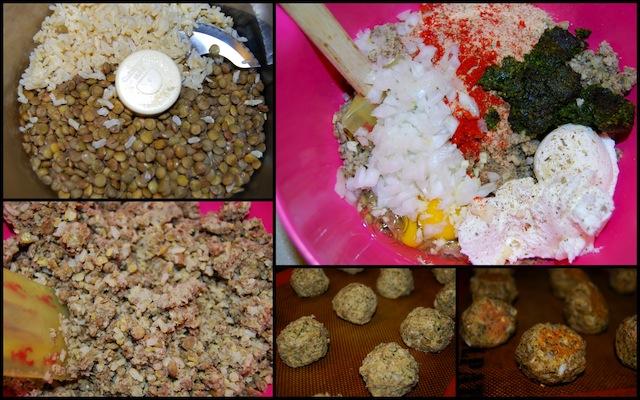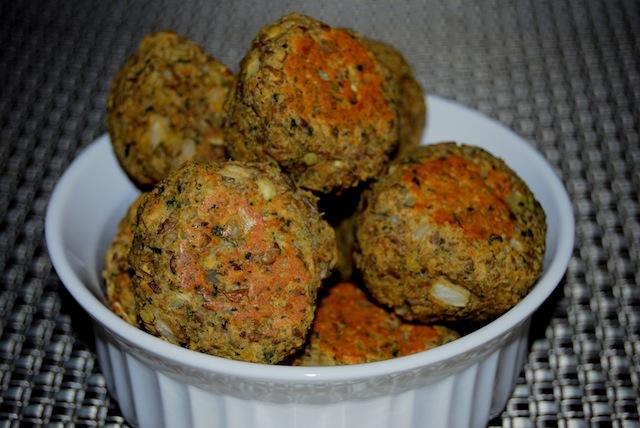 Meatless Meatballs
Prep Time: 10 min
Cook Time: 20 min
Keywords: bake entree healthy vegetarian lentils ricotta pesto rice Italian
Ingredients (Serves 4)
2 c lentils, cooked
2 eggs
1/3 c breadcrumbs
1/2 c part-skim ricotta cheese
2 Tbsp pesto
1/2 c brown rice, cooked
1 tsp oregano
1 tsp paprika
black pepper, to taste
2 cloves garlic, minced
1/3 c onion, chopped
Instructions
1. In a food processor, combine the lentils and rice and pulse several times.
2. Transfer mixture to a large bowl and add remaining ingredients.
3. Stir thoroughly to combine all ingredients, then form into balls using your hands.
4. Place balls on a baking sheet and bake at 375 degrees for 15 minutes, flip/rotate balls and bake another 10 minutes.
Notes:
-These balls held together really well, they were firm and they browned up nicely in the oven!
-After I baked them, I added them to a pot with marinara sauce and let them simmer together while I cooked some spaghetti.
-Hubby asked me multiple times if I was sure there was no meat in these.
-I put half of these in the freezer for a future easy dinner 🙂
-If you don't have pesto, you could use basil/parsley/italian seasoning.
-You could also add some frozen spinach to these!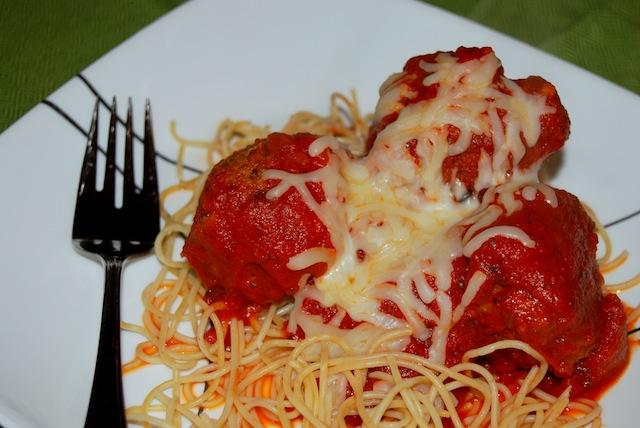 Enjoy!
–Lindsay–
LEARN HOW FOOD AFFECTS YOUR BODY.
Get my free Table Talk email series where I share bite-sized nutrition information about carbs, protein, and fat, plus bonus information about snacks and sugar!