Recently, my father-in-law found a new job after being out of work for a while. We went out to dinner to celebrate but I wanted to bring him some dessert. He's a big brownie fan, so that's where I started…but I knew I wanted to take it up a notch.
He's also a big of Reese's peanut butter cups so I decided to go with some sort of peanut butter brownies. After some googling, I found this recipe. I don't make brownies from scratch all that often so I don't really have a go to recipe.
I made a special trip to the store to track down some mini Reese's pb cups. In addition, I decided I didn't want to put peanuts in the brownies. I was planning to chop up some Snickers and use those instead. However, when I got to the store, Butterfingers were on sale and Snickers weren't. Annnnnnnd my mind was made up.
I started by making the brownies.
Two things:
1. I crushed up about 8 fun size Butterfingers and mixed those in just before putting the batter in the pan.
2. Lining your pan with foil when making brownies is pretty much the best idea ever. I'm ashamed to say I've never tried it before.
After the brownies cooked, I put them in the freezer to cool. Then I got to work on the peanut butter frosting.
One thing:
This made A LOT of peanut butter frosting. I ended up only putting about half of it on. Then I threw the rest away. (Remember that…we'll revisit it later).
Then I started on the chocolate frosting. I spread the chocolate frosting over the pb frosting, topped the brownies with chopped Reese's and photographed away….
Now let me let you in on a little secret. I hate tasting things while I'm cooking/baking them. I never eat raw cookie dough. I don't lick the extra frosting off the mixer beaters. Until recently, I never tasted my sauces while cooking. I just threw everything together and hoped for the best. I can't really explain why I don't like tasting things, other than to say that I think I'm so afraid they won't taste good, that I want to prolong that discovery as long as possible. Weird. I know.
Anyways, as you may have guessed, I didn't try these brownies, or either frosting, until they were completely assembled. The result? Brownies- great! PB frosting- AMAZING. Chocolate frosting- BARF. The chocolate frosting, if you could call it that, was essentially just butter and cocoa powder, with a little bit of powdered sugar. And let me just tell you…it tasted like straight butter. I gagged a little bit while eating it. Then I went outside and pouted for about an hour.
I was angry with myself for not tasting the frosting earlier. After I regrouped, I came up with a new plan. Remove the chocolate frosting. You're probably thinking I'm a little bit crazy at this point…and I'd be inclined to agree with you. But I really wanted these brownies to work out. So I plucked all of the chopped Reese's off the brownies and set them aside. Then I carefully scraped off as much of the chocolate frosting as I could without removing the peanut butter frosting.
Obviously I couldn't get it all off….but I did my best. I removed enough that I knew I could just mix the rest into the pb frosting and that would overpower the butter taste. Don't you think a little of that extra pb frosting that I THREW AWAY would have come in handy right about now? sigh….
Anyways, I wanted to add a little something extra to the top to take away from the fact that it was now kind of a weird light brown color from the mix of tan and brown frostings….so I crushed up a couple more Butterfingers and after putting the Reese's pieces back on, I sprinkled the whole thing with Butterfingers and voila! Good as new.
Loaded Brownies
Prep Time: 15 min
Cook Time: 30 min
Keywords: bake dessert chocolate peanut butter bars
Ingredients (9×9 pan)
Brownie Layer
3/4 cup unsalted butter
8 ounces semisweet chocolate chips
1 1/4 cups sugar
1 1/2 teaspoons vanilla extract
1/4 teaspoon kosher salt
4 large eggs
1 cup all purpose flour
8 fun size Butterfingers, crushed
Peanut Butter Layer
1 cup peanut butter
1/4 cup unsalted butter, room temperature
1 cup powdered sugar
3 tablespoons milk
1 teaspoon vanilla extract
Topping
1 cup Peanut Butter Cups, cut into quarters
2 fun size Butterfingers, crushed.
your fav chocolate frosting
Instructions
Brownie Layer
1. Preheat oven to 350 degrees. Line a 9 X 9 inch baking pan with foil and butter the foil.
2. Melt butter and chocolate in the microwave. Then beat in the sugar, eggs, vanilla and salt
3. Add the flour and stir until combined. Then stir in the Butterfingers.
4. Spread the batter in the prepared pan
5. Bake until tester inserted into center comes out with moist crumbs attached, about 30 minutes.
6. Cool the brownies to room temperature.
Peanut Butter Layer
1. Using an electric mixer, beat together the peanut butter and 1/4 cup softened butter in medium bowl.
2. Beat in the powdered sugar, milk and vanilla. The mixture should be very spreadable.
3. Spread over the brownies.
Topping
At this point, either use your favorite chocolate frosting recipe and add a chocolate layer before sprinkling with chopped Reese's Peanut Butter Cups, or add the pb cups and sprinkle with crushed Butterfingers.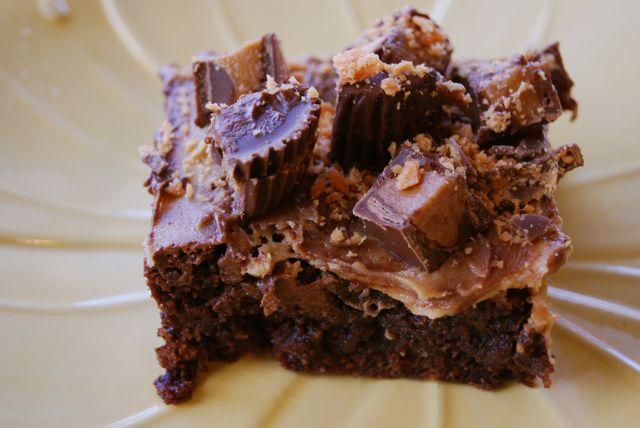 My father-in-law texted me the following the next day:
"The brownies are unbelievable!!! Should call them death by peanut butter/chocolate brownies. Too good :)"
And the day after that, he texted me this:
"Your brownies are the best I have ever had ever!"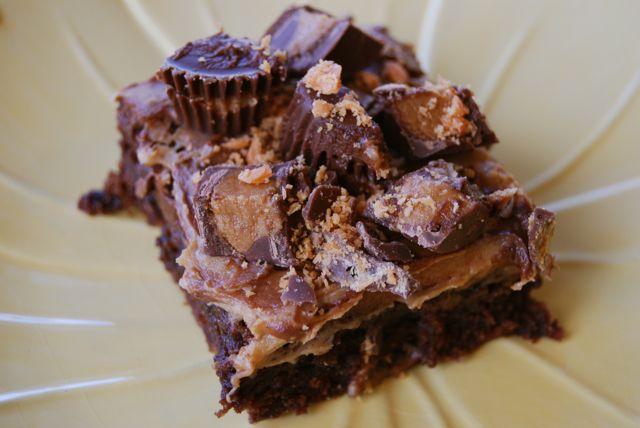 You get the idea.
Go make these now.
Enjoy!
–Lindsay–
LEARN HOW FOOD AFFECTS YOUR BODY.
Get my free Table Talk email series where I share bite-sized nutrition information about carbs, protein, and fat, plus bonus information about snacks and sugar!