Hi Friends!
Just popping in for my last update before we leave for vacation.
So yesterday, this happened:
(Warning…these first pictures are a little gross so if you're squeamish, scroll down a ways….)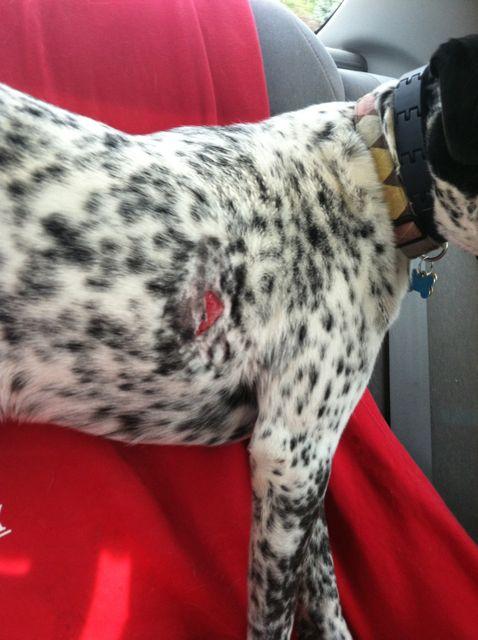 To be more exact, that happened yesterday night. About an hour before the vet closed. A mere 36 hours before we leave for vacation. It didn't look that bad when it first happened. It didn't really bleed that much…but we knew we needed to have a better look at it. So we got out the clippers and hubby buzzed the hair all around it so we could see what was really going on. Then we stuck Abner in the bath tub and cleaned it out. Then we had an extensive debate about whether we should take him to the vet. In the end, we ended up going. We're not exactly sure how this happened, but our guess is that he scraped his side on a board or nail trying to chase something under the deck. We decided that even if he didn't need stitches, he might need antibiotics so we piled in the car and headed over. Luckily we only live 5 minutes from our vet and they could see us right away.
15 minutes, 5 staples and $100 later we were on our way.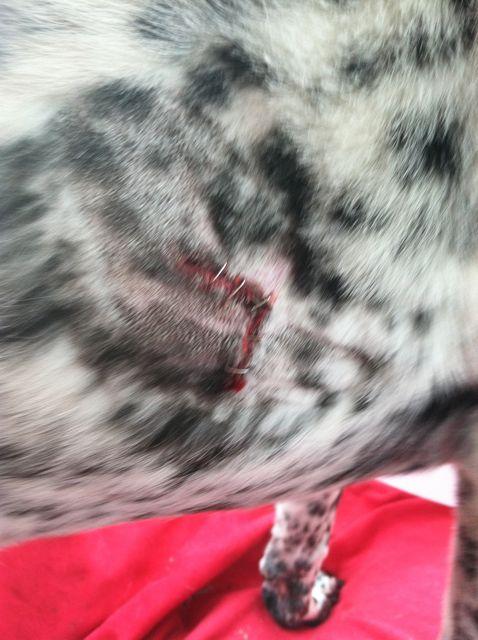 Abner was a champ and just stood there while the vet stapled him so we lucked out and didn't have to pay to have him sedated. They gave him a cone and told us he had to wear it the whole time he's at the kennel.
That didn't go over well. He's never worn one before and when we put it on, he basically just stood there with his head down and refused to move or walk. Luckily, my in-laws have a donut collar for their golden when he get's hot spots and I ran over to borrow that from them. So far it's working much better. You can tell Abner is much more comfortable in it and the wound is close enough to his shoulder that he can't reach it.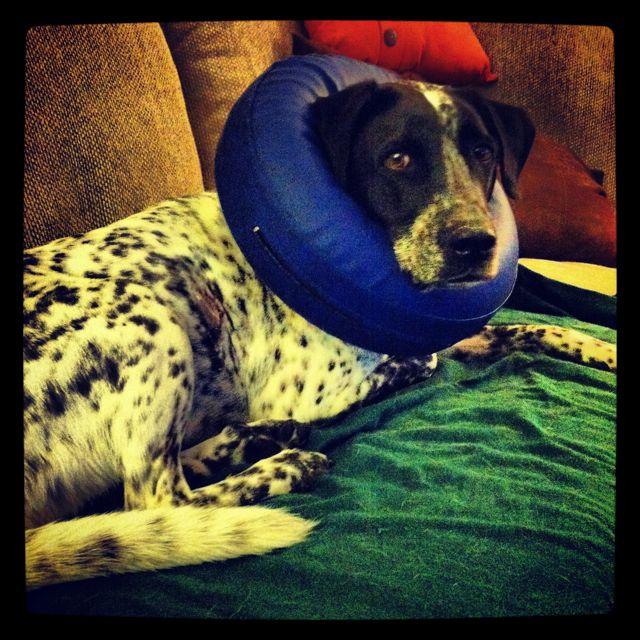 Soooooo i'm crossing my fingers and spending the morning watching him to see how he does…and then this afternooon the boys are off to camp. He's walking around fine with this on so hopefully he'll do alright at the kennel with it. I'm super stressed and really hoping the people at the kennel will keep a close eye on him and make sure the staples stay in and don't get infected.
But what can you do? Sometimes life is just out of your control.
In other news….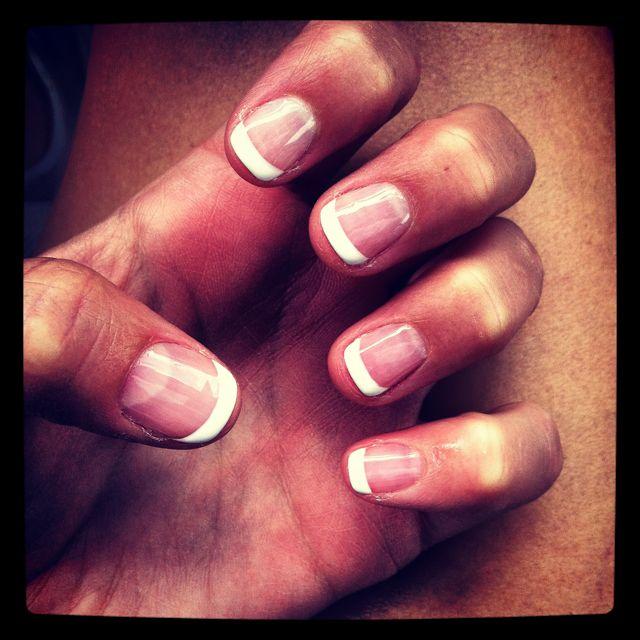 I got my nails done yesterday.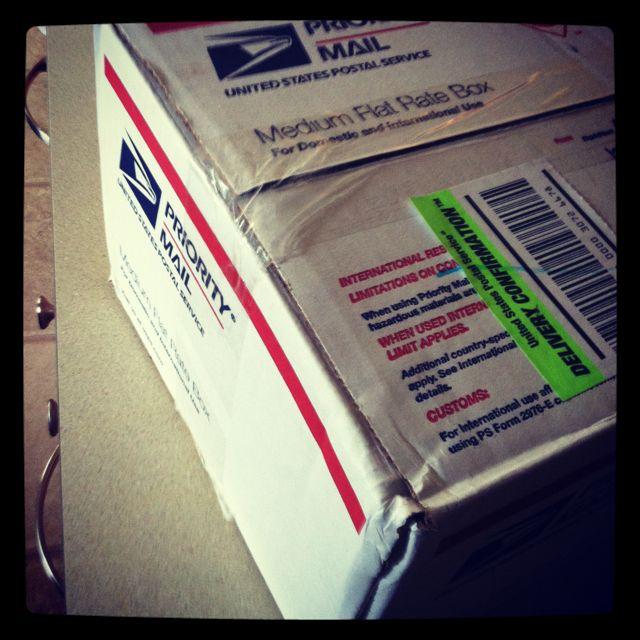 My foodie penpals box came!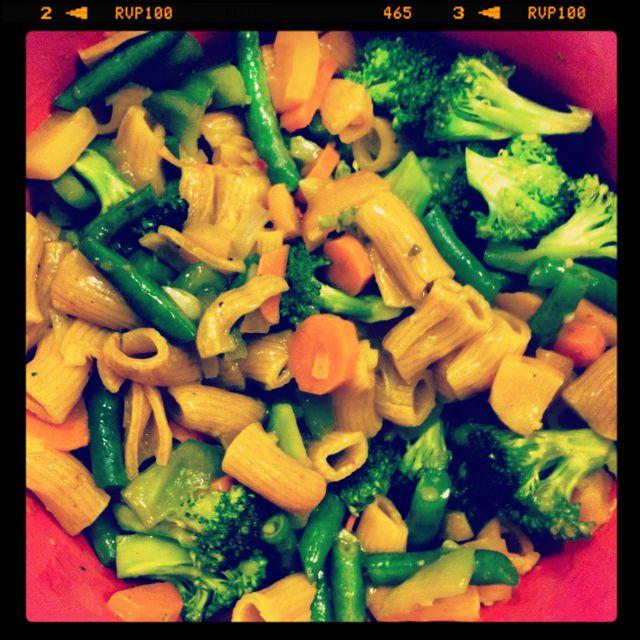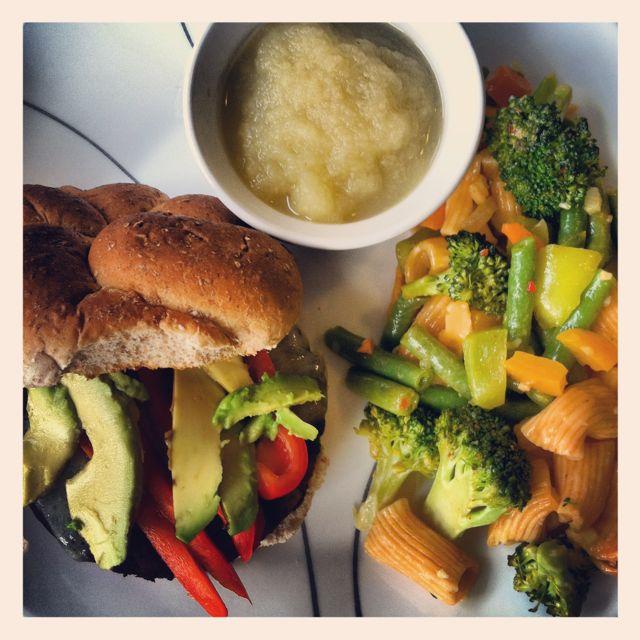 I used the pasta that my penpal sent me to make a big pasta salad,
which we ate for dinner with black bean burgers.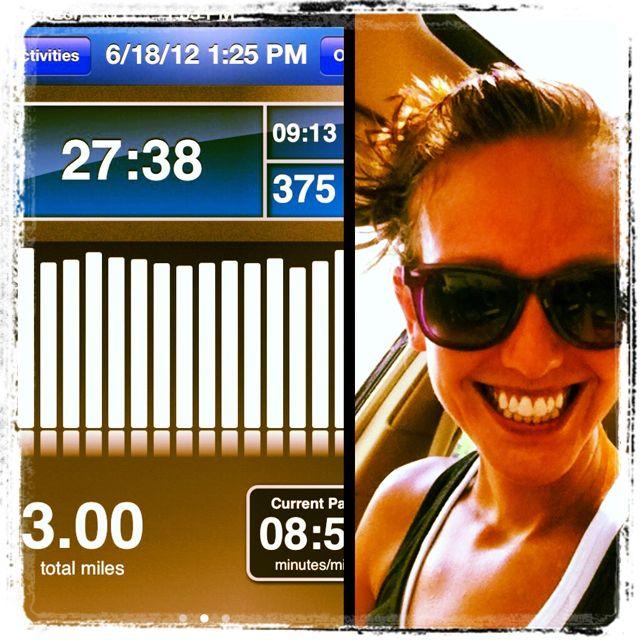 I went on my first CONSISTENT three mile run in a long time.
I ran all three miles at a 9:10-9:15 min/mile pace.
Usually I start out way to fast…but I'm working on it!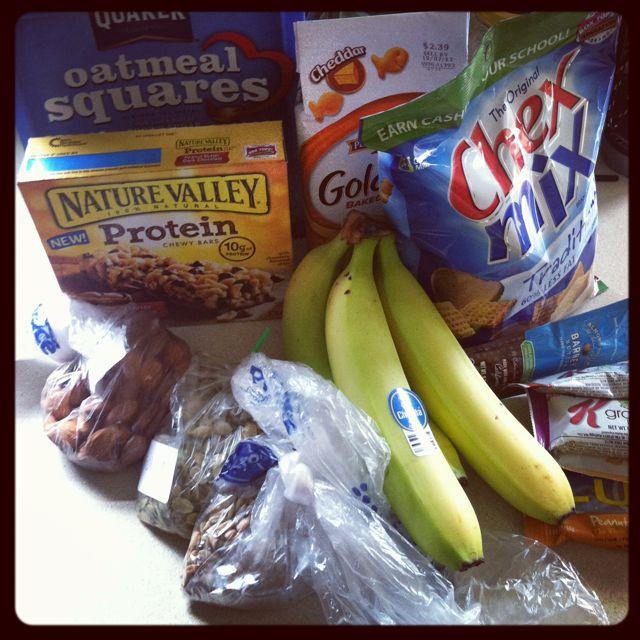 I started packing healthy snacks for the plane.
Fruit, nuts, seeds, granola/protein bars…
Since it IS vacation, I treated us to some snacks we love but don't usually buy:
Quaker Oat Squares, Chex Mix and goldfish!
They're all still relatively healthy so I can feel good about eating them…
But since we don't usually buy them, they're a nice treat!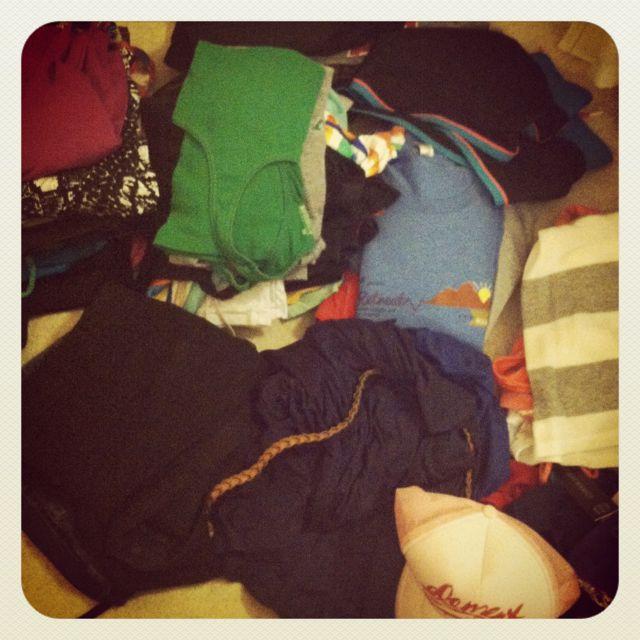 I started packing last night. It looks like my closet threw-up on my floor.
Usually I'm a last-minute packer but I'm glad I started early for this trip.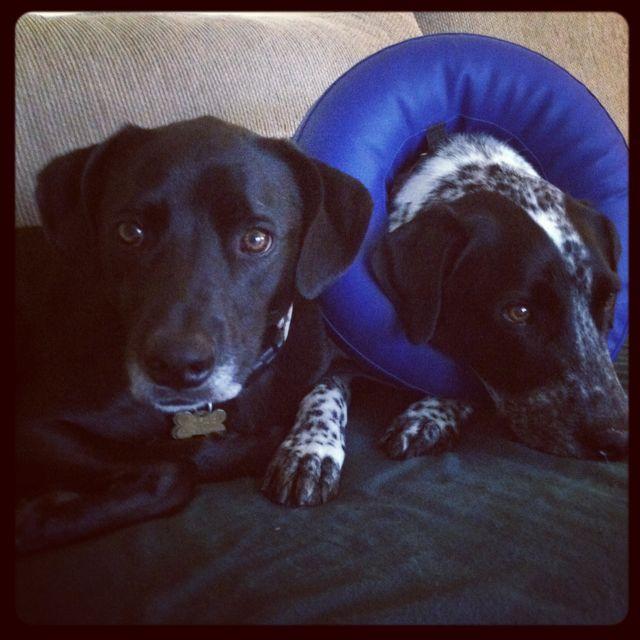 I will probably cry when I drop these two off later.
Oh well, like I said…some things in life are just out of your control.
Oh, and tomorrow?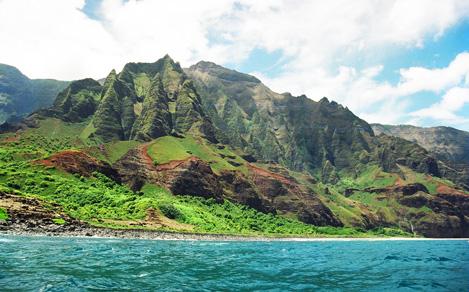 Yeah….I'll be here 🙂
Enjoy!
–Lindsay–