Let's talk about mac and cheese for a minute. Growing up, I pretty much lived on the stuff. And by stuff, I mean this: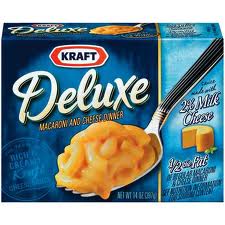 I ate it all.the.time. In fact, I ate it all the time up until about 3 years ago. And then I stopped eating it for a while. AND THEN, a funny thing happened. I bought a box, made it just like I always did, and hated it! It didn't taste good anymore….it was bland and boring and all around gross. Weird, right?
Anyways, ever since then I've been on a quest to make some mac and cheese of my own. I've had several failed attempts where I tried to make it "too healthy" and it just wasn't even worth eating. Until this week. This week I got it right.
Is this the healthiest dinner I could ever eat? No.
Is it terribly unhealthy? No.
Is it approximately one million times better than the boxed version. You betcha!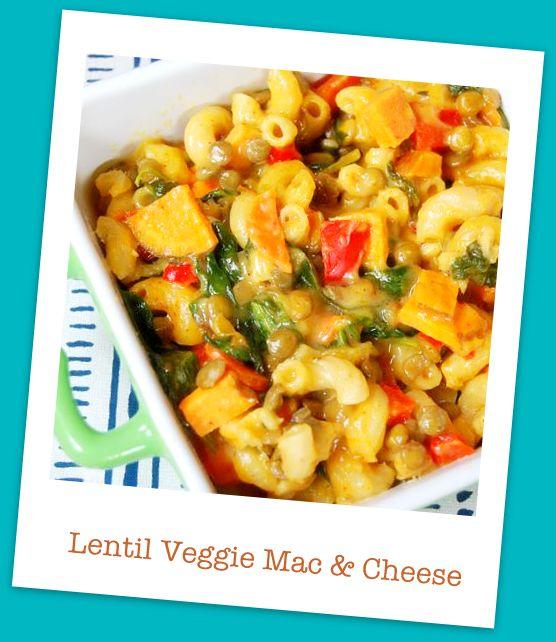 It's packed with veggies and lentils! Some of you might think lentils are gross. I'm kinda with ya on that one. I'd never eat just a spoonful of plain lentils. But here's the thing about lentils. I've noticed lately that if I put them IN things that already have lots of other things in them, I don't even notice they're in there. Like my lentil veggie soup last week….and the lentil veggie mac and cheese this week. They're just kinda there, leading a bland existence and taking on the flavors of the stuff you eat them with…but at the same time they're a great source of protein and fiber. SOOOO, that's a win in my book! If you don't like lentils, you could substitute another source of protein like chicken if you eat meat, or canellini beans. You can use whatever kind of vegetables you want. I used red pepper, sweet potato, carrots and onion. I also made mine extra spicy with lots of cayenne pepper 🙂
Lentil Veggie Mac & Cheese
Prep Time: 20 min
Cook Time: 15 min
Keywords: saute bake side entree vegetarian healthy
Ingredients (Serves 4)
3 cups mixed vegetables, diced
2 cloves garlic, minced
1 c pasta, uncooked
1 c white cheddar cheese, grated
2 oz goat cheese
1 c Skim milk
2 Tbsp butter
2 Tbsp flour
1 tsp paprika
1/2 – 1 tsp cayenne pepper
2 1/2 c lentils, cooked
2 c fresh spinach
Instructions
1. Cook pasta according to package directions and set aside.
2. In a medium pan, saute vegetables and garlic until tender. Remove from pan and set aside.
3. In the same pan, melt butter, then stir in flour.
4. Slowly add the milk, stirring constantly to remove the lumps.
5. Add the cheese and spices and stir until melted.
6. Stir in the veggies, lentils and spinach and stir for 2 minutes while spinach wilts.
7. Add the pasta, stir to combine and heat through. Serve warm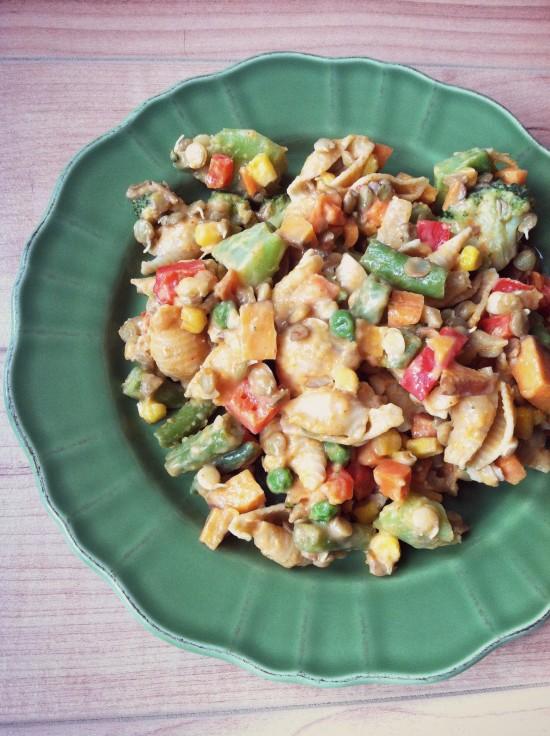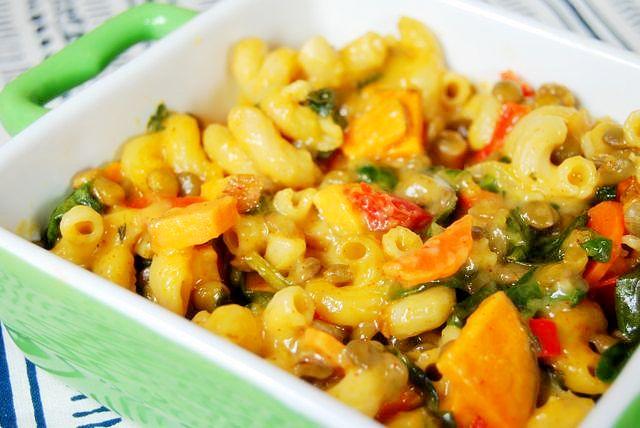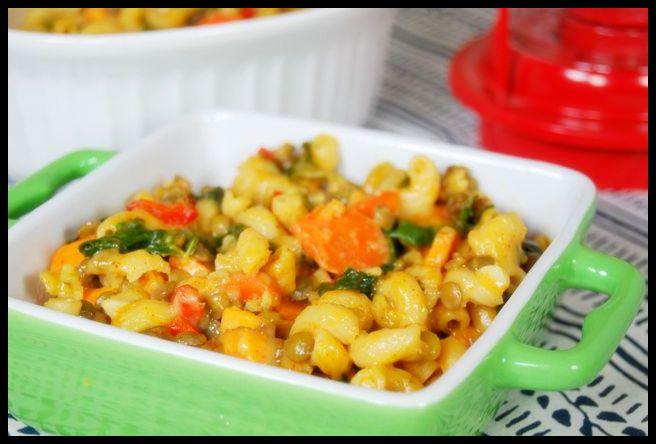 There you go, friends! Enjoy 🙂
–Lindsay–
LEARN HOW FOOD AFFECTS YOUR BODY.
Get my free Table Talk email series where I share bite-sized nutrition information about carbs, protein, and fat, plus bonus information about snacks and sugar!