This Healthy Cherry Limeade is a refreshing summer drink with just 4 ingredients! Cherries, lime juice, sparkling water and a touch of sugar.
Hi Friends!
Let's have a drink together, shall we? A non-alcoholic one for me of course!
When I was younger, I was on the swim team for a country club near our house. I loved it. In fact, one of my biggest regrets is not doing high school swim team. But anyways, summer was our swimming season and after almost every swim meet, we would stop at Sonic to eat. I always got the same thing- a plain footlong hotdog and a cherry limeade.
The other day I saw a commercial for Sonic and their cherry limeade and it sparked a craving. I tried to ignore it, but it just wouldn't go away…so I did some research. Most homemade recipes call for frozen limeade concentrate, Sprite, or tons of added sugar. I wanted something simpler.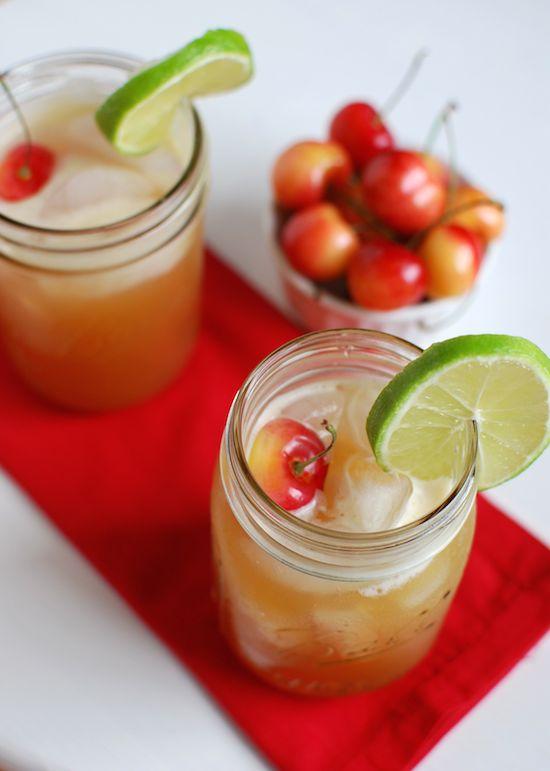 Here's what I came up with. Just 4 ingredients. It's not an exact replica…but it's a heck of a lot healthier and it did the trick to cure my craving! I could taste the lime and cherry flavors and I got the bubbles from the sparkling water. Best of all, it wasn't overly sweet!
Print
Healthy Cherry Limeade
A simple, 4-ingredient recipe for a refreshing summer drink!
11/2 cups

Rainier cherries (pitted)

1/4 cup

freshly squeezed lime juice

2 teaspoons

sugar (more if desired)

2 cups

sparkling water
Instructions
In a blender, puree the cherries, lime juice and sugar.
Taste and add more sugar if needed.
In batches, pour puree into a large piece of cheesecloth, pull corners into a bundle and squeeze the bottom gently to get the juice out and leave the cherry skins in the cheesecloth. In between batches you can rinse the cheesecloth to get rid of the skins, squeeze out the excess water and repeat.
When you're done you should have about 1 cup of cherry lime juice.
Mix with 2 cups sparkling water and pour into glasses with lots of ice.
Garnish with slices of lime and cherries if desired.
A few notes:
I know virtually nothing about cherries…I bought the Rainier cherries because the sign said they were super sweet, which I equated to being able to use less sugar. However, they're kinda yellowish red, so this drink won't come out bright red like that traditional cherry color you may be expecting.
You could probably use other kinds of cherries but if they're more tart, you may need to add more sugar.
The straining through the cheesecloth is a little annoying, but worth it I think. If you're lazy, or don't care how it looks visually, you could skip that step!
I'm definitely bringing one of these to our next cookout so I can feel fancy!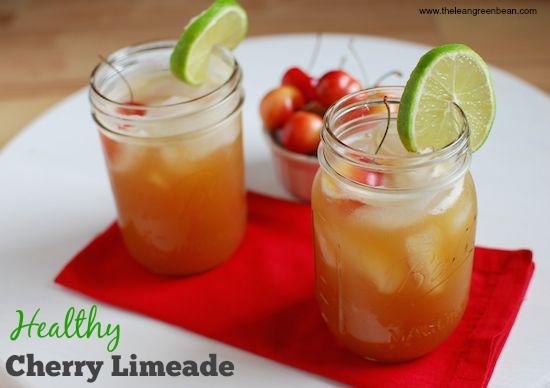 Let's chat:
What's your favorite summer drink?
Enjoy!
–Lindsay–
LEARN HOW FOOD AFFECTS YOUR BODY.
Get my free Table Talk email series where I share bite-sized nutrition information about carbs, protein, and fat, plus bonus information about snacks and sugar!