Hey Hey Friends!
We made it to Friday once again! You know what that means…time for another round of workouts!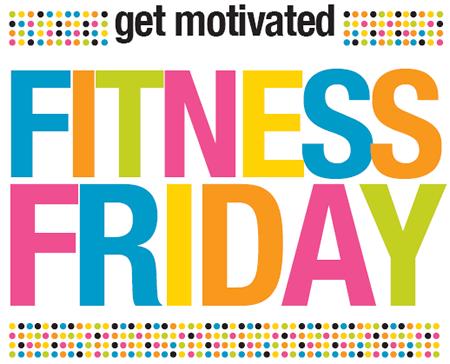 This week was pretty cardio heavy, including two 3 mile runs and a serious 1000 rep workout…but it also included 2 rest days and a day of heavy lifting! I like to think that's a good balance 🙂
Ready? Here we go:
Jan 20th– rest day
Jan 21st– The hubby and I had to stagger our workouts so one of us can watch the dog this week…so, he went first and ran 4 miles in 40 min! So proud of him!!
When it was my turn, I put together an interval workout for myself with my fastest treadmill speeds ever! It's a 10 min cycle so you can choose how many times to repeat it to get to your desired workout time.
I did it twice and covered 2.3 miles in 20 minutes, then finished out to get to 3 miles by doing the next five min at 6.0, 6.1, 6.2, 6.1, 6.0 (one min each) and then a min at 6.5 and a min at 7.0 to finish 3 miles in 26:50!
Before today I'd never gone above 8.0 on the treadmill so this was pushing it for me. If you need a little extra time to recover, especially after the first cycle you can walk 30 sec at 4.0, run 30 sec at 6.0 and then leave the speed intervals the same. That's what I did for the second cycle.
Here's what it looked like: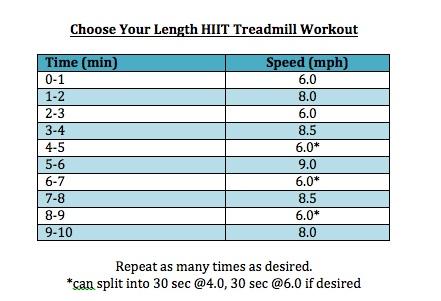 Jan 22nd– I seem to be in a running mood this week, but sometimes I like to break it up with a little break or two. I set out with the goal of running 3 miles total, one mile at a time. In between, I did three 4-min tabatas to give myself some active recovery!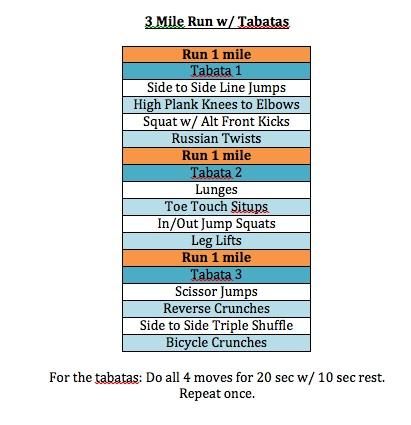 I ran the three miles in 27:52 (9:17 pace) and each Tabata took 4 minutes. I rested for 1 min after each Tabata. I set the treadmill at 6.5mph for each mile. It was tough, but not impossible. By the time I got halfway through the last mile, I wanted to take the speed down to 6.0 SO BADLY but I fought a mental battle with myself and told myself I could do it at the speed I was at, and I did!
Jan 23rd–  Suddenly it was 11pm and I hadn't done my workout yet! After 2 days of cardio I decided to do some heavy weights w/ some of my fav arms & legs exercises.

For me, theses were heavier weights than I usually use to do my high rep circuit workouts so this was a challenge for me. I tried to pick a weight that I would really struggle with in the last set. This took me 20 minutes and I felt great
Jan 24th– Was in the mood to push myself so I put together a new 1000 rep workout. I broke it down into 10 moves, 25 reps of each, repeated 4 times.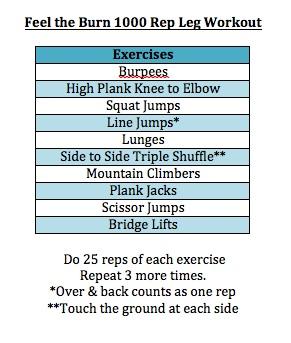 This.was.killer. If you're not feeling the burn after this one, I want your legs. Seriously, I almost collapsed on the last set of lunges. If 1000 is too much for you, just do the cycle twice. This took me about 45 minutes, but there was a little editing going on while I was doing it as I worked out the best moves and what order to do them in.
Jan 25th– Rest day!
Jan 26th– Another late night workout. I was in the mood for the treadmill but not just running. I came upon this workout from Jillian at Sprinkle Massacre just before I went downstairs and decided to use it as my starting point.Basically I did the first half and then decided I didn't like the slower speed/higher incline combo so I reversed the workout and went back down the pyramid and then added a few min at the end.
Mine looked like this: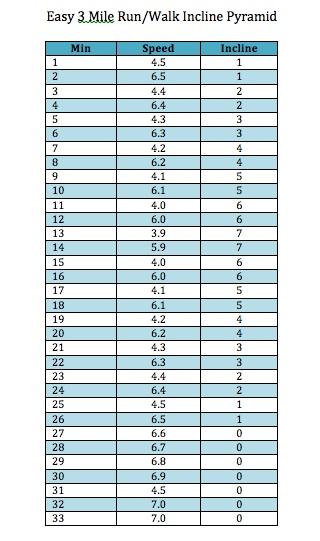 I finished 3 miles in 32:50.
To be honest, this was easy for me. It works out to about an 11 min/mile pace, which explains why…but my legs were feeling good. I felt like I could have run forever at this pace. If I wanted to challenge myself I would need to up the speeds, but this was a great workout for tonight. Exactly what I needed- just to get moving, sweat some but not totally kill myself. WIN!
Now it's your turn! What's the best workout you did this week?!
Enjoy!
–Lindsay–