Hi Friends!
We're back again for another Fitness Friday!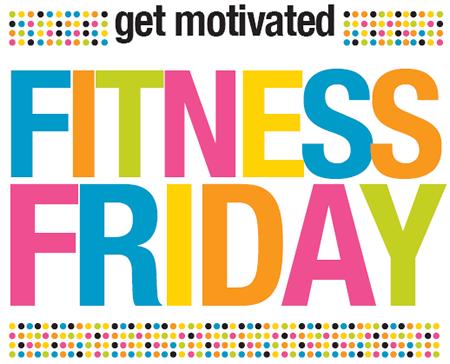 I've got a week's worth of workouts to share with you, plus another vlog!
So let's get right to it! Here are my workouts for the week:
Jan 13th– Put together a 25 min Tabata workout for hubby & I, inspired by this one from Lindsay.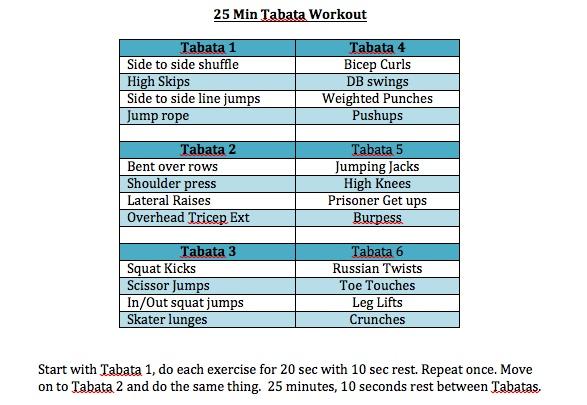 Doing only 4 exercises per tabata and repeating them really made this workout go by quickly.
————————————————–
Jan 14th– Hubby took a rest day and I hopped on the treadmill for a quick run to loosen my legs. Started at 6.5mph and increased by .1 every minute up to 6.9 and back down.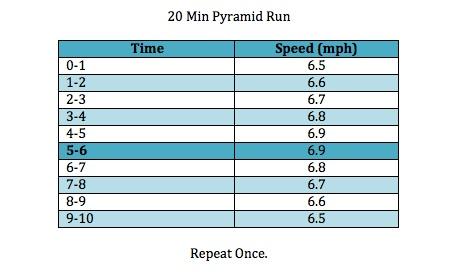 I covered 2.21 miles in 20 min. I hit the two mile mark at 17:54 and then finished out the last 2 minutes. I felt good about this workout because I ran the whole thing, even though I wanted to stop several times. It got me sweating but still let me feel like I was stretching my legs.
—————————————————–
Jan 15th– Rest day
—————————————————-
Jan 16th– Put together a workout full of partner exercises to do with the hubby!
We took it kinda easy this workout because we were working through all the exercises and figuring out exactly how to do them. Feel free to increase the number of sets/reps you do with your partner.
A few moves that might need an explanation:
Throwdown situps– One partner sits on the floor with their knees bent. The other partner kneels on their partners feet, put their hands on their partner's shoulders and pushes them down. The partner on the ground should engage their abs to resist as they go down to the floor slowly and then sit back up
Hamstring Drops– Have your partner kneel in front of you with their feet behind them, soles in the air. Stand on the soles of their shoes and push them forward. The partner will fall to the ground and land in pushup position, then pull themselves back up, engaging their hamstrings.
DB/Med Ball Situp Handoffs– lay down opposite each other on your backs with your feet touching, one person holding a med ball or dumbbell. Sit up and pass the weight to your partner, do another sit up and exchange the weight again. You can also lock your legs together to help your feel from coming up off the ground.
Plank Walkup Hand Slaps– Start facing each other in plank position with your palms on the floor. Both partners lower onto one forearm, then the other, then push back up onto one palm, then the other. Then lift your right hand, slap your partner's right hand and repeat but slap their left hand.
Situp Punches– One partner lays on their back with their knees bent. The other partner kneels on their feet and holds their hands up over the partner's knees. The partner on the floor does a situp and lightly punches their right hand across into their partner's right hand and their left hand across into their partner's left hand. Do another situp and repeat.
Twist and Pass– Stand back to back. Both partners twist to one side, pass a db or med ball and twist to the other side and pass it again. Two passes is one rep.
Leg Throwdowns– One partner lay on the floor. The other stands behind their head so the partner on the floor can grab their ankles. The partner on the floor lifts their legs off the floor and the standing partner throws them down to the floor. Repeat.
Wheelbarrow Pushups– One partner grabs the other partners ankles and lifts them into the air. The partner with their feet in the air does pushups. Switch partners.
Resistance Band Tricep Extensions– Each partner holds one end of the same resistance band and alternates doing tricep extensions.
——————————————————-
Jan 17th– Put together a terrible 2's workout. Wanted something that would pass quickly and be done quickly. The basic idea is you alternate a 2 min fast run with 2 minutes off the treadmill doing as many of an exercise as you can in 2 minutes without compromising good form.
Here's what mine looked like: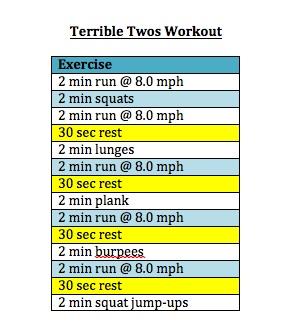 This works out to be 20 minutes long, with 2 minutes of rest total . Get it- 22 mins, 2 mins each exercise, Terrible Twos Workout? Clever right?! Write down how many reps you do of each exercise and try to beat that number next time! If you can't do a two minute plank, hold it as long as you can and then immediately do another that's long enough to get you to two minutes.
I covered 1.26 miles on the treadmill. Loved this workout! Flew by and really got me sweating. I did 56 squats, 60 lunges, 38 burpeees and 45 squat jump-ups. I probably could have done more squats but I wanted to go at a speed where I could keep going steadily for the whole two minutes.
A few things:
-Make sure you choose a running speed that is challenging for you. 8.0 mph is the fastest I usually run on the treadmill so it was VERY challenging for me to run at this speed for 2 whole minutes.
-If you're not tired enough to need the 30 second breaks after running, you're running fast enough!
-For the squat jump ups, you can use a box/exercise step/or your imagination. Stand with your feet on either side of your box/step, squat down and then jump up on to it with both feet. Step down on either side and repeat.
————————————————
Jan 18th– Legs were tired so I walked an inclined mile on the treadmill at 4.0 mph/ 7.0 incline and then did a resistance band arm workout.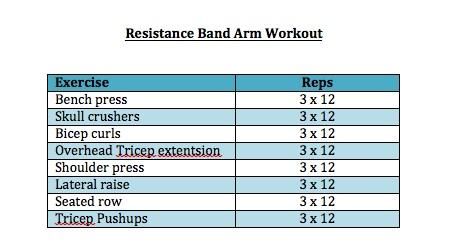 This workout was just average. I don't have a good set of resistance bands. Mine don't have handles and I found it very hard to do some of the exercises. I'm planning to look for a set with handles and try some more resistance band workouts because I really like them!
————————————————-
Jan 19th– Put together a bench workout that only require the use of a bench and your body weight. It can be done anywhere there's a bench. In your basement, at the gym, at a park…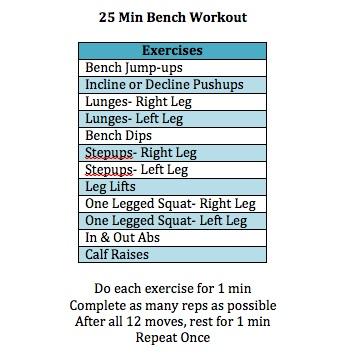 Here are the reps I did for rounds 1 & 2: Jump-ups (20,22), Pushups (27,31), Lunges-right & left (26, 29), Dips (31, 30), One Leg Step-ups- right & left (23, 25), Leg lifts (25,26), One leg squats-right & left (20, 22), In & Outs (29, 32), Calf Raises (45, 45).
Here's me doing my best to explain all the moves in writing:
Bench Jump-ups: Start straddling the bench. Squat down and jump up with both feet landing on the bench. Step down and repeat.
Incline pushups– Place your hands on the side of the bench and do a pushup
Decline pushups– Place your hands on the floor and your toes on the bench and do a pushup
Lunges: Place one toe on the bench and step out with the other leg. Move up and down, forming a 90 degree angle with your front knee, then switch legs.
Dips: Place your hands on the side of the bench and use your triceps to move your body up and down
Step-ups: Start with both feet on the ground, stepup with one foot, follow with the other, and then back down
Leg Lifts– Lay on the bench with your legs hanging off one end. Bring your legs up so they're perpendicular with the floor and then back down to parallel.
One legged squats: Balance on one leg, squat down and touch your but to the bench and stand back up.
In and Outs: Balance your butt on the bench and lean back. Pull your arms and legs into your chest. Lean back and extend your arms and legs out, then pull back in as you sit up.
Calf Raises: Stand on the edge of the bench or on the ground next to the bench and raise up and down on your toes.
And here's a little vlog I put together of the moves so you guys can better understand what i'm talking about!
So there ya have it! My week of workouts. They've all been added to the fitness page as well. Now it's your turn. Tell me about your workouts this week! Do anything fun?
Enjoy!
–Lindsay–
PS. The winner of the Everyday Happy Herbivore Cookbook…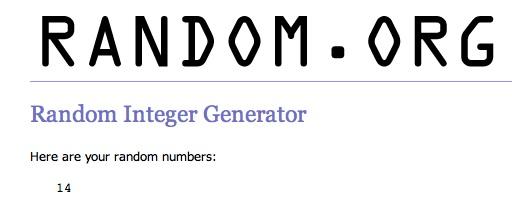 ….is Kelly from Laughter, Strength & Food!

Congrats Kelly. Email me your mailing address so we can get your cookbook out to you!