Hi Friends!
Can you believe I've gotten my act together for a Fitness Friday post two weeks in a row?! Neither can I. And guess what? I even did one better. I know some of you have been missing the workouts I used to make before I started doing Crossfit….so I made one for you guys! It's a partner workout that focuses on your abs, with some added cardio bursts!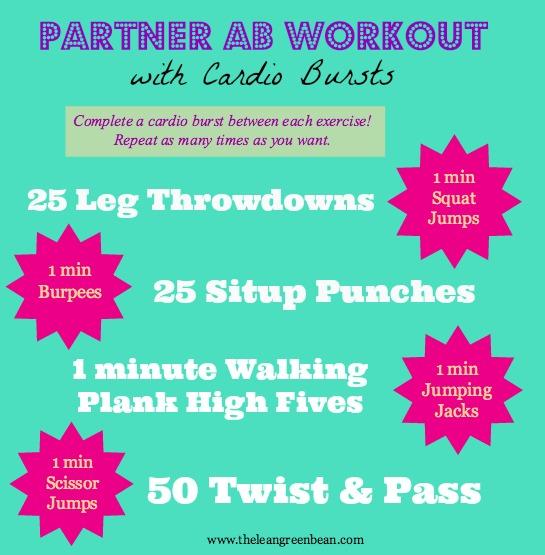 Here's a breakdown of the exercises:
Leg Throwdowns: Partner 1 lays on the floor. Partner 2 stands by their head. Partner one grabs the ankles of partner 2 and raises their feet straight up. Partner 2 pushes on the feet of Partner 1, throwing their feet down towards the floor. Partner 1 engages their abs to keep their feet from hitting the floor and then raises them back up. Do 25 reps, then switch!
Situp Punches: Partner 1 lays on the floor with legs bent. Partner 2 kneels on their feet and holds their hands palms out above Partner 1's knees. Partner 1 does a situp and lightly punches each hand at the top. Do 25 reps, then switch!
Walking Plank High Fives: Both partners get in plank position on their elbows. Rise up onto palms, then slap hands with your partner (both hands). Lower back down to elbows. Repeat for one minute.
Twist and Pass: Stand back to back. Partner 1 holds a medicine ball or dumbbell and twists to one side to pass the weight to partner 2. Partner 2 twists and passes to Partner 1 on the other side.
Enjoy!
——————–
Now for a quick recap of my workouts! We left off last Thursday and Friday was a rest day while we went to watch our coach at Regionals…so let's start on Saturday morning.
Saturday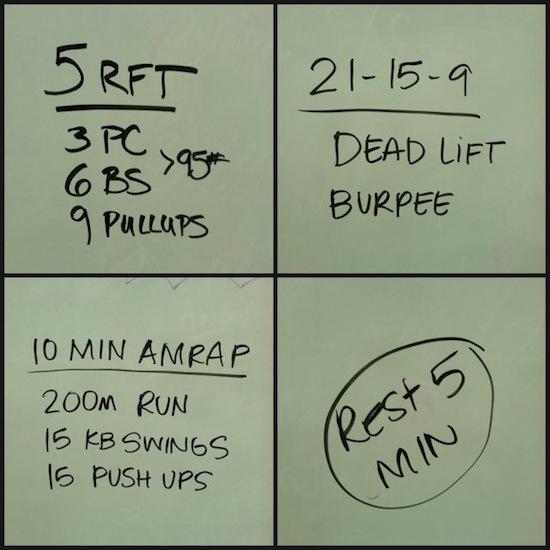 We headed in to the gym to squeeze in a workout before going back to Regionals. I did 3 mini WODs. Finished the first one in 7:47, rested 5 minutes. Finished the second on in 7:47 as well, rested 5 minutes. Completed 4 rounds of the third one. I was pooped by the end!
Sunday
Another rest day because we were spectating all day, but I did take the boys on a nice long walk!
Monday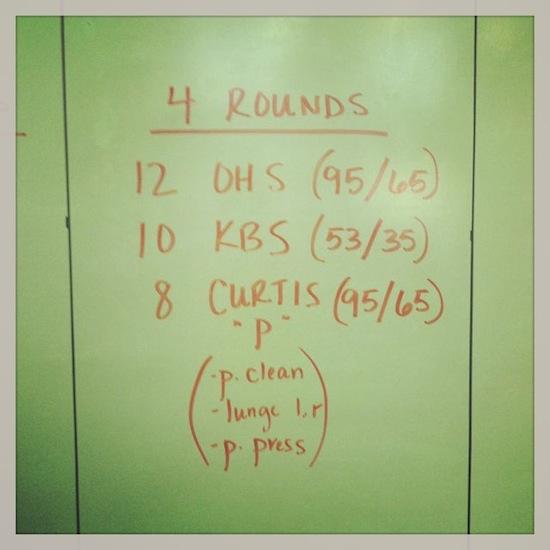 This was a rough one! 13:59 Rx. The overhead squats weren't heavy but they hurt my wrists terribly, even with wrist wraps so they always suck if we're doing a large amount of them!
Here's the difference between how our coach felt about the workout and how hubby felt about it when he was done!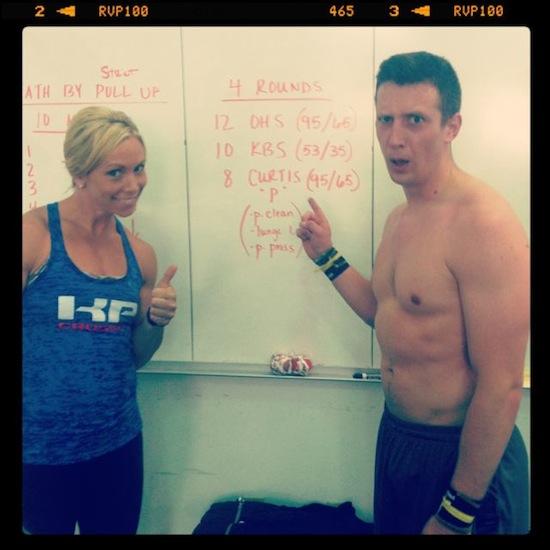 Tuesday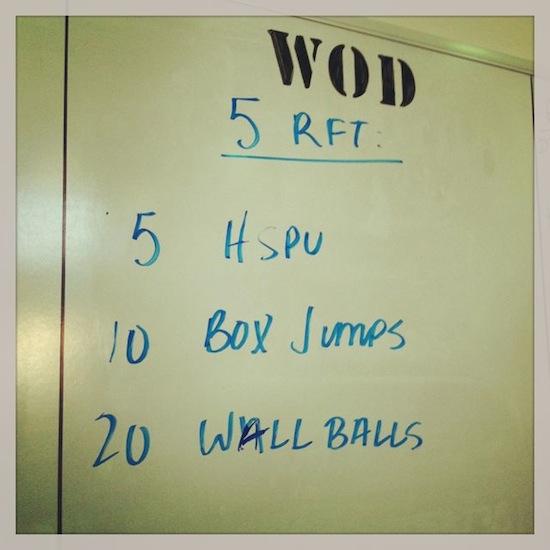 Brutal. We did front squats and single leg deadlifts first, so my legs were BURNING through this one. I did my HSPU with one ab mat and a 5# plate and did 24 inch box jumps finished in 12:36.
I also tried out a new headband I got this weekend. It's a Bondiband and I'm obsessed. I came home and ordered 3 more! It's moisture wicking and didn't move at all.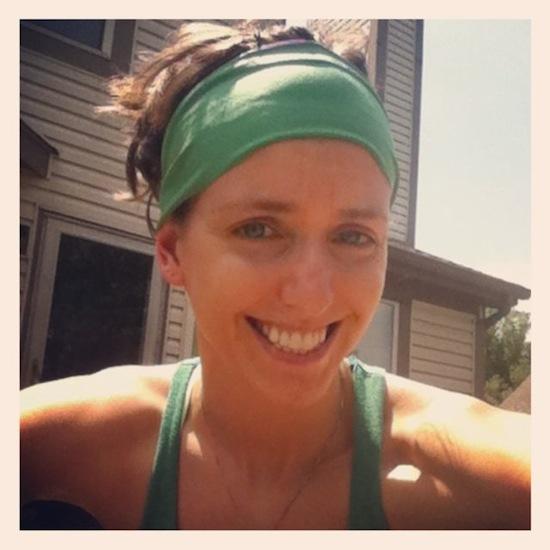 Wednesday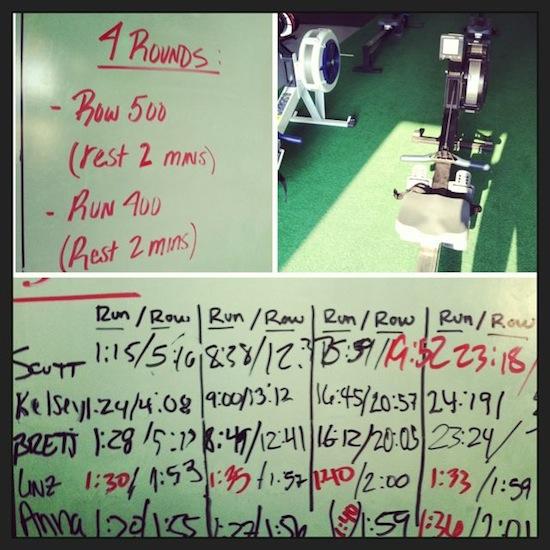 Wednesdays are supposed to be our active rest days..which usually means running. This week it was running and rowing. I hate them both and wanted to skip so badly but I forced myself to go because I'm working on improving my weaknesses to get stronger! It was rough, but not AS terrible as I expected. It was, however, HOT! Total sweatfest.
Thursday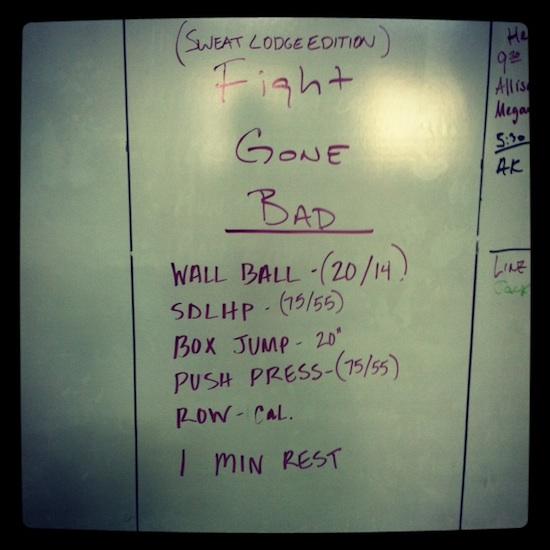 Thursdays are benchmark days. This week we did Fight Gone Bad. It's one of my favorites and one of the first benchmarks I did. On January 24th when we did this workout  I got 244 reps. This time, I got 278 reps!
Tomorrow we're tackling The Filthy 50, which is one of the hardest WODS ever…so i'll let you know how that goes 🙂
Let's chat: Do you like partner workouts or do you prefer to workout on your own?
Enjoy!
–Lindsay–
LEARN HOW FOOD AFFECTS YOUR BODY.
Get my free Table Talk email series where I share bite-sized nutrition information about carbs, protein, and fat, plus bonus information about snacks and sugar!