Hi Friends!
Time for another Fitness Friday recap!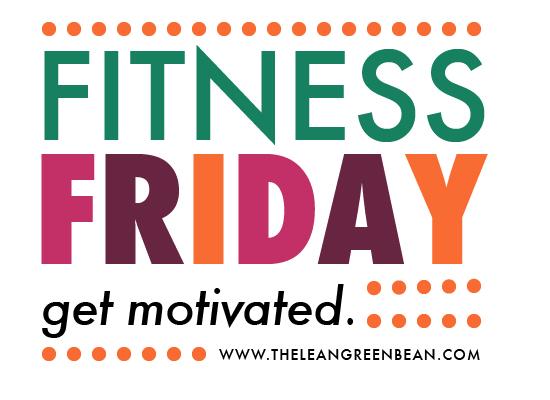 When we left off, I was getting ready to attempt the last workout of the crossfit open!
Saturday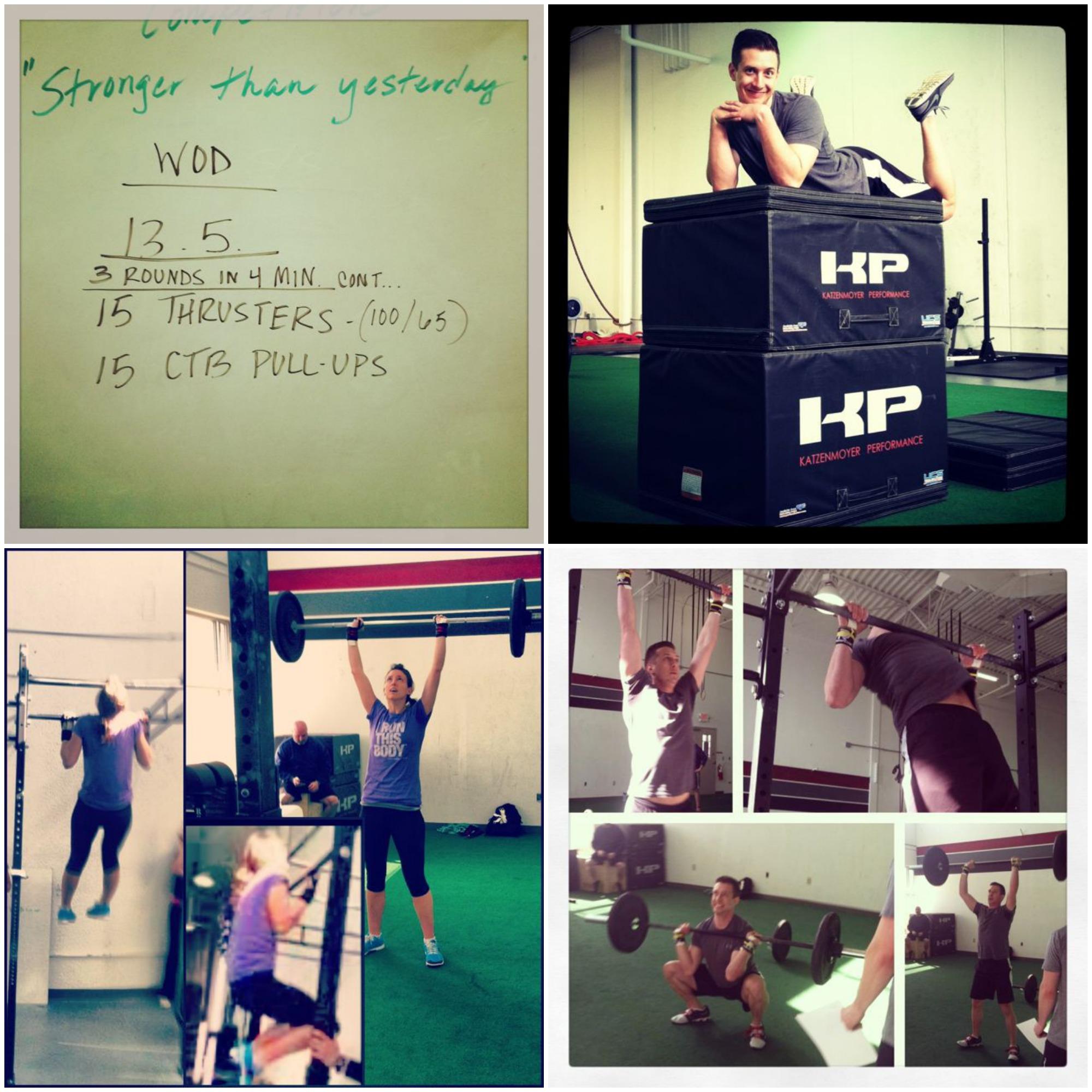 If you recall, I was saying that I couldn't do chest to bar pullups…well when we went in on Saturday I tried them with a reverse grip and guess what?! I was able to do some. I ended up getting 26 reps for this workout, so I did 15 thrusters and then was able to do 11 CTB pullups, so I was happy with that. Hubby got 42 reps which was awesome! He also did a little modeling 🙂
Sunday
Rest day!
Monday-Friday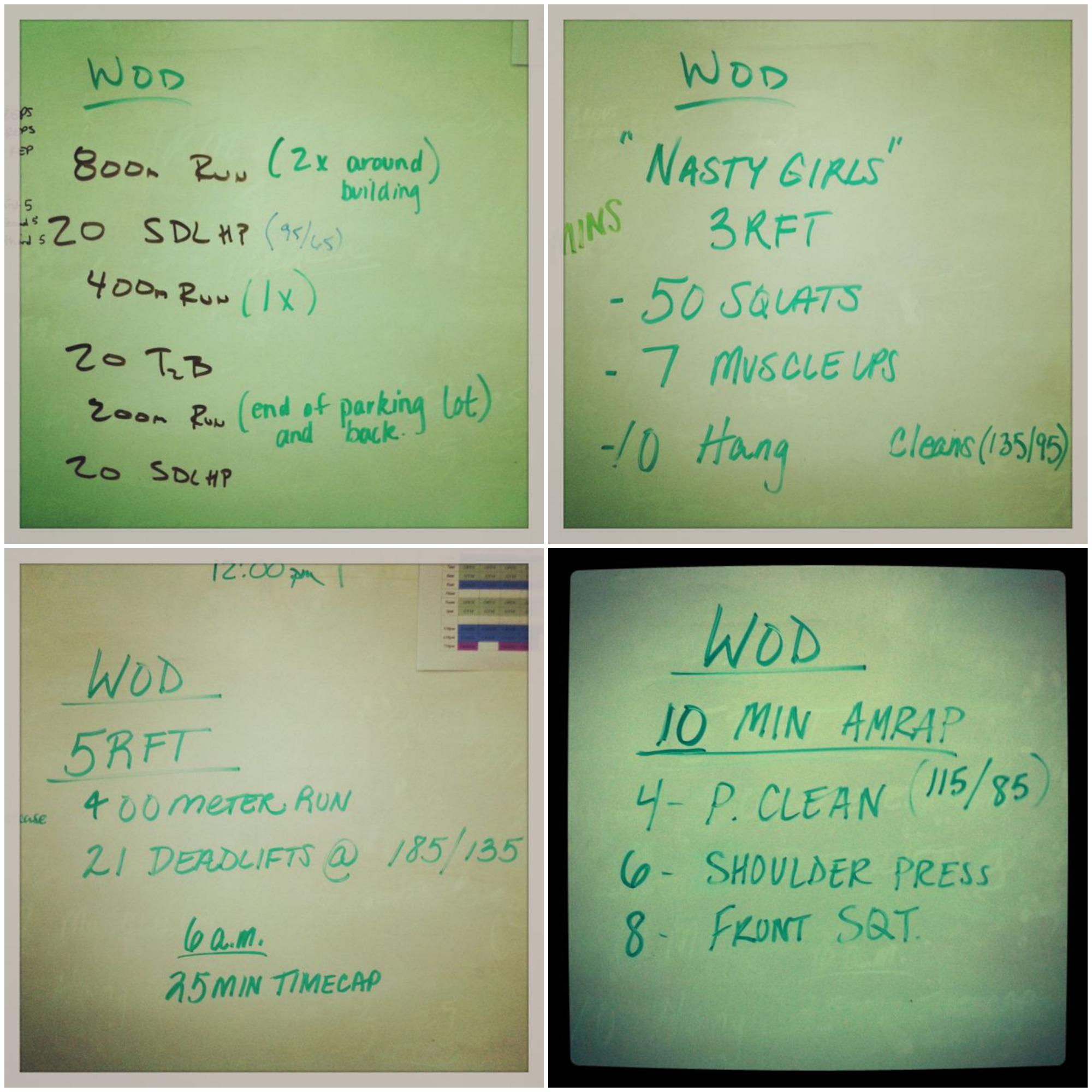 1. Monday– One of my least favorite WODs. I hated everything about it. But I did it in 11:18 rx. For the strength we did 30 min of EMOM 105# power cleans and hspu. It was 10 min of 3 power cleans one min, 5 hspu the next, then min 10-20 was 2 cleans, 4 hspu, min 20-30 1 clean 3 hspu.
2. Tuesday– Holy squats. I did the WOD in 8:26 with 85# hang cleans and muscle up progressions. Plus I got a 145# 3 rep max back squat and did 12 unbroken pullups!
3. Wednesday – This. was. miserable. I didn't feel good all day long, but I went to workout anyways. Then I used 125# for the deadlifts which isn't so bad if you're only doing a few. Turns out it's a terrible idea if you're doing 100 of them. I finished in 19:53 and almost threw up.
4. Thursday – Even though we were super sore, we decided to go one more day. Turned out to be a good thing because I got a new 3 rep max PR for deadlifts, even after doing 100 of them the day before! 185# baby! For the WOD I used 65# and did 6+6.
Friday– MUCH needed rest day.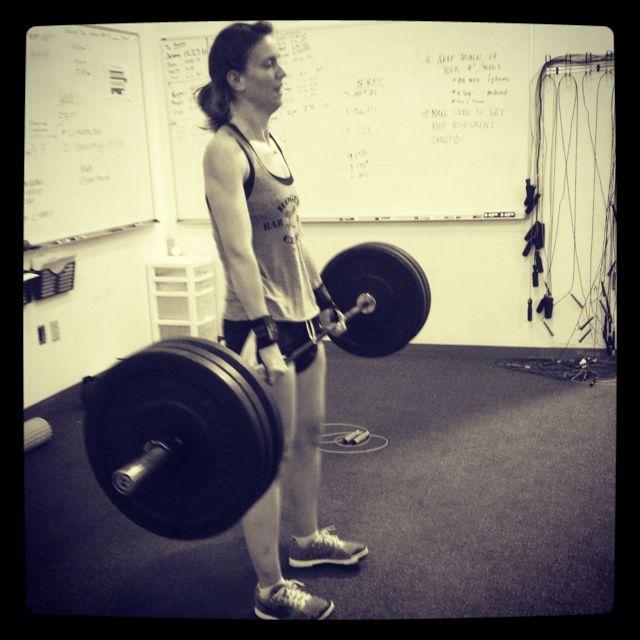 This was me during the miserable WOD with 125# deadlifts.
Saturday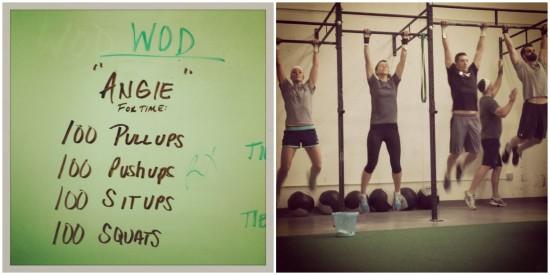 Benchmark workout day. We did Angie. 100 pullups, pushups, situps and squats for time. Pullups were rough. Pushups were worse. That's hubby and I in the middle and two of our best crossfit friends couple friends on the outsides! I finished in 26:34 rx and yes, I spent almost 12 minutes doing the pullups. Took me forever but I did them all kipping so I was proud of myself!
Sunday
Rest day.
Monday – Friday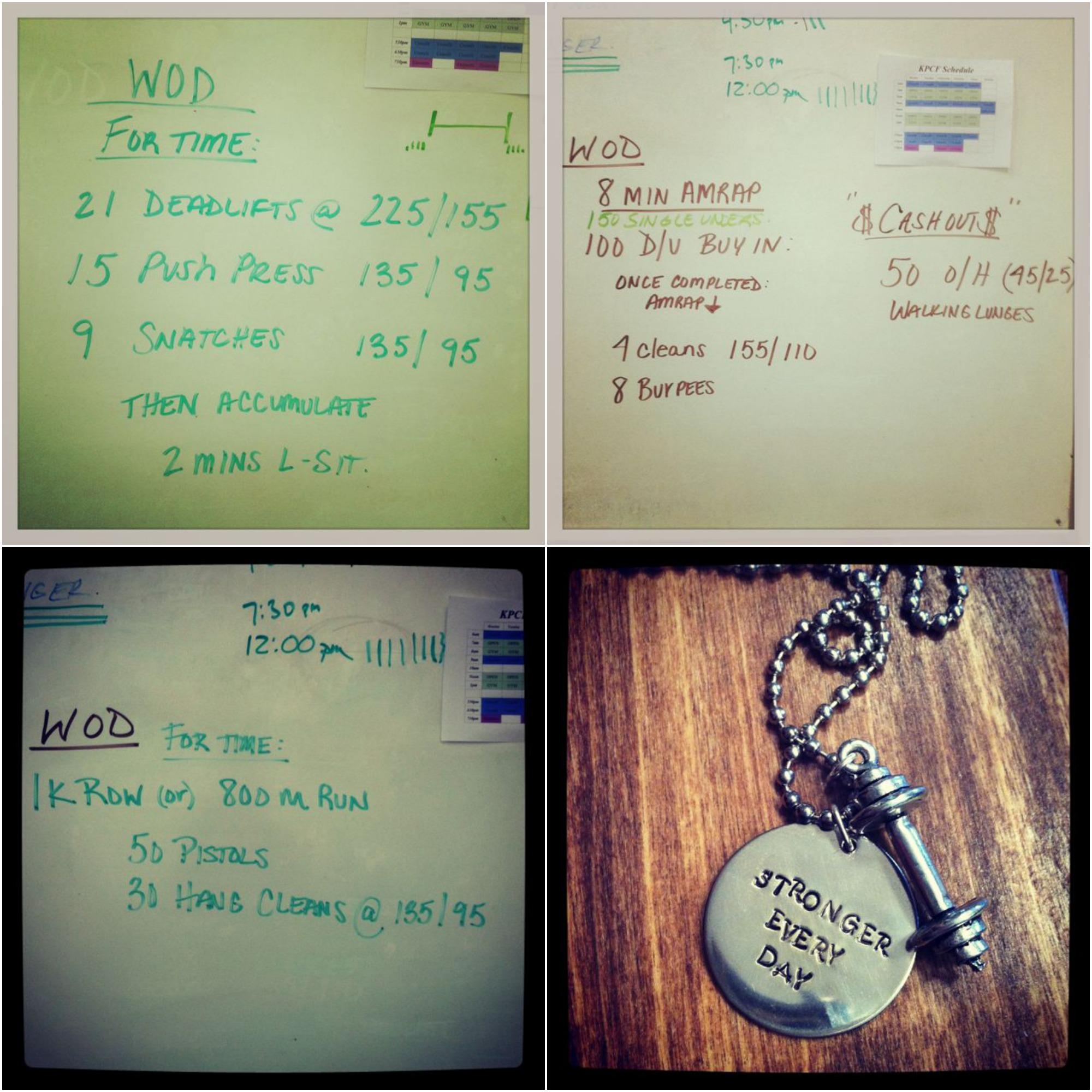 1. Monday– Finished in 4:18 – I used 125# for the deadlifts/75# for the push press/65# for the snatches
2. Tuesday– Holy sweatfest! I did 5+4 with double unders for the buy-in and 95# cleans. The worst part was the 50 lunges at the end. I didn't see that on the board ahead of time so I totally wasn't expecting it. Rough.
3. Wednesday– Loved this one! 800 m run, 50 pistols rx, 30 hang cleans (85#) in 8:52. When I finished, I knew I could have done the 95# cleans and I was so mad I didn't! Oh well, still crushed it 🙂
4. Thursday– Rest day! Still loving my bday present from hubby 🙂
That's all for today 🙂 Have a great weekend!
Enjoy!
–Lindsay–
LEARN HOW FOOD AFFECTS YOUR BODY.
Get my free Table Talk email series where I share bite-sized nutrition information about carbs, protein, and fat, plus bonus information about snacks and sugar!