Hi Friends!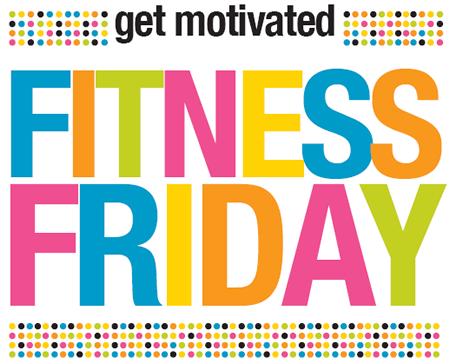 Time for another Fitness Friday and I'm super excited about it this week for several reasons:
1) I did some awesome workouts this week!
2) The hubby has jumped onboard the workout wagon and has been working out with me all week!
3) I did my first vlog about a plank workout!
So, let's recap those workouts shall we?
Jan 6th-3 mile run.
I did the whole run without stopping, in 27:42. I ran outside because it was so freakin' nice out! Shorts in January? When does that ever happen?! When I got home, I took down all the outdoor xmas lights (because I'm an awesome wife) and then I did some planks, including my first ever 3 minute plank!
3 min plank
2 min plank
1 min plank
Jan 7th– rest day….it was Saturday and I was busy enjoying the day 🙂
Jan 8th– Got up early and made up a tabata workout to do with the hubby!
It looked like this:
[print_this]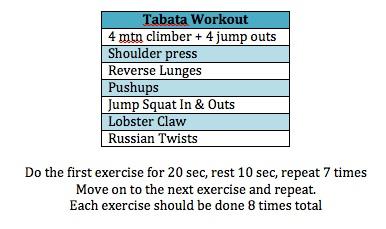 Pin It
[/print_this]
This workout was challenging. Hubby remarked multiple times that he "hates Dr. Tab" 🙂 Loved it! Another option would be to do all the exercises once and then start over and do the whole cycle 8 times.
Jan 9th– Did a killer stair workout. I visited the reservoir where I used to row on the crew team in college. It's called Hoover Reservoir and at one end is Hoover Dam (not THE hoover dam) but it's still pretty impressive. There are stairs that run up both sides of the dam, 98 stairs. And after I saw Lindsay run them last week, I knew I had to get myself out there and do it too.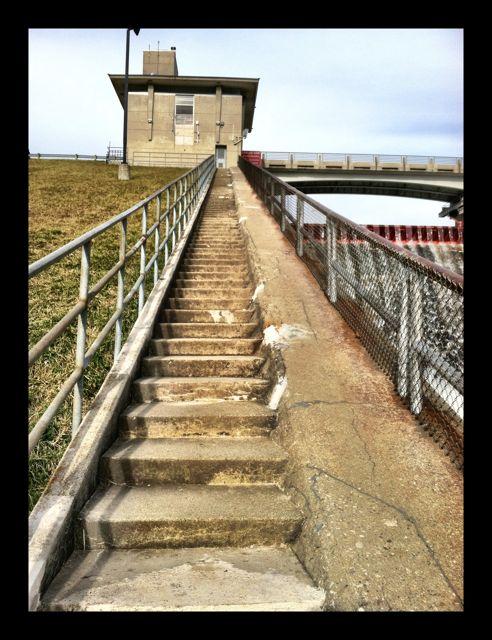 I headed over after class and ran the set of 98 stairs 15 times. I didn't stop in between so it took me about 20 minutes and my legs were SHAKY by the end. When hubby got home from work, he couldn't believe I went without him, so we put the dogs in the car and headed back over and ran them 10 more times!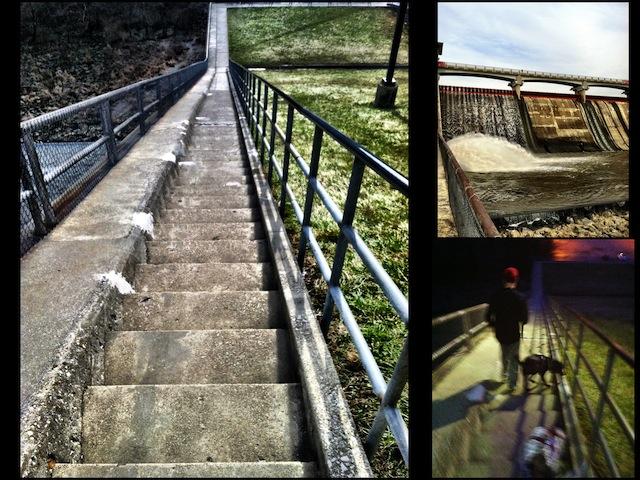 So, 98 stairs 25 times = 2450 stairs plus there was another set to get to the 98 so we're just gonna go ahead and call that 2500 stairs! My calves were BURNING the next day.
After the first round of stairs I came home and did some planks: 2 ½ min plank, 1 ½ min plank, 1 min plank.
Jan 10th– Rest day. I wasn't feeling 100% and my calves were super sore from the stairs.
Jan 11th– Hubby and I made up a circuit workout in the basement using the treadmill and rowing machine that we have, along with some dumbbell exercises.
It looked like this:
[print_this]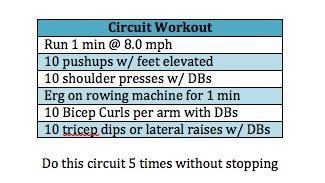 [/print_this]
Here's a shot of what our setup looked like. Excuse the mess, and note Hubby passed out on the weight bench after we were done!
Afterwards, I did an intense plank workout. I started thinking about all the different kinds of planks and plank exercises you can do and I just strung a bunch of them together:
[print_this]
[/print_this]
And look! I made my first vlog about this plank workout! I had quite the time getting the video camera up high enough so that you could see me. Check out my setup: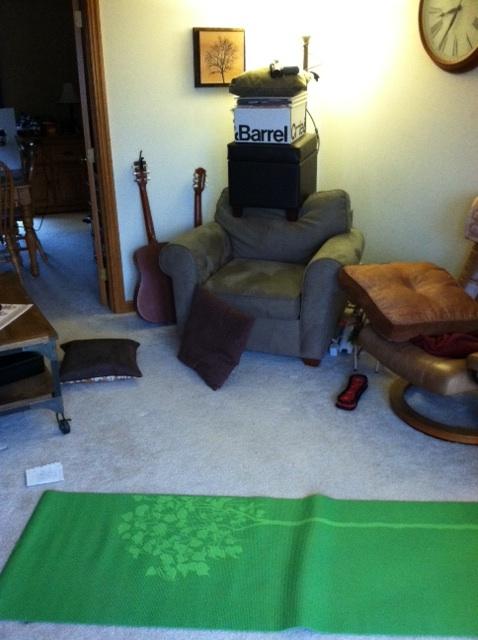 After I was done, hubby came home and informed me that we have a tripod, so I'll probably just use that next time 🙂 But this was fun!
Anyways check out the video if you feel so inclined. Hubby says the intro is too long, sorry about that…still workout on this whole video thing. You can skip through the beginning to get to the exercises if you want!

Eeeep! So there ya go! Let me know if you try it out! I know my form's not 100% perfect- but I was too worried about talking to the camera! I'll get better 🙂
Jan 12th- Hubby & I did another slightly modified version of one of my fav 100 workouts. It'd been a couple weeks since i'd done it and i missed it! And it was fun introducing it to hubby, although he complained about how many leg exercises there were 🙂 I did modify it a bit to make it leg focused since my arms were tired.
This is what it looked like:
[print_this]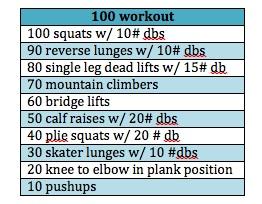 [/print_this]
And that's a wrap. A week's worth of workouts in the Bean household.
A couple more things to point out:
1. I fixed the button on the right sidebar so you may subscribe to The Lean Green Bean via email if you'd like…just click the button that looks like an envelope.
2. I've added a button so you can easily follow me on Pinterest. Just click the button on the right sidebar
3. Speaking of Pinterest, I added one Pin It button in today's post (under the tabata workout) but I'm not quite advanced enough to figure out how to put it under every workout. But if you ever see a workout or a recipe you really like here on The Bean, and you use Pinterest, I'd love it if you pinned your favorites to your boards! You can install the Pin It button on your toolbar (directions here) to make it super easy for you to pin stuff from any website you might be on throughout the day!
Whew, I'm exhausted. That's enough for today!
Happy Friday friends 🙂
Enjoy!
–Lindsay–
Today's Workout:
Put together a 25 min Tabata workout for hubby & I, inspired by this one from Lindsay.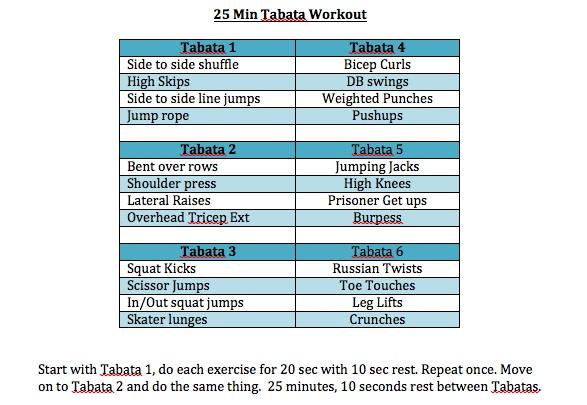 Doing only 4 exercises per tabata and repeating them really made this workout go by quickly.