Hi Friends!
I'm back with another Fitness Friday post and once again I have two weeks of workouts to catch you guys up on! When we left off, I was getting ready to try the 3rd workout of the Crossfit Open…so here we go:
Saturday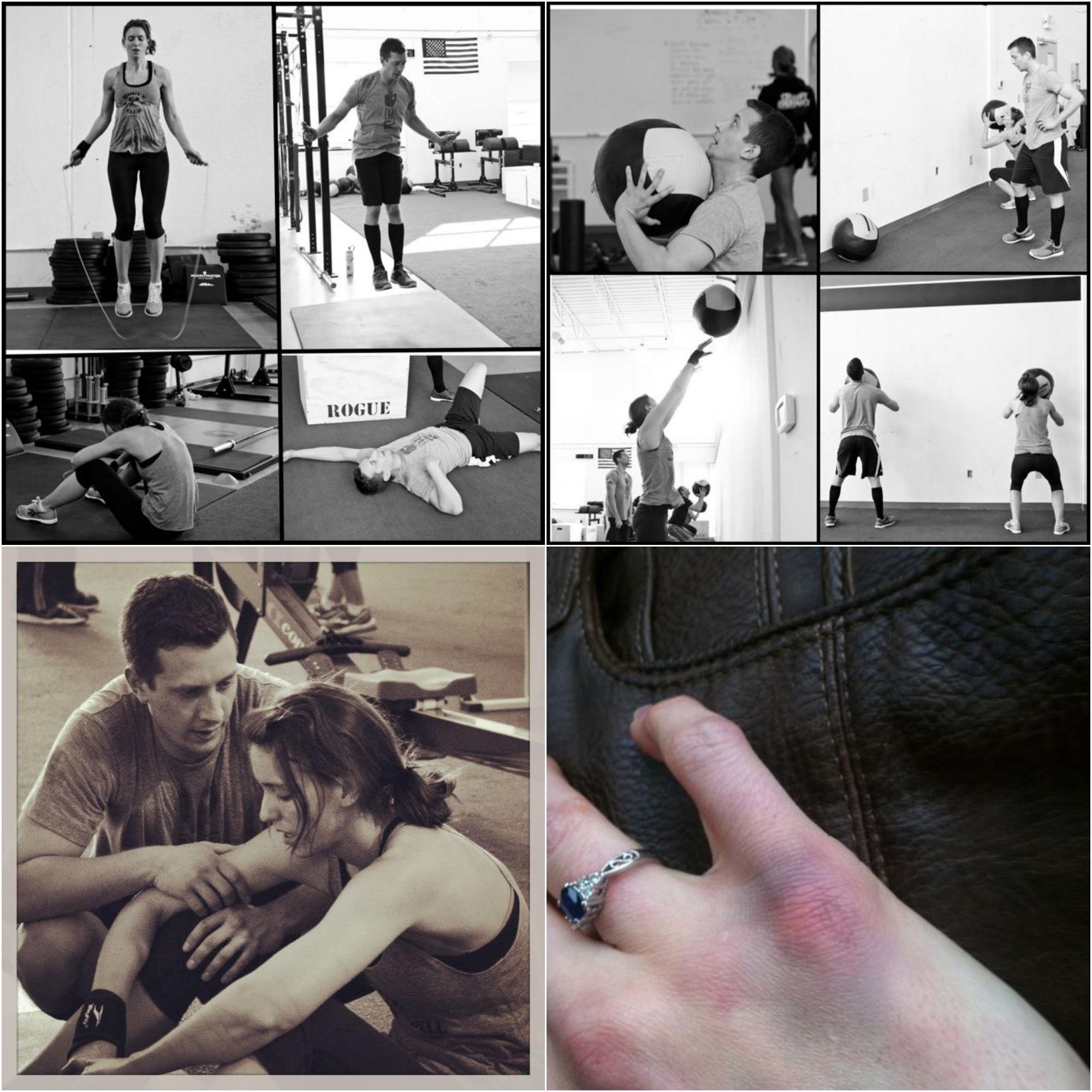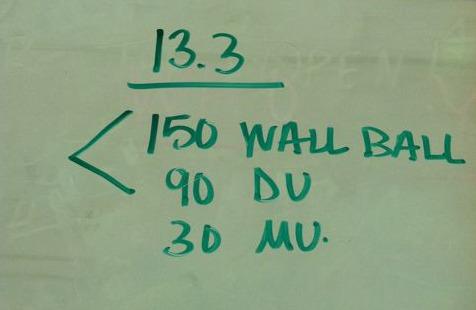 Workout 13.3 was 150 wall balls, 90 double unders and 30 muscleups…as many rounds as possible in 12 minutes. Not that many people in the world could get through that whole workout and start over on the wall balls again in under 12 minutes…but some did! My goal was to finish the double unders. I'm pretty good at double unders, but I'm not good at them when I'm gasping for breath after doing 150 wall balls. So I got through all the wall balls and 56 of the 90 double unders for a total score of 206 reps. This workout was BRUTAL. I even got a nice bruise from whipping myself in the hand during the double unders!
Afterwards we took the boys for a walk because it was a gorgeous day!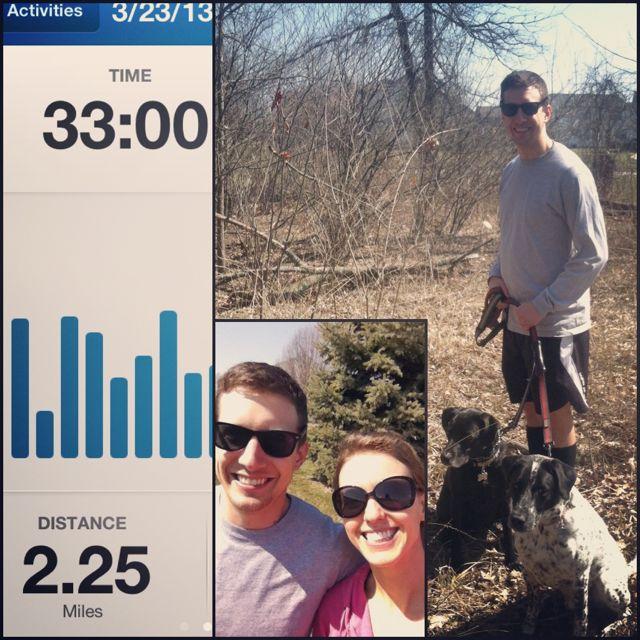 Sunday
Most def a rest day. My legs were SO SORE!
Monday
I still could barely walk but I dragged myself out of bed and went to 6am crossfit, where I was rewarded with this workout: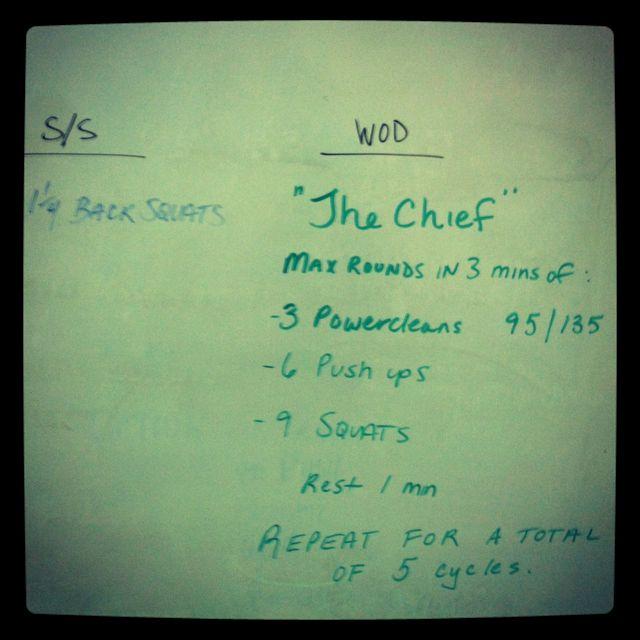 The chief is brutal when you're not sore…but when your quads are already sore, let me tell you…IT SUCKS. It's basically five 3 minute cycles where you try to get in as many rounds as you can in those three minutes. I did 3+15, 3+7, 3, 3+3, 3+5 with the Rx weight and lemme tell you, my quads were on FIRE!
Tuesday
Much needed rest day.
Wednesday
Easy WOD because we had to do Open workout 13.4 on Thursday this week instead of Saturday.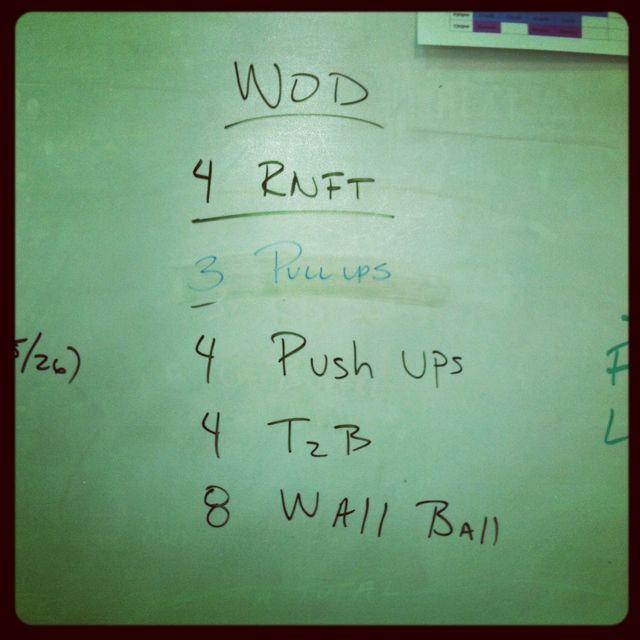 We had class before 13.4 was announced on Wednesday night so we just did a nice easy workout that was rounds not for time to help us loosen up.
Thursday
They announced 13.4 and I was probably least excited for this one out of all the open workouts so far: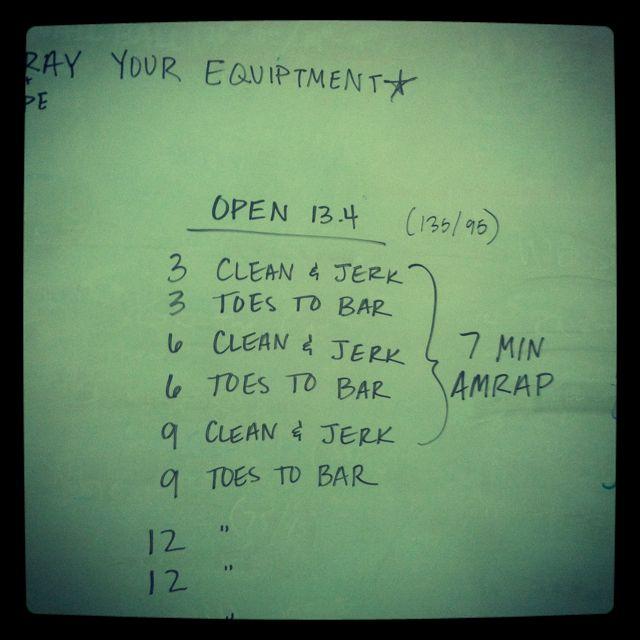 First of all…anyone that does crossfit with me knows how much i hate toes to bar. I can do them, I just can't string them together. And a 95# clean and jerk is 20# more than i've ever put over my head…so I knew that'd be tough. My goal going in was 20 reps. I was able to do 25! I got through 7 of the clean and jerks out of the set of 9 and then it just got too heavy and I could clean it but I couldn't push it up over my head anymore. I knew this one would be tough for me though so I was happy with my 25!
*and yes, i know equipment is spelled wrong in the picture. I didn't write it!*
Friday
We went in with some friends during open gym. The guys tackled a barbell heavy workout and the girls opted for this one: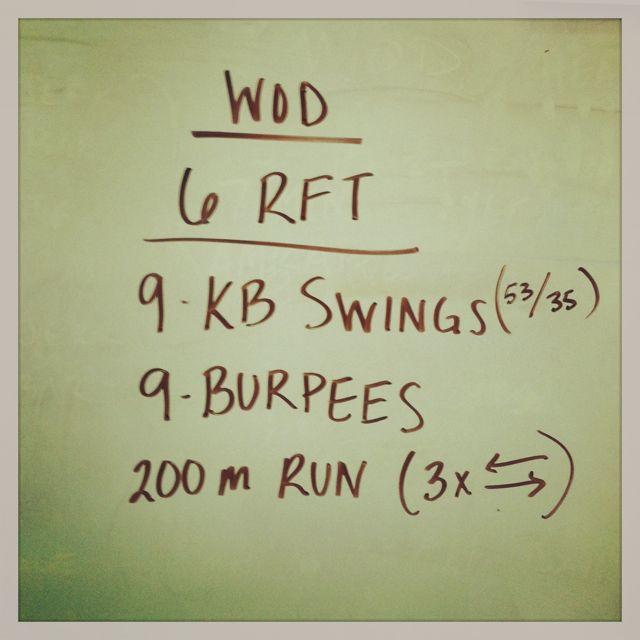 It was a fun one! I finished in 11:05 Rx.
Saturday
I was SO close to not getting out of bed to go…but hubby and I pulled ourselves together and headed in. Unfortunately the workout was not a fun one. FRAN. Fran is one of the benchmark workouts that crossfitters compare times for.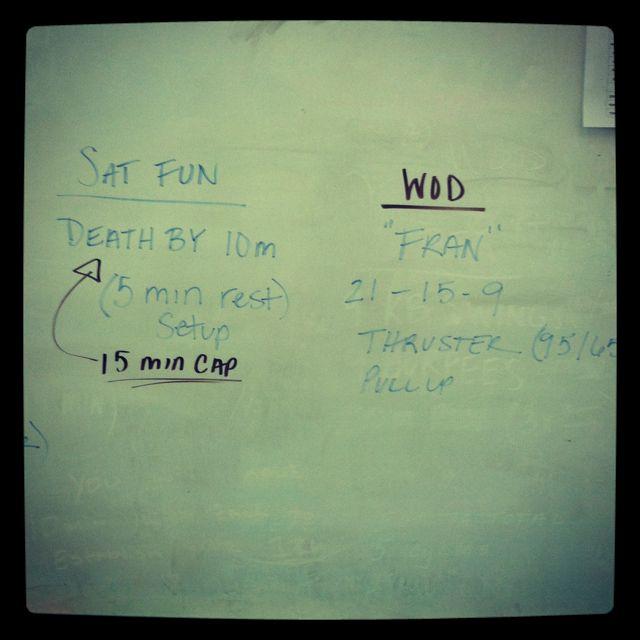 The best crossfitters in the world can do Fran in about 2 minutes. It's crazy. This was my first time doing it and it took me 10:56. But I used the prescribed weight and did all legit pullups so I was proud of myself! I also got huge rips in both my hands so that made showering extra fun. I'll spare you the pictures 🙂
Before we did Fran, we did death by 10 meters which is basically 15 minutes of sprints. So in the first minute, you sprint 10 meters, in the second minute you sprint down and back for a total of 20 meters…and each minute you add another 10 meters so by the 15th minute you're running 150 meters in 1 minute. There were only a few of us who made it through that one and it required a full on sprint from me…so I was still a little tired when I started Fran!
Sunday
REST DAY!

As for the rest of this week?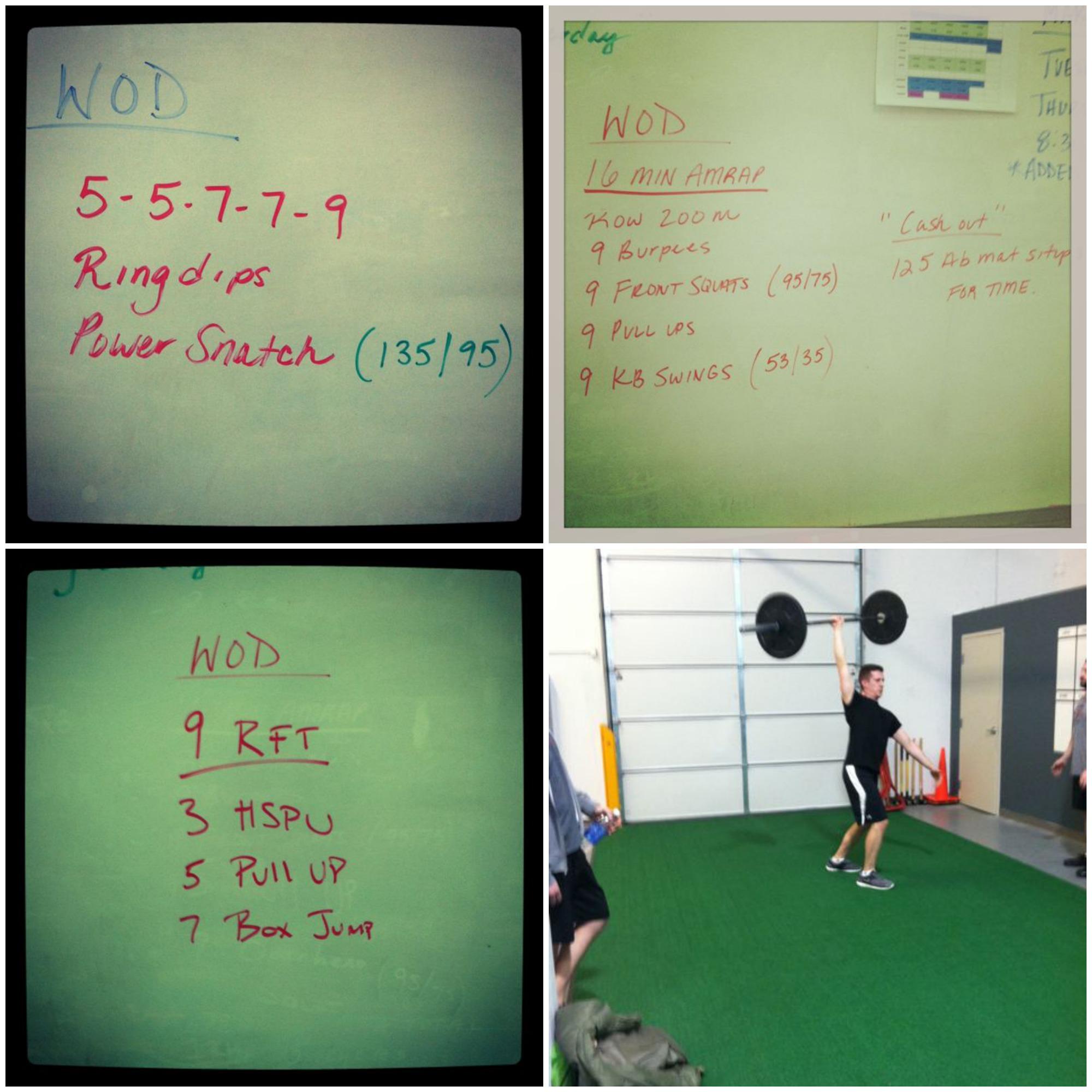 1. Monday: We worked on overhead squats (I did 75#!) and then did the wod. It wasn't my favorite. I hate snatches and ring dips…but oh well. I did 65# snatches and banded ring dips and finished in 6:14
2. Tuesday: Another rough one. We subbed a 200 m run for the row and I finished 3 full rounds, plus the run, burpees and front squats of round 4. Then we did 125 situps for time and I finished in 5:03
3. Wednesday: LOVED this one. I've been working on my kipping handstand pushups every day after class and i'm finally getting the hang of it. 3 is about the max i can do at a time (I still use 2 abmats under my head) but it's such an improvement from last month! I'll show you guys a video when I get good enough to only use 1 abmat 🙂 I finished in 10:16. Then we did 4 planks, holding them as long as we could with a 15 sec break in between. For strength we did hang squat cleans and I was able to do two at 115#!
4. Hubby and a couple other guys messing around after class one day doing turkish getups with the bar instead of the kettlebell.
Wednesday night they announced the last open workout 13.5 and it is INSANE.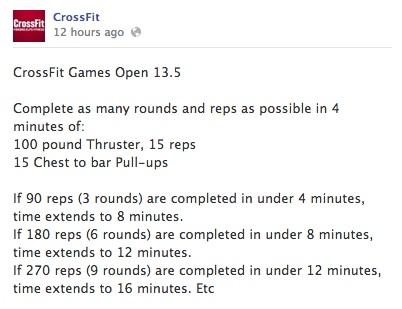 For girls it's 65 pound thrusters. It's basically the middle round of Fran, except you have to do chest to bar pullups…and you have to do it over and over and over again. This workout is kinda silly for me because I can't do chest to bar pullups. But oh well…we're doing the workout Saturday morning and i'll do my 15 thrusters and then cheer hubby on!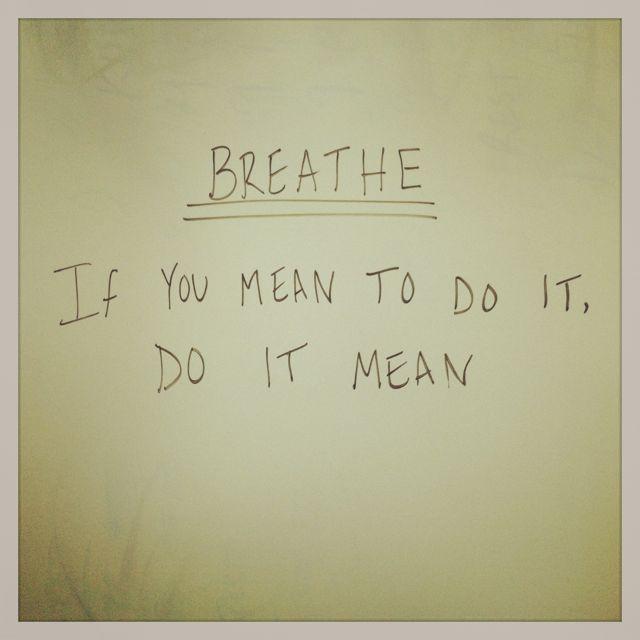 How were your workouts this week? Do any fun ones?!
Enjoy!
–Lindsay–
PS…One of the ladies at our gym takes awesome black and white pictures and she took some for us during 13.3. I used some of them to make new FB cover photos for hubby and I in PicMonkey (they have a special template for FB cover photos!


Wheeeeee!!! picture fun 🙂
LEARN HOW FOOD AFFECTS YOUR BODY.
Get my free Table Talk email series where I share bite-sized nutrition information about carbs, protein, and fat, plus bonus information about snacks and sugar!