Hi Friends,
Time for another Fitness Friday already!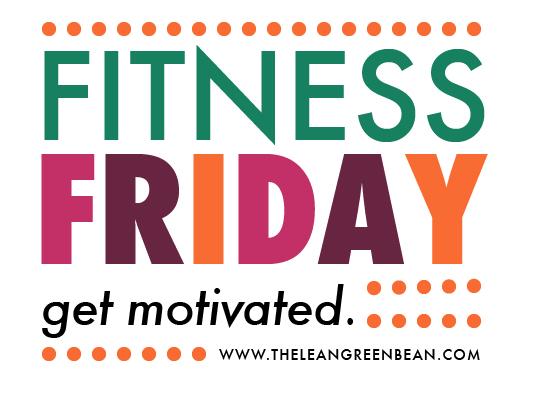 This week has been a bit of a frustrating one for me. Suffice it to say I was playing with fire…and I got burned.
Let's back up and talk about shoes for a moment. These are the shoes I've been running in for the past year.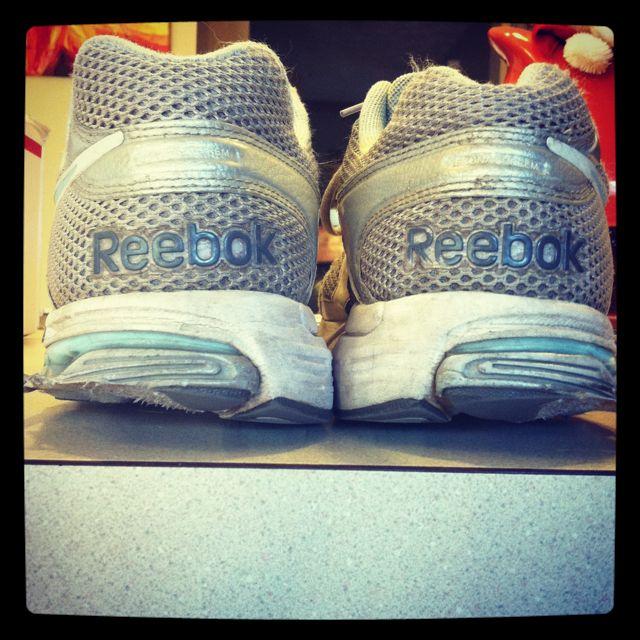 I love them. They're super comfortable. I haven't had any problems with them. They're just old. Note the part on the bottom of each one that's supposed to be dark gray and is definitely not, because all the rubber is worn away.
Because I'm not a distance runner, and when I'm in my most dedicated running phase, I run about 12 miles a week, I really don't think about my shoes that much. I don't count the miles I run in them. I don't have a million different pairs. These are the pair I wore to run, to walk, to do pretty much anything in.
A few weeks ago, I happened to catch a glimpse of the bottom of my shoe while I was stretching. I noticed how worn down they were and made a mental note that it was probably time to get new ones.
Then I didn't.
I kept running in them for another month or so. Even when I knew they were worn down. Even when I knew that worn down shoes are dangerous for me to run in.
That brings us to last Friday. I ran on Thursday and my legs were tired, so I opted to do this workout on Friday: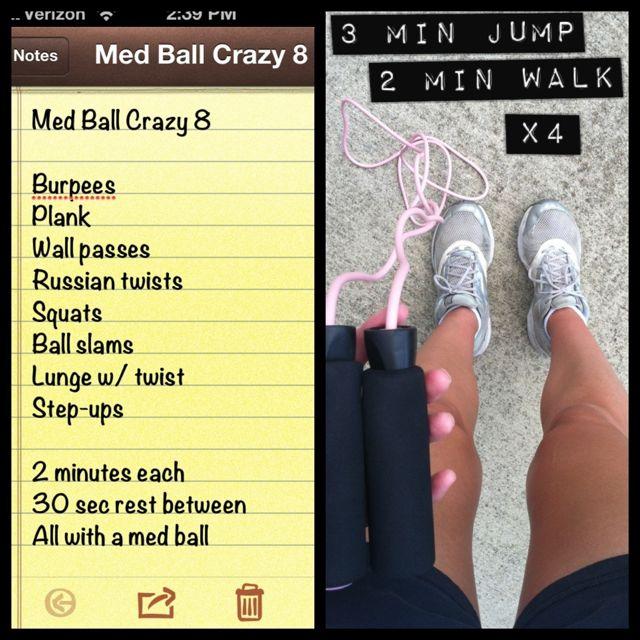 That was a mistake. In case you didn't look closely, that's a LOT of jumping. 2 minutes of burpees, but 4 rounds of 3 minutes of continuous jump rope.
A lot of high-impact activities in worn down shoes = bad for your shins.
I noticed things were feeling a little "off" in my left shin right near the end of the workout. I tried to ignore it, not really wanting to admit to myself what it was, and I went for a walk instead. By the end of the walk I had calmed down and was ready to face the fact that I was dealing with the beginning of a shin splint.
Shin splints, for those of you who have never had them, are THE WORST. I've had them several times, once to the point where I could barely walk for almost 2 weeks…so trust me, I know.
That also helped make it easy for me to recognize what I was dealing with right away.
SO, I resigned myself to the fact that my body needed to rest and I spent the next two days doing a lot of this:
And a lot of this: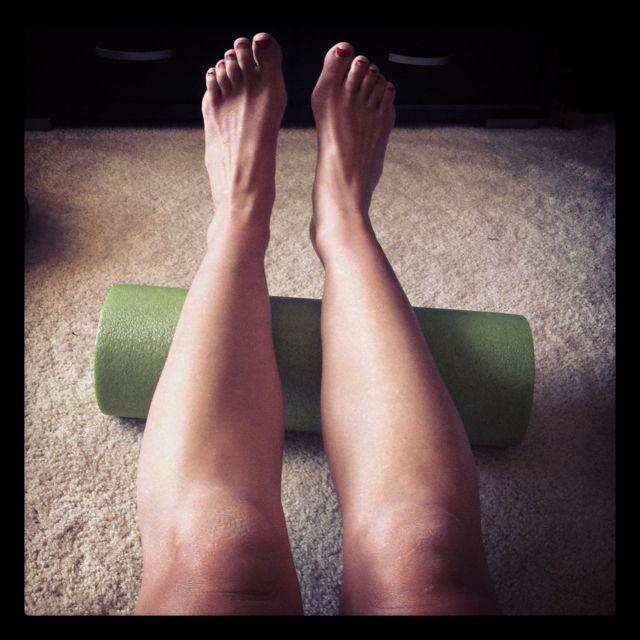 And a lot of stretching.
Saturday we went shoe shopping. I asked for some recommendations on twitter and instagram and a lot of people recommended Brooks, specifically the Glycerin and Ghost models. We headed into Fleet Feet. They measured my feet, watched me run and then disappeared into the back room. Low and behold, they brought out three pairs of shoes, two of which were the Glycerin 10 and the Ghost 5. I tried them on, I ran (tentatively) on the sidewalk outside and ended up choosing the Glycerins.
I didn't do anything high impact until Sunday night when I played sand volleyball. I was a little nervous, but it felt ok for most of the game.
Monday = more ice. And more low impact cardio because I was too scared to test out the shoes just yet. Hubby and I got out our bikes!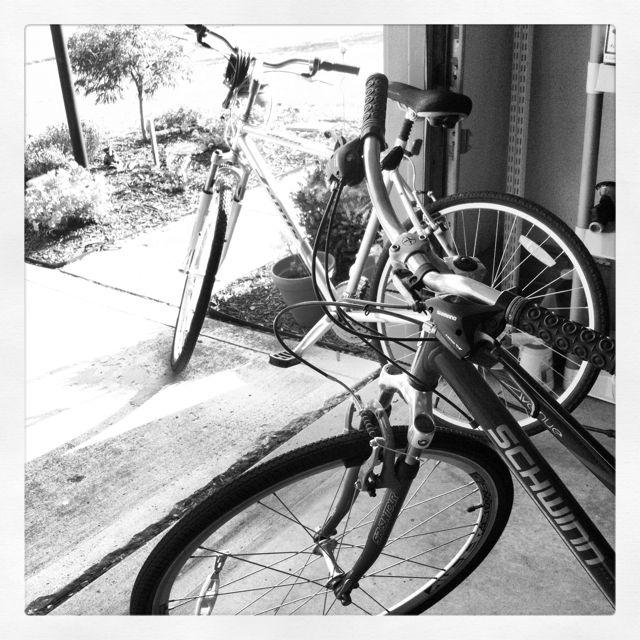 We took one of the bike trails near our house to the north about 6 miles, and then came back. All in all we covered almost 15 miles. It was great. I changed the gear on my bike, which I normally just ignore, to make it a more challenging workout!
I also did a upper body strength workout for Best Body Bootcamp. This week we're doing all the same exercises but some of them have an extra set to fatigue tacked onto the end that makes it super challenging. I pushed myself and was able to increase my weights or reps for all the sets! I did double the amount of pushups that I did last week!
Tuesday- I did the lower body strength workout for bootcamp. I rocked the wall sits! For the first two sets I did 2 minutes and the second two sets I did 90 seconds, all with a 20 # dumbbell to make it extra hard! My legs were SHAKING.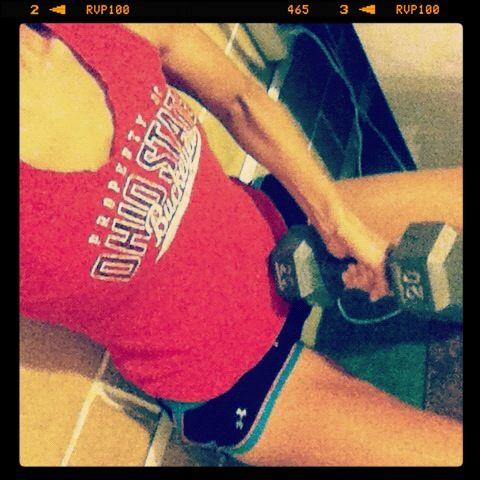 But I was still smiling 🙂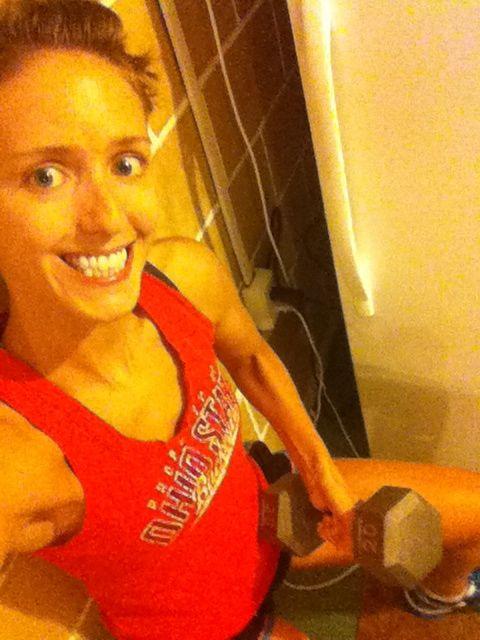 My leg was feeling ok so I decided to go out for a test run. I did one mile of run/walk intervals. My shin felt ok- not great, but there was another problem!
If you've ever seen my feet, you know I have bunions.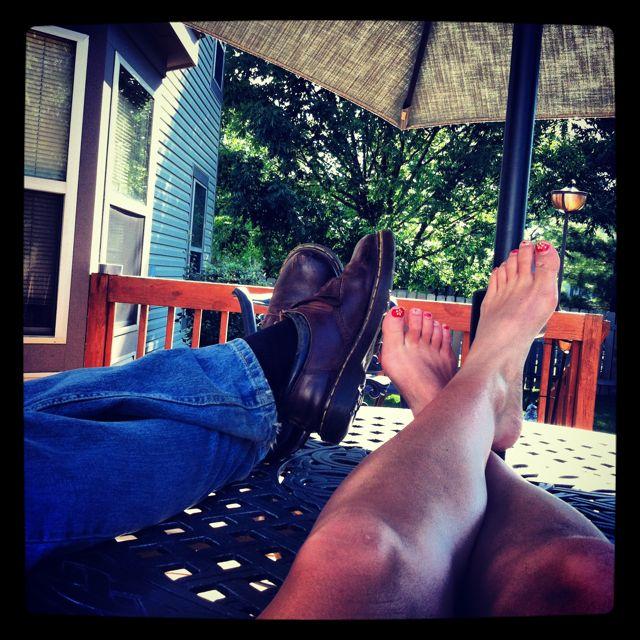 See how my big toe on my right foot especially is angled way towards my second toe? That means there's a bump that sticks out on both of my feet and rubs against the side of the shoes I'm wearing. I'm lucky in that mine aren't super painful unless I wear bad shoes, or do a LOT of physical activity for a lot of days in a row. They used to hurt a lot in high school when I was playing volleyball all the time. But for the past several years, they've been pretty good. However, they severely limit the shoes I can wear. When I buy workout shoes, I have to find a pair that is wider in the toe area. The rest of my foot is fairly narrow, so I don't need wide shoes….I just need shoes that are wider by the toes. When I tried on the Glycerins I thought they'd be fine. They weren't. After only about 1/4 of a mile my bunions started aching. It was a miserable run.
SO, back to the shoe store I went on Wednesday. A new person helped me and he could tell immediately that the Brooks were too narrow. He brought out several more pairs and I actually really liked a pair of Nikes. In addition to having bunions, my left foot is also 1/2 a size bigger than my right, and I generally wear a size 11 shoe. Since Nike's usually fit me small, the 11's weren't quite big enough so the store is ordering me an 11.5. They should hopefully be delivered soon so I can give those a try.
On the plus side, the Nike's were about $45 cheaper than the Brooks, so on my way home I stopped at DSW to see if I could find another pair of shoes to use for walking. This time around I'm making an effort to extend the life of my running shoes by only wearing them to run!
I found these guys on sale and decided to give them a whirl. I've seen several of my Fitfluential friends wearing them after they received them at a Reebok event!
They're by far the lightest pair of shoes I've ever worn and they're super comfortable. Plus they're PINK! So fun. I tested them out inside during my workout on Wednesday. I didn't want to run in them, so I hopped on the erg. They were great, mainly because I could barely tell I was wearing them. Reeboks fit my feet really well. (Side note- I paid for these shoes with my own money. They didn't ask me to write a review of them. I'm just telling you guys about them because I like them!)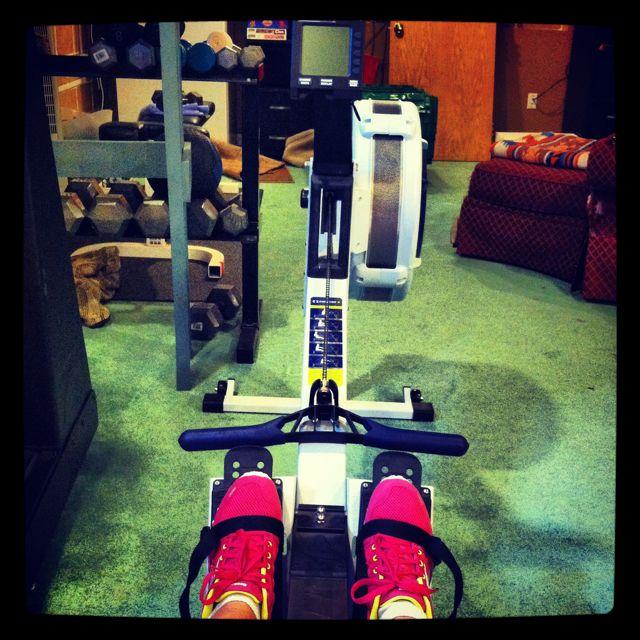 I rowed for 2 years in college and I'm here to tell you that if you've never used an erg before, you're missing out on a killer workout. I came VERY close to throwing up during several land practices in my crew career, all thanks to the erg. My one piece of advice is, if you're going to use the erg, learn how to use it properly. It is NOT an arm workout. If you're doing it right, it's ALL LEGS. You should barely even be holding on to the handle bar…it's just along for the ride. All of the power comes from your legs.
Anyways, I did about 20 minutes of intervals on the erg and almost died. I may have rowed in college, but it's also been about 6 years since I've been on an erg 🙂 I also headed out for a late night 3 mile walk, and did some ab work.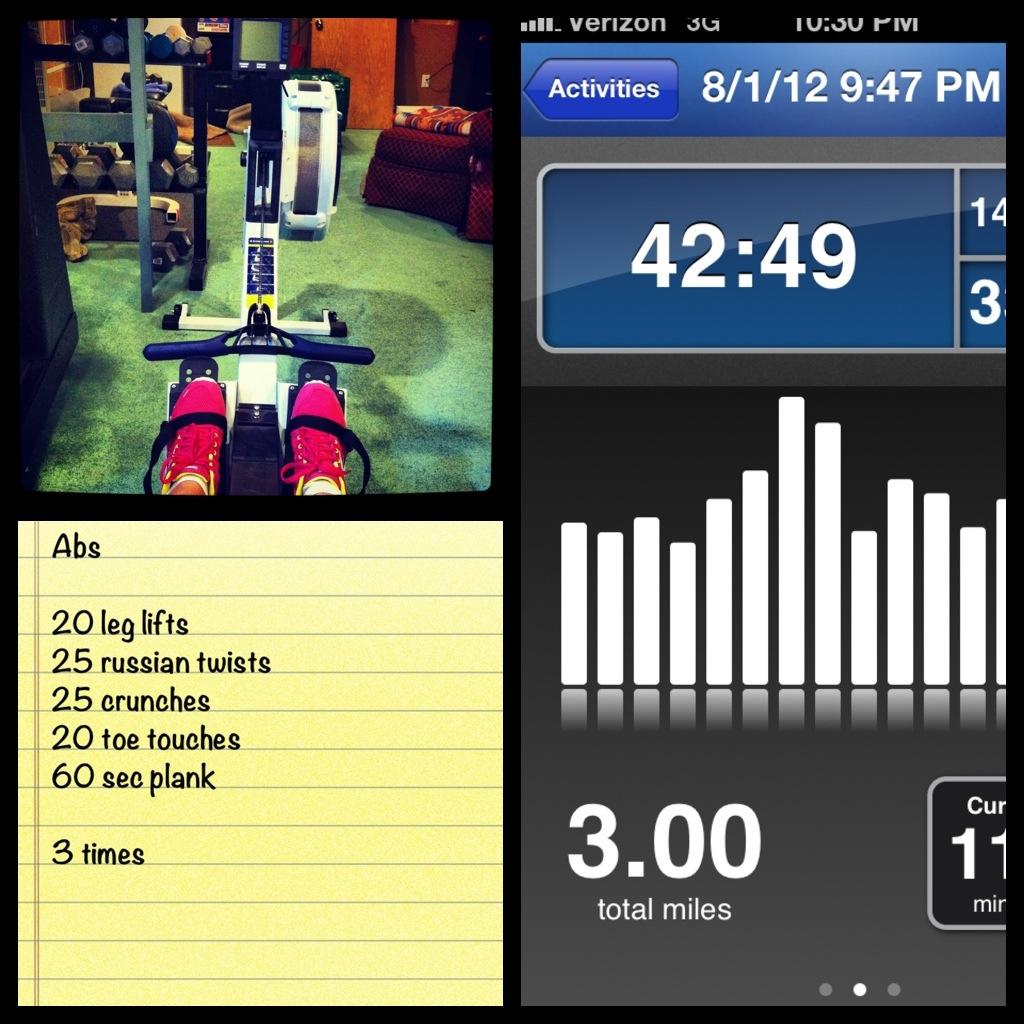 Then Tucky helped me foam roll: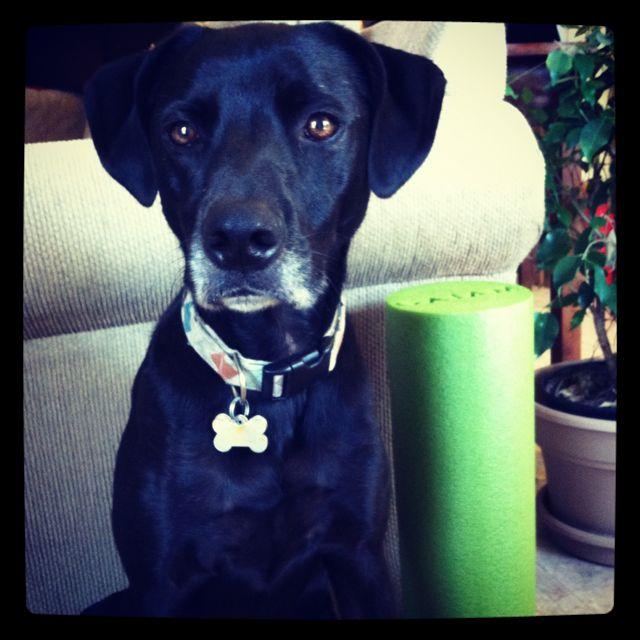 I bought that foam roller over the weekend after having it on my to-do list for months. It's already doing me a world of good!
Thursday I tackled the full-body strength workout for bootcamp. My favorite superset was the Glute Bridge w/ Tricep Extensions alternating with walking lunges. 4 rounds. Killer. Seriously. And then I did a 3 mile power walk.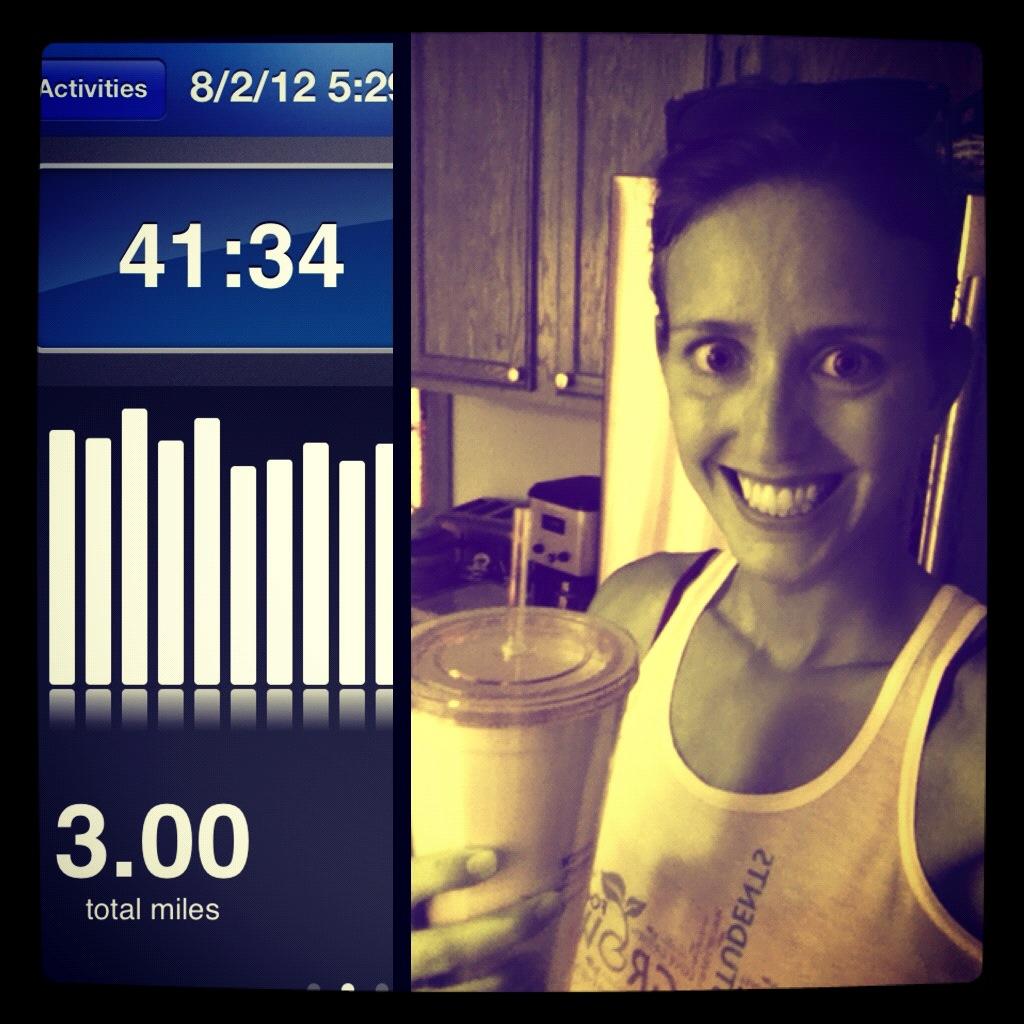 Then I iced. Tucky laid right next to me to show me support 🙂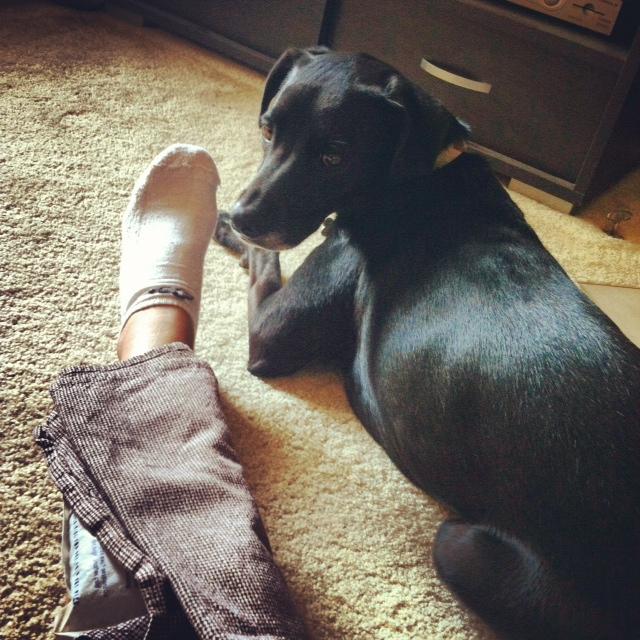 So now, my friends, I wait. And I ice my shin…because quite frankly, it's not really feeling any better, which is frustrating. And I wait for my new shoes! I'll keep you posted on how those work out for me.
And also, I encourage you NOT to wait. If your shoes are worn down, get new ones. It's the smart thing to do.
Oh, and if you have any tips for curing shin splints/preventing shin splints etc, lay 'em on me!
Happy Friday!
Enjoy!
–Lindsay–