Hi Guys!
It's time to power through another Fitness Friday.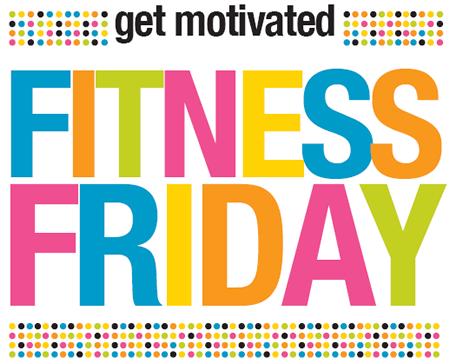 I've had a couple of super busy days and I'm just ready to fast-forward to next Tuesday when I get a nice little break! BUT, I do have time to share with you some of the workouts I did this week and boy did I have some good ones. I pushed myself pretty hard this week since my knee has been feeling ok. I've pretty much accepted that this is just how it's gonna feel, and since it's not terribly painful, I'm ok with it!
I wanted to highlight one workout in particular that I put together. When I first started getting back into exercising regularly about 6 months ago, I was doing about 4 basic moves: Squats, Lunges, Calf Raises and Shoulder Presses. It's what I knew, what I was familiar and comfortable with…and it was fine for the first couple weeks.
But once I started putting together workouts and sharing them with you guys, I knew I'd have to start getting a little more adventurous or it was gonna get pretty boring, pretty fast!
So, over the past few months I've been doing a lot of fitness blog reading, googling and you-tube video watching and I've found LOTS of new moves to incorporate into my workout routines. I thought I would share some of my favorites with you guys in case you're looking for a new move or two to spice up your workouts!
I didn't have time to make a video for you guys this week…but here are some links to some of the moves:
Bulgarian Split Squats
Plie Squats
Single Leg Deadlifts
One Leg Bridge Lifts
Weighted Donkey Kicks
Plank Row w/ Frog Jump
Skull Crushers with Hip Bridge
Med Ball Wall Passes
Reverse Flys
Decline Pushups
Russian Twists
Stability Ball Knee Tucks
Side Plank Dips
Lobster Claws
Walking Planks
Side Burpees
In & Out Jump Squats
Stradle Bench Jump-ups
Scissor Jumps
Side 2 Side Shuffle
So there you go- 20 moves you might not already be doing! Then I took it a step further and turned all of those moves into a tabata for a nice workout!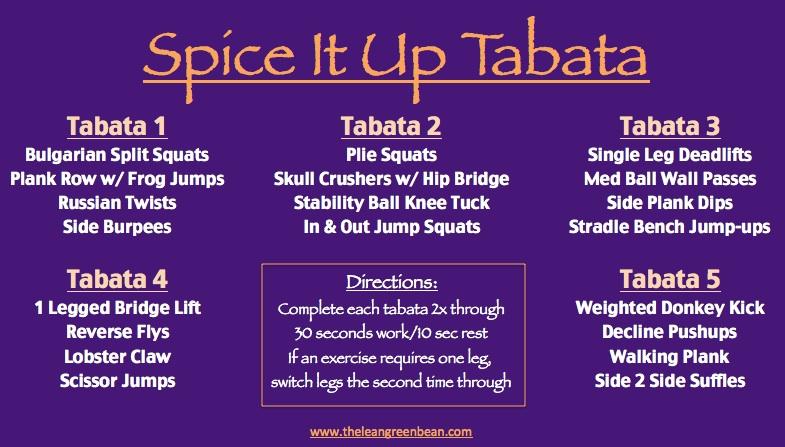 So, what did I do the rest of the week? Let's take a look:
March 2nd– Ran 4 miles! This is pretty huge…it's only the second time I've done it, EVER. I didn't really follow a specific workout, but here's what I did:
The first mile and a half I alternated 1 min 6.0/1 min 8.0. then I walked .2 miles and ran the last .3. Then I thought I was done. I went upstairs and after 5 min I said no, I can do more. So I went back down, and I ran a mile at 6.0. Then for a ½ mile I alternated 1 min 6.0/1 min. 4.0…then I ran the last .5 mile at 6.0! Boom. Great way to kick off a Friday.
March 3rd – Active rest day. As you recall, I spent the day at The Arnold. It was one of those days I really wish I had a pedometer (BDAY present anyone?! April 15th…just saying) Anyways, I felt like I walked a million miles around the convention center.
March 4rd– Spice it Up Tabata. I was sorer than I expected to be the next day!
March 5th– rest day
March 6th– I revisted an old workout of mine and man did I forget how awesome it is. It only takes 20 minutes and I was drenched by the end!

March 7th– High 5 Incline HIIT workout. Appropriately named because you're doing 5 interval running blasts and a high incline 🙂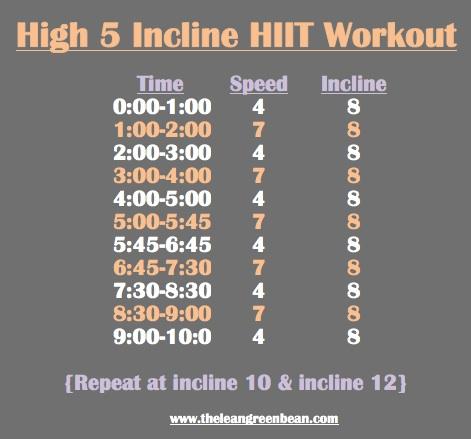 March 8th-rest day. SUPER BUSY!
That's all, friends! Tell me one new move you've recently started incorporating into your workout routine!!
Happy Friday 🙂
–Lindsay–
LEARN HOW FOOD AFFECTS YOUR BODY.
Get my free Table Talk email series where I share bite-sized nutrition information about carbs, protein, and fat, plus bonus information about snacks and sugar!