Hi Friends!
Hard to believe it's Friday again already! This week I don't have a ton of workouts developed by ME to share with you, but I still did some good ones!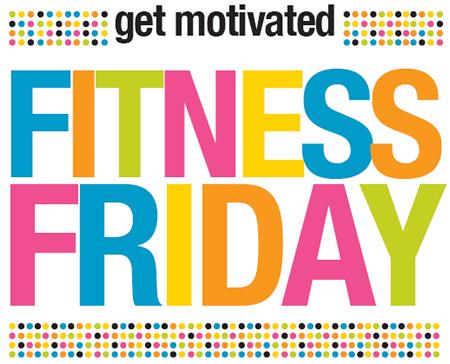 But first, I have a little video for you. After I posted the paper plate workout last week, and explained that I ran out of time to do the video, several of you asked if I could still make the video to help you visualize the moves. Well, my friends, ask and you shall receive.
Here's the workout again: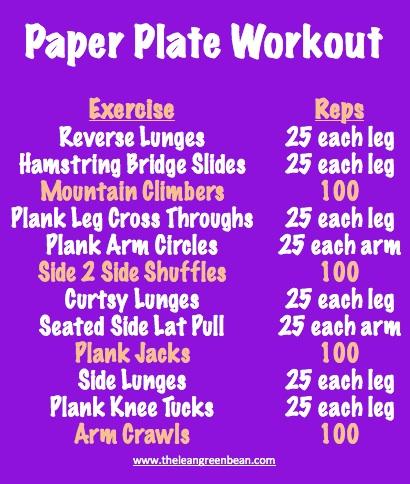 And here's the video (ps…pretty proud of this video bc i figured out how to edit it and add words!):

And now for this week's workouts:
Feb 17th– ran 2 miles outside in 17:20. It seems that 8:40 is a comfortable pace for me to run at for a few miles. I'll take it! Then I took the dogs on a 2 mile walk.
Feb 18th– I did a random workout of new to me moves. A compilation of moves I gathered from several different workouts, like this one, this one, this one and this one– among others. I didn't make a workout to share with you guys because to be honest I wasn't crazy about what I did. I did a minute of each of the following exercises: Medball slams, side burpees, spiderman pushups, jumping front kicks, skull crushers in bridge position, wide stance burpees, single arm clean and press, decline plank steps, reverse flys, wall climbers.
There were some that I really liked, like the skull crushers in bridge position, side burpees and decline plank steps….but there were some I hated like spiderman pushups and wide stance burpees. The lesson I learned was to incorporate one or two moves that are new to me into a workout instead of trying to do a workout of all new-to-me moves!
Feb 19th– rest day. Not feeling well.
Feb 20th– did one round of Tina's Life's a Bench workout. Instead of following her reps, I did it for time, 50sec/10sec rest, which took 16 minutes and then and ran 1.5 miles in 12 minutes. Loved the bench workout!
Feb21st– did this tabata workout from Lindsay with no rest between tabatas so it took 20 minutes. This will definitely get your heartrate up! The only subs I made were regular pushups instead of spidermans and line jumps instead of tuck jumps.
Also did a quick ab workout: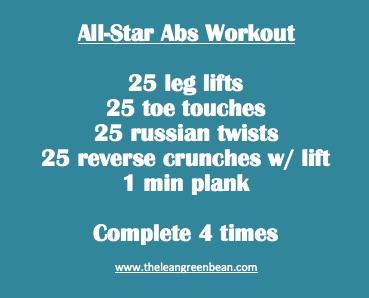 Yes you will be feeling the burn by the end!
Feb 22nd– It was still around 50 degrees after work so the hubby and I headed back to the stairs at the dam to get a workout in. Hubby headed off to do his own thing, while I tackled this workout:
The stairs I used had 98 steps, so I ran them five times, plus 10 additional steps to get my 500. To figure out how many times you need to run your stairs, just divide 500 by the number of steps you have! Do this workout as fast as you can…and then STRETCH!! especially our calves! Use the steps to do your split squats, pushups, dips, squat jumps and plank!
Feb 23rd- Did this workout from Jess @ Blonde Ponytail and it kicked my butt! I made the following changes: I used a workout bench instead of a step platform in set #2. In set #3, I replaced the wood chops with standing russian twists with a med ball and med ball jump-overs. I also used my med ball to do med ball slams instead of sand bag throw-downs.
So there you go! How was your week of workouts? Did you bookmark any good ones?
Happy Weekend!
–Lindsay–