Hi Friends!
If you follow me on IG and twitter, you may remember a couple of weeks ago when I started raving about my new gym bag from Fitmark Bags.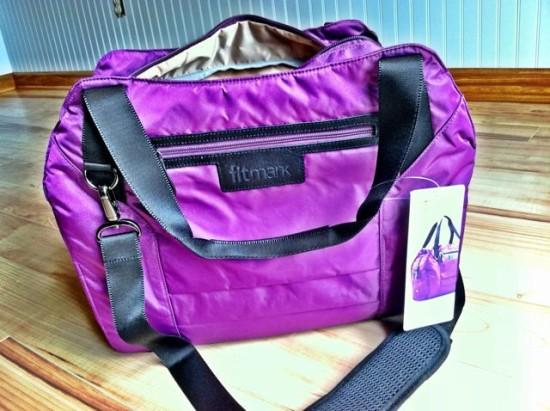 (I was sent this bag at no cost to me.
All thoughts and opinions are 100% my own)
For those of you who have seen my previous "gym bag" (think canvas reusable grocery sack and you've pretty much got it), you know this is a serious upgrade. I've been looking for a new bag for a while and after connecting with Fitmark on Instagram and Twitter, I knew this was the one for me!
 Fitmark is the first brand to make a gym bag for the fitness enthusiast.  Here are some of the key features of the Sport Tote that I have:
Separate Kicks and Laundry bag with anti-microbial protection
Fit-All™ Executive-class main compartment for all your needs
Fit-Color™ custom interior with hand-selected colorway
Rear, detailed zippered utility pocket
Ergonomic and fully adjustable shoulder straps with custom detailed stitching
Highly polished, custom nickel-coated clips and harnesses
Custom leather zipper pulls
Enforced custom nickel-coated rivets with logo detail
Soft leather Fitmark™ emblem with detailed stitching
Soft lined pocket with categorized sections for your phone, keys and valuables
Luxurious handles with leather accents and custom detailed stitching
They also carry 3 other styles of tote, plus messenger bags, duffel bags, backpacks and food organizers! And they come in all sorts of fun colors. Mine comes in purple and pink with tan interior or black with pink interior!
Let's take a closer look at some of the details shall we?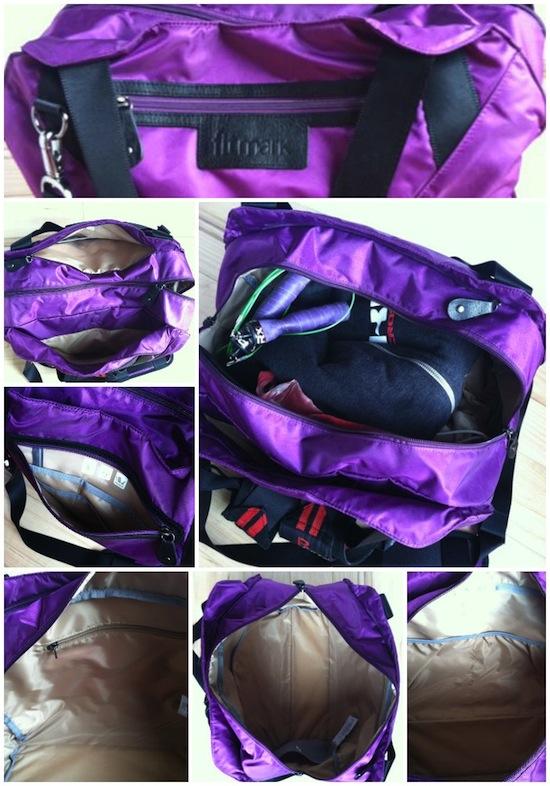 The bag is super high quality and it's big enough to fit all my crossfit stuff but still small enough to be stylish and manageable so I'm not losing things IN the bag! It holds my shoes, jumprope, weight belt, tape, hoodie/extra clothes and water bottle with ease. However, I may not even use it as a gym bag forever. I can see myself taking it on weekend trips, etc as a stylish tote bag!
I love how many pockets and compartments there are. There's a small zipper pocket on the front side that I throw my keys and phone in while i'm at the gym, plus larger pockets on either side of the main opening (on zipper and one with a magnetic closure).
Inside the main compartment there are even more pockets! There's another zipper pocket, plus two other inner pouches that would be great for toiletries if you're getting ready at the gym. And probably my favorite part? There's a waterbottle pocket! I'm notorious for leaving my waterbottle at the gym so I love that it has its own special spot.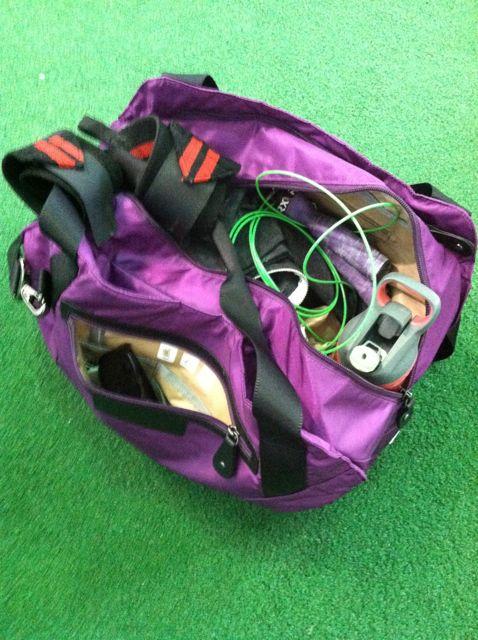 It also comes with a separate bag for shoes or dirty clothes, which I love. I keep my oly lifting shoes and rope climbing socks in it so that they're always in my bag, but not getting everything else dirty.

So there you have it, friends! My newest obsession!
Now that I've told you all about how awesome these bags are, you probably want one, right? Good news! I get to give one away 🙂 One lucky winner will receive a Sport Tote just like the one I have, in a color of your choice!
To enter, use the rafflecopter giveaway widget below! (Giveaway is open to US residents only and ends Tuesday Nov 12, 2013 at 11:59 pm EST.
Good luck!
If you're ready to buy a Fitmark Bag today, OR you're adding one to your Christmas list, pass the word along that using the code "FIT" at checkout will get you 15% off.
Enjoy!
–Lindsay–
 PS. Fitmark also has their very own app called Fitmark Hub so be sure to check that out as well!
LEARN HOW FOOD AFFECTS YOUR BODY.
Get my free Table Talk email series where I share bite-sized nutrition information about carbs, protein, and fat, plus bonus information about snacks and sugar!