Hi Friends!
As promised, I'm back with a recap of my first Crossfit competition! On Saturday, I competed in the Fit Club Summer Games.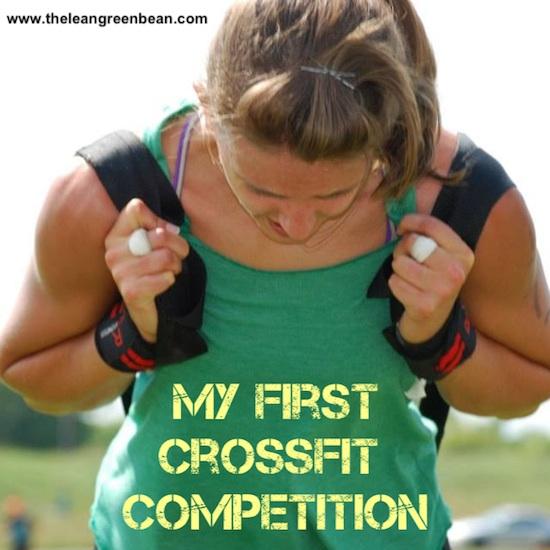 There was an Elite division with about 10 women and 20 men and an Open division. I competed in the Women's Open division and finished 17th out of 76 competitors!
They told us a little bit about the first WOD on Friday, but we didn't find out about the other WODS until about an hour before we did them.
Here's how it went down. We carpooled with some friends of ours (There were about 15 of us competing from my gym) and arrived around 7:30. We unloaded our car, set up our tent, etc.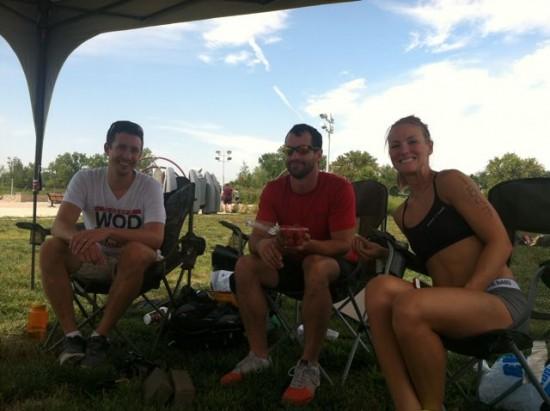 There was an athlete's meeting at 8:15 where they gave us the details of the first WOD and then we had some stretch and get ready before the heats started at 9. They had guys and girls heats running simultaneously during the events. The Elite heats went first, then the Open heats.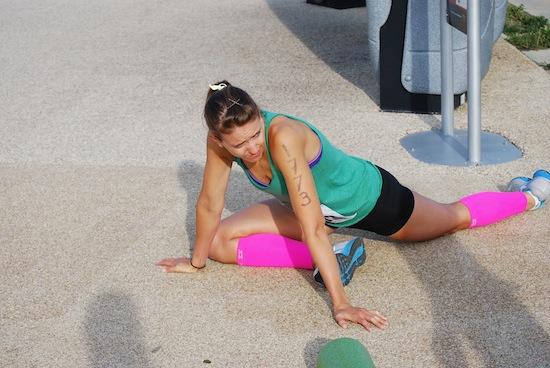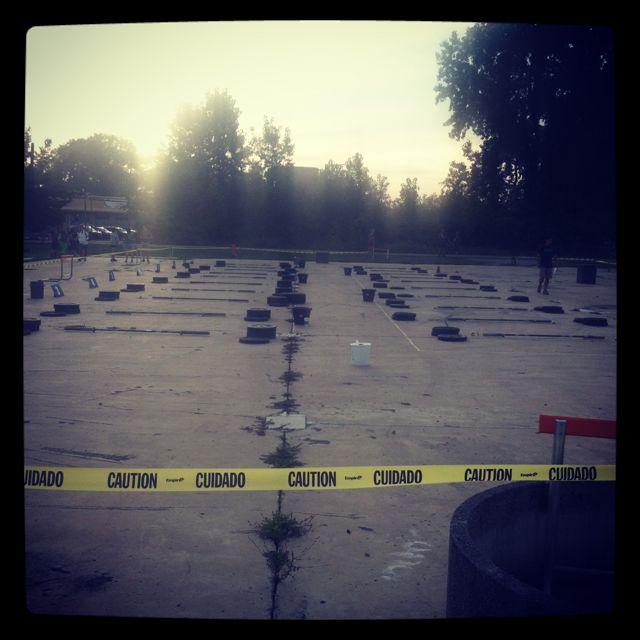 Wod #1:
2 min AMRAP squats.
1200 m run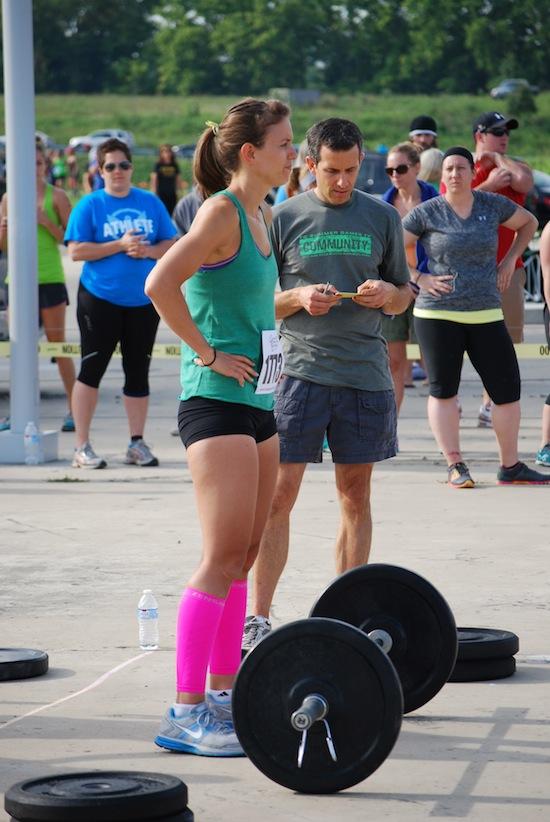 For the open division the weight was 165# for the guys/ 105# for the girls. You could do any kind of squat you wanted (back, front, overhead). 99% of us chose to clean the bar up, put it over our head and do back squats with the bar resting on our shoulders. There were 1-2 girls that did front squats but that's about it. Luckily, 105# is not that heavy for me so I was able to get it on my back no problem. I did 34 squats in 2 min. Looking back, I probably could have gotten a few more, but I was focusing on making sure I went down low enough each time so I wouldn't get no-repped and waste a rep. I tend to squat REALLY low anyways and I never really have to worry about it….so I probably should have focused on going a little faster, but oh well.
*Photo note: I'm one of those people that always looks absolutely miserable while working out. Some people look like they're having fun…I usually look like I'm about to die 🙂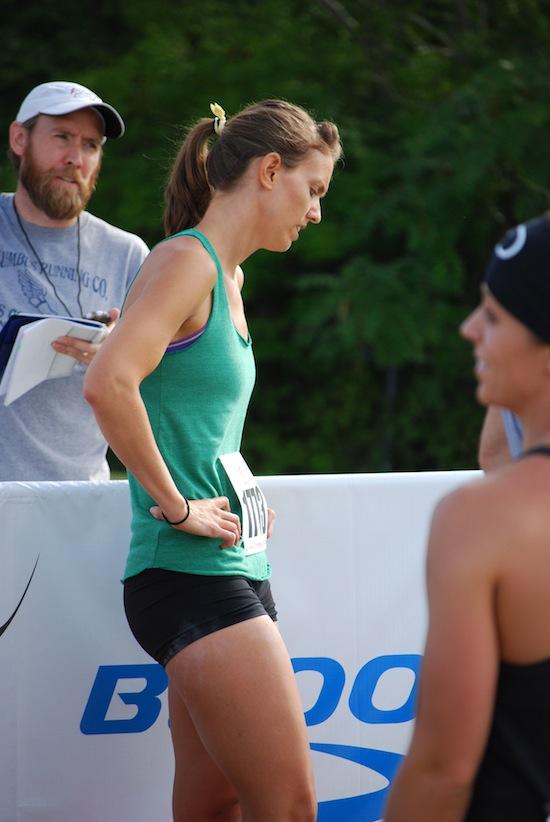 I wore my running shoes for this wod instead of my nanos because they didn't tell us how far the run was ahead of time. Since I get shin splints easily, I didn't want to be running a long way in my nanos. After the squats you had 2 minutes to walk across the road to the starting line of the run. We had to run out 600m, pick up a brick and run back carrying the brick.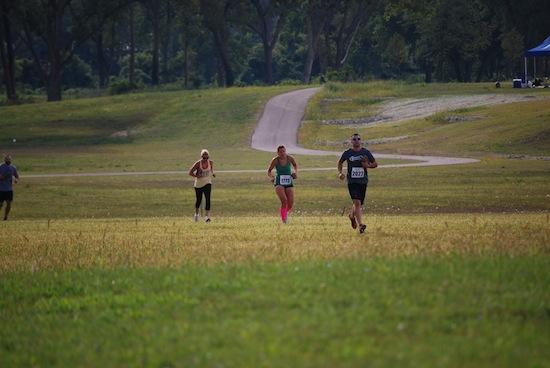 The run was hard after doing all of those squats. The brick wasn't heavy, but it had sharp edges and was just kind of annoying to carry. I finished the run in 6:27.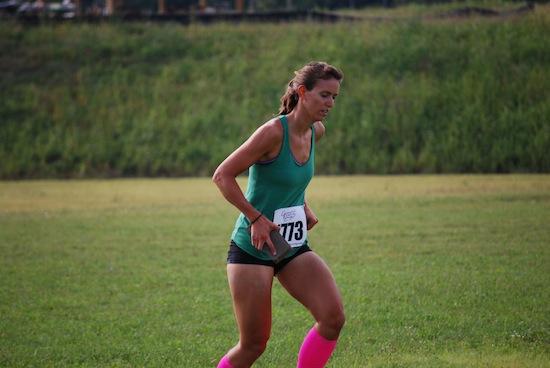 The second WOD took place in a field and involved dumbbells. Open guys used 35# dbs, girls used 25# dbs.
Wod #2:
10 DB Deadlift Burpees




Walk/run 50 yards




10 DB Hang Squat Cleans




Walk/run 50 yards


20 DB Push Press
Turn around


Walk/run 50 yards




10 DB Hang Squat Cleans




Walk/run 50 yards




10 DB Deadlift Burpees

Here's a little interview with hubby where he shares his thoughts on how he thought I'd do with this WOD:

The deadlift burpees were by far the easiest part of this wod. The hang squat cleans were hard because our legs were already tired. Mine ended up being more of a db clean and then squat.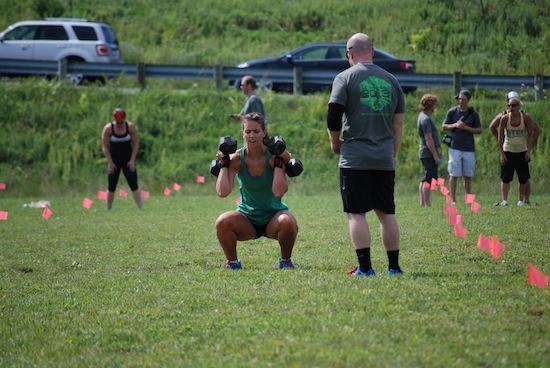 The push presses were hard as well because I'm used to doing them with a bar, not with dumbbells.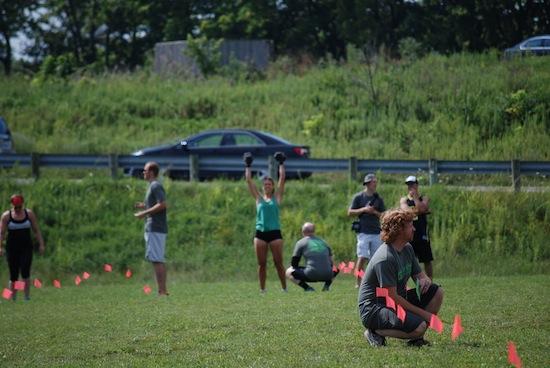 The hardest part was probably just carrying the dbs. They were heavy and awkward and I was definitely feeling the burn in my forearms. I tried resting them on my shoulders as I ran/walked to the next marker but they were bouncing around so I gave up and ended up just kind of lumbering along. I started off kinda slow on this event but once I did the push presses and turned around and came back for round 2 of hang squat cleans I made up a lot of ground.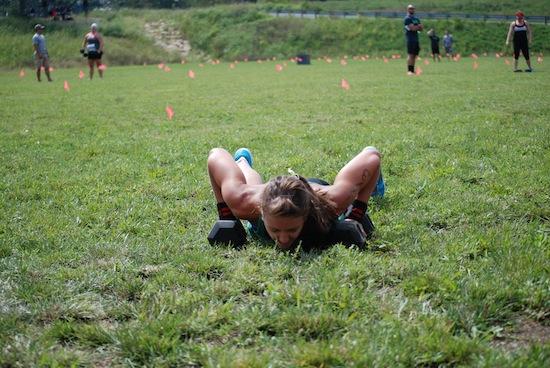 I finished this WOD in 4:40.
Here's a video of me doing WOD 2.
After WOD 2 we had about a 2 hour break. They made the announcement about what the final WOD was going to be and then we had a while to just sit around and think about how awful it was going to be!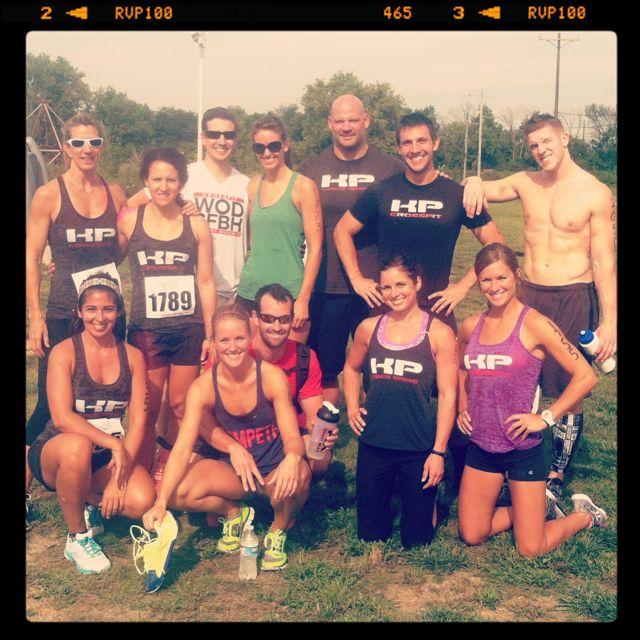 And we were right. It was terrible.
WOD #3
5 min AMRAP of Fran
5 min break
5 min 115# sled pull
If you know anything about Crossfit, you've probably heard of Fran. It's a benchmark workout: 21-15-9 reps of thrusters and pullups. A thruster is basically a front squat straight up into a push press. Fran is hard on a good day when you have fresh legs. It's pretty much the worst when you've already done two other WODs already. The elite athletes can do Fran in 2-3 minutes so many of them got through the whole WOD and then started over at 21 again since they were still under the 5 minute timecap. My Fran PR is 6:40…so I knew going into it that I wasn't going to finish in 5 minutes.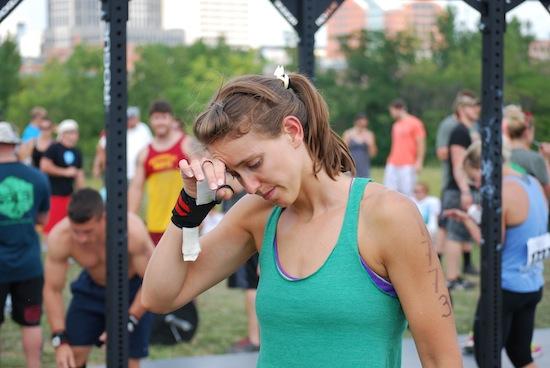 I finished 21 thrusters, 21 pullups, 15 thrusters and 15 pullups before the time ran out. What's crazy is, that I'm pretty sure I could have PR'd my Fran time if we'd had to just do Fran without a time cap. It probably would have taken me less than 1:40 to do that last round of 9 thrusters and pullups…but I was happy to be able to stop at 5 minutes!
Here's the video. I did my set of 21 thrusters unbroken for the first time ever. Usually I split it up into 11 and 10. My hands were way too close together on the pullups….which usually happens when I'm tired and stop thinking about it. During the 21 pullups I was able to string 5-6 together at a time. Not so much on the round of 15. When I get out of breath, I can't string more that 2-3 pullups together.
After Fran, we had 5 minutes to walk down the hill and back to the field to do a 5 minute sled pull.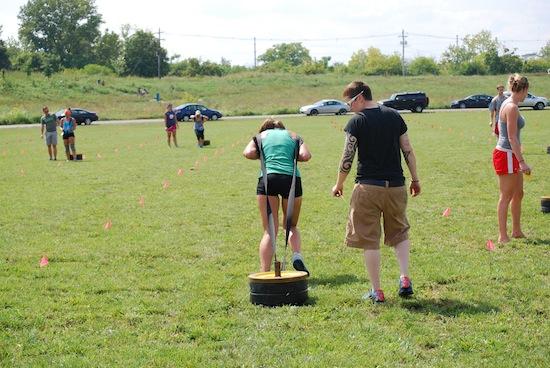 I'd never actually done a sled pull before. Turns out I kinda like them. I don't, however, like them after Fran and two other wods. That combination was one of the hardest things ever.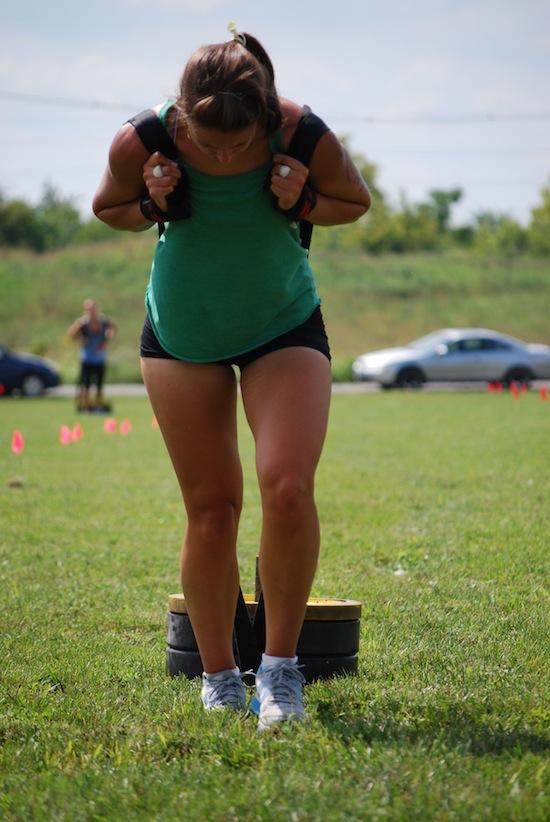 We got points for every flag we passed. I made it down to the other end of the field, turned around and came back and then went about 1/2 way back again. I think I got 66 points. I was exhausted by the end!
Our car decided to not stay for the finals. The top 10 men and women in the open division made it to the finals. Going into WOD 3 I was in 34th place so I knew I didn't to well enough to make it into the top 10….plus we were hot, sweaty, tired and ready for a shower so we packed up and headed home.
Overall it was a fun competition! I'm glad I did it, even though I was nervous. Big thanks to the hubby for cheering me on all day and taking all the amazing pictures and videos! He's the best and he captured lots of great pics and videos of me and our friends!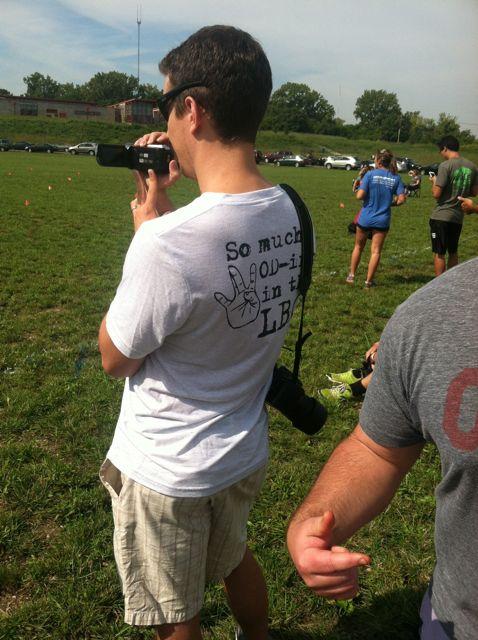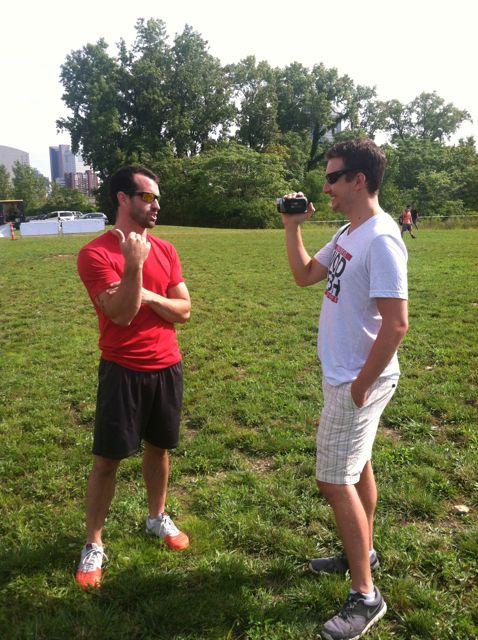 I woke up Sunday feeling much sorer in my upper body than I expected. My legs got a bit sorer as the day went on, but even by Monday they were still feeling better than expected, so that was good!
A few other things to note:
Food:
We packed a giant cooler with our friends and filled it with food and water for the 4 of us. We brought:
Chicken
Tortillas
Avocado
Fruit- strawberries, grapes, apples, bananas
Bread
Peanut butter
PB Banana cookies
Jerky
Quinoa breakfast bars
Water
My best advice is to bring stuff you know you'll want to eat. You know your body and how you feel after workouts. If you think you'll have trouble eating, consider bringing some protein powder or pre-made smoothies you can drink. I opted for most fruit and breakfast bars until our large break and then I ate some chicken and a pb sandwich.
Equipment:
I packed a TON of stuff…and didn't end up needing all of it….but I was glad I had it to be prepared. Depending on the competition, you might need more or less stuff. I brought:
Extra shorts
Extra tank tops
Extra sports bra
Oly Shoes
Nanos
Running shoes
Flip flops
Compression sleeves
Wrist wraps
Weight belt
Jump Ropes
Tape
Change of clothes for afterwards
Long sleeve shirt
Other stuff to consider
Blanket
Chairs to sit in
Tent/canopy (our friend brought one and it was great to have shade)
Cooler
Warm-up equipment: foam roller, lacrosse ball, bands, pvc pipes
Extra hair ties!
I ended up staying in the same clothes all day, but if I had gotten any sweatier, I probably would have changed between wods and would have been very glad to have the extra clothes!

That's all I've got 🙂
Enjoy!
–Lindsay–
LEARN HOW FOOD AFFECTS YOUR BODY.
Get my free Table Talk email series where I share bite-sized nutrition information about carbs, protein, and fat, plus bonus information about snacks and sugar!