Sign Up
Want to sign up?! Fill out the form below.
We will be sending out a weekly newsletter reminding you of the weekly challenges so look out for a confirmation email to confirm your participation & newsletter subscription. If you don't receive a confirmation email, check your spam box. If you still can't find a confirmation email, let one of us (Elle or Lindsay) know ASAP and we'll add you to the list.
The Details
This is a six week challenge that will run from the Monday Nov 24- Sunday Dec 21, 2014. There are daily tasks, daily winners, prizes, weekly newsletters, and a Facebook group for support.
Dates: Monday, November 24th – Sunday, December 21st, 2014
All participants will receive an elf. In return, all participants will be that person's elf in return!
If you missed the initial sign up deadline: You can still enter for Rounds 2. See the details & sign up form below!
Anyone can participate. It doesn't matter no matter where you're located! All you need is access to the internet and an email address. It also doesn't cost anything. (We know you have plenty of gifts to buy this holiday season!)
** Unfortunately, due to shipping costs, only USA residents are eligible to win prizes. But we'd still love to have you participate, even if you're from somewhere else!**
Elf Duties
As an Elf, you are expected to support your assigned buddy with their holiday health goals and the daily challenges. Elves & buddies will be reassigned every 2 weeks. You are only asked to email your buddy 2 times per week:
Monday: Send your buddy an email to help them with the challenges for that week. Ideas of things to include/attach: your own personal tips & tricks, inspiring words and/or images, a new, healthy recipe or workout to try.
Thursday – Saturday: Any time during these days, check in withy you buddy! For example, ask them if they tried a new recipe, workout, or had fun with any certain challenges. Feel free to tell them how you did with your challenges, too!
Anything more than those 2 emails is up to you but feel free to go above and beyond this to show your support! Just a few ideas: send your buddy Tweets, shout outs on our Facebook Page, email a fun workout you liked or send a hand written recipe or note.
Important Dates
*Friday, November 21st at 11:59pm EST: sign up deadline
Sunday, November 23rd: Round 1 Elf assignments emailed
Monday, November 24th – Sunday, December 7th: Round 1
Sunday, December 7th: Round 2 Elf assignments emailed; Round 1 "Best Elf" winners chosen
Monday, December 8th – Sunday, December 21st: Round 2
Sunday, December 21st: Round 1 "Best Elf" & participant grand prize winners chosen

*If you missed the initial sign up deadline, you can still participate:

Sign up before December 5th for Round 2
Challenge Calendar
Here's the list of daily challenges!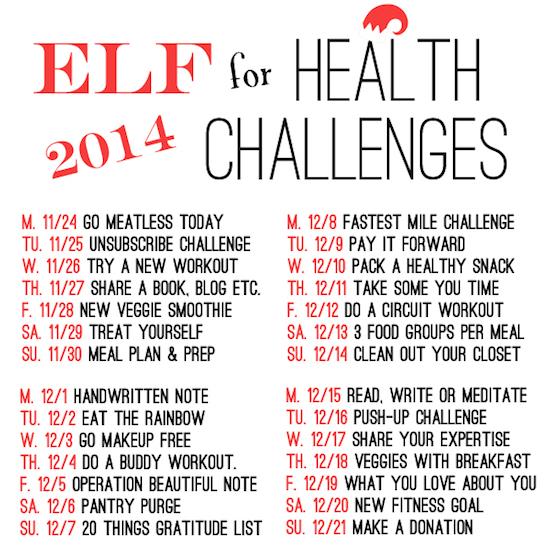 And here's a printable, so print it out and hang it somewhere to remind you participate, or add it to your Google calendar!
Prizes
We have some fabulous prizes from some of our favorite companies to give to the winners.
2 prizes for "Best Elf", one awarded at the end of each round
1 grand prize for best participant awarded at the end of the challenge determined by participation, hashtagging and being an awesome Elf.
There will be a daily challenge winner chosen each day. Daily winners will be entered for a chance to win the grand prize!
Best elf prizes will given based on participation and nomination. If you love your elf, let us know so we can consider them for a Best Elf prize. Best Elf prizes will be awarded at the end of each round.
Prizes will be provided by our 2014 Challenge Sponsors:

Prize packs will include:
Buttons
Did you sign up? If you're a blogger, grab a button: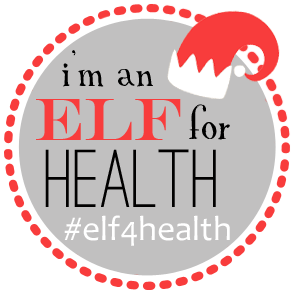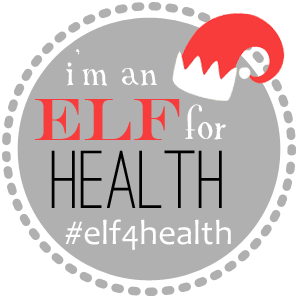 Follow
Make sure you're following us for the latest updates, daily challenge reminders and winner announcements by social media.
Don't forget to join the Elf for Health
Facebook group
, too! We'll be posting pictures and updates there too.
2014 SIGN UP FORM CODE