Hi Friends!
I was a busy little bee in the kitchen yesterday doing a few experiments and lucky for me (and you guys!) I was quite successful! As you guys know, last week I took my last final and graduated with my second bachelor's degree. Yesterday our grades were posted for our final exam and I confirmed that I graduated with a 4.0! In my book, that calls for a celebration!
You may remember how we got some free pints of ice cream at EarthFare a few weekends ago…and I've been thinking about making some cookie ice cream sandwiches ever since. Over the weekend, I decided that I was too lazy to bake cookies, so I planned to make some vegan cookie dough and just use that to make my ice cream sandwiches!
After I started looking a recipes, I started thinking about how I've also been wanting to make some dessert hummus and haven't gotten around to it yet! Have you guys heard of this? It's essentially a sweet hummus that tastes like cookie dough. Plus, it's vegan! And generally healthier than cookie dough. Boom! Problem solved.
There are tons of different recipes out there but as usual, I just decided to wing it.
I rinsed a can of chickpeas and threw it in the food processor. I added some peanut butter and some agave nectar and a splash of water and mixed it all up. Then I took a quick taste, and voila! SO GOOD. I realized later that I forgot to add vanilla extract, but that's ok..you guys can add it for me!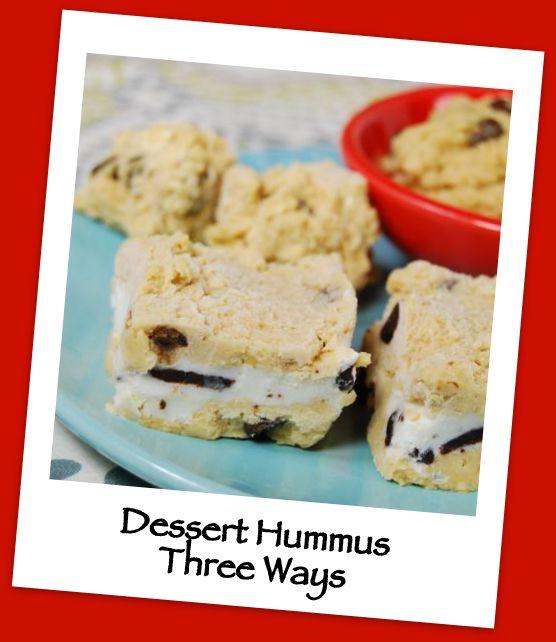 Once I tasted it, I realized there were quite a few ways I could enjoy this delicious treat! I'll introduce you guys to three ways today. First, just eat it as a dip. Graham crackers would be especially good for dipping. Second, use it to make the sandwich part of an ice cream sandwich. Third, add some oats, form into balls and freeze for a quick summer snack.
Dessert Hummus
Prep Time: 5 minutes
Keywords: food processor appetizer dessert snack vegetarian chocolate peanut butter chickpeas agave
Ingredients
1 can chickpeas, drained & rinsed
3 – 4 Tbsp peanut butter (or desired nut butter)
3 – 4 Tbsp agave nectar (or honey)
1/3 c chocolate chips
1-3 Tbsp water (or milk)
For Dip
Graham Crackers for dipping
For Ice Cream Sandwiches
For Snack Balls
Instructions
For the Dip
Combing chickpeas, peanut butter and agave in a food processor and process until smooth.
Add water (or milk) as necessary until desired consistency is reached.
Stir in chocolate chips.
For Ice Cream Sandwiches
Line a pan with foil.
Spread half the dip on the bottom.
Top with slightly softened ice cream and freeze until set.
Spread remaining dip on top and freeze until set.
Cut into pieces.
For the Snack Balls
Stir in oats.
Form into balls.
Freeze and enjoy.
I used 3 Tbsp peanut butter, 3 Tbsp agave and 2 Tbsp water. I would've added some vanilla too if I hadn't forgotten. If you want a stronger peanut butter flavor, add an extra Tbsp or two. If you want it sweeter, add more agave! My advice would just be to start with less, taste and then add more! For my ice cream sandwiches I used mint chocolate chip ice cream 🙂 Those are definitely my favorite. The dip is delish on it's own as well. For the snack balls, I added the oats to thicken it up a bit…but it'd probably be fine just forming into balls and freezing without the oats if you didn't want them!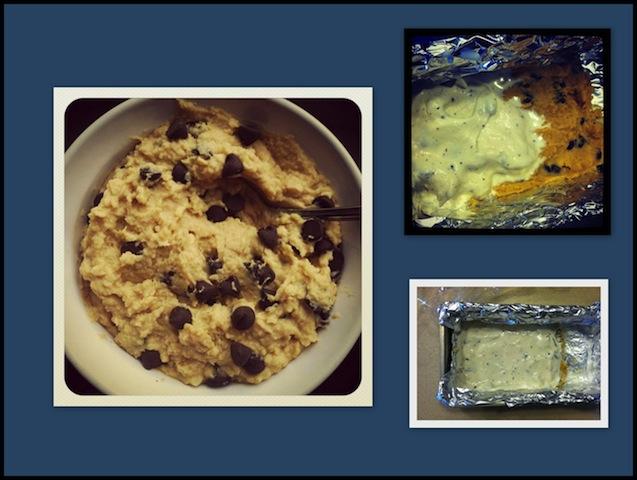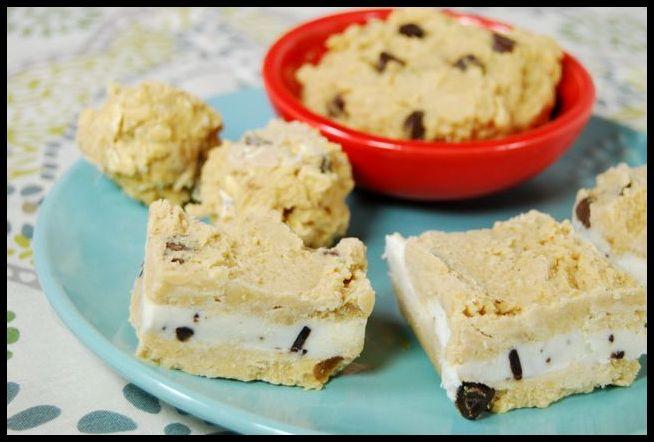 So tell me, which way looks best to you?!
Enjoy!
–Lindsay–
LEARN HOW FOOD AFFECTS YOUR BODY.
Get my free Table Talk email series where I share bite-sized nutrition information about carbs, protein, and fat, plus bonus information about snacks and sugar!