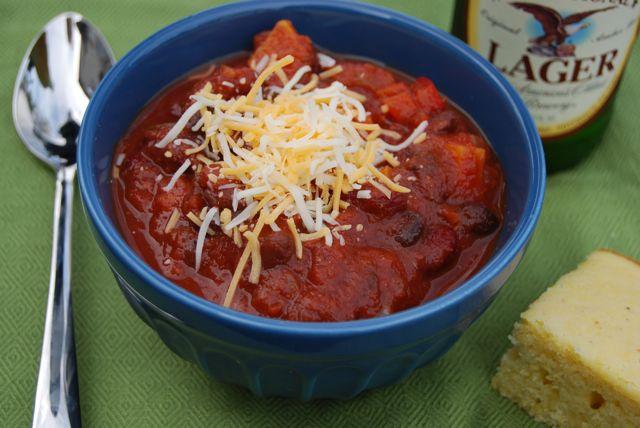 As promised, here's the Vegetarian Chili recipe that some many of you spotted in my latest WIAW post! I don't make chili all that often, but I've started to see it pop up around the blog world since colder weather is approaching so I thought it was appropriate for me to make some too. And quite honestly, we REALLY needed to go to the grocery store so this was a the perfect way to clear a little room in the pantry and use up some veggies that were headed past their prime.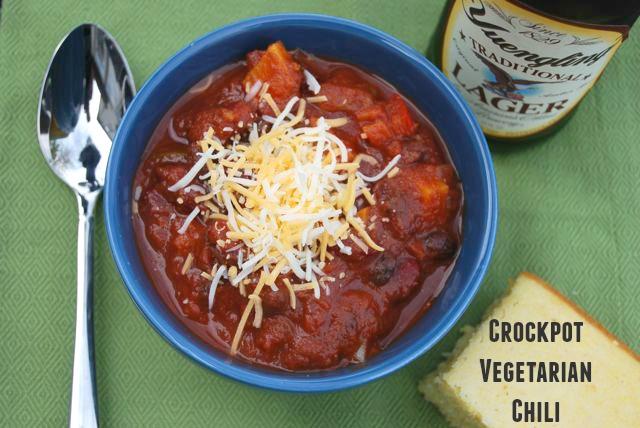 Remember that this is not a firm recipe. SO many substitutions can be made. Use a different kind of beans, add more beans, use less beans, use chickpeas, use lentils, add some ground turkey, use more chili powder, use less cumin….you get the idea! Get creative!
Crockpot Vegetarian Chili
Prep Time: 10 min
Cook Time: 4-6 hours
Keywords: slow-cooker soup/stew healthy vegetarian black beans sweet potato tomato
Ingredients (Serves 4-6)
1 can no salt added black beans
1 can no salt added kidney beans
1 c onion, chopped
1 bell pepper, diced
1 medium sweet potato, diced
½ c carrots, diced
½ c zucchini, diced
3 cloves garlic, minced
1 can fire roasted diced tomatoes
1 beer (I used Yuengling)
1 28 oz can no salt added crushed tomatoes
¼ c tomato paste
1 Tbsp cholula or other hot sauce
2 Tbsp Worcestershire
½ tsp cayenne pepper
2 1/2 Tbsp chili powder
1 Tbsp cumin
Instructions
1. Add the first nine ingredients to the crockpot.
2. Add the crushed tomatoes, tomato paste, Worcestershire, cholulu and beer and stir to combine.
3. Add the spices, stir until well mixed and cook on low for 4-6 hours, until the sweet potatoes are tender.
4. Taste and adjust seasonings as needed.
I ended up adding a bit more cayenne and chili powder to ours after it cooked to give it a bit more kick. You could also add a jalapeno if you had one. For the cornbread, I used the recipe off the container but I'm not crazy about it. Anyone have a really good cornbread recipe?
And then, since this makes a fairly large batch of chili for just two people, we enjoyed the leftovers the next night in the form of chili tacos/burritos!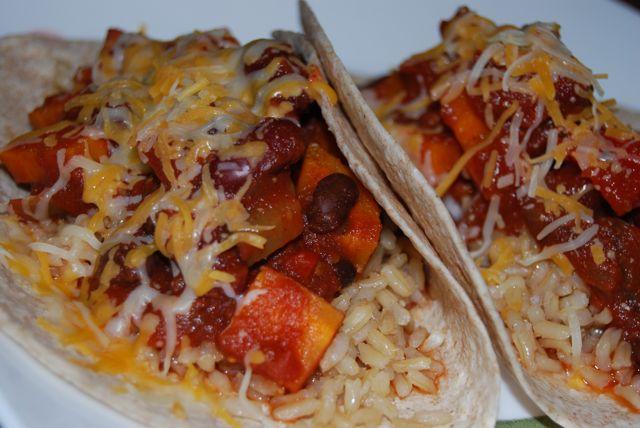 How do you feel about chili? Love it or hate it?
Enjoy!
–Lindsay–
LEARN HOW FOOD AFFECTS YOUR BODY.
Get my free Table Talk email series where I share bite-sized nutrition information about carbs, protein, and fat, plus bonus information about snacks and sugar!