Hi Friends!
I've got the perfect holiday part appetizer for you! When my friends at the American Dairy Association Mideast asked me to create a recipe for their Big Holiday Potluck, I jumped at the chance. Specifically, that asked me to create something that could be enjoyed  by those who are lactose intolerant.
I decided to use aged cheddar cheese in my recipe because it's very lactose friendly. Did you know that aged cheddar cheese is can actually be considered lactose free because it has very low or non-measurable amounts of lactose? In the cheese making process, after the whey (where most of the lactose is) is separated out from the curd, natural aging breaks down the remaining lactose, allowing aged cheeses like cheddar to be considered lactose-free or extremely low lactose.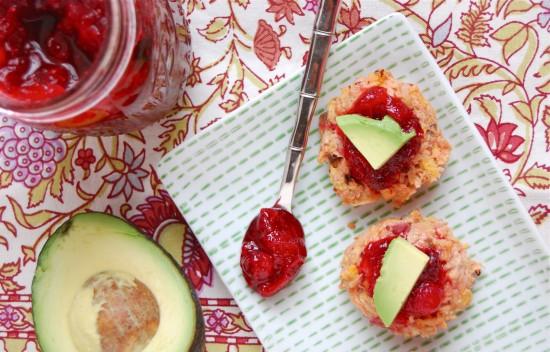 Like I mentioned earlier this week, I've been obsessed with my Fresh Cranberry Sauce and hubby has been obsessed with sliders, so I've had those on the brain. Sliders are perfect appetizer food in my opinion, so I combined my cheddar cheese with my cranberry sauce and chose to go a bit of a non-traditional route and use salmon as the protein in my sliders!
Here's how you make them:
Print
Cranberry Cheddar Salmon Sliders
The perfect appetizer for your next get-together. Easy to make and full of flavor!
1

pound salmon fillets, cooked and flaked

1

egg

1/2 cup

breadcrumbs

1/2 cup

cranberry sauce

1 cup

aged cheddar cheese, grated
black pepper, to taste
extra cranberry sauce & avocado, to garnish
Instructions
Combine all ingredients in a small bowl and mix well.
Shape into small patties.
Place on a well-greased baking sheet and bake at 400 degrees F for 18 minutes, flipping once.
It turned out to be a surprisingly delicious combo. I also made the executive decision to skip the buns and top with extra cranberry sauce and avocado. Bonus- they're red and green- so festive and perfect for your next holiday party!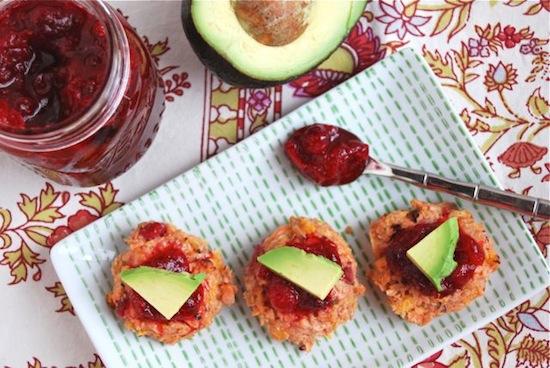 So here's the best part about this Big Holiday Potluck with the ADA Mideast. They're teaming up with Feeding America!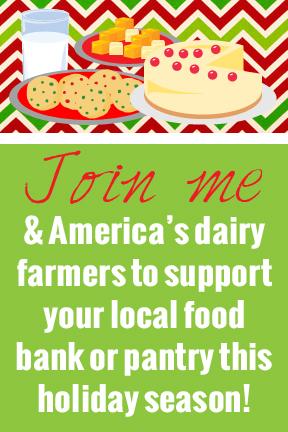 Dairy farmers are committed to the health and wellness of Americans, with an emphasis on child health, which includes addressing hunger and helping ensure every American has access to nutrient-rich foods. Today more than 50 million people in America are food insecure. Of these, nearly 17 million (one in five) are children.
The American Dairy Association Mideast has partnered with 12 food bloggers from throughout the country to prepare a "Big Holiday Potluck," and ADA Mideast will donate $1 to Feeding America for every "like," comment or share each of the bloggers' 12 recipes receive on its Facebook page between Dec. 6 and 13.  Feeding America can provide nine meals for each dollar donated.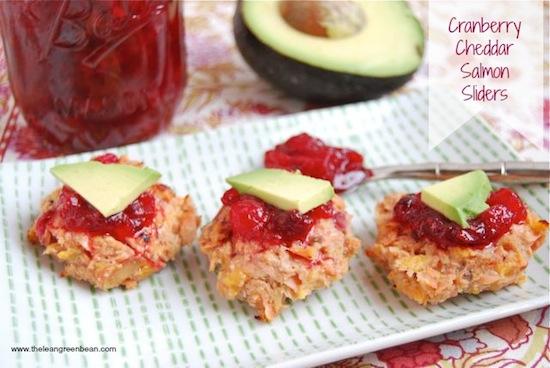 If have a moment, I'd love for you to visit the
ADA Mideast Facebook page
 and "like", comment on or share my Cranberry Cheddar Salmon Sliders to help raise some money for Feeding America!
**While you're at it, check out the other recipes from the other bloggers participating in the potluck and hit "like" on some of those as well if they sound good to you!**
Thank you!!!!
Enjoy!
–Lindsay–
This post was sponsored by ADA Mideast. I was compensated for my time. All thoughts, opinions and the recipe are my own. 
LEARN HOW FOOD AFFECTS YOUR BODY.
Get my free Table Talk email series where I share bite-sized nutrition information about carbs, protein, and fat, plus bonus information about snacks and sugar!