These Cheap Toddler Activities are perfect for keeping young kids entertained without spending a ton of money! Most can be done using things you probably already have around the house! Do them indoors in the winter or outside in the summer.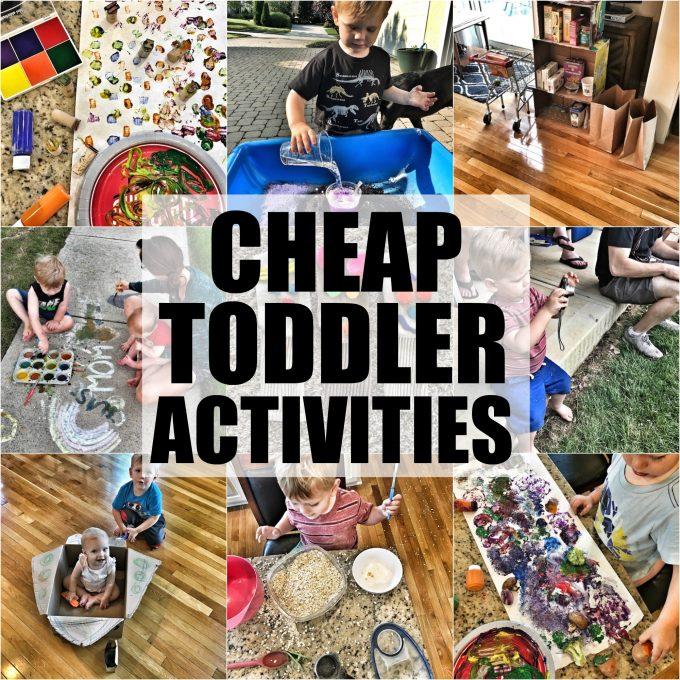 Hi friends!
Back in January, I wrote a post about Indoor Activities for Toddlers and it was a big hit! I intended it to be helpful during the cold winter months but it actually got more popular this summer when it was too hot to go outside. Over the summer, I started keeping track of some of the activities we did and thought I'd put them all together in another post in case you're looking for some inspiration. Most of these activities could be done inside or outside and the best part is they're cheap! Nothing fancy needed- in fact you could probably do most of them with things you already have laying around the house!
Ready? Here we go!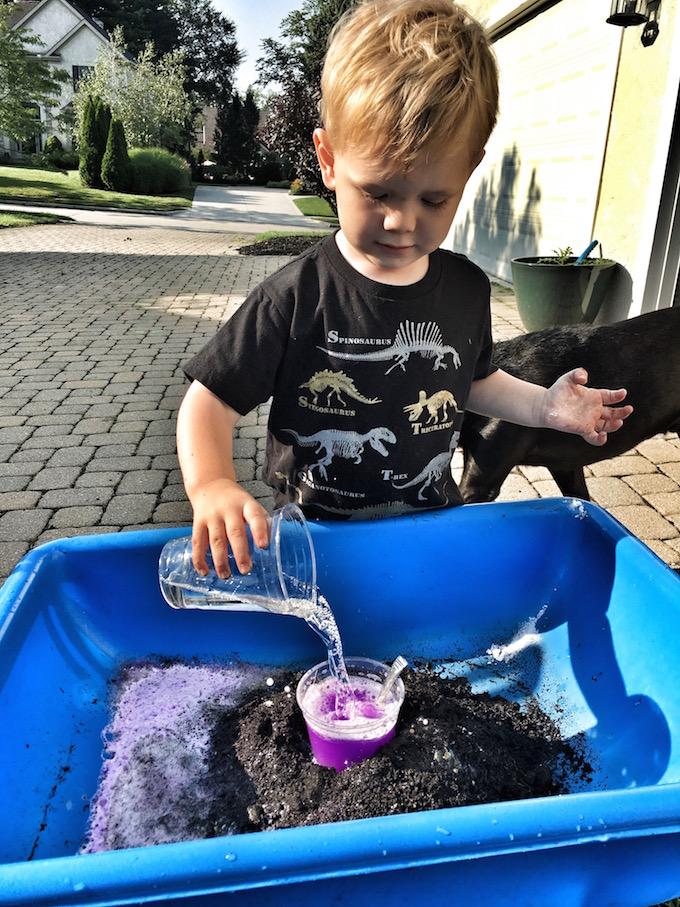 Baking soda and vinegar volcanos
This is a classic little science activity that Squish had a lot of fun with. We put water in a cup with a squirt of dish soap and a little bit of washable paint (not necessary, just adds some color). Then we stirred in a scoop or two of baking soda. And finally, we poured in some vinegar and watched it bubble over. Vinegar and baking soda were both already in my pantry but if you don't have them on hand, they're easy to find and very inexpensive.

No specific measurements are needed here. I'm sure you'll be doing it more than once, so just play around with how much baking soda and vinegar you need. The best part is he could do this pretty much all himself and I just had to supervise!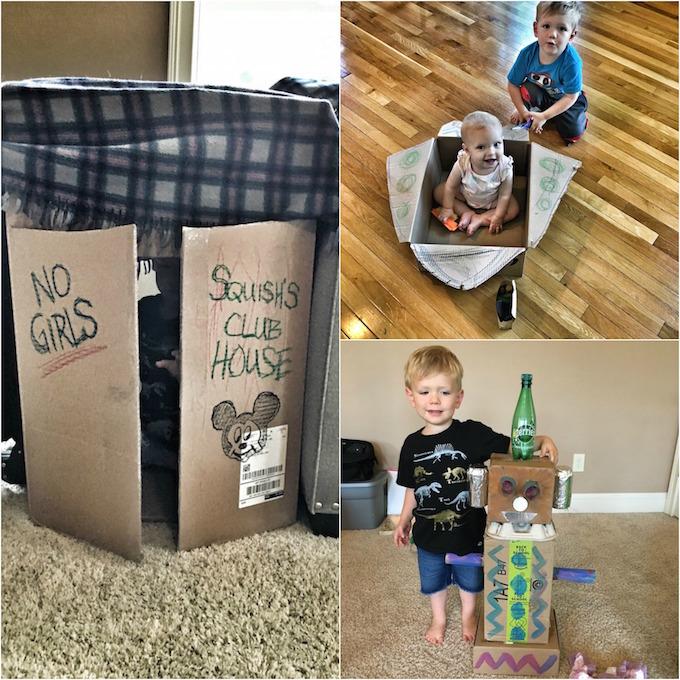 Cardboard Box Transformations
If your house is anything like ours, you probably have no shortage of cardboard boxes lying around. Almost every box that enters our home now gets transformed into something else. Smaller boxes can be taped or glued together to make robots (along with some things from your recycling bin!). Bigger boxes are great to turn into space ships, trains, airplanes (basically any vehicle. Use scissors to cut wings, etc and then let the kids go to town decorating with crayons, markers or paint. If you have extra large boxes, transform them into a fort or clubhouse!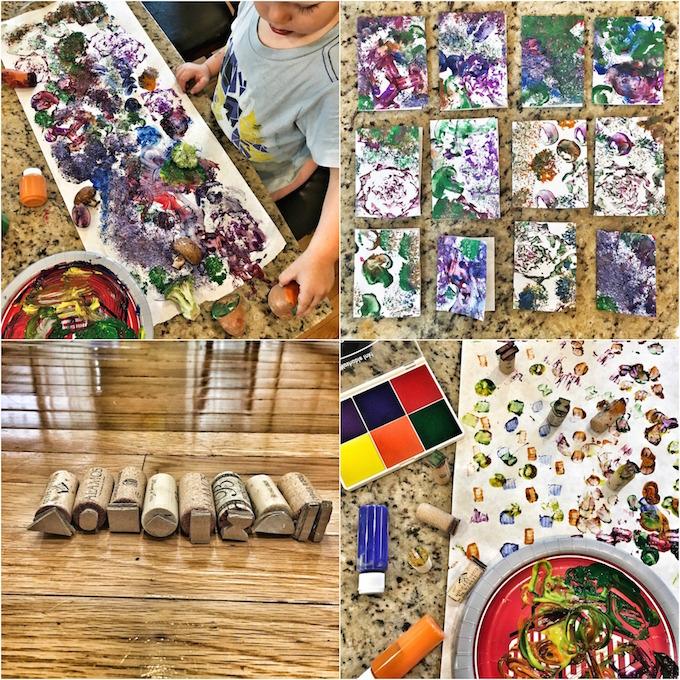 Homemade stamps
There are plenty of objects around the house that can be turned into homemade stamps! We used vegetables like mushrooms, broccoli, potatoes, lettuce cores and carrots to stamp one day. Another day I cut some little shapes out of cardboard, hot glued them to wine corks and we used them as stamps after dipping them in both finger paint and ink pads.
Added bonus? If you get on a roll and do a lot of stamping, cut some of the artwork into cards and use them as homemade stationary for thank you notes, birthday cards, etc!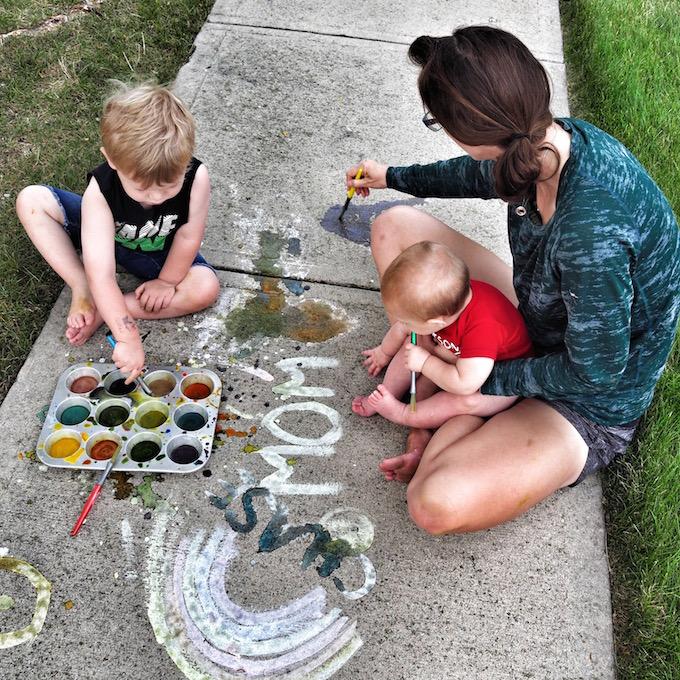 Sidewalk Chalk Paint
Sidewalk chalk is always a hit on its own but this was a fun way to change things up. I just mixed about 3/4 cup of water with 1/2 cup cornstarch, poured into muffin tins and then colored each one with a little food coloring. Then we headed out to the sidewalk to paint! Wash it away with the hose or leave it until it rains!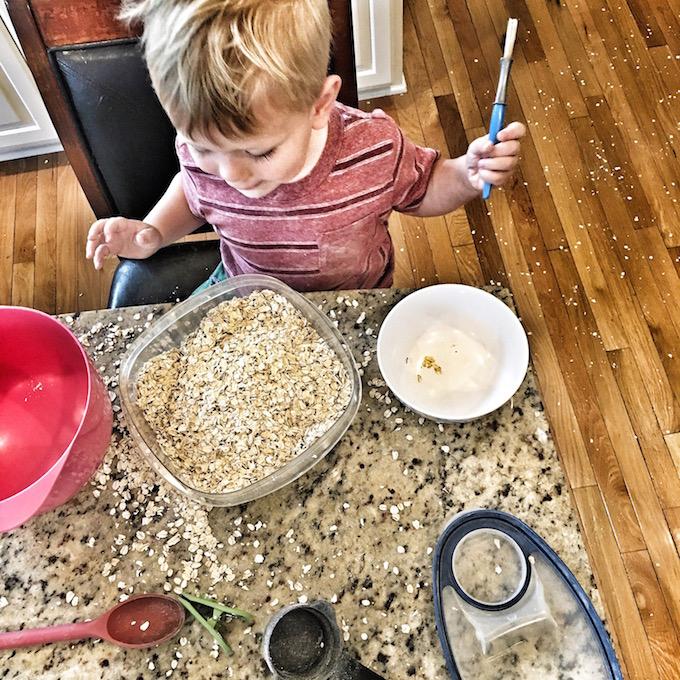 Discovery Dig
Bury toy dinosaurs, cars or other objects you have around the house in a container filled with oats, dirt or sand and let the kids go to work. They can dig for them with a spoon or brush them off with a paint brush. Once they find them all, set them up with a bucket or sink full of water and let them clean everything with a toothbrush.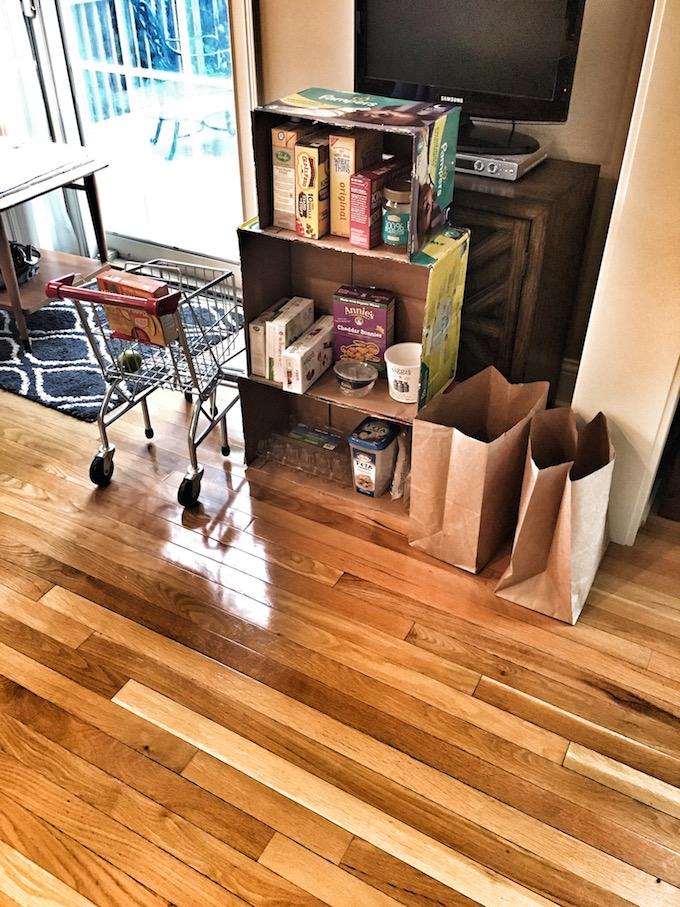 Homemade Grocery Store
Start saving empty food boxes, packages, etc that you would normally throw away or recycle. Then tape a few boxes together to make shelves, add the food packages and let them go grocery shopping. Squish loved filling up his shopping cart and then we set up a conveyer belt with a "scanner" and a credit card swiper (made out of cardboard) and he checked out all his groceries and bagged them up!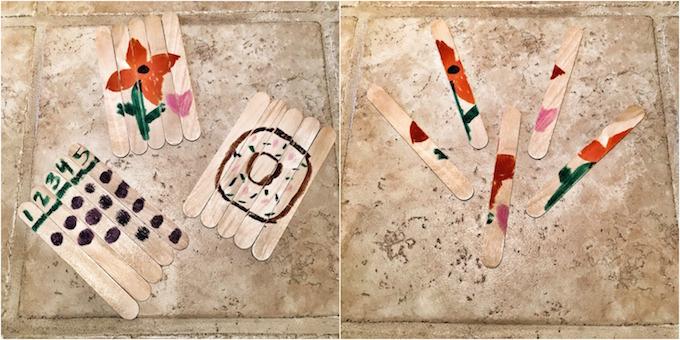 Popsicle Stick Puzzles
Draw simple pictures across 4-5 popsicle sticks. Then scramble them up and let the kiddos try to put them back together to form the picture. Added bonus – you can make these double sided. You can also use popsicle sticks to practice counting, etc!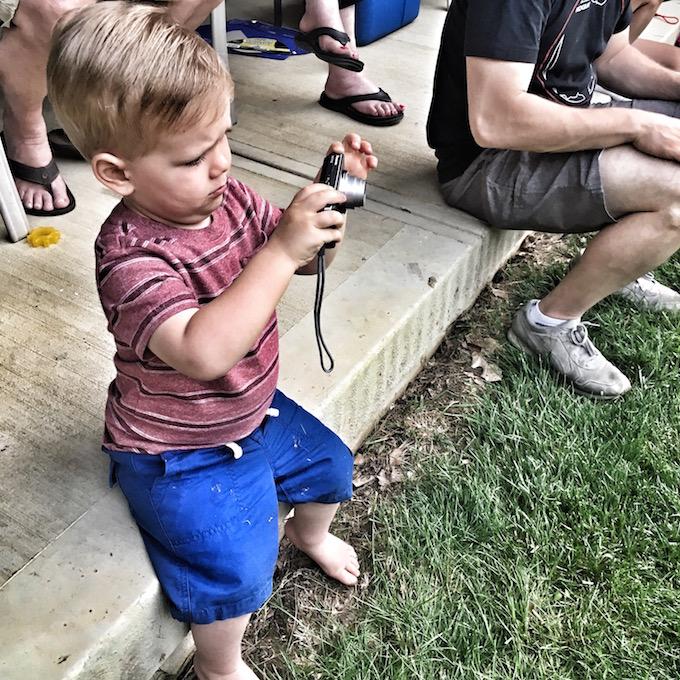 Photo Scavenger Hunt
Dig up an old camera or hand them your phone and send them on a mission to take pictures of various objects around the house or outside. Tell them to find "something green" or "a tree" or "a circle". Then let them take a photo once they find it.
Sock Puppets
Don't throw away your old socks! Transform them into fun, quirky puppet faces or animals using things like markers, puffs, pipe cleaners, buttons, etc and a hot glue gun! Then let their imaginations run wild as they put on a puppet show!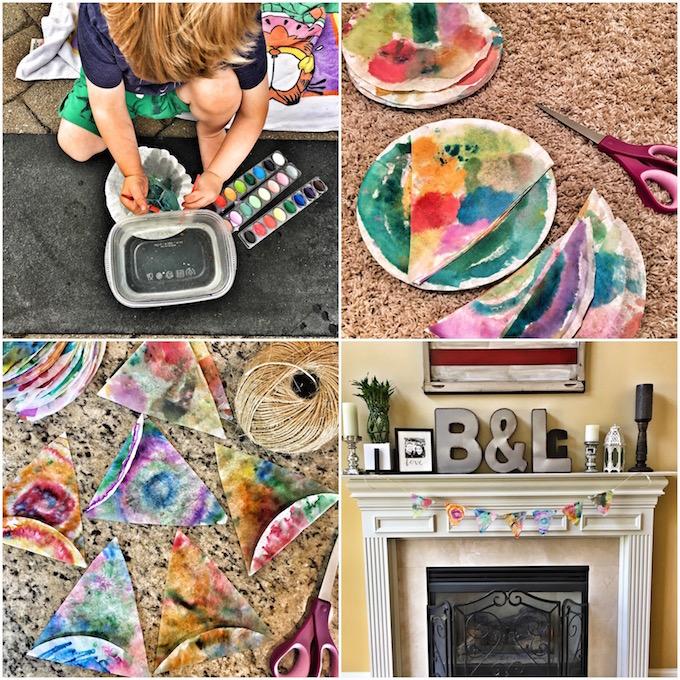 Coffee Filter Banners
Start by decorating coffee filters. We did this two different ways – some with water color paints and some by coloring on them with washable markers and then spraying them with water from a spray bottle. Once they're dry, cut them into triangles with a rounded top. Fold the rounded edge of each one over a piece of twine or string and tape into place to make a banner. Great for decorating a bedroom, doorway or for party decorations!
See some ideas that caught your eye? Pin this post and share with friends!

[clickToTweet tweet="Looking for some new activities to entertain your toddler without breaking the bank? " quote="Looking for some new activities to entertain your toddler without breaking the bank?"]
Let's chat:
What are your favorite inexpensive activities to do with the kiddos? Leave them in the comments so we can all try them out!
Enjoy!
–Lindsay–
LEARN HOW FOOD AFFECTS YOUR BODY.
Get my free Table Talk email series where I share bite-sized nutrition information about carbs, protein, and fat, plus bonus information about snacks and sugar!