Last week while I was reading blogs, I came upon this recipe from Tessa @ Handle the Heat. I'd been looking for something to do with the pork tenderloin I had thawing in the fridge so I thought I'd giving it a whirl using pork instead of beef.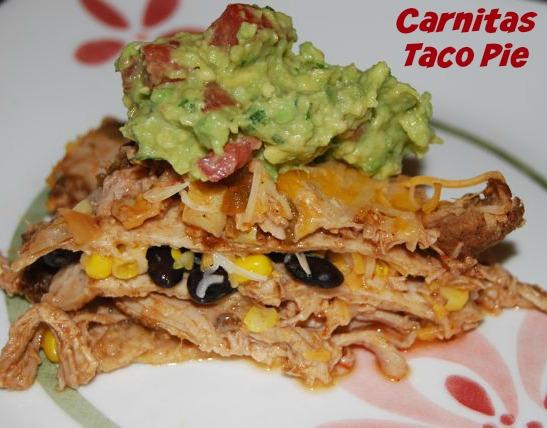 I made a spice rub using chili powder, cumin and paprika and rubbed it on the pork. Then I seared all sides in a hot pan before transferring it to my crockpot.Then I added lots of garlic (about 4 cloves), 1/2 an onion, a jar of hot salsa and about 2 cups of veggie broth.
After about 6 hours in the crockpot on low, I removed the pork and shredded it with two forks.
When it was time for dinner, I decided to use the pork to make a taco pie of sorts. I pulled out a cake pan and greased the bottom. Then I started with a whole wheat tortilla. I added a layer of pork, then topped it with another tortilla. For the next layer I used some leftover corn and black beans, along with a little cheese. Another tortilla, more pork and another sprinkle of cheese and into the oven it went! Since nothing really needed to cook, I just used the oven to melt the cheese and warm everything up. I had planned to add some enchilada sauce as well, but I didn't have any!
While the pie was in the oven, I made some fresh guacamole. When we were ready to eat, I cut us each a wedge of pie, and topped them with a blob of guac!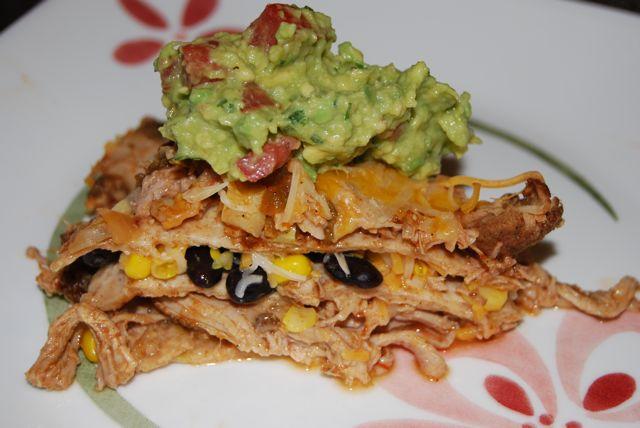 Carnitas Taco Pie
Keywords: slow-cooker bake entree healthy avocado black beans pork
Ingredients (Serves 4)
1.5 lb pork tenderloin
1 Tbsp chili powder
1 tsp cumin
1 tsp paprika
4 cloves garlic, chopped
1/2 c onion, diced
1 jar of hot salsa
2 cups veggie broth (or chicken broth)
3 whole wheat tortillas
1 c black beans
1/2 c corn
1/2 c low-fat Mexican cheese
enchilada sauce & guacamole optional
Instructions
1. Mix together the spices and rub all over the pork tenderloin.
2. Sear all sides of the tenderloin in a hot pan with some EVOO.
3. Place the pork, garlic, onion, salsa and broth in a crockpot and cook on low for 6 hours.
4. Remove the pork from the crockpot and shred using 2 forks.
5. Grease the bottom of a cake pan and place a tortilla flat against the bottom.
6. Add a layer of pork and top with another toritlla.
7. Add a layer of black beans, corn, 1/4 c cheese and enchilada sauce (if desired).
8. Add another tortilla, more pork and another sprinkle of cheese and place in the oven at 375 degrees for 30 minutes or until the cheese is melted and everything is heated through.
9. Remove from the oven, slice and serve topped with guacamole.
*Notes:
-You may not use all the pork and that's ok!
-I think my cake pan was 8 inches and the tortillas fit in there perfectly.
This was the first time I'd done pork tenderloin in the crockpot and the hubby has since declared that shredded pork is now his favorite way to eat pork and he will no longer eat it any other way 🙂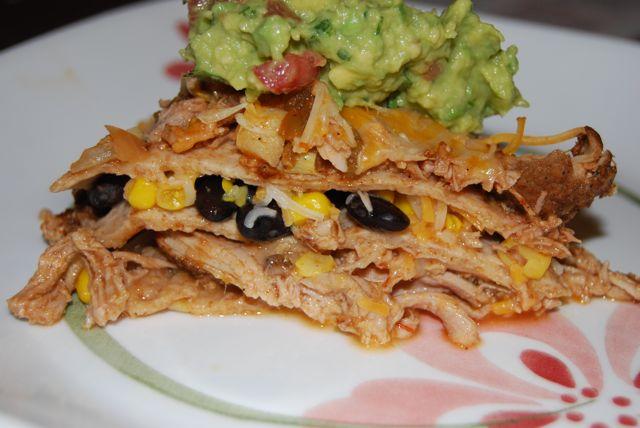 Enjoy!
–Lindsay–
LEARN HOW FOOD AFFECTS YOUR BODY.
Get my free Table Talk email series where I share bite-sized nutrition information about carbs, protein, and fat, plus bonus information about snacks and sugar!