Brussels Sprouts with Pomegranate Seeds make beautiful holiday side dish. Bright red pomegranate seeds make these delicious, crispy caramelized Brussels sprouts pop with festive flair. 
Hi Friends!
Time to introduce you to another lovely RD friend of mine! Kara blogs over at The Foodie Dietitian where she shares delicious recipes and great posts on mindfulness, yoga and more! Check out her blog if  you're not already familiar with it- she runs her own business and also recently became a yoga instructor! She's here today to share a quick, delicious recipe with you guys!
————–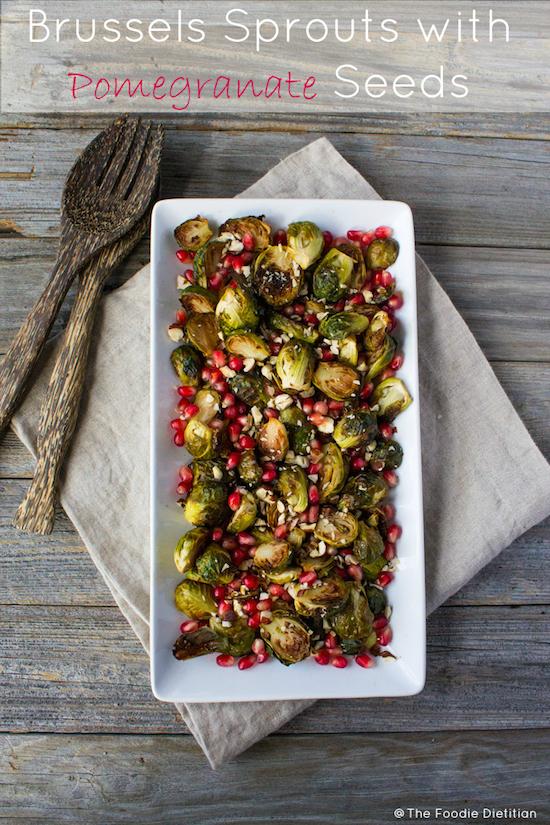 Hey ya'll! I'm Kara, a dietitian nutritionist and yoga teacher who believes that the secret to being holistically happy is nourishing the mind, body, and spirit. I blog over at The Foodie Dietitian where I share delicious, seasonal, vegetarian recipes and simple strategies to bring more mindfulness and yoga into your life. I'm so psyched to share a deliciously simple holiday side dish with you today and grateful to my pal Lindsay for letting me hang out over here. J
Is anyone else still at square one for holiday menu planning or is it just me? I mean, helloooooo, did we not just finish planning our Thanksgiving menus? I'm still hanging onto that cranberry sauce in the fridge! It's just too hard to say goodbye. Plus, I love topping my morning oatmeal with it 🙂
But really, I think we all deserve a little day of R&R to take a breather, reset, and recharge to move onto the next holiday. So go, get your R&R on. Do a little deep breathing, maybe some meditation, take a yoga class, go for a walk in nature, practice gratitude journaling. Whatever it takes. #treatyoself
Ok. Wonderful. Now that you've recharged the old batteries, I'm here to help make your holiday menu planning a wee bit easier. With a side dish that's so beautiful, your guests will be saying caroling "Martha, who?"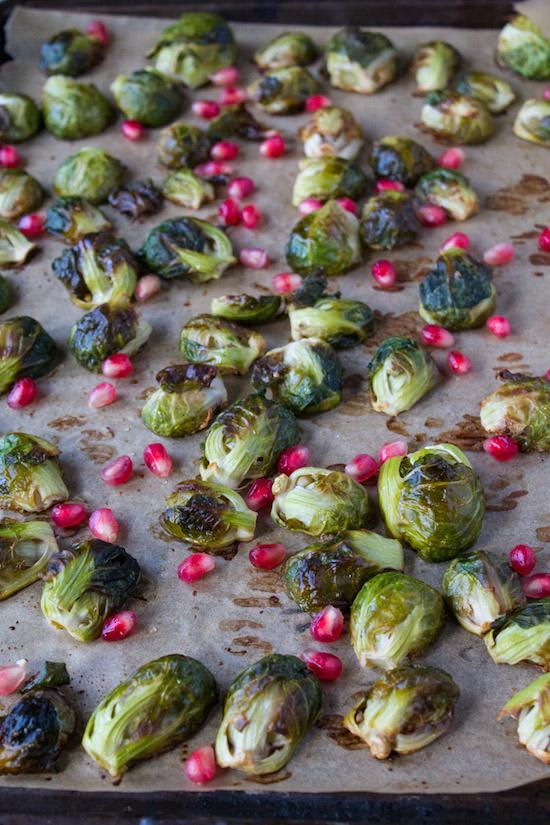 Do you like Brussels sprouts? If the answer is no, have you tried roasting them? Many of my nutrition clients come to me saying they hate vegetables, especially Brussels sprouts. Brussels get a bad rep. But the rep is not justified. After a little digging, I find out that my clients are preparing these guys all wrong. They're boiling them. YUCK! I would hate vegetables too if I could only eat them boiled. But I haven't eaten a boiled veggie since the 90's and neither should you. I always recommend to my clients to roast their veggies in the oven (hint: you can roast fruits too!) to bring out a delicious nutty, caramelized flavor. Brussels sprouts are transformed when you roast them. And when they're all browned and crispy, some (or maybe just me) might even go so far to call these sprouts sexy.
Okay, maybe sexy is a stretch, but these guys are a nutritional powerhouse. I just wrote an article in my latest monthly newsletter about Brassicas – the type of vegetable category that our friends, the Brussels, belong to. Also known as cruciferous vegetables, Brassicas are packed with vitamin C, fiber, and cancer-fighting antioxidants.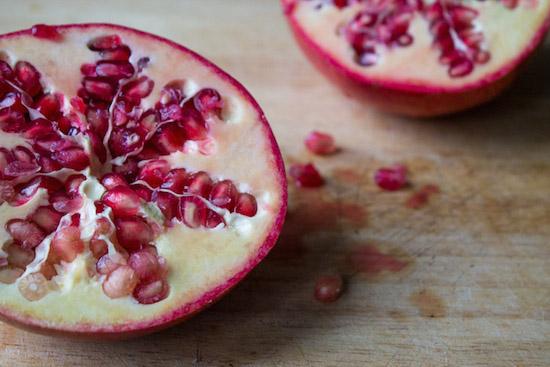 I always try to cook with the seasons, making recipes that highlight the produce that is abundant that time of the year. During winter (and especially during the holidays), I love using pomegranate seeds. Not only are they deliciously juicy and packed with antioxidants, they're so bright and festive, adding flair to any holiday dinner table.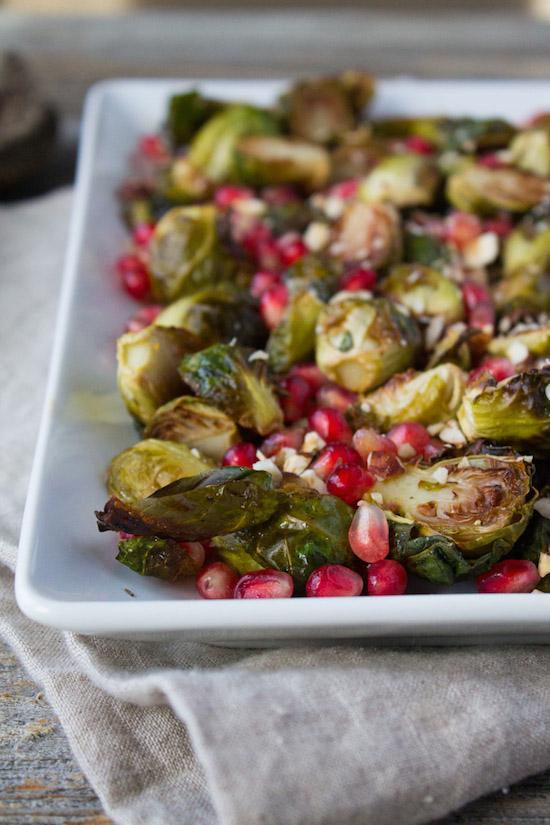 Print
Brussels Sprouts with Pomegranate Seeds
Brussels Sprouts with Pomegranate Seeds make beautiful holiday side dish. Bright red pomegranate seeds make these delicious, crispy caramelized Brussels sprouts pop with festive flair.
2

lbs Brussels sprouts, trimmed and halved

1 1/2 tsp

apple cider vinegar

1 tbsp

maple syrup

1/2 tbsp

olive oil

1/8 tsp

salt

3/4

of a large pomegranate (about

1 cup

pomegranate seeds)

1/2 cup

 chopped hazelnuts
Salt and pepper to taste
Instructions
Directions:
Preheat oven to 375 degrees. Line two baking sheets with parchment paper.
In a medium bowl, add Brussels sprouts and toss with apple cider vinegar, maple syrup, olive oil and salt.
Transfer Brussels sprouts to the baking sheet, in a single layer, cut halves facing down. Bake for 25-30 minutes, or until tender and browned.
In the meantime, toast hazelnuts in small frying pan over low to medium heat, for about 5 minutes or until lightly browned and fragrant.
Toss Brussels sprouts with pomegranate seeds, hazelnuts and season with salt and pepper to taste.
Notes
Note: Pomegranates are easy to de-seed under water. The skins float to the top and the seeds stay at the bottom of the bowl. You can pick off the pieces of skin that floated to the top and then drain out the water using a colander.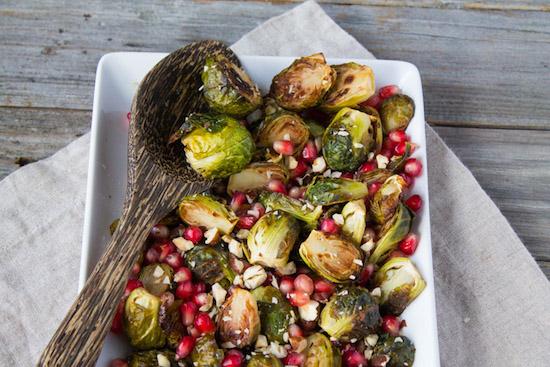 I hope you all have a nourishing holiday season. For more holiday recipe inspiration, follow my blog.
————-
[Tweet "So festive! Brussels Sprouts with Pomegranate Seeds from @karalydonRD and @leangrnbeanblog!"]
Enjoy!
–Lindsay–
LEARN HOW FOOD AFFECTS YOUR BODY.
Get my free Table Talk email series where I share bite-sized nutrition information about carbs, protein, and fat, plus bonus information about snacks and sugar!