Recently, I cooked up a whole bag of black beans to restock my freezer supply. Usually I try to undercook them just a bit because when I add them to different dishes, they tend to cook a bit more.
However, I accidentally overcooked this batch a little bit. They'll still be fine, and I still put most of them in the freezer…but I decided that since they were a bit mushy, they might be good in a dip.
Honestly, I'm not a big fan of black beans by themselves. So I didn't want to make just a plain old black bean dip because I knew I wouldn't like the flavor. I had an avocado that was nice and ripe and I found myself wondering what a mix of those two flavors would taste like.
I put some beans in the food processor, added an avocado, a little bit of Greek yogurt and the juice of one lemon and gave it a whirl. I made mine pretty smooth, but you could achieve a similar, yet chunkier, result by simply mashing the beans and avocado by hand and then mixing in the yogurt and juice.
Since I do prefer a chunky guacamole, I added some red onion and tomato to the mix for some texture.
I also added some cayenne pepper for a little extra kick!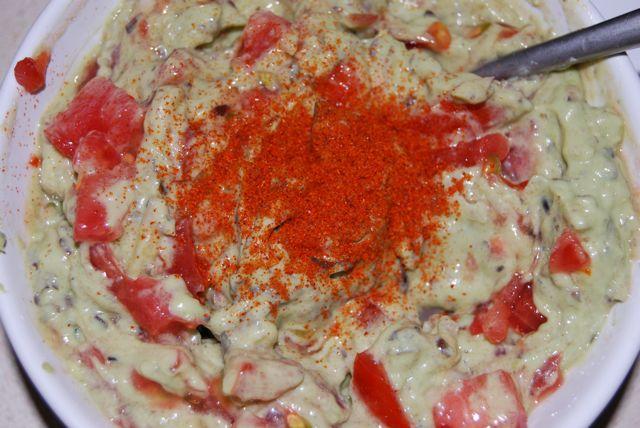 It turned out great! The avocado flavor definitely covers up the black bean flavor and adding the beans and yogurt help boost the amount of protein! Protein and healthy fats? Yes please!
Printable recipe below- quantities are estimated since I didn't measure anything!
Black Bean Guacamole
Prep Time: 5 min
Keywords: food processor appetizer snack healthy low-sodium vegetarian greek yogurt black beans avocado
Ingredients
1 avocado
1/2 c black beans, cooked
2 Tbsp plain fat-free Greek yogurt
1/2 tsp cayenne pepper
1 Tbsp lemon juice
1/4 c red onion, diced
1/4 c tomato, diced
optional- cilantro
Instructions
In a food processor, combine the avocado, black beans, yogurt and lemon juice. Pulse until desired level of chunkiness is achieved.
Transfer to a small bowl and add the tomatoes, onion and red pepper. Stir to combine.
Enjoy!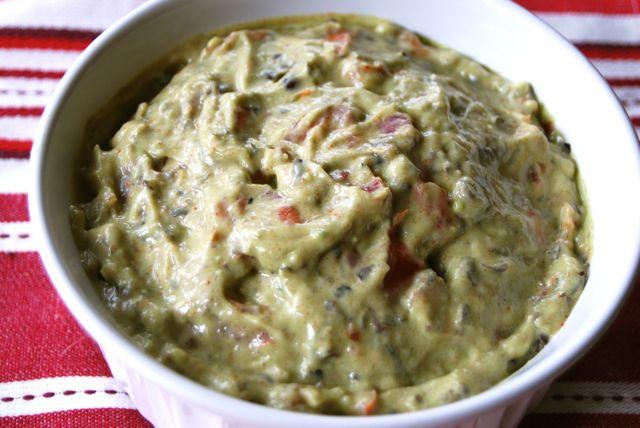 Eating this with some Food Should Taste Good jalapeno chips was pretty much the best thing ever! By the way, have you entered my Food Should Taste Good giveaway for your chance to win five bags of chips?!
What's your favorite way to eat guacamole? Mine is probably on a chicken and guac panini! YUM!
Enjoy!
–Lindsay–
LEARN HOW FOOD AFFECTS YOUR BODY.
Get my free Table Talk email series where I share bite-sized nutrition information about carbs, protein, and fat, plus bonus information about snacks and sugar!