Hi Friends!
Happy Monday 🙂 Today I have a delicious new breakfast to share with you guys. As I'm sure I've mentioned on here before, quinoa is not my favorite. However, I know how healthy it is and what a great source of protein it is, especially for vegetarians, so over the past year I've been making an effort to eat it more often. This means I'm always searching for different recipes in hopes of finding some I really like.
The good news is, I've found a few over the past several months. The great news is I have one to share with you today!
As we all know, I'm a huge breakfast fan. In fact, a lot of days I eat it for multiple meals. Last week I made breakfast quinoa…and ate it for lunch….and it was delicious.
I cooked the quinoa in milk with some strawberries and it topped with with peanut butter, almonds, sliced bananas, a few chocolate chips and a drizzle of agave. Holy YUM!
Berry Breakfast Quinoa
Cook Time: 20 min
Keywords: stovetop breakfast healthy vegetarian low-sodium fruit quinoa
Ingredients
1/4 c quinoa, dry & rinsed
1/2 c milk
1/2 c berries
dash cinnamon
1/2 tsp vanilla
Toppings
nuts
fruit
chocolate chips
nut butter
agave/honey
Instructions
1. Combine the quinoa, milk, berries, cinnamon and vanilla in a small saucepan.
2. Bring to a boil, then reduce heat and simmer 15-20 minutes until liquid is absorbed.
3. Add toppings and serve warm.
This recipe could easily be doubled to make a larger batch to eat throughout the week. I looked at some recipes that added the berries in after cooking, but I decided to just throw mine in while it was cooking. As a result, the berries kinda disolved into the quinoa making it a pretty pink color!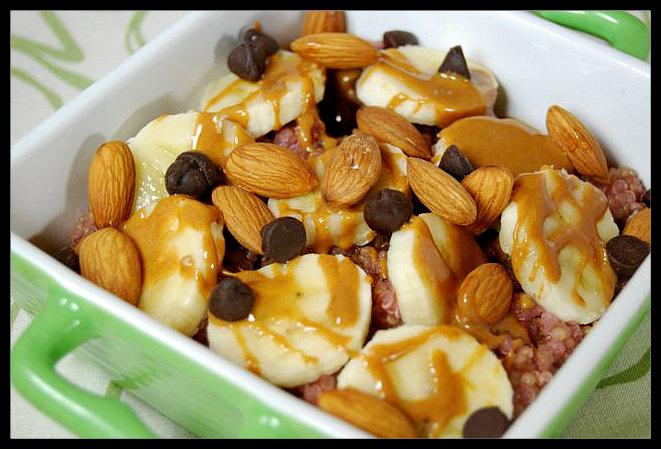 The only thing you need to keep in mind is that adding the berries means there's a little extra liquid as they dissolve so you may need to cook the quinoa a bit longer than usual so all the liquid can be absorbed. Play around with the toppings to find a combo you like! Next time i'm adding greek yogurt!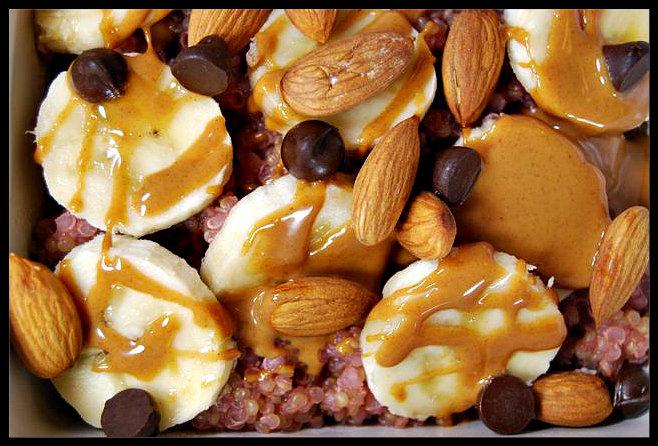 Dig in, friends!
So tell me, what's your favorite way to eat quinoa? Have you ever made a sweet version like this?
–Lindsay–
LEARN HOW FOOD AFFECTS YOUR BODY.
Get my free Table Talk email series where I share bite-sized nutrition information about carbs, protein, and fat, plus bonus information about snacks and sugar!