Last night I made one kick-ass dinner. *Not to toot my own horn or anything…* But seriously, it was really good! Let's recap, shall we?
We picked up some ribs at the grocery store earlier this week. This is important 1) Because I've never bought ribs before. 2) Because I've never made ribs before and 3) Because I don't even eat them that often. HOWEVER, I did grow up in Kansas City- hellooo BBQ – so I've eaten some pretty good BBQ in my time. In addition, my mother-in-law makes great ribs, which the hubby is used to eating, so….
I felt like I had some major shoes to fill and I'm not gonna lie, I was a little nervous about it.
A while back, Tina posted this recipe for Crockpot BBQ Ribs and I immediately bookmarked it because I generally feel that even if it's something I'm not familiar with, if it's done in the crockpot, I can handle it.
After talking to the hubby about it, he expressed his concern that sometimes meat cooked in our crockpot gets a little dried out. AND it just so happened that my crockpot was already in use yesterday because I was making some crockpot granola (recipe coming soon!). So, I decided it would just be better for everyone if I started the ribs in the oven.
After a quick text to the MIL for a time and temperature check, I got to work. Besides subbing the oven for the crockpot, I pretty much followed Tina's recipe.
I made some of her BBQ spice rub, but I cut the recipe in half and made a few slight adjustments. Here's the recipe I used. It made about 1/2 a cup of rub and I only ended up using about half of it and saving the rest.
[print_this]
BBQ Spice Rub
2 Tbsp Cumin
2 Tbsp Brown Sugar
2 Tbsp Paprika
2 Tbsp Chili Powder
1 tsp cayenne pepper
1 Tbsp kosher salt
1 tsp ground Black Pepper
1 tsp Garlic Powder
Combine all ingredients in a small bowl and stir until well mixed.
[/print_this]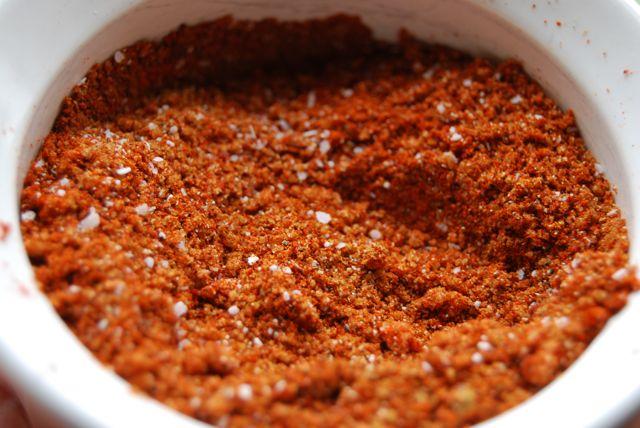 Next, I followed her directions to doctor up some regular BBQ sauce. Normally I would have been lazy and just used all KC Masterpiece BBQ sauce…but I was running a little low and her way seemed like a good way to bulk it up a little bit!
[print_this]
Doctored Up BBQ Sauce
1 cup bbq sauce
1/2 cup ketchup
1/4 cup mustard
1/4 c white vinegar
Combine all ingredients in a small bowl and mix well.
[/print_this]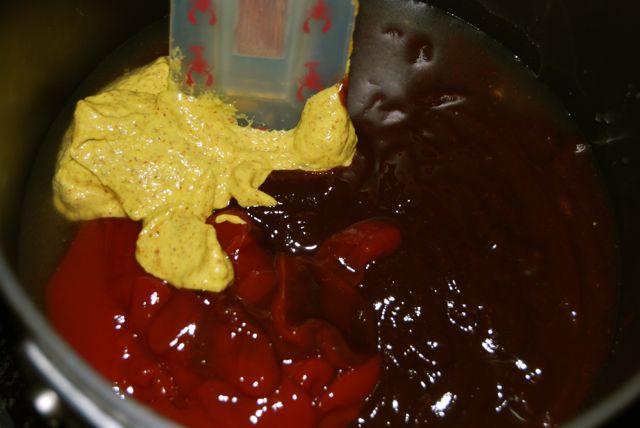 With my rub and my sauce ready to go, I took the ribs out of the fridge and got busy. I patted the ribs dry with paper towels and then liberally rubbed the spice mixture all over both sides. Even with my liberal application, I still only used about 1/4 c of the spice rub and I think that was plenty. So, if you don't want any leftovers, you could halve the recipe above. *Also note that I only had one rack of ribs, about 2.4 pounds. If you had two racks, 1/2 c of spice rub would probably be just the right about.
Next, I covered a jelly roll pan in foil. I laid out two more pieces of foil and transferred the ribs to the foil. I poured half the sauce on the ribs and used a brush to spread it all over one side. Then I carefully flipped them over and poured the rest of the sauce on the other side. Finally, I wrapped the loose foil around the ribs to make a rib packet of sorts. I put the foil packet on the foil covered tray (for easy cleanup in case any sauce leaked out of the packet) and put the whole thing in the oven at 300 degrees for 3 hours.
After three hours, I took the ribs out and unwrapped the foil packet. Then it was time to finish them on the grill. I timed it so that the hubby could light the grill about 1/2 an hour before the ribs were ready to come out of the oven. Then I just unwrapped them, pulled them into sections for ease of flipping and put them on the grill.
I grilled them for a few minutes, flipped them and then flipped them twice more (only about 10 minutes total on the grill since they're already cooked) and then I transferred them to a nice big platter.
Just before serving, I brushed on another layer of KC Masterpiece sauce. These were delicious! The meat was fall-off-the-bone tender and had great flavor. The hubby said, "My only complaint is that you only bought one rack." That's a win in my book, friends 🙂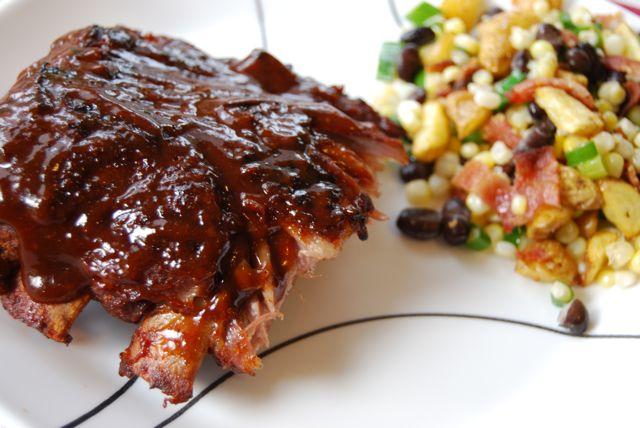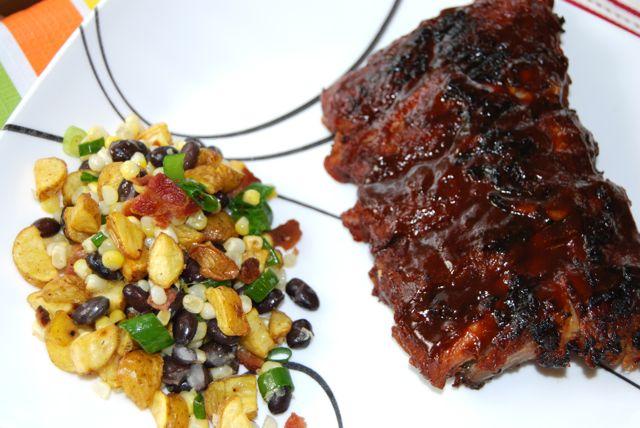 Oh and if you're wondering about that nice little potato hash you see on the side there, that was another winner! Stay tuned for the recipe 😉
Enjoy!
–Lindsay–
LEARN HOW FOOD AFFECTS YOUR BODY.
Get my free Table Talk email series where I share bite-sized nutrition information about carbs, protein, and fat, plus bonus information about snacks and sugar!