Hi Friends!
I've got a fun little workout for you! Before I started Crossfit, I used to make up my own workouts all the time. I love coming up with them, so when my Blend Sponsor, Blue Diamond Almonds, asked me to create a workout to help them kick off their Feel Good for Summer campaign….I jumped at the chance!
One of the reasons I love Blue Diamond as a company is because they believe in encouraging all aspects of health. Their products are heart healthy and delicious, but instead of focusing just on food, they also focus on physical and mental health. They encourage their customers to be active, spend time with their families and enjoy life…while also fueling themselves with healthy food!
This workout is a great way to get your heart pumping. It involves all body weight movements so all you need is yourself! So grab a towel if the grass makes you itchy and head out the backyard for some fun in the sun!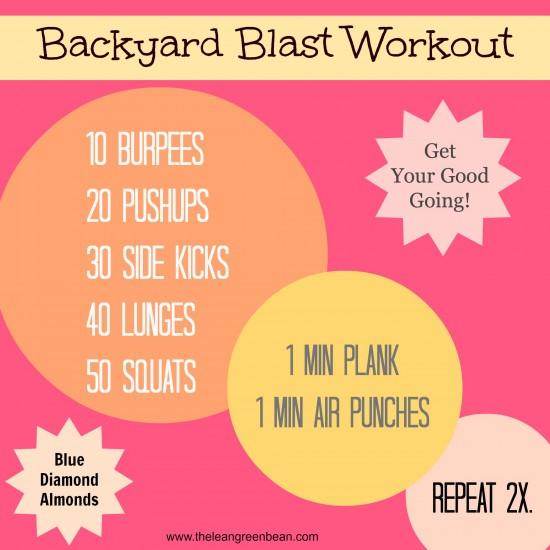 Here's a breakdown of a couple of the movements you may not be familiar with. Click the link to see a video:
Burpees
Side Kicks
Plank
Air punches – please put a little more effort into your punches!
Happy Friday!
Let's chat: Do you have any fun weekend plans?!
Enjoy!
–Lindsay–
This post was sponsored by Blue Diamond Almonds.
LEARN HOW FOOD AFFECTS YOUR BODY.
Get my free Table Talk email series where I share bite-sized nutrition information about carbs, protein, and fat, plus bonus information about snacks and sugar!