Hi Friends!
As you know, I was in Cleveland for the past few days with the American Dairy Association Mideast and the Ohio Dairy Farmers. Myself, along with 8 other bloggers met up for an extraordin-DAIRY adventure…and it was tons of fun!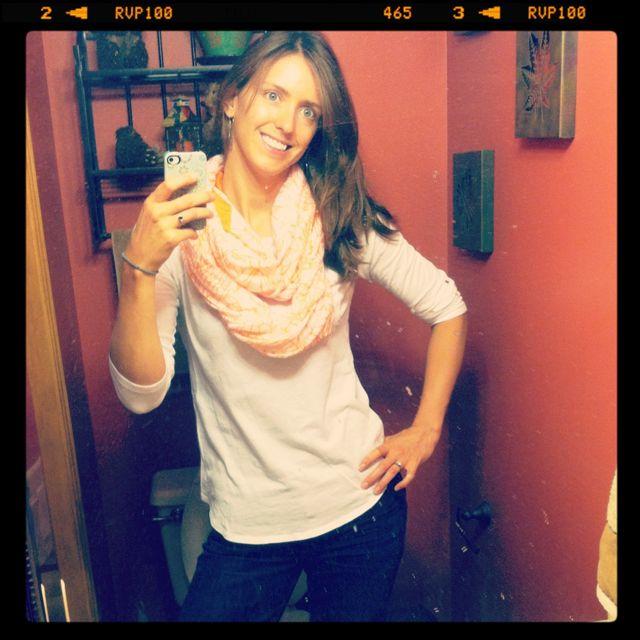 I left Columbus around lunchtime on Monday. The weather was perfect and it's an easy drive up to Cleveland…took me about 2 hours. The leaves are changing, which made for a gorgeous ride. I arrived around 2:45 and checked into my room at The Hyatt- at the Arcade in downtown Cleveland. Suh-weeeeet hotel.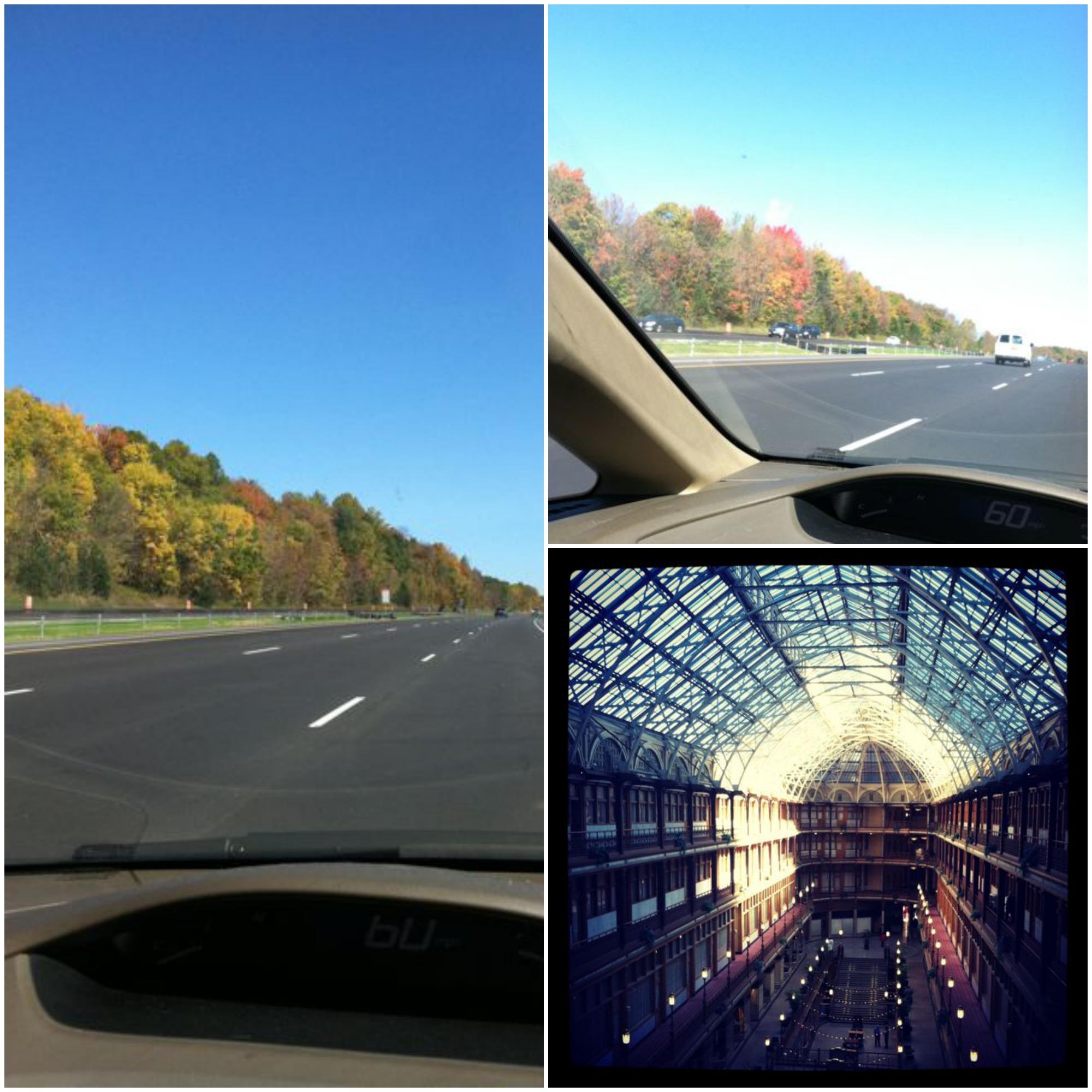 At 4pm, I met up with the rest of the bloggers, along with our hostesses from ADA Mideast. In case you're wondering, the other bloggers on this trip were amazing. I didn't read too many of their blogs before this trip…but let me tell you, there were some SERIOUS food bloggers on this trip. You must check out their blogs (prepare to DROOL!) :
We hopped on our awesome bus and headed North to Lake Erie for a wine & cheese tasting and dinner at Lakehouse Inn & Winery. Our bus had couches, tvs, a bathroom…so fancy!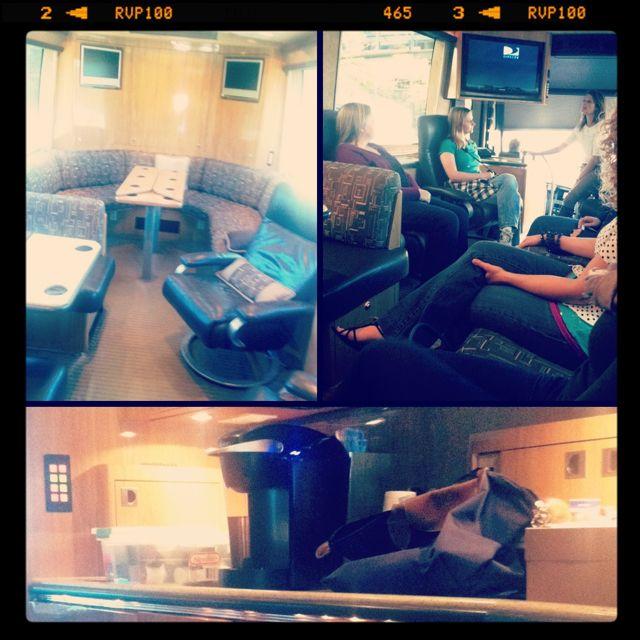 When we arrived at the winery, we headed down to check out Lake Erie…so pretty: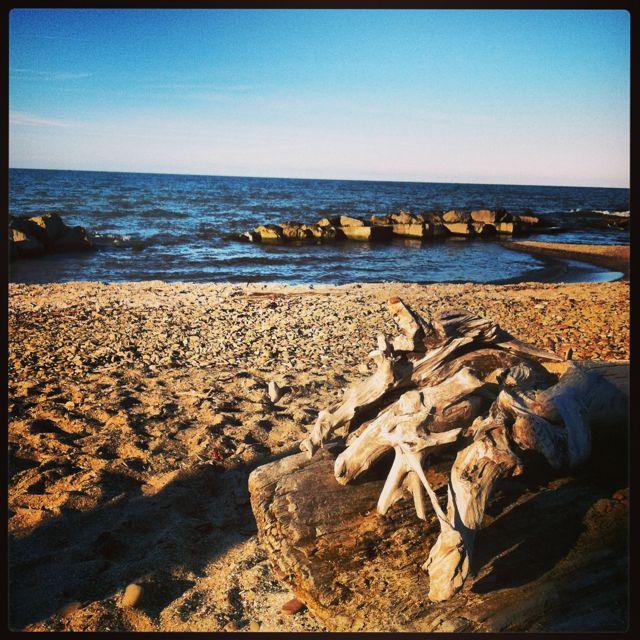 Then we got started with the tasting. We were joined by Marianne Frantz, founder and president of American Wine School and  she taught us all about pairing different cheese with different wines. We got to try tons of wines and cheeses made right here in Ohio.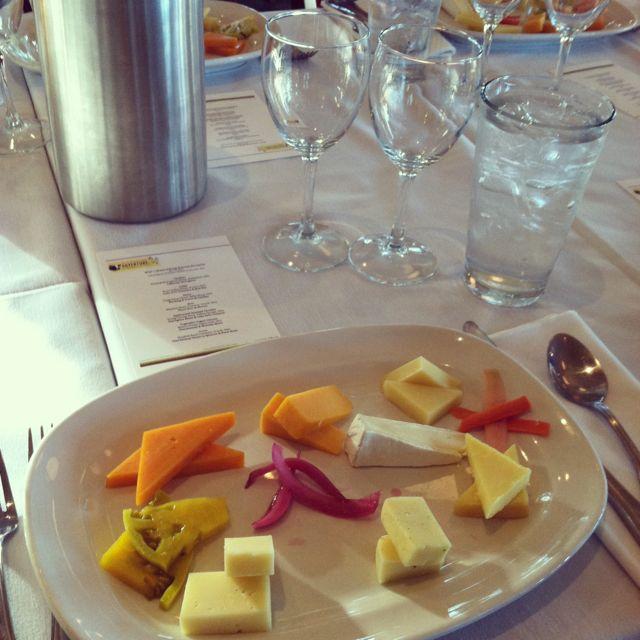 Here were some of our pairings. The brie from Mayfield Road Cremery was UNBELIEVABLE and the cheddar from Middlefield Original Cheese was another favorite of mine: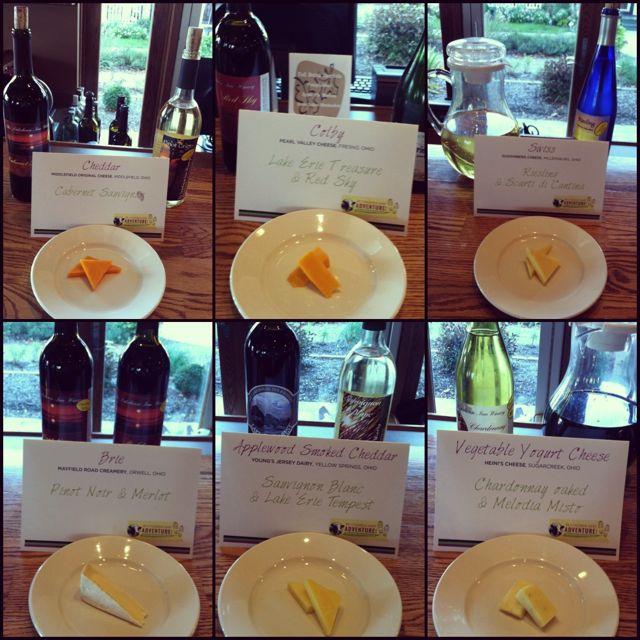 The actual winemaker  from Lakehouse Winery showed up as well so it was awesome to hear him speak about some of the wines he made. Look, he's even on one of their bags of wine!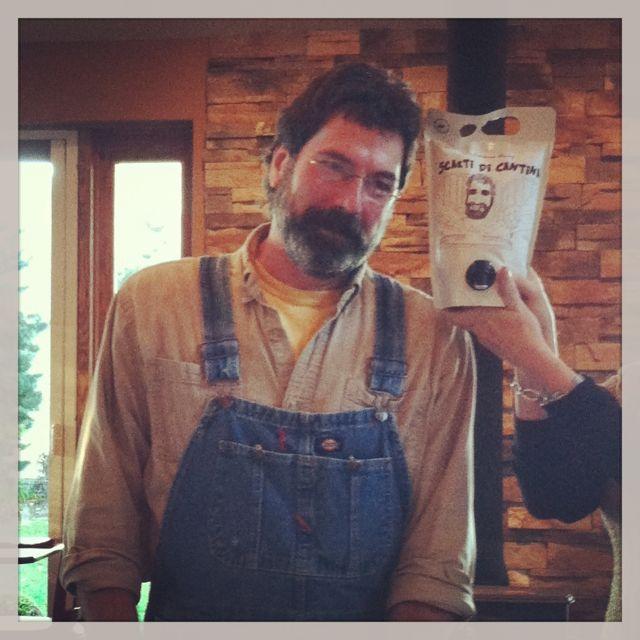 Afterwards, we were treated to dinner at the winery restaurant called Crosswinds Grille. The chef, Nate Fagnilli, is famous in Cleveland for his involvement in the local foods movement. At his restaurant, he uses tons of locally sourced ingredients, which I loved!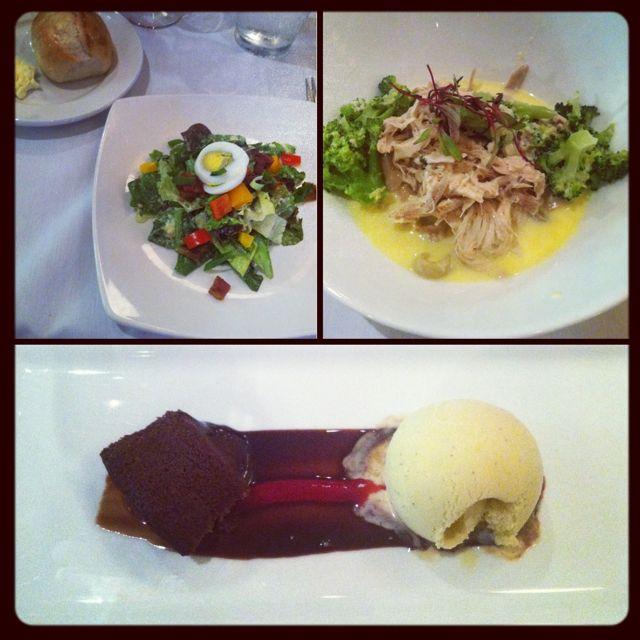 The salad had local blue cheese and local eggs. The main course was homemade whole wheat pasta with local, organic chicken, locally grown broccoli and a light cream sauce made with local cream. Dessert was chocolate cake with homemade maple ice cream and a berry sauce. So. Good.
We even caught the sunset over the lake: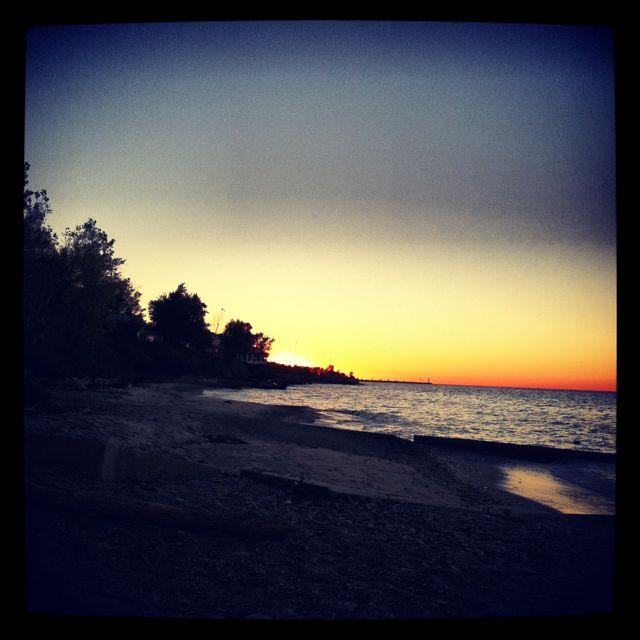 Tuesday morning we were up bright and early, on our way by 6am so that we could arrive at our first dairy farm by 7am. Richman Farms is a 4th generation family farm with about 80 cows. We got to visit the milking parlor to see how they milk the cows.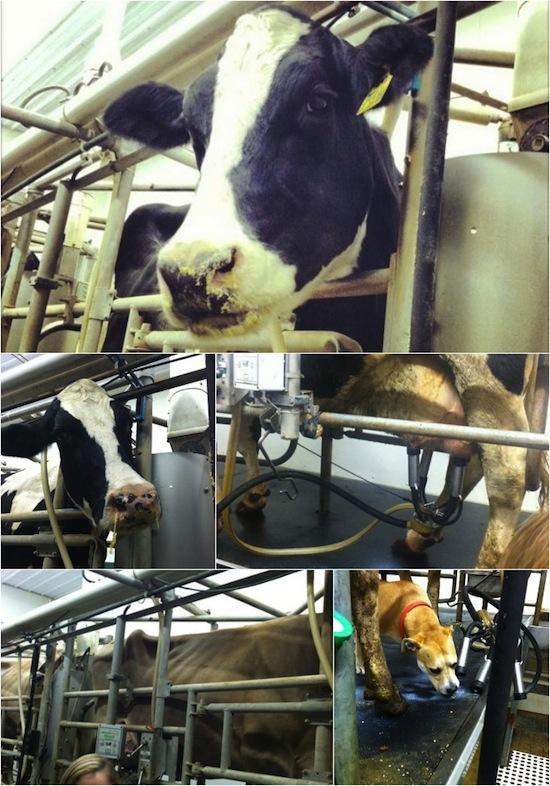 We met Jill, the cow on top…she was sassy. She would flip the hose near her head at us because she wanted us to feed her! We learned all about the three different kinds of cows they had on the farm, how they're milked, what they do to clean the udders before milking and what they do after milking to help avoid infection. They explained how the milk is collected and stored until it's picked up. They test the milk to make sure no antibiotics are found in the milk and make sure to keep it at safe temperatures. We also learned that bony hips and visible ribs are signs of healthy dairy cows- they don't indicate that the cows are sick or underfed. Maggie, the farm dog, enjoyed running around and licking up all the extra milk!
Here's a really good video that Bill, one of the farmers we met while we were there, made about the milking process:
That's the same milking parlor we were in.
After they're milked, they're released back into the barn to eat. We learned about everything the farmers do to keep the cows comfortable including soft bedding, heated floors, lots of rubber instead of concrete flooring, special food formulated to meet their nutrition needs, fans and sprinklers to keep them cool in the summer, etc. These are some happy cows…and SO curious! They wanted to know all about what we were doing in their barn!
And they love to eat!
Up next, Cheese! We headed to Pearl Valley Cheese to get a tour of a cheese plant!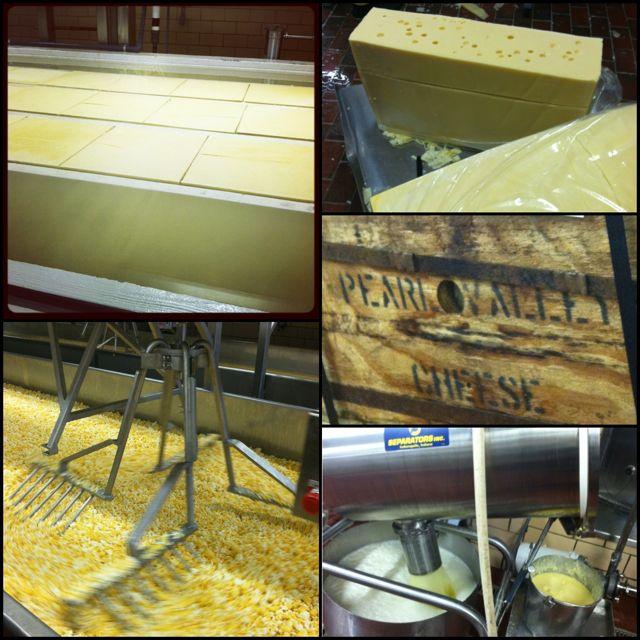 It was really interesting to hear and see more about how cheese is made. They're known for their Swiss cheese. What you see floating in the top pic above are 200 pound blocks of swiss cheese. We also saw curds and whey being separated and special mixing machines that are stirring the cheese, forcing the excess liquid out before it's pressed into molds. Pearl Valley does a great job of using almost all parts of the milk that is brought to them. Some of the non-used liquid is turned into energy, floor scraps are fed to the farm animals, etc! Afterwards we got to shop at the Pearl Valley Market. They were kind enough to give us each a $20 giftcard to bring some cheese home with us. The prices were so cheap that we got A LOT of cheese! And I spent $19.82…fully maximizing my giftcard!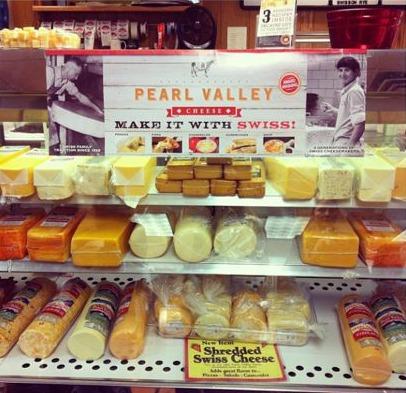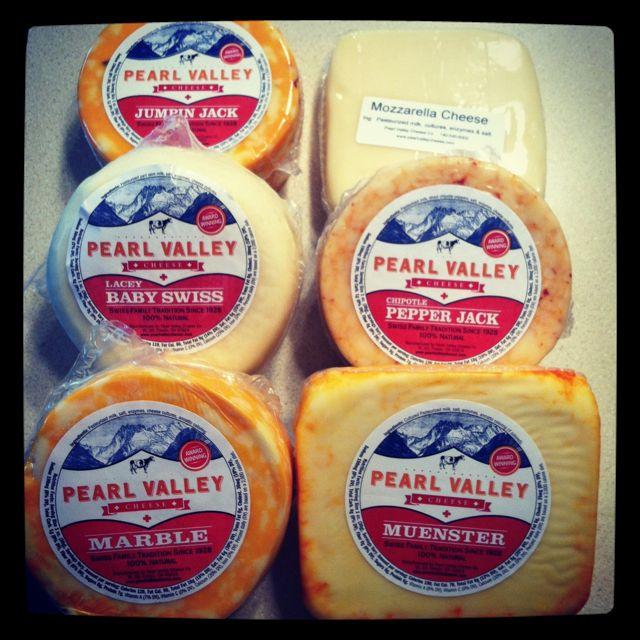 Up next? Lunch! We headed to the home of a local Amish family for a home-cooked meal! The family built a large barn for their daughter's wedding this year and they now cook lunches and dinners for different groups! The farm was beautiful and the food was delicious! Homemade bread that was still warm = heaven 🙂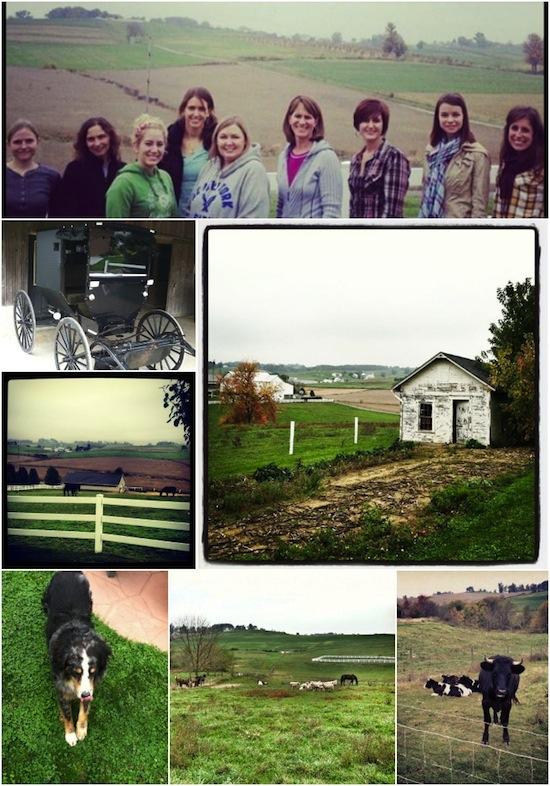 After lunch it was on to another dairy farm. The second farm we visited, Andreas Dairy Farm, was much larger (with about 1200 dairy cows) but still 6th generation family owned. It was interesting to see the similarities and differences between the large and small farm. In both places, the farms were very clean, many precautions were taken to ensure the safety of the milk and the cows were well cared for.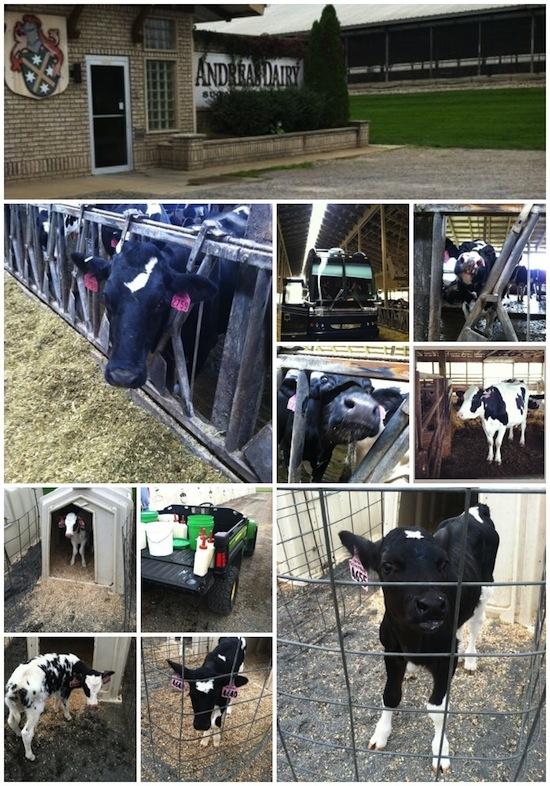 We learned about how they deal with the manure, store it, put it back into their fields and also sell it to be used in compost. We also visited the labor barn. This farm typically has 4 new calves born every day and there were about 20 cows in labor while we were there, due to give birth within the next 48 hours. The highlight of the day was getting to feed the baby calves. We each got to feed a giant bottle to a calf that was just one day old. SO adorable!!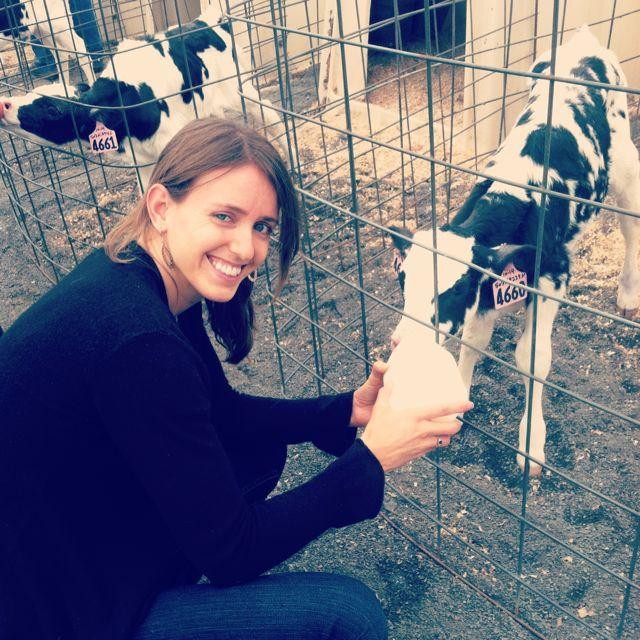 Afterwards, we headed back to the hotel. We had about an hour to shower away the farm smell and get ready for dinner. We hopped back on the bus and headed to dinner in a suite at the Cleveland Browns stadium!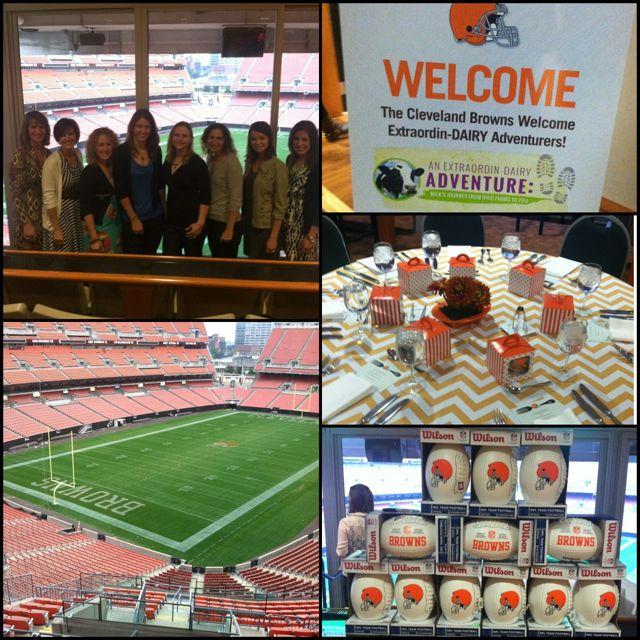 We had a very special dinner guest- Joe Thomas, tackle for the Browns! I will be honest and tell you that I had no idea who Joe was before this trip. However, I'm now his new biggest fan. He's been to the Pro Bowl five times and in 2010 he received the Walter Peyton Man of the Year award, which is the NFL's only recognition for off-the-field accomplishments and contributions to the community.  Joe is very active in the Fuel Up to Play 60 movement and it was awesome to see how passionate he is about teaching kids the importance of eating a healthy breakfast each day, enjoying healthy snacks and being active!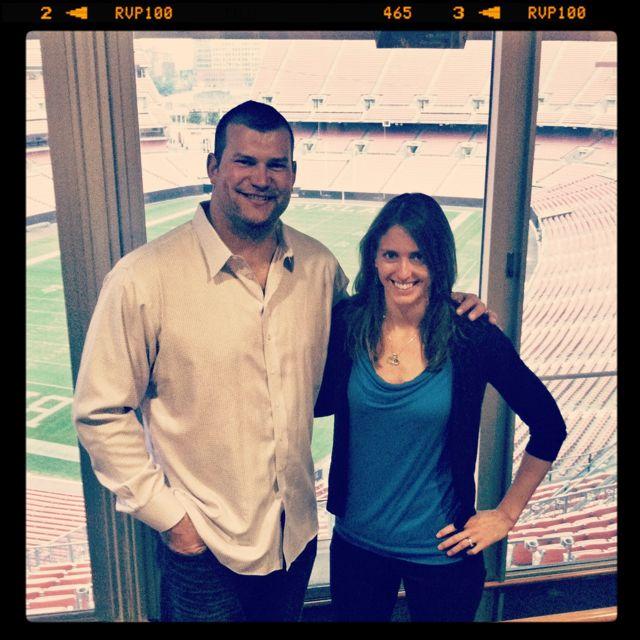 I'm 5'11 and he made me look short! His wife Annie also joined us. She played basketball for University of Wisconsin and Joe played football there. He was drafted by the Browns in 2007 (their best draft pick in 15 years, according to one of my diehard Browns fan friends!) and has been playing there for 7 years! Joe and his wife have an 8 month old daughter named Logan and it was fun to chat with them about her over dinner. We also got a signed football!
For dinner, we enjoyed a menu inspired by Chef Michael Simon!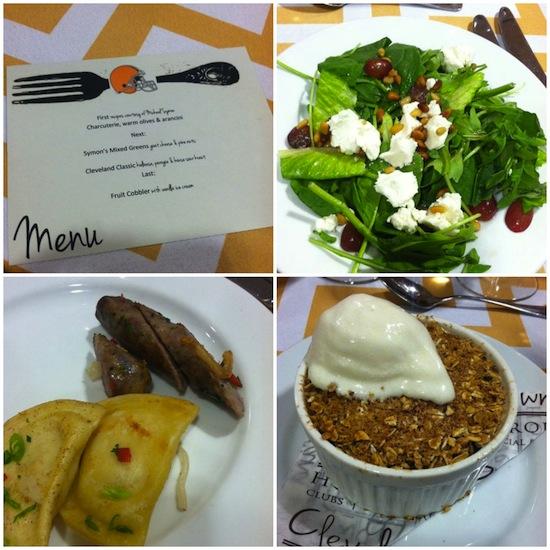 Wednesday morning we were up early again, but this time we were off to school! We visited the Clara E. Westeropp School and had a chance to eat breakfast with some of the students. Westropp has a pretty high breakfast participation rate and it was fun to talk to the kids about what they liked and didn't like. We heard from the school principal about Fuel Up to Play 60 and their partnership with the ADA mideast has helped make some healthy, positive changes in their school. The Browns selected this school for a playground renovation and ADA Mideast contributed as well with a cafeteria makeover.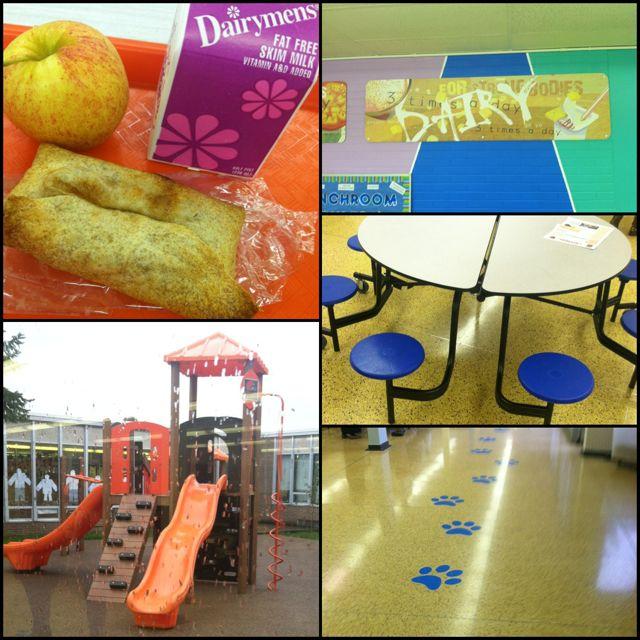 Next, we headed to the Westside Market. It's Cleveland's oldest publicly owned market and it was awesome. So many vendors! We had a chance to do a little shopping and I bought some bread and some spicy jerky for the hubby.
Finally, we headed across the street to Crop Bistro for lunch. We actually got to eat inside a giant vault in the basement of the building.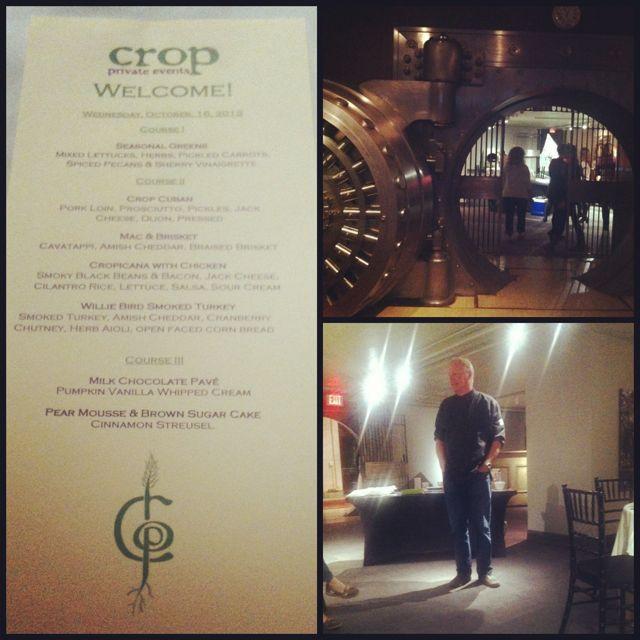 We heard from Steve Schimoler, the owner, about his journey. He's done a lot of product development for Cabot Creamery and made some brilliant food discoveries that he has sold to various companies. He uses his restaurant as a testing facility for all the various things he comes up with so that they can then be produced on a larger scale. Pretty cool stuff.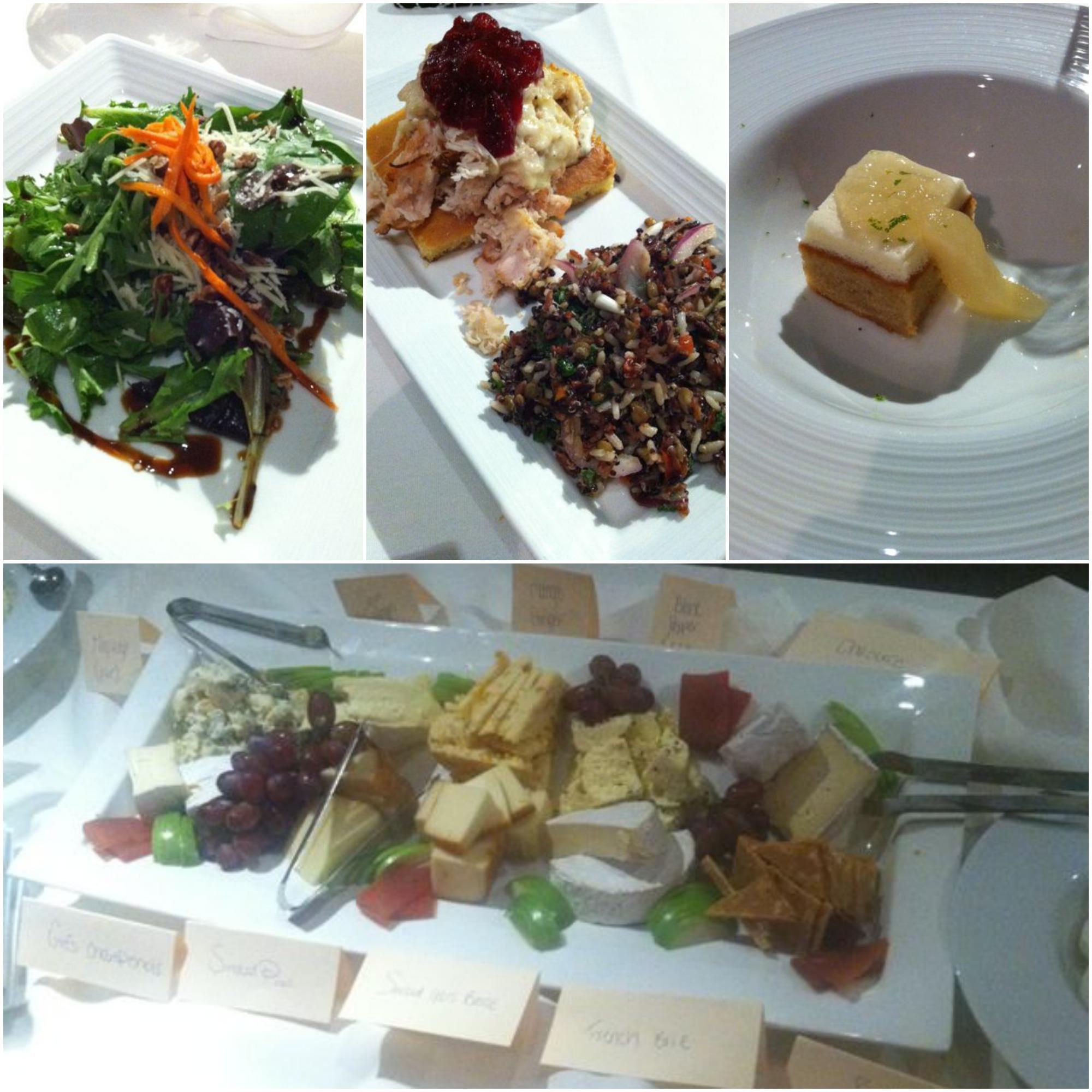 While we were at the market, we each got to pick out a type of cheese and we brought them to the restaurant where they sliced them up for us so we could try them all. During lunch we heard a little nutrition presentation.
We got one final surprise, a little cookbook that our hosts put together for us with one dairy-inspired recipe from each blogger on the trip! So fun!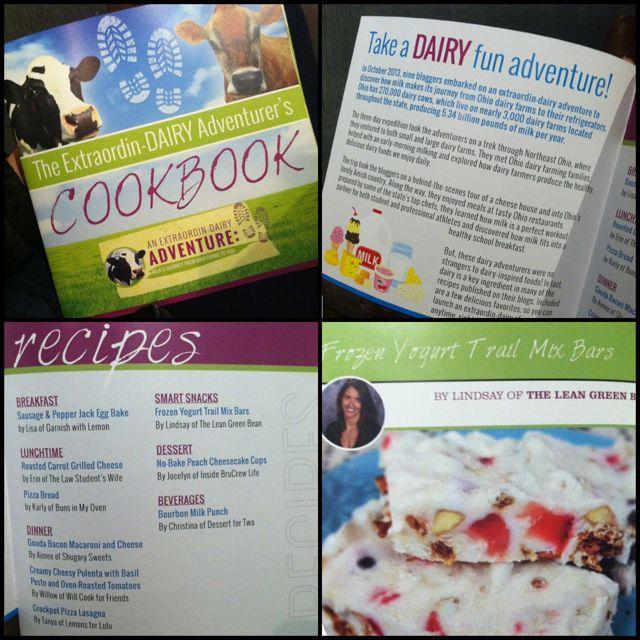 Around 1:30pm, we headed back to the hotel to grab our things and head home! It was a whirlwind 48 hours but I had a great time and learned a lot. Huge thanks to ADA Mideast and Ohio Dairy Farmers for being such wonderful hosts and putting the whole trip together!
Enjoy!
–Lindsay–
This trip was paid for by ADA Mideast. All thoughts and opinions are my own.