Hi Friends!
It's been FOREVER since I did a Fitness Friday post hasn't it?! I mean like, I'm pretty sure it's been a full month. That means I have lots of workouts to catch you up on…and since I have another post planned for this Friday, I thought we'd just do it today.  Let's get started shall we? Here's what I've been up to at the gym lately: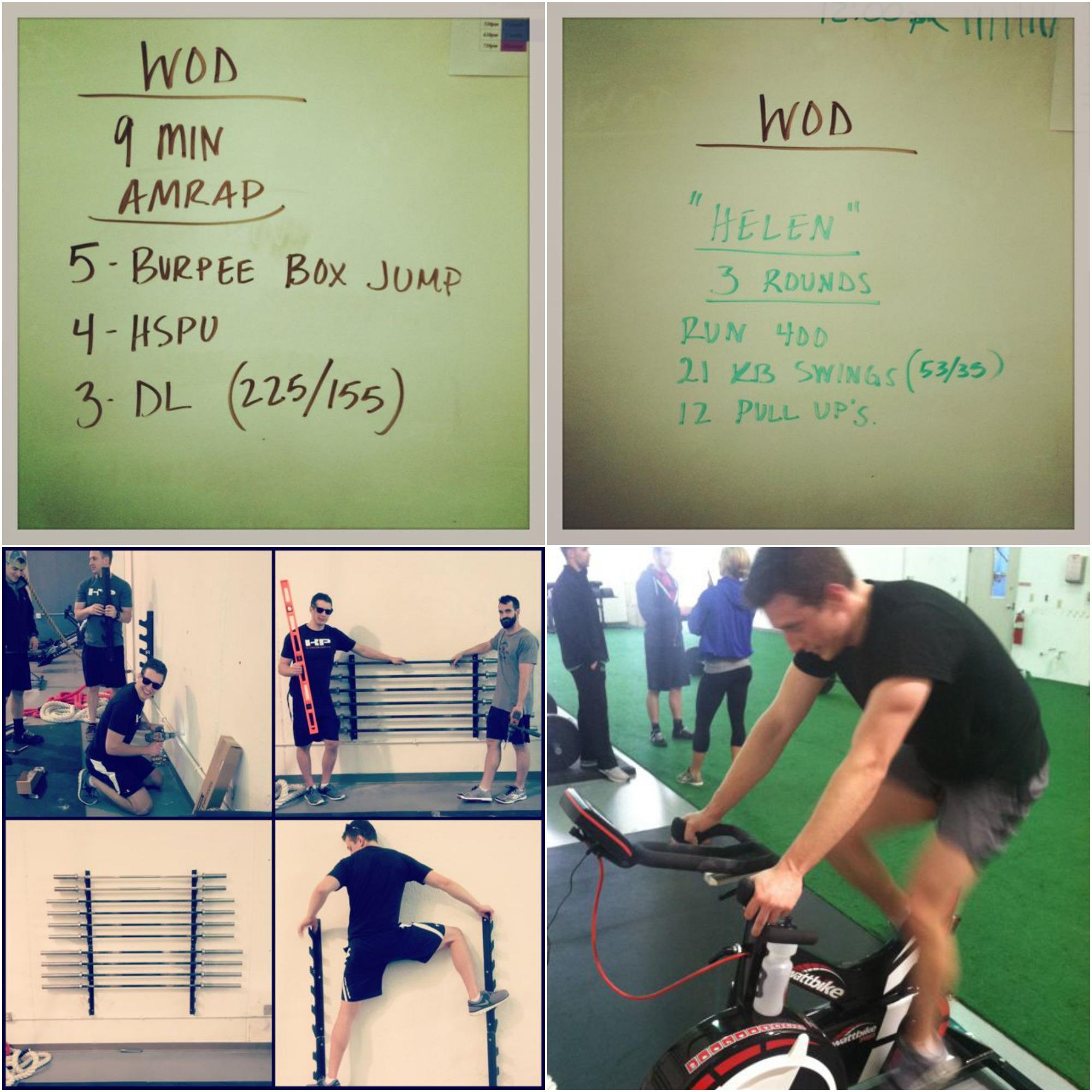 1.  Loved this one! I finished 6 rounds with the Rx weight, used 2 abmats for the HSPU.
2. Oh Helen…you slay me. 12:05 Rx. Last time We did this I did banded pullups so I was happy I could do it Rx this time!
3. Hubby and friends helped put up some racks to hold our bars at the gym.
4. Hubby testing out the watt bike. Look at that tricep 🙂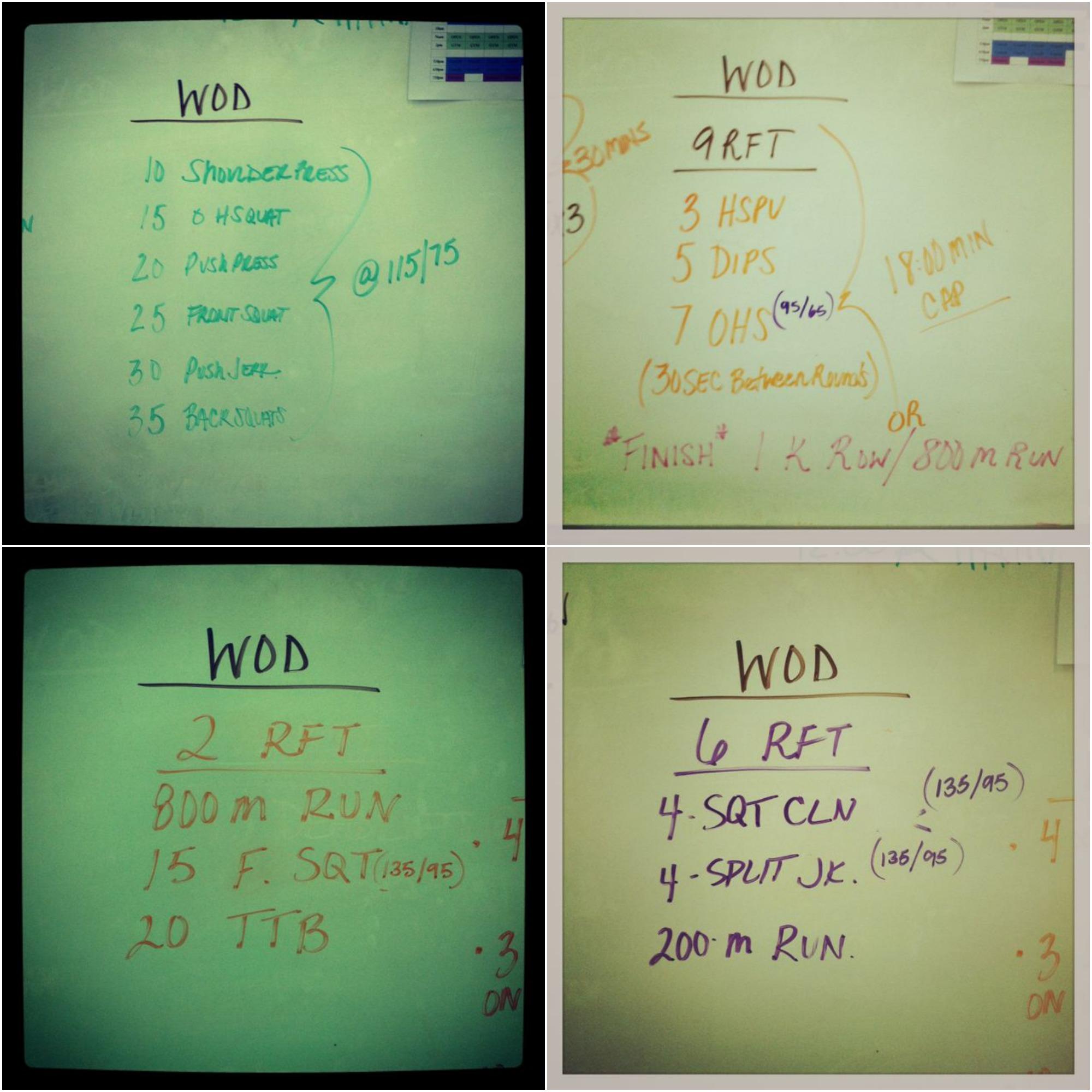 1.  Holy shoulders. 12:31 with 55# for the first two and 65# for the rest – plus a 90# bench press PR and 115# hang squat cleans!
2. This was a rough one on the wrists. 11:05 with 55#.  We subtracted the 4 min of rest from our time to get our final time
3. This was the worst. 15:32 rx plus I got two 125# front squats! I hate toes to bar.
4. This one was a challenge. My hip was bothering me so I chose to do 85# instead of 95#. Finished in 11:54. Plus I got a 120# power clean PR!
Just hangin' out at the gym with some super stars. That's our coach Heather Welsh in the shorts…to her left is another top Crossfit Games athlete- Talayna Fortunato. She finished 3rd at the games last year. No big deal! The shorter guy is Doug Katona. He coaches Heather and Talayna, along with several other athletes, and the guy on the right is Darnell Sanders. He played football at Ohio State and went on to play for the Cleveland Browns. Celebrity central I tell ya!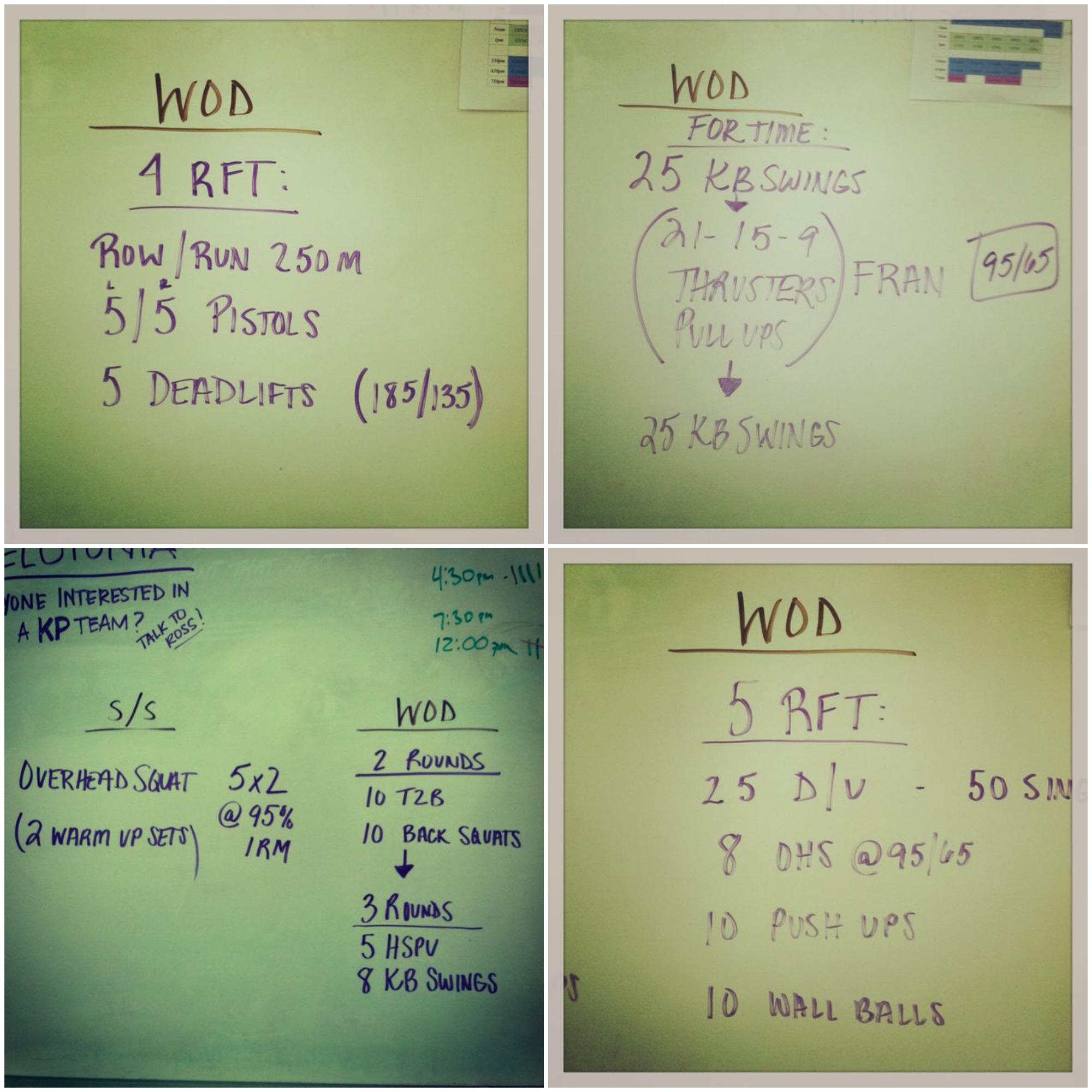 1. Freakin' killed this #wod – 6:20 rx plus a 25# PR for overhead squats!! I did two at 100#! I LOVE pistols!
2. Spicy Fran conquered! This was the traditional Fran benchmark workout with kb swings added at the beginning and end. I finished in 10:45 Rx, which means I smashed my previous Fran time. Last time I did Fran, my time was 12:05. This time, I finished 25 kb swings, plus Fran in 9:53, which means if I'd just been doing Fran alone, I would have gone sub 9 min, which is awesome!
3. Finished in 6:09 with 125# back squats and 35# kb swings. Plus 95# overhead squats for skill/strength!
4. This was a good one! 11:59 rx plus a snatch PR- 85# 🙂
One Saturday I tackled this workout with another guy from our box. Let me tell you, it was brutal: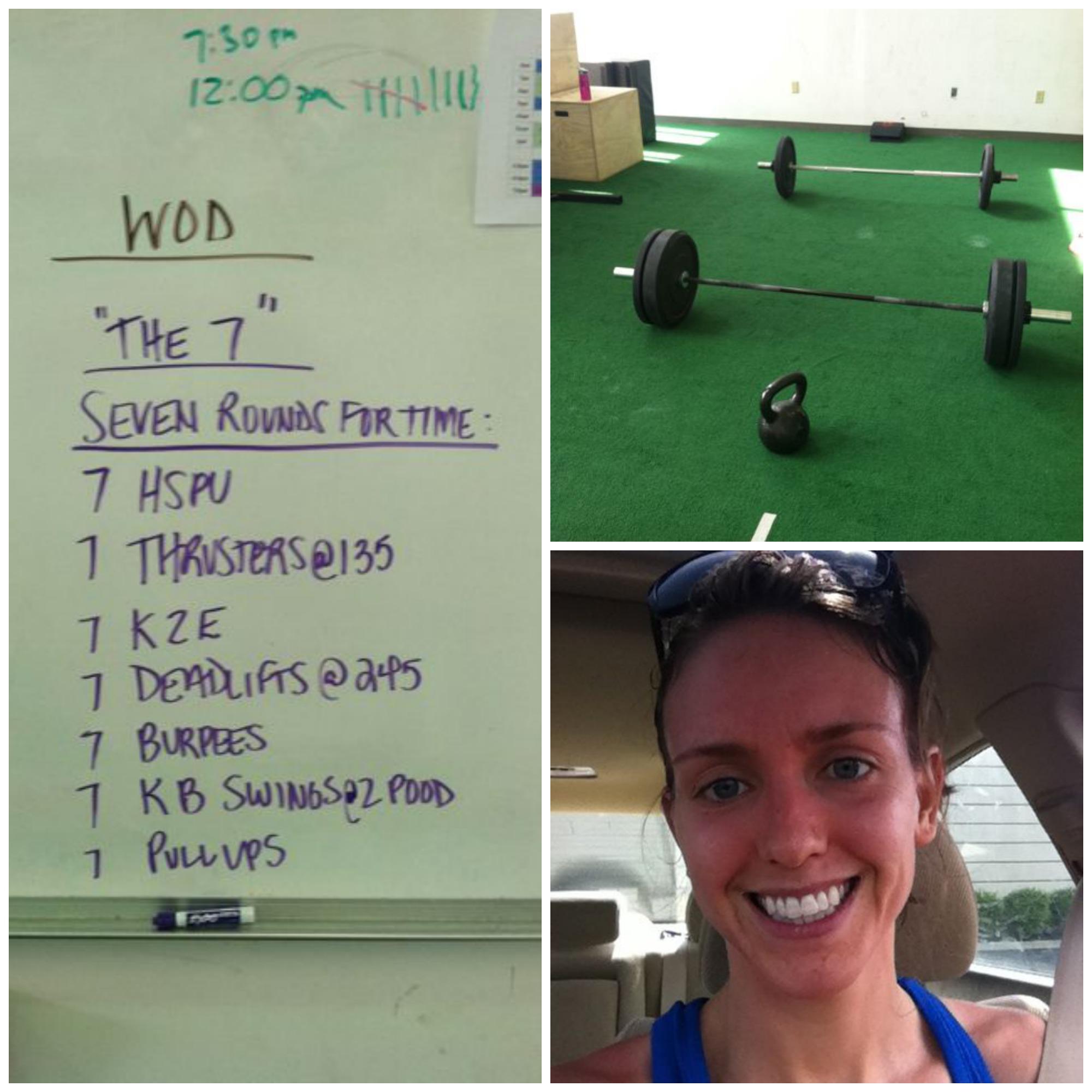 I finished in 38:57 with 70# thrusters, 145# deadlifts and 53# kb swings. If you can't tell by how red my face was afterwards, it was HARD. But I did it!
We've also been sneaking in some walks with the buddies!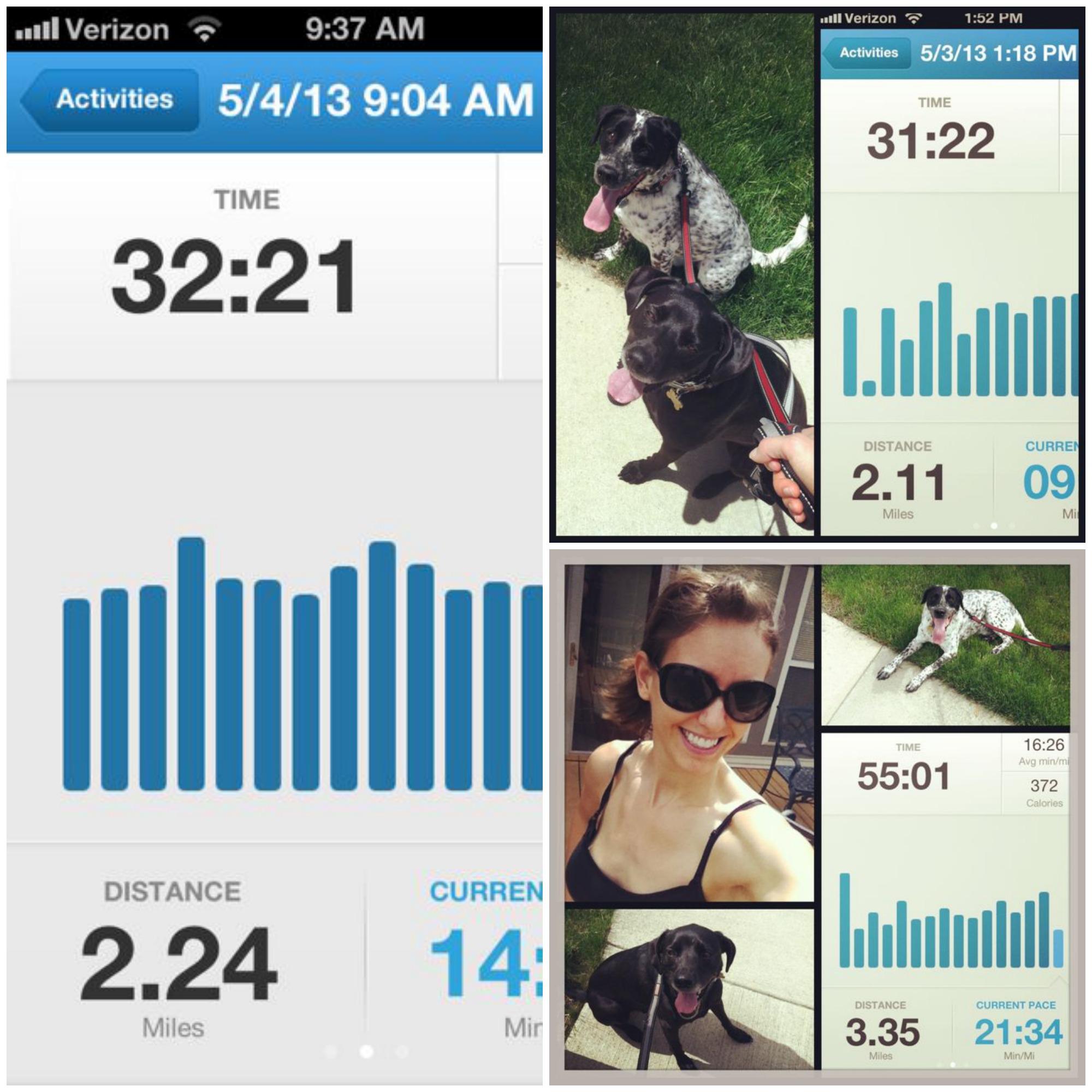 But mostly, it's just been crossfit, crossfit & more crossfit. LOVE IT: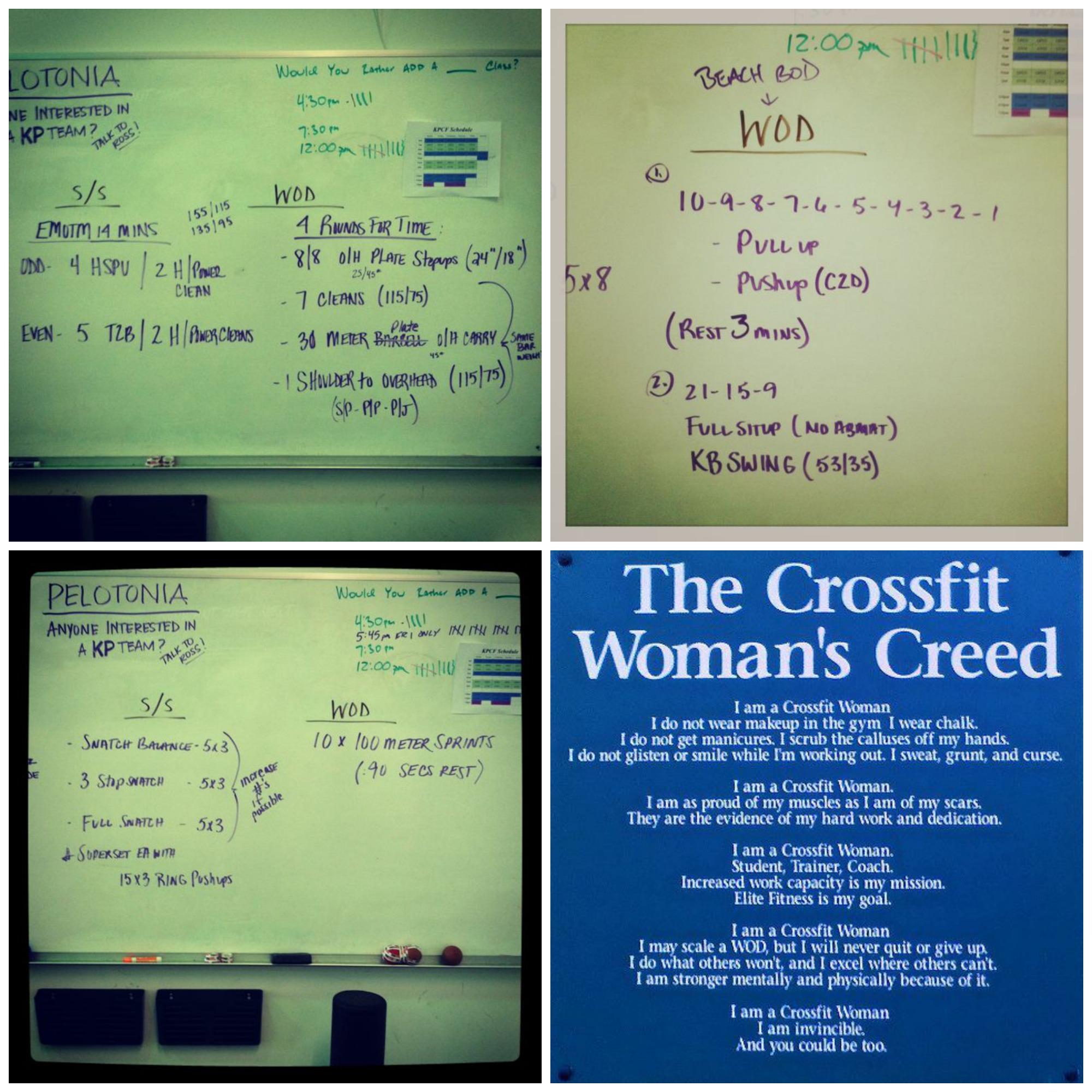 1. Holy shoulders! 115# hang cleans for the strength/skill, then did the #wod in 11:33 rx.
2. 6:59 for the first part, 6:05 for part two, plus 5×10 95# back squats
3. Snatches and sprints
4. Saw this on twitter last week and loved it.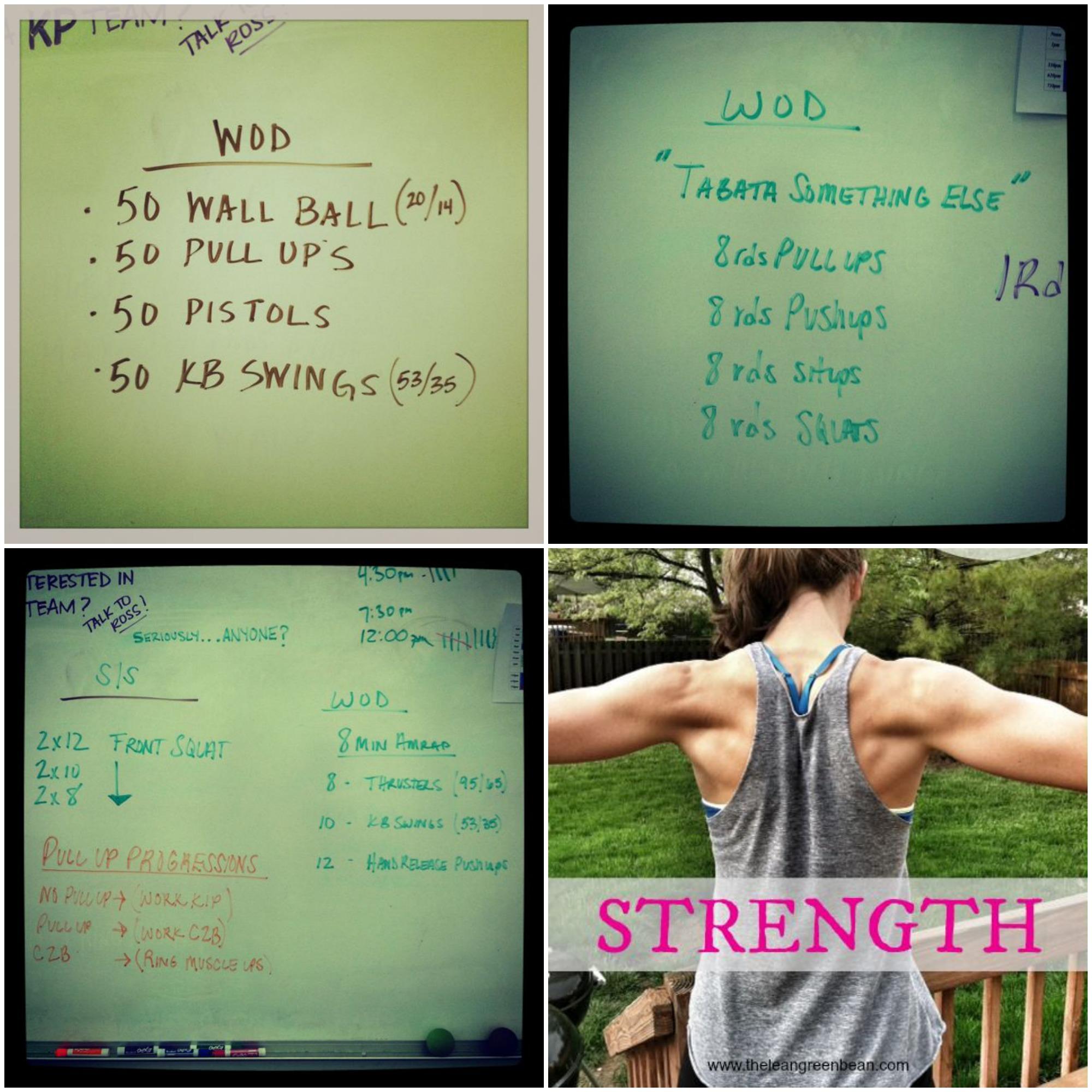 1. We did this one on Saturday. It's HALF of one of the Crosfit Games Regionals workout. Our coach was doing the whole thing to practice since she's going to Regionals…so she did 100 wall balls, 100 chest to bar pullups,  100 pistols and 100 one arm 50# dumbbell snatches. It was ridiculous. The rest of us did this modified half version and it was still killer. I finished in 12:15 Rx.
2. This one was harder than it sounds. We did 8 rounds of each exercise, 20 sec on, 10 sec rest and you counted your LOWEST score. So my scores were 5 pullups, 6 pushups, 10 situps, 14 squats.
3. This day almost killed me. I was shaking like a leaf when we finished. I got up to 105# front squats for 8 reps and finally got the motion of butterfly pullups! Then I did 3 rounds +24 reps of round 4 for the wod.
4. Strength is beautiful 🙂
———————-
WHEW! All caught up. In other news…tickets for the Crossfit Games went on sale on Monday and hubby and I bought some!!! CANNOT WAIT to go to the games and see all the amazing athletes! Plus, they're in California…so that's awesome!
Let's chat: How have your workouts been lately? Done any good ones? Leave me a link!
Enjoy!
–Lindsay–
LEARN HOW FOOD AFFECTS YOUR BODY.
Get my free Table Talk email series where I share bite-sized nutrition information about carbs, protein, and fat, plus bonus information about snacks and sugar!