Hi Friends!
Today we're talking simple healthy habits with the lovely Alysia from Slim Sanity. It's hard to remember exactly but I think Alysia and I met through Foodie Penpals. She's been a wonderful supporter of my blog over the past couple of years and she has an amazing blog of her own that you should definitely go check out. She posts amazing recipes like Apple Turkey Burgers and Banana Coco Chip Muffins, has an awesome Blog Tip Friday series that's super helpful AND she posts fun workouts! Bonus- her dog is adorable 🙂
Take it away Alysia!
———–
What comes to mind when you think of habits? I often think of bad habits like nail biting, being late or playing with your hair. The definition of a habit is 'a settled or regular tendency or practice, especially one that is hard to give up.'
Why does it seem as if the habits that are hard to give up are bad? I know changing any habit is hard, whether it be ridding a bad habit or adding a good habit. There are plenty of good habits we can all start putting into practice. If we try hard enough, maybe they'll stick! Here are seven healthy habits that I try to keep up with.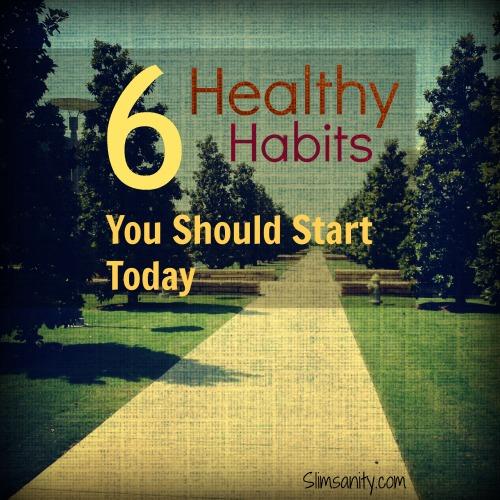 1. Turn off your phone. This is a hard one for me as a blogger. I'm constantly reading other blogs, connecting with people, and checking e-mail. Time spent with family, having personal time, or just down time in general is a lot more relaxing when we aren't staring into the blinding light of social media. I try to turn mine off at night, or leave it at home when we go for a walk. It's also good to keep your device from malfunctioning!
2. Walk on your lunch break. I was really great at this one for a long time, and I found myself getting busy (or lazy, perhaps) and they slipped from my normal routine. I'm getting better at them again now. I'll go for a 20-30 minute walk over my lunch break. It's pretty easy to do since I pack my own lunch. I don't drive anywhere for food and I get a little more free time. Depending on the weather, I'll walk outside or around the halls of my buildings at school!
3. Floss daily. I get this one checked off the list about 3 times a week. That's also due to laziness (maybe we have a theme going on here?).
4. Make more smoothies. Making a protein shake or smoothie is an easy way to add more fruits and veggies into your diet! I promise you, you can't really taste the spinach in a green smoothie when you add some fruit to it!
5. Foam roll. I still haven't purchased one of my own, but I'll use a foam roller when I go to the gym. It's a great way to loosen up your muscles. It's really quite relaxing once you're done. For those with IT band issues, it's a great tool!
6. Be social. It's easy to get caught up with work and routines and be too tired during the week to catch up with friends. Choose a night to routinely get together. Just because you are trying to eat healthy doesn't mean you need to avoid parties and happy hours. If that is the case for you, set limits for yourself and stick to them. Go on date nights with your significant other. Quality time is so important! We have a few select places where we can go to catch a cheap bite to eat and a drink during the week. Having fun and enjoying time with friends and loved ones is necessary for your mental health, which is just as important as your physical health.
————
I love her tips because they cover all aspects of healthy living, not just food! Huge thanks to Alysia for filling in for me today!
Let's chat:
What's one healthy habit you will start working on this week?
Enjoy!
–Lindsay–