Hi Friends!
I wasn't going to do a WIAW post this week, but I didn't want to let down my girl J$.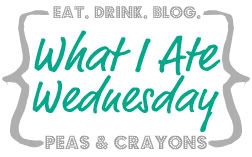 And, after checking my phone, turns out I took a lot of pictures of my food over the past few days! So…we're good to go.
Breakfasts were a little different this week. I ran out of cereal (gasp) and milk (double gasp!) so i had to branch out. I enjoyed ab&j toast several days in a row.
See that almond butter? Thanks to my friends at Swansons Health Products, I was recently able to pick out some new-to-me products to try at no cost to me…If I'm being honest, I picked out that almond butter solely because of the raccoon, but let me tell you, it's my new fav!! It took me a while to adjust to almond butter but I'm really starting to like the taste.
You can find it on their website by clicking here.  They have crunchy and creamy!
For a snack, I've been enjoying my yogurt bowls. This week they were extra special thanks to some samples I got from fellow Fitfluential Ambassador Nicole! She started her own business called Pure Bliss Eats and I won some samples in a round of Twitter Trivia that she hosted. I really enjoyed everything she sent and I love that it's all so natural and healthy. Go check out her website!
Lunches included lots of staples. My favorite whole wheat oatmeal pancakes (i added chia seeds for the first time and loved them even more), smoothies, veggies, peanut butter and banana sandwiches and some homemade chia jam! It was my first time making it and I really liked it! More on that to come once I finalize the recipe for those scone/biscuit things it's on. They're a work in progress!
Dinners were on-point this week! Veggie packed and delicious! Crockpot chickpea and veggie curry, veggie & black bean quesadillas, fish tacos (which I recreated after having them at BJ's Brewhouse over the weekend) and shrimp pad thai (which I recreated at home after going out for thai on Friday and not getting any veggies besides bean sprouts in my pad thai!). Mine was way better 🙂
Oh, and I also bought a 10 pound box of sweet potatoes at Costco.
For just the two of us.
And for dessert: Puppy Chow Almonds. Enough said.
That's all friends. Happy Wednesday. It's my first official day of nothing to do on spring break, so you can find me in the kitchen 🙂
I'll leave you with this:
If you don't think it's laugh out loud funny, you clearly don't have any of these:
Today's workout:
–Lindsay–
PS. There's still time to vote for my blog for Best Healthy Eating Blog over at Fitness Magazine! Click here PLEEEEEAAAASE!