Hi Friends!
Time for another WIAW with the lovely Jenn.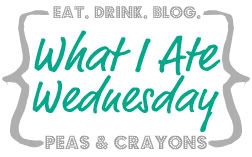 I've had some GOOD eats lately so I'm excited to share! Let's get to it!
Some weekend breakfasts:
Coffee, Kashi, Blueberries, Muffins
LOTS OF WATER
Some  Snacks & Lunches:
Giant salmon salad from Earthfare
PB toast & a yogurt bowl
Eggs w/ cheese, toast and avocado
Wood-fired veggie pizza
Did I mention muffins?
THESE MUFFINS.
Lots of them.
Except with an extra egg cuz the batter was dry,
and no apples cuz I didn't have any.
Homemade trail mix

Dinners
Pan-seared salmon w/ red peppers & brown rice
Plus sweet potato chips
And a salad w/ fruit and goat cheese
LOTS of green beans
Mexican Tostada Stack-ups
Clam Spaghetti
Shrimp & Black Bean Nachos w/ Goat Cheese
UNREAL. (and homemade!)
What's the best thing you've eaten lately?
Enjoy!
–Lindsay–
PS. Don't forget to join us for Foodie Penpals if you haven't already!
CLICK HERE to sign up.
P.S.S. Email me if you want to be a sponsor of The Bean,
and put your pretty blog button on my blog.
CLICK HERE for info.