Hi Friends!
Happy Friday 🙂 Time for another week of workouts!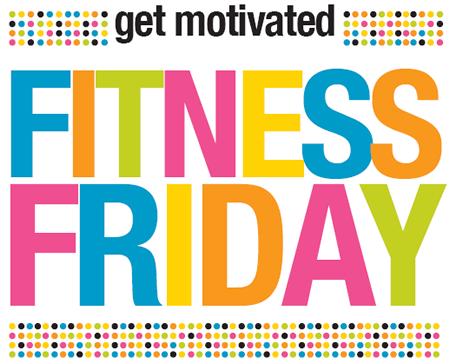 Gosh I love Fridays 🙂 I've got some good workouts to share with you today! My favorite this week was the Fast 4 & Core so be sure to check that one out!
Let's get started shall we?
Feb 3rd – Rev & Recover Tabata Workout
I kept the tabatas simple with only 2 exercises for each one. Tabatas 1 & 2 and 4 & 5  will rev up your heart rate and get you breathing hard. Tabatas 3 & 6 let you actively recover with tabatas geared towards ab exercise.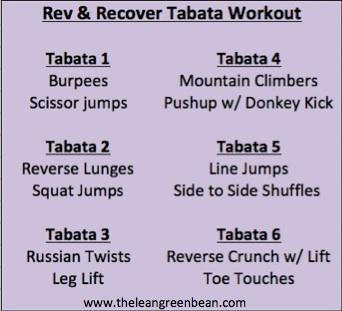 I liked this tabata because it was quick, but still got me sweating. I did 20 sec of work/10 sec rest eight times total per tabata so each exercise was done 4 times. It took 24 minutes with no rest between tabatas.
———————————–
Feb 4th  – I put together a stability ball workout with cardio blasts. Each exercise was done for 50 sec. followed by 10 sec rest. This took 20 minutes, followed by an optional 5 minute ab workout that could be done once or twice.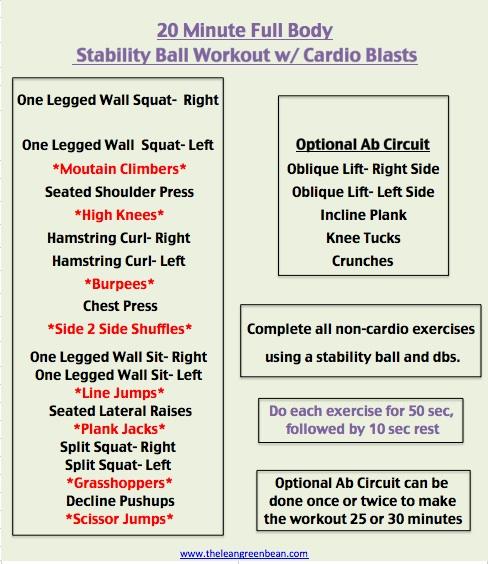 If you're not sure how to do any of these exercises using a stability ball, just google them! There are tons of videos out there to show you, but here's a quick run down:
One legged squats– place the ball between your back and a wall. Stand on one leg and squat down. The ball will roll down the wall with you.
Seated shoulder press- Sit on the stability ball and do shoulder presses like normal
Hamstring curl– Lay on the floor and place one foot on top of the ball. Roll the ball towards you using your hamstring and then roll it back out.
Chest press– Place your feet on the floor and your upper back on the ball. Perform chest press like normal.
One Legged Wall Sit- Place the stability ball between your back and the wall. Stand on one leg and roll down the wall until your leg is in a seated position. Hold.
Seated lateral raises– Sit on the stability ball and perform lateral raises as usual
Split squat– Put one foot, laces down on the top of the stability ball. Stretch your front leg out to a lunge position. Squat up and down.
Decline pushups– Put your feet on the stability ball and your hands on the ground and do pushups.
Abs:
Oblique lifts– google this one
Incline plank– Do a plank but put your forearms on the stability ball and keep your feet on the floor
Knee tucks– put your hands on the floor and your legs on the stability ball. Pull your knees towards your stomach, rolling the ball in with them and back out
Crunches– lay with your back on the stability ball and your feet on the floor and perform crunches like normal
————————————–
Feb 5th– Wanted to push myself with running and do some core work so this is what I put together: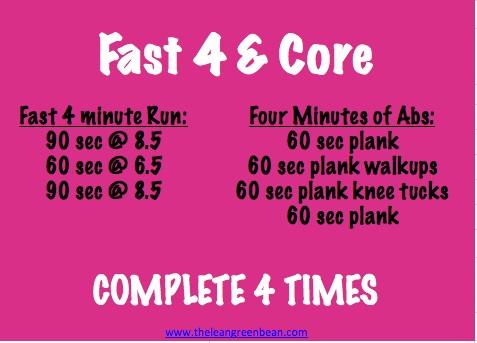 Pin It

This speed was crazy fast for me. It's basically a 7:45 min mile, and you end up running just over ½ a mile…then ab work…and repeat. I covered 2.08 miles.
——————————————-
Feb 6th– I did this workout– still one of my all-time favs. Kills me every time. I used 15# dbs and it took me 23 minutes.
—————————————-
Feb 7th-rest day for me, but hubby made himself a little 100 workout so I thought I'd share it with you!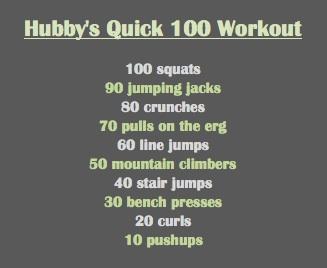 —————————————-
Feb 8th– My legs were a little tired still, even after my rest day but I wanted to do a bit of running. I also knew I needed to do some upper body lifting. I'm notorious for avoiding pretty much all upper body weights except shoulder presses…but I'm working on it! I put together a 3 mile decrease run, where the miles are broken up by upper body exercises and each mile, you decrease the amount you run and increase the amount you walk.
I used my goal speeds from my 8 min miles workout and finally got it dead on! If you run alternating 8.6 and 6.6 mph you will finish a mile in exactly 8 min.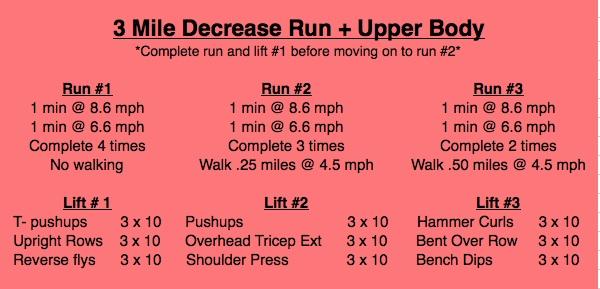 With those treadmill speeds you'll finish the first mile in 8 minutes, the second in 9:20 and the third in 10:40. You can make it more challenging my increasing the incline during the walking portions. For the lifting I used 10# dbs for everything except the tricep ext where I used one 15#.
———————————-
Feb 9th- I wanted to tackle some leg work, so I chose some exercises that worked the quads and some that worked the hamstrings and glutes (hence the front/back workout name). Then I threw some abs for good measure! Here's what it looked like: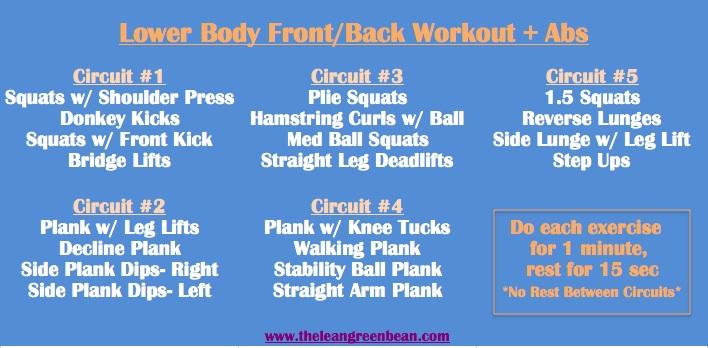 I used 15# dbs for most of the leg exercises. The hardest part for me? Two full minutes of side plank dips! Yikes!
———————————
So there you go friends 🙂 Any of these look like fun to you?? Now it's your turn. Tell me about the best workout you did this week?
Enjoy!
–Lindsay–