Hi Friends!
Just popping in with a quick Fitness Friday update for you! Here are some of my workouts from the past couple of weeks: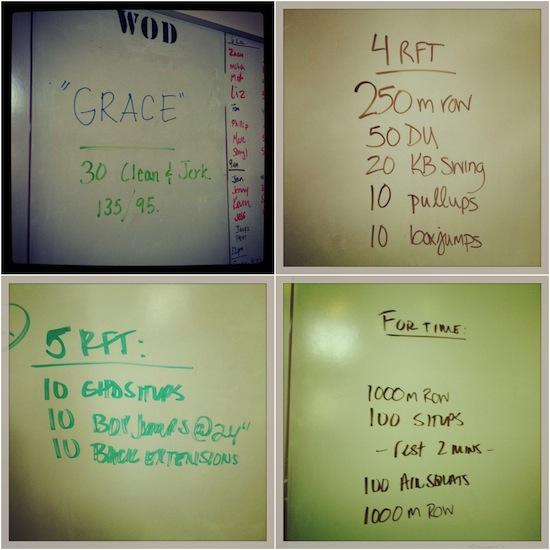 1. Grace is one of my favorite crossfit benchmarks. A couple months ago I did it with the RX weight for the first time and did it in 5:08. This time I was determined to do it in under 5 minutes and I did. 4:34 Rx. New PR and it just about killed me!
2. Saturday open gym WOD- 23:31 with a 35# kb and a 24 inch box
3. Did a little bonus wod with hubby afterwards- 7:48 for me. He did it in 7:32 with weighted stepups instead of box jumps.
4. This was a good one. Hit a 115# push press PR and then finished the WOD in 17:16. My legs were definitely feeling the burn on that last row.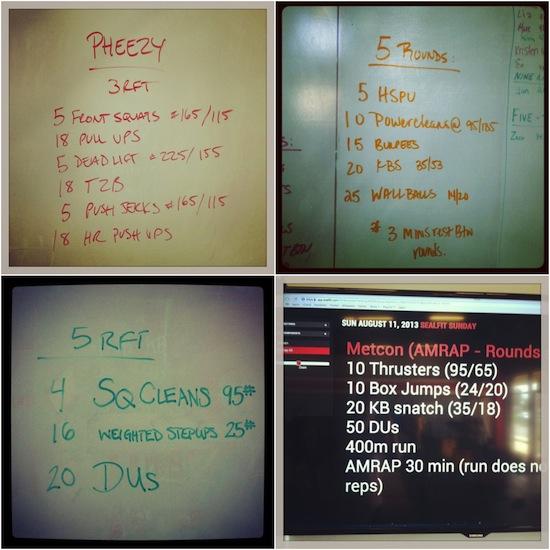 1. My friend Scott & I tackled this hero wod. It was rough. I finished in 20:05 and used 105# for the front squats and jerks and 155# for the deadlifts.
2. Another super tough one. Finished in 34:50 with only 90 sec rest between rounds instead of 3 min.
3. Another saturday wod- 11:36 rx
4. Sunday morning Sealfit class! Finished 5 rounds + 14 reps of round 6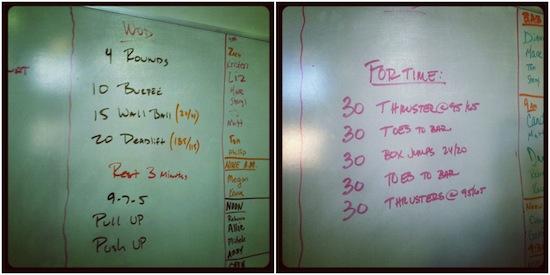 1. Sweaty mess after this one! 4×8 one and a quarter back squats at 115#, 11:54 rx for the first wod and 2:12 for the second
2. Finished this one in 10:20. I subbed v-ups for toes to bar because I didn't want my hands to rip…
And here's why: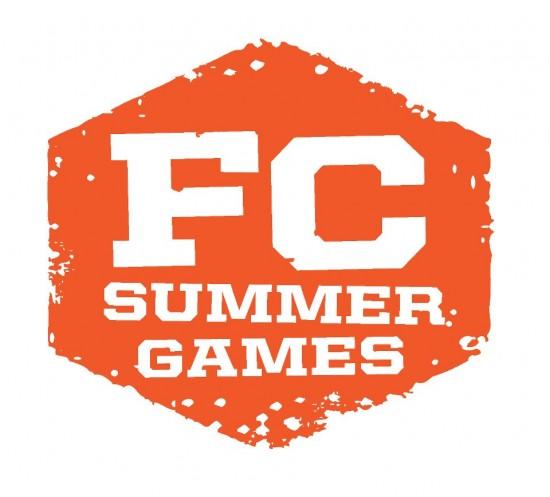 I'm competing in my first Crossfit competition this weekend! Quite honestly, I had no idea what I was getting myself into when I signed up. First of all, it's a bigger comp than I thought it was. There are two divisions- Elite & Open. The Elite group is about 10 women and 20 men. Then there are about 65 women and 80 men in the Open division, which is what I'm doing. Second of all, you don't find out the WODs until the morning before…which is this morning…so I'll try to update this post after they announce them!
I'm going in with absolutely no expectations and just kinda hoping I can do all the movements in the WODS 🙂 I guess we'll see! All in all, it should be fun. A lot of my friends are competing as well and it's a local competition so we don't have to stress about travel or anything. I'll let you guys know how it goes!
Have a great weekend, friends!
Enjoy!
–Lindsay–
LEARN HOW FOOD AFFECTS YOUR BODY.
Get my free Table Talk email series where I share bite-sized nutrition information about carbs, protein, and fat, plus bonus information about snacks and sugar!