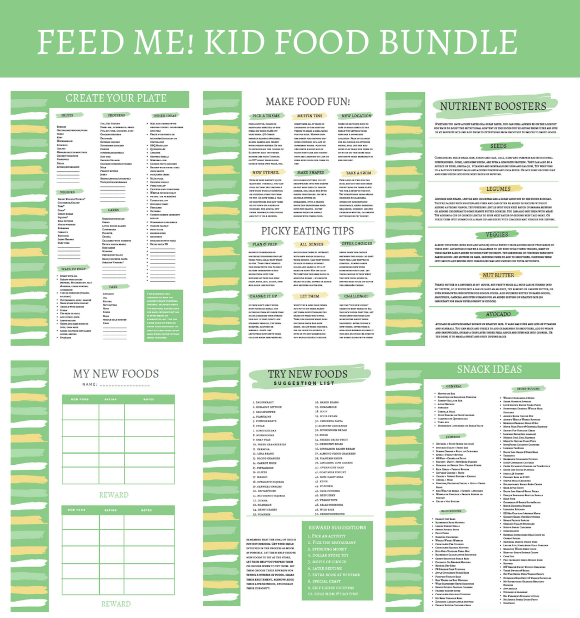 This is a resource my followers have been asking me to create for many years and I'm so thrilled to be able to offer it to you! It's a simple PDF bundle that covers a variety of topics that revolve around feeding toddlers and kids- something we all know can be both frustrating and challenging and oh so rewarding!
This PDF Bundle Includes:
Create Your Plate Worksheet - Many of you have been asking for this forever! It's basically a printable that's designed to help you quickly put together well-balanced plates when feeding kids. I've given you suggestions for fruits and veggies, ways to prepare veggies, protein sources, carb sources, healthy fat sources and some of our simple, go-to meals. Print it out and hang it inside a cupboard so you can refer to it when you're stuck in a rut at mealtime or just looking for some new ideas. Per your request, I also left a few blank lines in each category so you can add your child's own favorites to help keep them top of mind!
Snack Ideas - This is a text-only version of my 60+ Packaged Snacks for Kids blog post, plus some of my blog recipes that are good for snacks and some easy balanced snack combos!

Make Food Fun

 - I always get asked for tips to handle picky eaters, so this includes some of my best tips for making food fun and battling picky eating habits!
Try New Foods/My New Foods- If you follow me on Instagram you know that I'm trying to make it a habit to pick up a new food each week at the grocery store for my kids to try. This includes new fruits and veggies but also goes beyond to encompass all aisles of the grocery store! There are so many foods out there that are new to your kids. This provides a list of suggestions for new foods to try with your kids and a printable new foods chart so they can track and rate new foods and earn non-food rewards.
Nutrient Mix-ins - Whether you have a picky eater or not, adding nutrient-dense mix-ins to their foods is a great idea! Here are 5 of my favorite nutrient boosters to add to everything from muffins to sauces.