Stash an emergency trunk bag in your car so you're never caught unprepared. As a parent, you never know when things like a change of clothes, an old towel, or a pair of scissors might come in handy!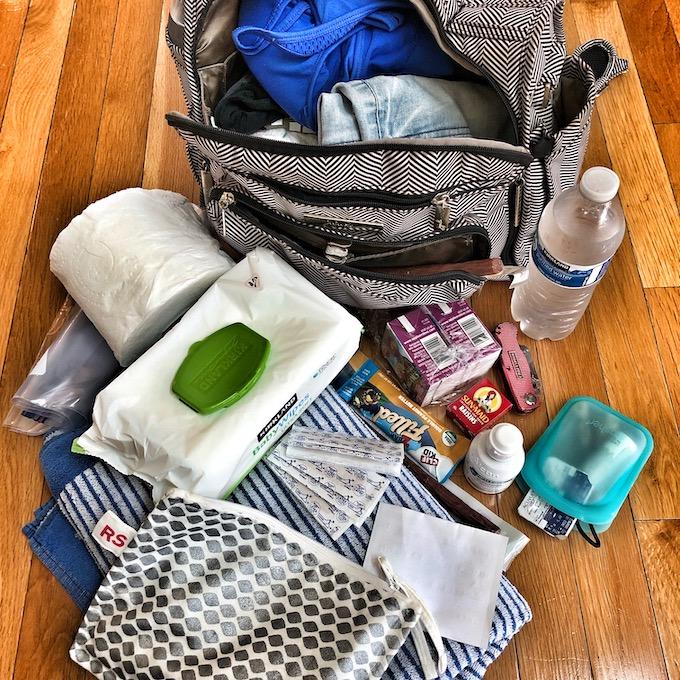 Hi friends!
Earlier this summer, I finally put together an emergency trunk bag for my car. This is something that's been on my list for ages but I've just never taken the time to pull it all together. Although this bag is similar to a diaper bag, it differs in the fact that it never leaves my trunk. Sometimes, despite my best intentions, I bring the diaper bag into the house to restock it and forget to return it to the car, or accidentally leave it in my husband's car or at a play date. The emergency trunk bag is like a diaper bag on steroids. If I need to restock it, I bring the items directly out to the car so there's no chance of me being caught without it.
Here are some things you can include:
Old towel
Baby wipes and a roll of toilet paper
First aid kit
Large Ziploc bags for holding dirty or poopy clothes or for a barf bag
Bottled water (and formula if needed). Try to use stainless steel bottles instead of plastic if possible!
A full change of clothes and diaper for each parent and kid
Pocket knife or pair of scissors
A few non-perishable snacks (I also included some juice boxes because my husband is a type 1 diabetic)
Personal care kit including hair ties, Tylenol, tampons, cough drops and an extra pair of contacts and contact solution.
A piece of paper with phone numbers and medical info written down in case you lose your phone or are hurt/can't remember (You can also tape this info on car seats and put it in the glove box)
Sunscreen and bug spray
Phone charger
Duct tape
Flashlight
Lysol wipes and hand sanitizer
Trash bags
Lighter
Cash and quarters
Kid socks for trampoline parks and play gyms that require them
Other bigger items to consider: a portable potty seat, blanket
Remember to set a reminder on your phone or calendar to update your bag 2-3 times a year. Change out clothing so it's seasonally appropriate, add a couple of spare coats or a blanket in the winter. Also, label the bag as your emergency kit so first responders can easily identify it if you're in an accident.
Here in Ohio, it gets hot, but not as hot as some places and I know some people are concerned about certain items holding up in the heat. But in my opinion, having something that will maybe help is better than not having it at all. Checking the bag a few times a year will allow you to stock fresh water, replace wipes and snacks that may have dried out, change flashlight batteries etc!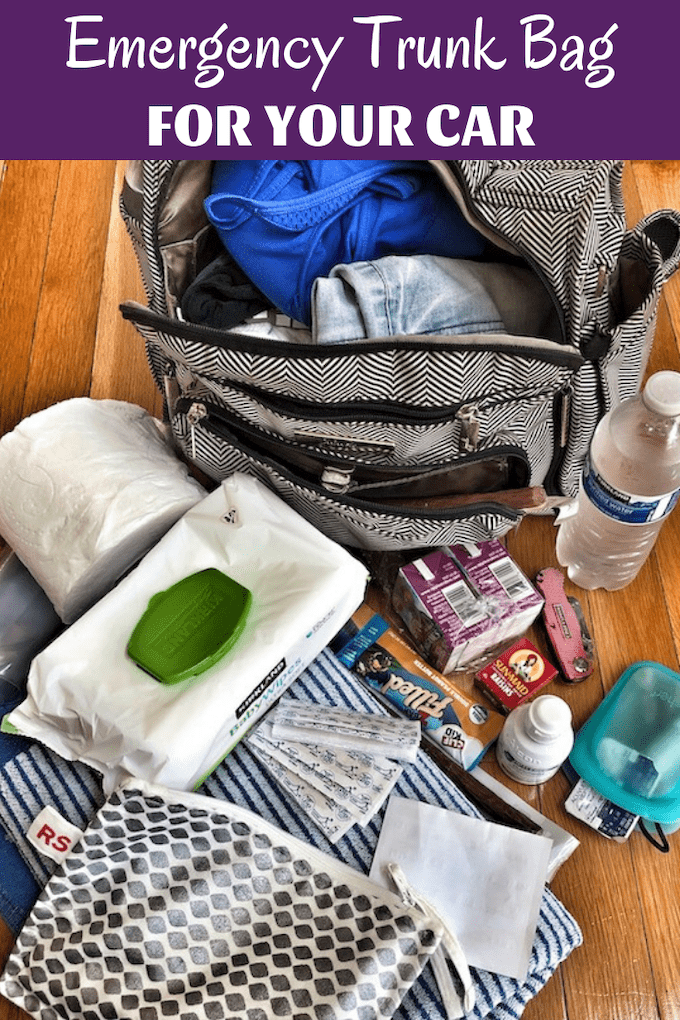 Do you have an emergency trunk bag? What am I forgetting on my list??
Enjoy!
–Lindsay–
LEARN HOW FOOD AFFECTS YOUR BODY.
Get my free Table Talk email series where I share bite-sized nutrition information about carbs, protein, and fat, plus bonus information about snacks and sugar!