Hi Friends!
It's recipe time. Today you're in for a treat from one of my favorite foodies! Laura & I connected online several months ago through our blogs and we were finally able to meet in person at Blend last month!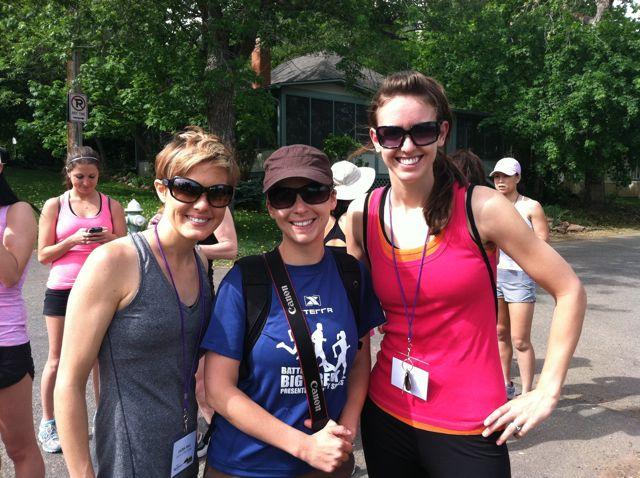 A few things about Laura:
She's tiny, totally adorable and super ripped!
She is one of the most creative people I know in the kitchen.
She loves pushing through a butt-kicking workout as much as I do.
Her smile and laugh are infectious and I loved being around her!
———————————————
Hi! I'm Laura from Sprint 2 the Table!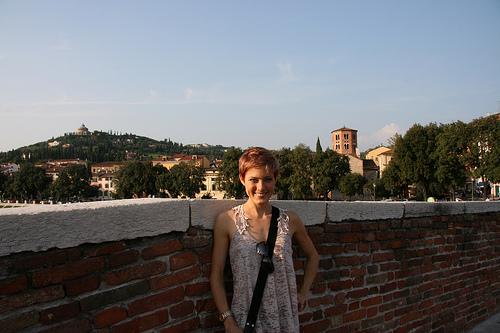 Sprint 2 the Table is a collection of recipes, food adventures, races, strength training, and general pontification.
Why the name?
I live my life from meal to meal. Sometimes I think I'm just hustling through my daily activities so I can get to the next occasion for mastication. At bedtime some people count sheep, some people have lull-a-byes… I fall asleep at night thinking about what I'm going to eat for breakfast. It's a sickness, I know. Oh, and I also run.
When Lindsay asked me to do a guest post, I immediately thought to create a healthy baked "treat" recipe for her that is packed full of nutrients but won't weigh you down. This girl is a rockstar athlete, and I know that proper fuel is important for her.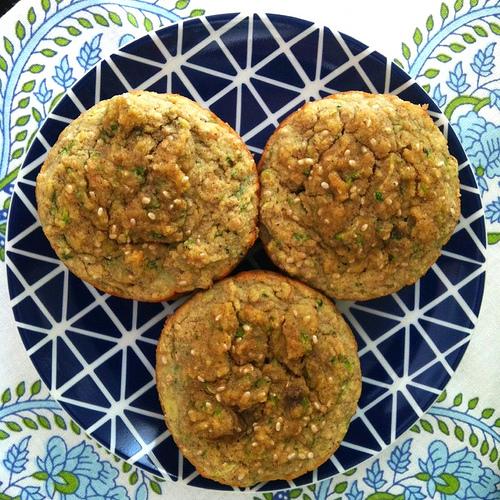 Over the past year I have discovered coconut flour. It's a great flour sub in baked goods because it is loaded with fiber, is naturally sweet, and is low on the glycemic index (GI ranks carbs by the effect they have on your blood sugar). It is also gluten-free!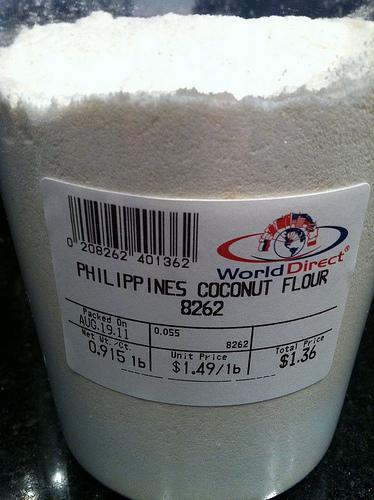 Click here  for more info on it's benefits, and a recipe for Coconut Banana Chocolate Chip Cookies.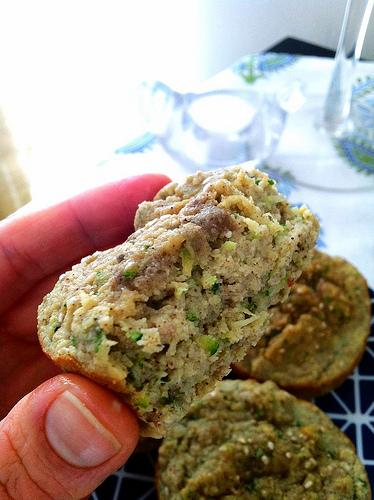 Another plus for these Banana-Maple Zucchini Muffins is that they are nearly sugar-free, thanks to the power of bananas. I also included zucchini for the added moisture and chia seeds to make sure to include some healthy fat.
These guilt-free muffins are fantastic with a coffee in the morning, or with a glass of milk for a midnight snack. They also freeze well – I keep a batch in the freezer for a quick snack when I'm running late.
____________________________________________________________________________________________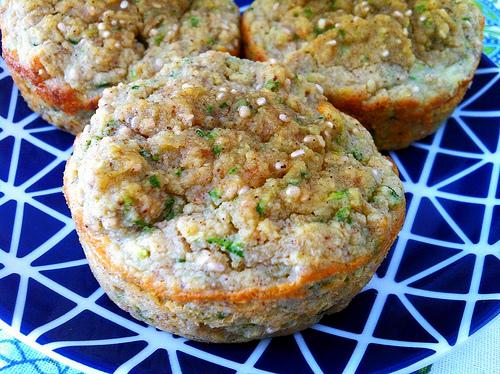 Banana-Maple Zucchini Muffins (Gluten-Free, Vegan option)
1/4 cup coconut flour
1/2 tsp cinnamon
1/4 tsp baking powder
2 T NuNaturals fiber baking blend (Stevia)
1 T Xylitol
1 T chia seeds
Pinch of salt
2 eggs, whisked
3 T applesauce
1 T coconut oil, melted
1/2 tsp maple extract
1/2 tsp vanilla extract
1 ripe mashed banana
1/2 large zucchini, grated
Preheat oven to 350 degrees. Grease muffin sheet with coconut oil.
Whisk eggs in a large bowl. Add remaining wet ingredients and mix.
In medium bowl mix dry ingredients. Add wet to dry ingredients and mix well. Stir in mashed banana and grated zucchini.
Bake for 20 mins, until golden on tops.
Makes 6 muffins.
Notes: You may use maple syrup in place of the maple extract and sugar substitutes. Other sweeteners can be subbed for the Stevia and Xylitol. To make vegan, sub the 2 eggs for 2 flax eggs.
Approximate Nutritionals: 113 calories, 5.8g fat, 63.3mg sodium, 13.3g carbohydrates, 4.1g fiber, 3.9g sugar, 3.9g protein.
***
I hope you all enjoy this recipe! Please swing by my blog,  Sprint 2 the Table, and say hello sometime. 🙂
Lindsay, thank you so much for allowing me to take over your blog today. I hope you are having a fabulous time!
xo,
Laura
————————————–
I'd say these are pretty much the perfect summer muffin….so get baking!
Enjoy!
–Lindsay–
LEARN HOW FOOD AFFECTS YOUR BODY.
Get my free Table Talk email series where I share bite-sized nutrition information about carbs, protein, and fat, plus bonus information about snacks and sugar!