Hi Friends!
Today's guest post comes from a fellow food blogger that I truly admire. She whips up some of the most delicious recipes (including the one below). I've been reading her blog forever and was so excited when she offered to guest post for me!

A little bit about Brooke:
Brooke Shea blogs at Baking with Basil where she enjoys sharing simple, sugary treats and the occassional savory dish.  Her love for baking started young when she would go over to her grandma's house and dirty her counter up with flour and sugar.  She's been addicted ever since.
Take it away Brooke!
————————————–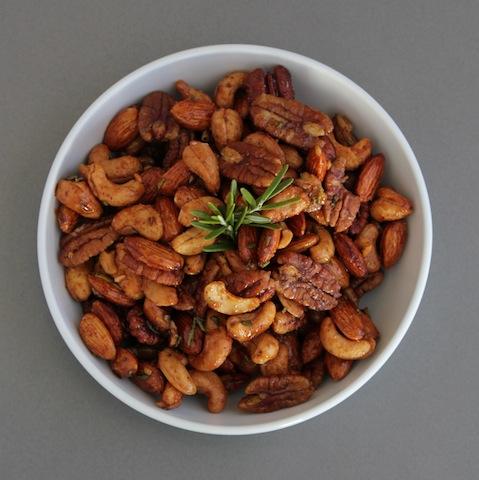 Hello LGB readers and Happy Holidays!!  I am honored to be guest posting on The Lean Green Bean today!  When I first told Lindsay I would guest post for her I knew I wanted a recipe that was a little bit sweet and savory.  So the days passed and I continued to be stumped on what to make.  I sat down Saturday morning in an attempt to clean off the massive amounts of Food Network shows that were recorded and of course the first one I went to was Barefoot Contessa.  Ina always has good options to choose from and these spiced nuts were just what I was looking for.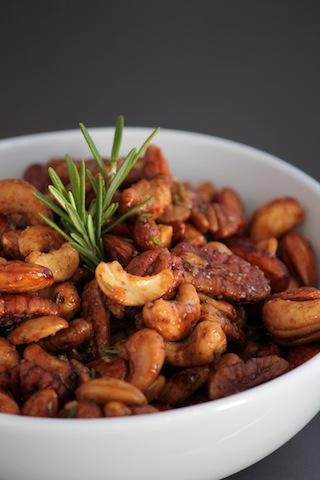 I'm a huge fan of spiced nuts!  Especially those ones at the mall or at festivals that have the crunchy cinnamon-y coating on the outside.  Oh my!  It's more a dessert than anything but they are soo good.  This recipe initially drew me in from the combination of sweet and spicy.  As Ina went on to make the recipe, I got pretty excited at the simple list of ingredients (minus the ground chipotle powder which I found at my local supermarket).
These little guys are good!!  They are slightly smoky, sweet, salty, and would make a great addition to any cocktail party.  Or even a homemade gift for the spiced nut fanatic in your family.  Now how easy is that??  🙂  Be sure to save yourself a few extra because they are addicting and you can't try just 1 or 2.  I hope you are all having a wonderful holiday season and have a very Happy New Year!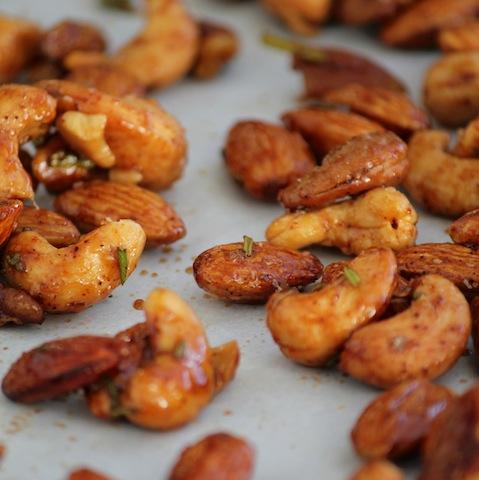 [print_this]
Chipotle and Rosemary Roasted Nuts
Recipe adapted from Barefoot Contessa
Ingredients
2 tbsp canola oil, divided
3 cups whole cashews, unsalted
2 cups whole almonds, unsalted
2 cups whole pecans, unsalted
1/2 cup walnuts, unsalted
1/3 cup pure maple syrup
1/4 cup light brown sugar, lightly packed
3 tbsp freshly squeezed orange juice
1 1/2 tsp ground chipotle powder
3 tbsp minced fresh rosemary, divided
4 tsp kosher salt
Directions
1.  Preheat oven to 350 degrees.  Pour 1 tbsp canola oil onto a large baking pan, spread evenly.  Set aside.
2.  In a large bowl, combine the cashews, almonds, pecans, walnuts, 1 tbsp canola oil, maple syrup, brown sugar, orange juice, and chipotle powder.  Toss to coat the nuts evenly.  Add 2 tbsp rosemary and 2 tsp salt and toss again.
3.  Spread nut mixture evenly onto prepared pan.  Roast nuts for 25 minutes or until the nuts are glazed and golden brown.  Stir twice while nuts are roasting.  Meanwhile, line 2 pans with parchment paper.  Set aside.  Remove from oven and sprinkle with 2 tsp kosher salt and 1 tbsp rosemary.
4.  Immediately transfer nuts to remaining 2 pans in a single layer, dividing evenly.  Be careful not to scrape the extra glaze from the pan onto cooled sheets, this will aid in the nuts not sticking together as much. While nuts are cooling, stir frequently to keep them from clumping together.  Store in an airtight container at room temperature.
Notes:
Feel free to use any combination of nuts that you want.  If you do use salted nuts, cut back on the salt in the recipe.
Even with spreading them onto a separate pan to cool, the nuts still stuck together but it did help.  Since making them, I've read that an egg while wash helps in them not sticking but haven't tried it yet.
For more/less smoky, spicy flavor, increase or decrease ground chipotle powder by 1/2 tsp.   
Ground Chipotle Powder is different from Chili Powder.  The Chiptole Powder is what lends to the smoky, sweet flavor.
These are great served warm or at room temperature.
[/print_this]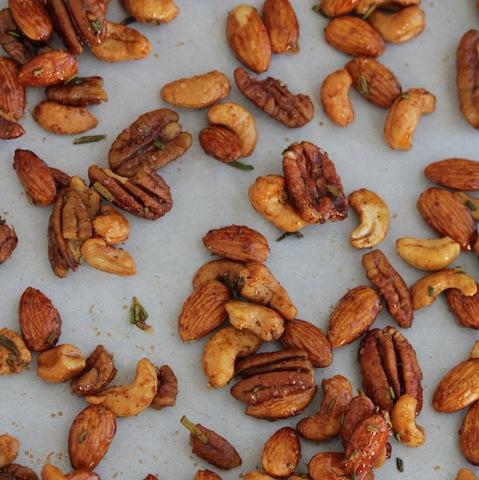 So there you have it! Do you guys have a favorite kind of spiced nuts?
Enjoy!
–Lindsay–
LEARN HOW FOOD AFFECTS YOUR BODY.
Get my free Table Talk email series where I share bite-sized nutrition information about carbs, protein, and fat, plus bonus information about snacks and sugar!