Looking for the best chapter books for kids? Here are 100+ chapter book series perfect for preschool, kindergarten and first graders. Perfect for family read alouds or for beginning readers to try on their own.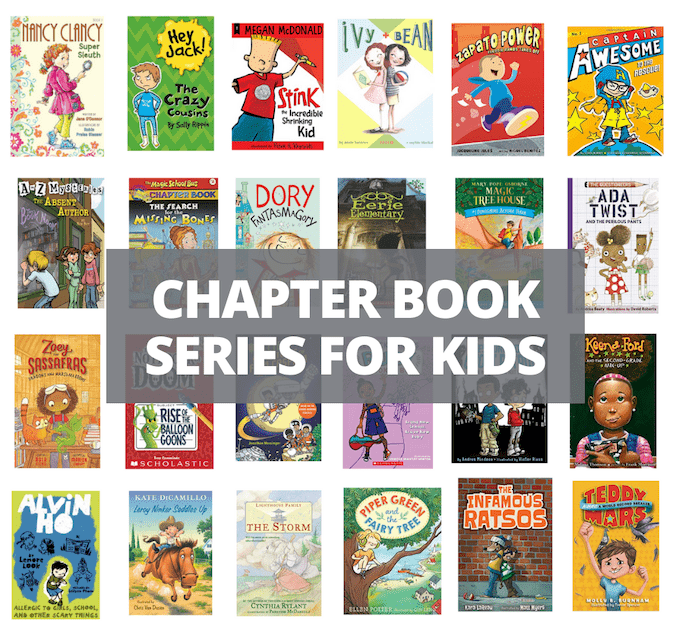 Hi friends!
I've been working so hard to put together the ultimate list of chapter books for kids! In the past year, we've started reading more kids chapter books with my older two (starting around the time they were 4 & 6) and I wanted to put together a list with a bunch of suggestions all in one place so we could work our way through all of them.
With the help of my friend Paige at Food 4 Tots, we came up with over 100 series for you to check out. HUGE thank you to Paige for all her help! For this list, we focused on series (at least 3 books) rather than individual books. These lists are more for read-aloud chapter books versus categorizing by reading level.
I'm always looking for early chapter books to read to my kids so I wanted to put together a list that I could work my way through. If you're looking for a printable version of this list, scroll all the way to the end!
Kid's Chapter Books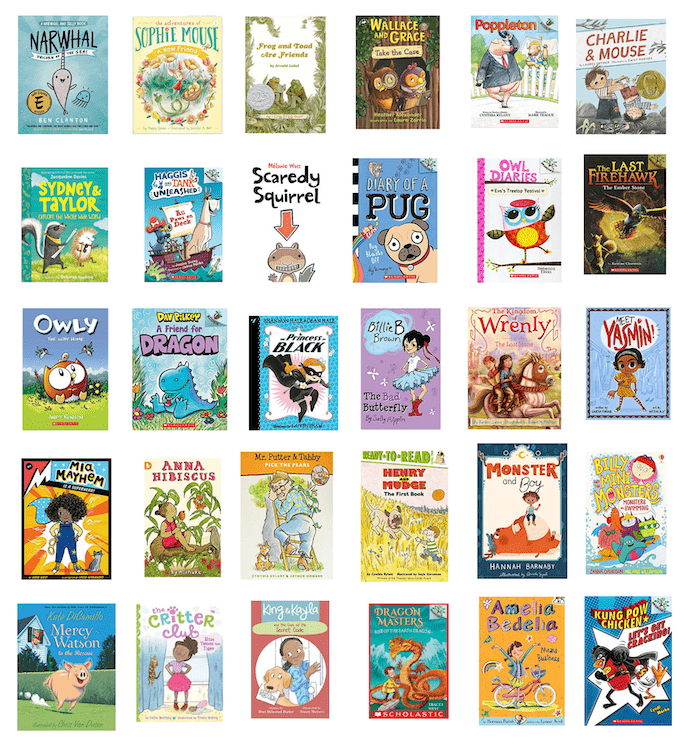 Preschool Kids Chapter Books (Series )
These children's chapter books have larger print, not a ton of words and still have a fair amount of pictures. They'd be a great next step after picture books but should still hold the attention of a preschooler. They're also great for beginning readers to read themselves! An asterisk (*) denotes diverse characters.
Narwhal and Jelly
The Adventures of Sophie Mouse
Frog and Toad
Wallace and Grace
Poppleton
Charlie & Mouse
Sydney & Taylor
Haggis and Tank
Scaredy Squirrel
Diary of a Pug
Owl Diaries
The Last Firehawk
Owly
A Friend For Dragon
Princess in Black
Billie B. Brown
The Kingdom of Wrenly
Yasmin*
Mia Mayhem*
Anna Hibiscus*
Mr. Putter & Tabby
Henry and Mudge
Monster and Boy
Billy and the Mini Monsters
Mercy Watson
The Critter Club
King & Kayla*
Dragon Masters
Amelia Bedelia
Kung Pow Chicken
Boris
Little Bear
Beginner Chapter Books for Kids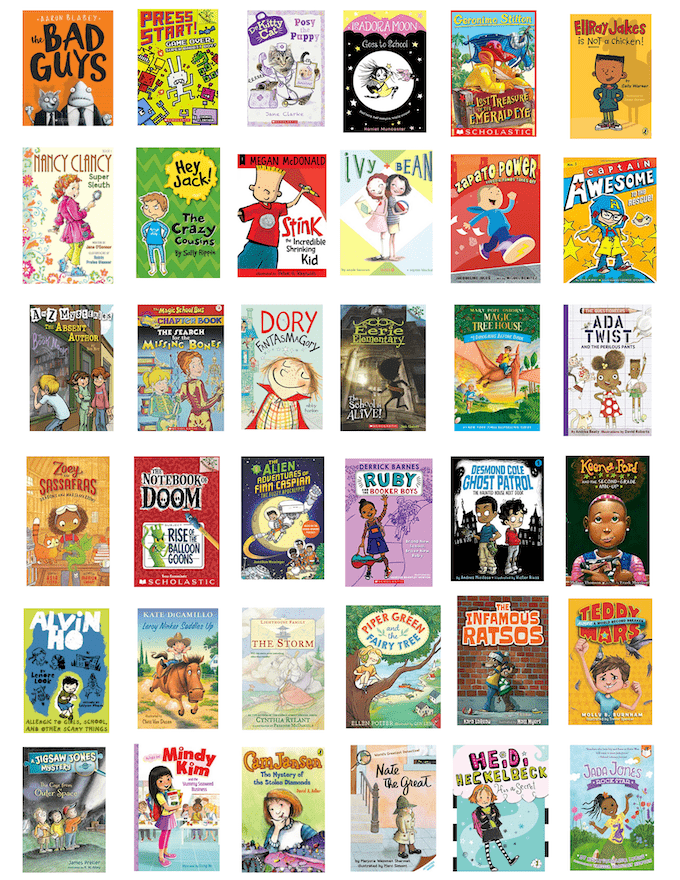 Kindergarten Kids Chapter Books (Series)
These kid's chapter books are a little bit longer, still have some photos and most have bigger text and short chapters. Great for read alouds and also for maybe 1st/2nd grade readers to read themselves. This is not an all-inclusive list. I'm sure I've forgotten some great ones. There also may be some on this list you're not comfortable with for your kids. As always, do your own research! An asterisk (*) denotes diverse characters.
The Bad Guys
Press Start
Dr. Kitty Kat
Isadora Moon
Geronimo Stilton
Ellray Jakes*
Nancy Clancy
Hey Jack
Stink
Ivy + Bean
Zapato Power*
Captain Awesome
Magic School Bus Chapter books
A to Z mysteries
Dory Fantasmagory
Eerie Elementary
Magic Tree House
The Questioneers
Zoey and Sassafrass*
Notebook of Doom
The Alien Adventures of Finn Caspian*
Ruby and the Booker Boys*
Desmond Cole Ghost Patrol*
Keena Ford*
Alvin Ho*
Tales from Deckawoo Dr
Lighthouse Family
Piper Green and the Fairy Tree
Jasmine Toguchi*
The Infamous Ratsos
Teddy Mars
Jigsaw Jones*
Mindy Kim
Cam Jansen
Nate the Great
Heidi Heckelbeck
Jada Jones
Kitty
Dog Man
Captain Underpants
Junie B. Jones
My Weird School
Flat Stanley
Kitty
Juana and Lucas*
Polly Diamond*
Chapter Books for First Graders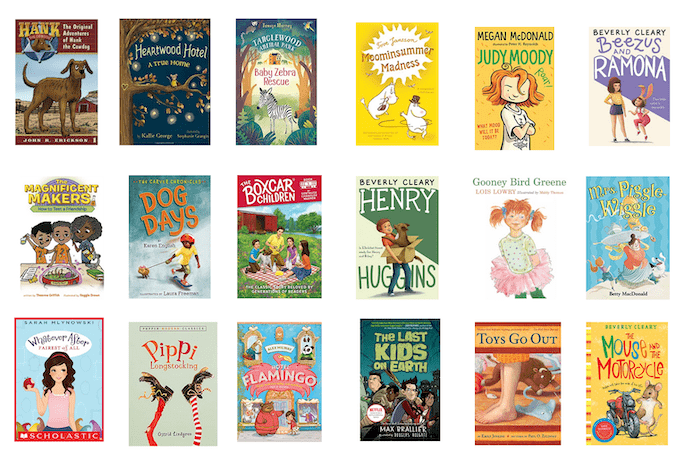 Longer Chapter Books For Kids
These books are a bit longer, have longer chapters and are mostly text.
Hank the Cowdog
Heartwood Hotel
Tanglewood Animal Park
Moomin
Judy Moody
Ramona Quimby
The Carver Chronicles*
The Magnificent Makers *
Boxcar Children
Henry Huggins
Gooney Bird Greene
Mrs. Piggle Wiggle
Whatever After
Pippi Longstocking
Hotel Flamingo
The Last Kids on Earth
Toys Go Out
The Mouse and the Motorcycle
Nancy Drew/Hardy Boys
Little House on the Prairie
I hope this list was helpful! A few other notes: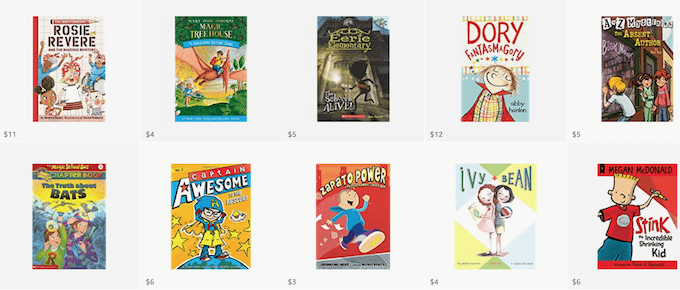 I encourage you check your local library to borrow these books or to shop local/independent bookstores if you want to buy them! Check out bookshop.org to find one! If you'd like to find them on Amazon, I've put the first book in each series in my Amazon shop. Click the link below to shop my affiliate links!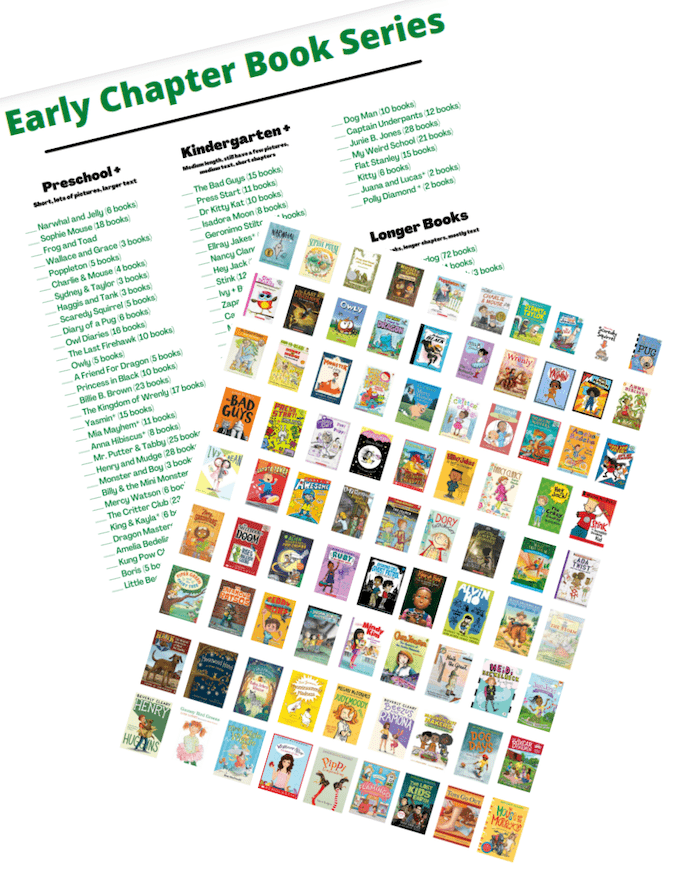 If you'd like a printable list so you can keep track of the series as you try them, I've made one for you! Click the link below:
If you want to see the inside of a book, check out the "look inside" feature on Amazon or search the name on google books for a preview. I'm also starting a chapter book highlight on IG where I do a quick flip-thru of the books on this list as I check them out from the library so you can look there too!
If you found this post helpful, please pin it for later!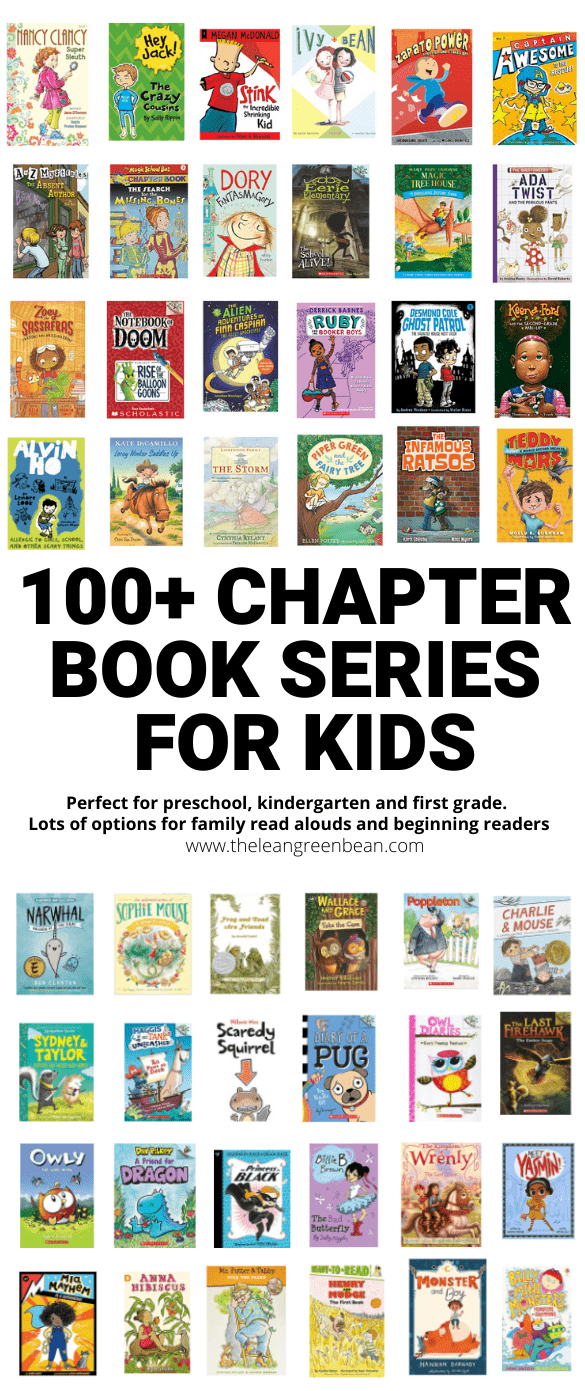 Enjoy!
–Lindsay–
LEARN HOW FOOD AFFECTS YOUR BODY.
Get my free Table Talk email series where I share bite-sized nutrition information about carbs, protein, and fat, plus bonus information about snacks and sugar!